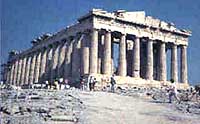 This tour offers you a guided tour of the city while you are seated in a luxury air-conditioned and no smoking bus. Your professional guide will narrate for you a Athens history while you see all the major sites, giving you a complete picture of the city before you proceed to the Acropolis just outside the Parthenon.

Combining many of the city's principal modern and classical sights. This tour includes an overview of the modern city and striking contrasts to the remains

of its glorious past.

Drive by the Tomb of the Unknown Soldier in front of the Parliament House on Constitution Square (Syntagma Square), the Panathenian Stadium which was the site of the first modern Olympic Games in 1896.

See vistas of the Presidential Palace (ex Royal Palace), government buildings and elegant homes. Drive along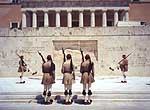 Panepistimiou Avenue and view St. Denis Roman Catholic Cathedral, the Academy, University, National Library and Omonia Square.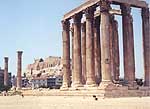 In contrast, you will visit the Roman Temple of Olympian Zeus and the beauty that was the crowning glory of Athens ancient past, the Acropolis with its many monuments built on top of its rocky base, including the awesome Parthenon, the Propylaea, the Temple of Athena Nike and the Erechtheion with its Porch of Maidens. Also inculed in this guided tour is a visit to the Acropolis Museum.


Tour starts at 08:45 and ends at approx 12:30
Clients staying on the coast will transfered back to their hotel at 15:00 with the Cape Sounion tour bus.



Prices 2011

Departure days & Languages

MON

TUE

WED

THUR

FRI

SAT

SUN

Price per Adult: 67 Euro [exc. Mondays & Holidays]
Price per Child*: 34 Euro [exc. Mondays & Holidays]
Price per Adult: 54 Euro [on Mondays]
Price per Child*: 27 Euro [on Mondays]

*For Children 4-12 years old
*N.B. Lunedi - Dal 01/04 al 15/10
Martedi & Sabato - Dal 01/05 al 15/10


Price Includes
Pick-up service from or near your hotel

,

Guided Tour & Entrance fee