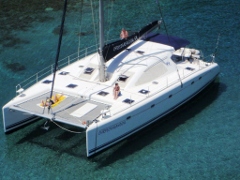 Leaving the port of Adamas we sail out of the bay of Milos, towards Arkoudes (Bear Rocks) and on our way you will see Cape Borbada and the fishing villages of Skinopi, Klima, Areti and Fourkovouni, with their colourful little houses by the sea shore. Use your imagination to view the rocks of Arkoudes, which are impressive, natural rocks, magically sculptured to look like a Bear and perhaps an Easter Bunny.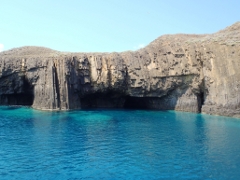 This is the point when, having left the bay of Milos behind us, you can help us open our sails. We sail towards Vani, an old mine, where you will be able to see all the old galleries, transport wagons, as well as the old loading gangplank made of stone and wooden beams. The two rough, steep rock formations on the northwest part of Vani emerge from the sea to a height of 100 meters and their geometrical cut makes their sight the most overwhelming moment of our trip.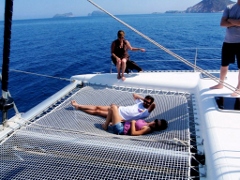 If the sea is calm we can enjoy our first swim; otherwise we will carry on and moor at the bay of Kalogries, a natural bay with transparent turquoise waters above a sandy seabed. You will have the opportunity to dive or take underwater pictures, after which we can enjoy our coffee and breakfast snack.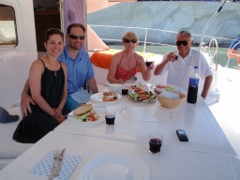 Then we depart for Kleftiko to see the hideout of the pirates. On our way along the western coast we will fish and see all the amazing rock formations created by the volcanic lava. This unique combination of sea caves and natural sculptures of white rocks create a one-of-a-kind landscape of wild beauty. Here we'll make a stop to swim and explore the water galleries and when you return to the boat you will be offered fresh fish and refreshing fruits.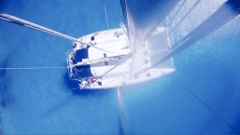 We sail on to the cave Sykia, an enormous cave formation with an opening on the top. If you wish, you can swim to the little beach using flippers and masks or we can take you there on our little boat. Inside the cave there is a large lagoon and a beach where you will enjoy a tasteful barbeque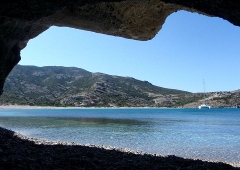 with octopus, fish soup (kakavia) or grilled fish, just the way the pirates used to do in the old times. We will leave the cave at 6pm and sail back towards Adamas, during which you can capture the beautiful coastline scenery on your cameras, while enjoying a homemade icecream that the crew will offer you.
Tour starts at 09:30 and ends at approx 19:30.
Prices 2018
01/04/2018 - 10/06/2018
15/09/2018 - 28/10/2018
Price per Adult:
90
Euro
11/06/2018 - 14/09/2018
Price per Adult:
110
Euro

Departure days
01/04/2018 – 28/10/2018
MON
TUE
WED
THU
FRI
SAT
SUN
Price Includes: late breakfast snack, barbeque lunch with drinks, and ice cream or dessert.
Price does NOT include: transportation to & from the embarkation dock (Adamas)
Clients must hold a valid passport or identity card for the on board registration
Embarkation starts 30 minutes prior the beginning of the tour
Boat tours are weather permitting