Arahova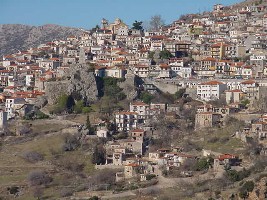 Just 12 kilometers from Delphi this small town is famous for its flocati rugs, cheese, honey and wine. Most tour buses stop here as do most people going to Delphi on their own. Because it is smaller then the town of Delphi some people base themselves here though in the summer many cafes and restaurants close down since Arahova is primarily a center for skiing in the winter. The Patron saint of Saint George and his feast day is celebrated on April 23rd with a village festival of eating, drinking and dancing plus a race of senior citizens up the hill the village. The winner gets a lamb that is brought down from Parnassus by the local shepherds and the survivors get their chance again next year. If the saint day falls within lent however, it is postponed to the Tuesday after Easter. Above Arahova is the Corycian Grotto, the cave that in ancient times was dedicated to Pan and where women from the surrounding areas would gather every five years, wearing disguises, to dance by torch light through the night. For information on winter skiing contact Fantasy Travel . See also www.greektravel.com/winter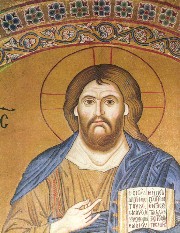 Monastery of Osiou Louka
This 11th century monastery built on the slopes of Mount Hellicon has two inter-connecting churches. The great octagonal church of Agios Loukas contains the tomb of the saint, though the bones have been sent to Rome. It also contains some of Greece's finest Byzantine frescos and icons by Michael Damaskinos, the 16th century Cretan icon painter. The wall paintings in the crypt are from the 11th century. The views from the monastery terrace are spectacular and there is also a small cafe. The monastery open from 8am to 7pm daily but is closed between 2 and 4 pm from may to September and you can't get in wearing shorts.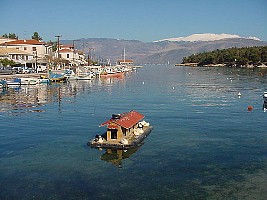 West Along the Coast
There are numerous beaches and coves along the coast below Delphi and heading west towards Nafpaktos. Kira was the ancient port of Delphi and has a decent beach and two campsites. Galaxidi(photo) was a 19th century ship building center, has a number of hotels and a naval museum. There is an old castle, a 13th century monastery and many old mansions. It is one of the most beautiful towns on the gulf of Corinth and well worth a stop for lunch or to visit the ducks who have a floating apartment building in the middle of the harbor. You may even want to spend a day or so here.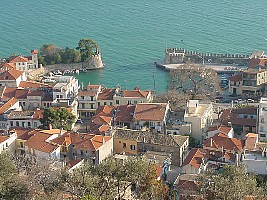 Nafpaktos is one of the most interesting towns in the area and has perhaps the most impressive castle in Greece after Nafplio. Known as Lepanto in the middle ages a famous naval battle took place here in 1571. The town has a beautiful fortified harbor and a platanos shaded main square. There are two long attractive beaches on either side of the harbor and lots of restaurants, cafes and hotels. The surrounding area is quite green. Be sure to go as high as you can get to see the castle and the amazing view of the town and the Peloponessos across the gulf of Corinth.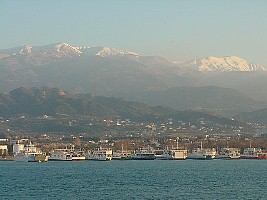 You can cross cross over to the Peloponessos by ferry at the small town of Agios Nicholaos a few kilometers beyond Galaxidi. The ferry trip takes around 45 minutes and they run every couple of hours but if you miss one you can always swim at the small beach nearby or continue on to Antirion to Rion where the trip is shorter and the ferries go back and forth as fast as they can fill up, sometimes every couple of minutes. Enjoy the ride because now that the bridge has been built the days are numbered for the ferries. From Rion you can go west to Patras or go east and head back to Athens about two hours away.