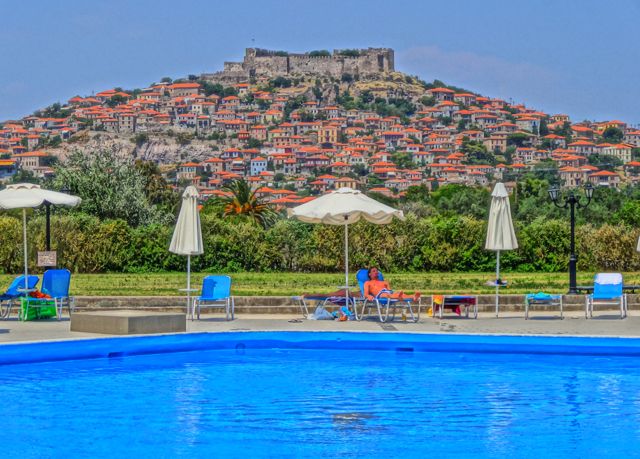 This Search Greece Hotel Guide is a companion to my Greece Travel Guides and is made up of hotels which can be searched by location and booked through Booking.com. With these hotels you can get rates and availability and book them right away in many cases with no cancellation fee. They also give alternatives if the hotel you are requesting is full. If you are looking for hotels on several islands and Athens you should use my Create-an-Itinerary form and let my travel agency friends do the heavy lifting. They can book the hotels and coordinate the ferries. If you find a hotel you like but are not ready to book just save it to your favorite places. Also since many of the hotels on Booking.com allow you to book and cancel with no charge if you find a hotel you want at a good price book it because prices can go up in the popular hotels. If you find a hotel on my site and then go to get a second opinion, please come back to book it here. This is how I support my site. You can save this page or the individual hotel pages in your favorite places for that purpose. If you have questions you can e-mail me. And if you like this site please share it with your friends on Facebook and Google+ using the links at the bottom of this page.
Search Greece Hotels By Location

Cyclades Islands
Mykonos, Santorini, Ios, Paros, Naxos...


Dodecanese Islands
Rhodes, Kos, Patmos, Kalymnos... and the others


Saronic Gulf Islands
Aegina, Angistri, Poros, Hydra,
Spetsis


Crete
The biggest island


Sporades Islands
Skiathos, Skopelos, ...


Central Greece
Delphi, Volos, Pelion ...


Epirus
Ioannina, Zagoria, Parga


Northern Aegean Islands
Lesvos, Chios, Samos, Ikaria...


Ionian Islands
Corfu, Zakynthos, Cefalonia, Ithaki...

Other Hotel Pages from my Greece Travel Guides.....
(these are more personal choices)

Matt Barrett's Booking.com Hotel Search: Try it. Get rates, photos, descriptions and reviews

Confused? Overwhelmed? Want me to help you find a hotel? See my Hotel Booking Assistance Page

Join Matt Barrett's Greece Travel Guides Group on Facebook for comments, photos and other fun stuff

Help Support Matt's Greece Guides
Do you enjoy using my site? Have you found it entertaining as well as useful? If so please show your appreciation by booking hotels through the travel agencies and the links found on my Hotels of Greece site. The small comission I make on the bookings enable me to keep working and in most cases you won't find them any cheaper by searching elsewhere. You can find hotels in Greece by location, price, whether or not it has a swimming pool, and see photos and reviews by using this link to booking.com which also contributes to my website when you book.
Other Accommodations in Greece

Recommended Greek Travel Agencies

GM Sailboat Charters: Who needs a hotel when you have a boat?

You can also find discounted rates for hotels in these countries....

Approximate Prices of Hotels in Euros*

Class
Single Room
Double Room
L
250 and up
250 and up
A
75 - 160
100 - 200
B
60 - 100
80 - 140
C
35 - 85
50 - 130
Special
Villas, houses and apartments: Prices Vary