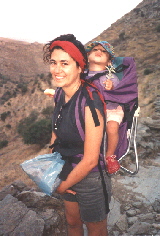 Andrea and I feel like we are experts at bringing children to Greece because by time our daughter Amarandi was 5 years old she had been to Greece seven times including once in the womb. People can be apprehensive about taking children on long journeys, far from their support system that makes raising a child seem almost routine at times. In that sense Greece was an awakening for us because we realized many of our needs as parents were not essential. In fact there were only three essentials when you bring your child to Greece: Pampers (which became unnecessary after the first couple trips), our McLaren stroller of which my exploits are chronicled in Strollering Through Athens , and a baby backpack for going to those places where having wheels are a hindrance. With these three tools and a sense of adventure it does not matter how young your child is. You can have a great trip to Greece.
Getting to Greece with Children: A Great Flight
We once flew Air France from NY to Paris and I am now converted. Not that the seats were any more comfortable, the food was any better or the staff were any nicer, but for the simple reason that every seat in economy had a TV. Its true. Mounted on the seat in front of you is a television with half a dozen movie channels and various other programs including a continuous cartoon channel which kept our daughter occupied every waking hour of the flight. It was the best flight I have ever been on with her, in fact there were times I wished we could have taken that seat with us to use in Greece. If you are not so lucky as to have a TV in the seat in front of you then bring plenty of stuff for your child to do. Coloring books are essential. Now, many other airlines have these TV's so ask. If your flight is a Boeing 777 or an Airbus there is a good chance you will have your own TV in economy. Now with mini DVDs and iPods that have video, keeping kids occupied is not as hard as it used to be and you are not at the mercy of whoever chooses the movies they show on the flight.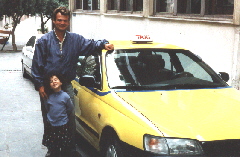 After a grueling 10 hour flight from America, the wait at passport control and the chaos of the baggage carousel, the last thing in the world we want to do is deal with standing on line to get a taxi. I am a firm believer in transfers rather then trying your luck with the masses outside the terminal. For thirty dollars George Kokkotos, Athens most famous taxi driver is there waiting for us as we walk out the door into the arrivals terminal. He greets us and insists that he carry my heaviest bags to his car waiting right outside the door and we are on our way. Before we know it we are at our hotel rather then sitting in another taxi still trying to explain how to get there. George carries our bags into the lobby and is gone as quickly as he appeared, having made this first transition completely painless.
With the time change you may completely beat after your long flight but that does not mean your child will be. In fact you may take your first walking tour of the Plaka completely against your will only because your child will not let you do otherwise. Don't worry about it. There will be time for relaxation and if you and your mate can work in shifts during these first few brutal hours things will come together smoothly. Otherwise make sure you get a hotel in Athens with a TV or a baby-sitting service. The great thing about children is that they can sit for hours watching cartoons even if they are in Greek and they can't understand a word.
Traveling with A Baby in Greece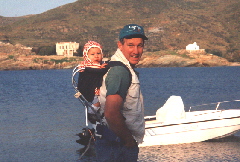 We brought our pampers with us but realized that a 3 month supply leaves no room in our bags for anything else. They are available in what the Greeks call Supermarkets, which are on every island and might be compared to a convenience store packed with everything you would find in a supermarket only fewer and smaller items (though the pampers are normal sized and take up a lot of shelf space). The American made pampers were more expensive then the Greek pampers so to save money we made a switch, only to discover that the Greek version of the miracle adhering strip was not up to the rigors of being attached to an active American child and the pampers would fall off frequently. This was easily remedied by duct tape which may be a little harder to find in Greece but can be brought from America without sacrificing too much luggage space.
The more time you spend on the beach the less pampers you will need. That is if you are far from the crowds and are able to let things fall as they may, as they say. If you let your child run free and naked by the sea you won't spend as much money on pampers and nobody really cares if kids (and in some places adults) are running around naked. If you are the type who believes that a child should be in pampers either to shield them from unscrupulous eyes or to keep the stuff which the pampers are meant to contain, contained, you should be aware that when pampers get wet they expand and get heavy and the baby falls down a lot. You can bring cloth diapers if you don't believe in pampers for ecological reasons or if you are a masochist. Keep in mind that you will have to wash them in your hotel sink. Some of the luxury hotels have laundry service but it is expensive. It would be cheaper to mail your dirty diapers home and deal with them later. But that would be pretty disgusting.
What Children think is Cool in Greece and what you think is cool in Greece may not be the same thing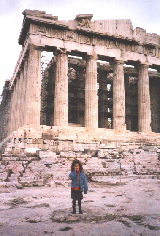 As children get older be prepared for the possibility that they may not find the beauty of Greece as stimulating as you do. They may think it's boring and never be happy until they are in the hotel room, jumping on the bed. The key is staying in one place. This sounds strange to us because we keep things interesting by moving on, visiting the next island, the next beach and changing our surroundings. Have you ever noticed how dogs only notice other dogs. When I am driving in my car with Byron in the front seat he stares out the windshield at the highway. I don't know if he has any idea what he is looking at or what is happening or that we are moving. But if he catches a glimpse of another dog he gets very excited and jumps up, looking through each window for the best view until the dog is out of sight and even then I can tell he is still thinking about it. Kids are the same way. You can take them to the rim of the volcano in Santorini and point to the ships below, the sunset, the other islands of lava bubbling from the depths and be totally impressed yourself at the magnificence of the scene, but if there is another child playing nearby or listening to the same boring lecture from his or her parent, that is all your child is interested in. You can go to the most beautiful beach in the world with sparkling azure seas and fish leaping from the sea to greet you, but if there are no other kids on the beach don't expect the fascination to last. For all your surroundings you may as well be taking a 10 hour car trip on I-95 with your child asking "are we there yet?" every two minutes. A remote secluded beach is great for couples with a new born baby but not for a child who knows what it is like to play with other kids. The irony is that if you want peace of mind then go with your kids to the crowded family beach because without other kids to bounce off of they will probably torture you. Quiet secluded paradises are boring to some little people. Same goes for the Parthenon. In the words of my 6 year old brother when we came upon the temple of Apollo in Aegina:
"Oh no. Not another one of these things."

Kids on the Beach in Greece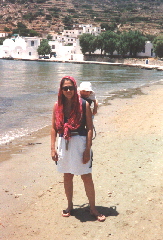 When we live in Lesvos we have a choice of a few beaches. There is the nearby beaches of Campo Antissa and Gavatha which are long stretches of sand where many times we are the only people there. There is also Skala Eressos, a mile long beach, a third of it lined with cafes where young Scandinavian's watch their kids play in the sand and sea a few feet away. It's an easy choice for us which beach to go to and we find a spot in the vicinity of the largest group of kids. Within minutes our daughter is playing like she has known them for years, in fact when they leave for lunch she follows them and we follow her. Getting her into the car to leave is the only problem but compared to being on beautiful quiet Campo Antissa with her screaming it's a breeze. Vatera Beach is a great place for kids and we stay at the Canadian owned Aphrodite Hotel not just because it is a beautiful hotel right on the beach, but because there always seems to be a lot of kids playing there. (They also have a trampoline which was in use every minute of the day by the children staying at the hotel. Parents were able to relax on the beach or in the cafe-taverna while the kids endlessly jumped).
If you are traveling with your family then a family beach is where you want to be. Forget about staying in the village and taking a bus to the beach. Find a place where the beach and the village are the same thing. Vatera in Lesvos and Kamares in Sifnos are both great, Kamares maybe better because it is a bay and the sea is generally calmer even on windy days. In Vatera if the wind is blowing in there can be waves because it is open sea though generally it is calm too. Both have cafes on the beach, restaurants on the beach and even rooms or hotels on the beach. What this means is that even if you don't feel like being on the beach all day your child can. You can still be a few feet away from them, doing your own thing. Both beaches have beach chairs and umbrellas for rent which seems to make kids more comfortable, like having a home. But the most important thing is that both beaches have other kids.
Here's a great beach tip from a reader: Freeze 3/4 bottle of water overnight and take it to the beach, you get a slow melting cool sip for quite some time. without the need for freezer bag etc.... great for when the kids were small and needed a quick refresh.
The Greeks and Kids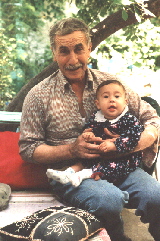 Greece is the land of a million baby-sitters. It's not like in America where if someone talks to your child in the park or the super-market your first thought may be that he is a pervert or a kidnapper. The Greeks love children and even the most grumpy old guy will light up if a child takes an interest in him. When we put Amarandi in the backpack she would love it because when we stopped to wait for the light to change so we could cross the street there would always be someone next to us or behind us talking to her, making faces, smiling at her and making her laugh. Kids generally attract attention from older people in Greece and when they are at eye level even more. Women will pinch her cheeks affectionately and call her a 'koukla' a word meaning doll and one of the few Greek words she knows. In the tavernas someone from the next table would adopt her and she would sit in their lap and they would entertain each other while we watched with enjoyment. When she would cry people would come over and play with her so she would stop. "Don't cry my little koukla" they would smile and pay such attention that whatever was bothering her would be forgotten. Sometimes Greek women would pick her up and dance with her around the room, swaying with exaggerated movement until they were both laughing. This is stuff that if it happened in the states you might feel nervous about. But in Greece it is totally innocent and unthreatening and it makes me wonder what is wrong with us? How come we don't enjoy kids the way they do. Sure we enjoy our own but can you imagine going up to a child at the next table who is crying, and trying to cheer him up? Most people's reaction is "if you cannot keep your kid quiet can you get him out of here so I can enjoy my meal?"
Maybe it's the partitioning of ages in our culture. Old people don't have that much contact with the young in America, but in Greece its all one big happy family. You don't have to worry about your child bothering the old people at the next table because it is no bother at all. They take pleasure in your child in a kind and loving way. Even if they don't speak your language they will find a way to entertain with pictures drawn on napkins, folded figures, or cutting, peeling and feeding them the same fruit that the child refuses to eat when you give it to her.

Kids and Restaurants in Greece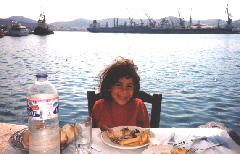 If you are traveling with one child or with two that are not getting along, your method of choosing a restaurants should be the same as choosing a beach. If there are two restaurants and one is a traditional Greek taverna filled with locals and a scattering of seasoned, and the other is a Greek fast food souvlaki joint but full of families and kids running wild, guess which one you will find the most peace. The second of course because no matter how much running around your child does with the Scandinavian kids from the next table, and no matter how many times you have to grab her as she races by chasing someone and tell her to behave, nothing is as bad as having the only unhappy child in the quaint traditional Greek Taverna. Anyway even in the crappiest fast food joint you can find something you will enjoy eating. Have a snack and wait until she runs out of steam and passes out in the stroller and you can go to the quiet traditional taverna and eat in peace. A good thing about Greece is the restaurants are open late. You just have to outlast your kids.
For older kids, a village like Kamares, Sifnos or Eressos Lesvos is great because while you eat a leisurely meal and then relax and converse with your neighbors or friends you have made, the kids can run wild with the children of other travelers or with the locals. There are really very few dangers. The same goes for the Plaka in Athens since it is closed to automobile traffic.

Food for Kids who hate Greek food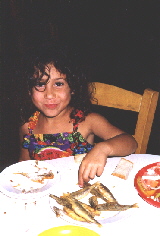 When all else fails you can always get eggs. Fried or scrambled. Omelets with cheese, ham or bacon, or my favorite, with feta, tomatoes, potatoes and onions. Breakfast, lunch or dinner. In restaurants, fast food joints or cafeneons, eggs can save the day. You can get spaghetti in just about any restaurant, with meat sauce, tomato sauce or just cheese. Pizza is available in many places too. The key is to get them interested in souvlaki because then life becomes a breeze. You can sit down to a quiet dinner and send them next door on their own to buy a souvlaki like it's a big cultural adventure. When we were kids that's all we ate. Cheese pies (tiropita) and spinach pies (spanakopita) are also easy to find and make great snacks. Hamburgers are generally awful, not that there is anything wrong with the meat but they have not mastered the ketchup thing yet. Keftedes are little fried meatballs and they are usually a big hit. Chicken tastes like chicken anywhere only better and it's the least expensive meat on the menu. It comes with roast or fried potatoes. Get them to try the roasted ones first and if they don't like them switch to fries. French fries are amazing. Kids love them and in many places they are cooked in olive oil so you can enjoy them too. In places like Lesvos where fish are cheap you can get marides which are tiny deep fried fish that can be eaten whole. My daughter loves them and yours may too.

Reward Systems for Good Behavior in Greece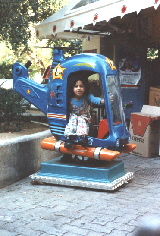 Ice-cream is a key ingredient for a successful vacation. There are several Greek ice-cream companies and every café, restaurant or peripeto is the representative of one. You will see a brightly colored freezer box with doors on the top and large colored posters of each variety, expertly made to capture the attention of kids from any country. Names like ,Status, Boss, Overdose, and Choco-magnum will become familiar to you as you use them as a reward or a threat to keep your child behaving or eating what is on his plate. My daughter's favorite variety is a cup with a hollow bottom that contains a small toy. Some of the toys she really enjoyed and spent time playing with them which was really a bonus for us but sometimes they backfired and we were forced to spend hours trying to figure out what they were supposed to do or how to put them together. Another potential disaster was getting the same toy she had gotten before and it got to the point where we were holding our breath while she opened the secret flap underneath the plastic container.
In the town squares and in various locations around Athens are rides where you put a few eurocents in the slot and your child can go around in circles on a train, ride a lightly bucking bronco or whirl in a stationary helicopter. Combined with ice-cream this makes a fulfilling evening activity for a child.
An excellent good behavior reward or bad behavior remedy in Athens is the National Gardens at Syntagma square. It's a square mile or two of semi tropical plants, trees and flowers and a variety of wildlife which could be described as predominantly winged, feathered and quacking. There is a nice pond full of these creatures and you can bring leftover bread from lunch, or buy some from a woman stationed nearby for your children to feed them. In fact you may be worried that they will eat your children for at times they will disappear from sight as the ducks surround them like they have not eaten in days, but generally they are harmless. Watch out for the geese though. They are bigger, braver and meaner, though thankfully fewer.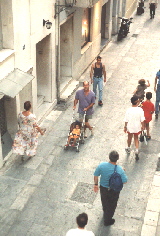 The Stroller: An Essential Tool in Greece
When Amarandi outgrew her stroller it was bad news for us. The stroller was an all purpose vehicle used for carrying luggage through the airport, from the ferry boats to the hotel and of course the purpose for which it was intended, carrying her. But where it was really missed was in the restaurants at night when it became a mobile bed that we could put her in when she fell asleep, or walk her in until she was asleep and we could continue the evening indefinitely. Our nights out got much shorter when she outgrew our faithful McLaren and we had to take her back to the hotel to put her to bed because she was getting to heavy to carry. In fact if they come up with a stroller for wives and teenagers I will definitely buy one.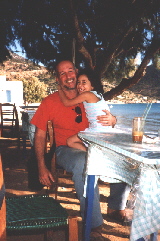 The Best reason to bring a child to Greece
A holiday with a baby in Greece gave us ample opportunity to watch her grow and play with her much more then we would have in the states where work, TV, computers and the day to day maintenance of our lifestyle leaves a lot less time for child interaction. In Greece all we had was time, beautiful weather and a spectacular background where we were able watch our new daughter. To her there is no difference between Greece and a Seven-Eleven, it's all colors and newness, but to us watching her gave us a stronger awareness of ourselves as a family.
Wait a couple years and I will tell you about traveling to Greece with a teenager.
Kid Friendly Greece!
Kamares, Sifnos is one of the best beaches for families if not the best. A long sandy beach in a sheltered bay makes the beach wave free 99% of the time. The bay is shallow and there are restaurants and cafes so you can sit in the shade and watch your children play. The Stavros Hotel overlooks the beach and there are others just a short walk away. If you have teens there are a few bars and clubs but they are pretty tame. See www.greektravel.com/sifnos
If you are looking for a beautiful resort hotel with a swimming pool and a large shallow pool for your children check out the Elies Resort in Vathi, Sifnos. The rooms are actually set up like small individual village houses so you have plenty of privacy and the beach village of Vathi has no cars! There is a parking lot at the entrance of the village and that's as far as you can drive. What could be more safe? Aegean Thesaurus Travel the local agency in Sifnos has the best rates for this hotel. The Elies is one of the best and beautiful resorts in Greece, similar in quality to world-reknown resorts like Porto Elounda but in a much nicer setting.
Vatera Beach in Lesvos is 7km long. The Hotel Aphrodite is a great hotel for families. It is right on the beach, has it's own taverna and there are lots of kids including the children of the Canadian owners. It also has a trampoline which will keep kids occupied for hours while you sit in the restaurant, eating dinner, drinking wine and watching them bounce. See www.lesvos.com/aphrodite
The village of Sigri in Lesvos is way off the beaten path but has a beautiful sheltered beach with shallow water that is perfect for children. See www.lesvos.com/sigri.html (Sigrion Villas is owned by a very friendly Greek-American family, has a pool, and is inexpensive.)
There are small hotels in the Plaka and now many other streets in downtown Athens are being converted to pedestrian walkways. Finding a hotel with rooms that have 4 beds is not easy. Most hotels have doubles and triples (which means 2 and 3 beds). The Hotel Attalos only has a couple rooms for four so if you need one book early. They also have free wireless, a computer room with free computers, and you can walk to all the archaeological sites, restaurants, shops, cafes, museums and it is on the metro line, all of which are important factors when you are traveling with kids of any age.
Some hotels have suites which are really 2 separate rooms with a common door. See www.athensguide.com/hotels.html for hotels in Athens.
The Island of Hydra only has a couple small beaches but it is car-free! See www.greektravel.com/greekislands/hydra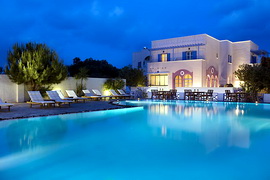 Santorini is the most popular island these days and everyone wants to stay in a white hotel on the cliffs. Impractical if you have children. But there are plenty of places by the beach and some in town that are not perched precariously on the 1000 foot cliffs. Any Travel agent will know which hotels are kid friendly. (Same goes for Mykonos.) The Hotel Aquavatos has gotten very high ratings as a beautiful kid-friendly hotel in tripadvisor. It is located in the beach town of Kamari, has a big pool and is a friendly family-run place and should not cost you an arm and a leg as many of the hotels in Thira and the caldera-view locations. See www.hotelsofgreece.com/cyclades/santorini/aqua-vatos-hotel for more info. For Santorini information see www.greecetravel.com/santorini
For a whole lot more hotels in Santorini see www.hotelsofgreece.com/cyclades/santorini
(If you check the section in white there are lots of inexpensive hotels for families)
There are many hotels that are geared towards families. They have children's pools, activities and even baby-sitters. You can find many of them at www.hotelsofgreece.com or Booking.com's Greece Page but the best way is by working directly with a Greek travel agency that knows the hotels and has experience booking families and can find you exactly what you need on the island you want to visit. Contact Fantasy Travel at www. fantasytravelofgreece.com or Dolphin Hellas Travel at www.greecetravel.com/dolphinhellas .
Want a kids perspective to traveling in Greece? Take a look at Amarandi's website: Greece 4 Kids at www.greece4kids.com
See also Traveling in Greece While Pregnant
Hyphenology is an academic and travel summer program designed for high school students between the ages of 14-18. It combines academic excellence with cultural enrichment, an exclusive teaching faculty and a diverse student body, to provide participants with a unique and unforgettable summer experience.

For two weeks in July, students are welcomed to the island of Lesvos, Greece, a center of learning since ancient times and a bridge between Europe and Asia. Here, they attend courses on subjects of their choice. They will also travel extensively throughout the island on daily excursions to the ancient sites, museums, and monasteries, and the day trip across the Aegean to Pergammon and Ayvalik, Turkey. For more info see www.greecetravel.com/schools/hyphenology
Helpful Books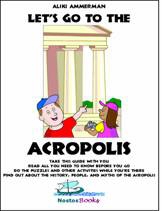 What if there was a guide to the Acropolis of Athens, specifically written for children of the upper elementary grades? There is. Now you can prepare your children for their trip to the Acropolis of Athens, before you get there. Give them a copy of Let's go to the Acropolis, the only workbook guide available in the English language. Let's go to the Acropolis is a quick guide that answers many questions, and gives meaning to the site. Here the kids can read all they need to know about the myths and history of the Acropolis.
"This short guide for children, written by Aliki Ammerman, is a must for families or teachers who want to visit the Acropolis. It's packed with historical information and includes more than 18 activities to hold any child's interest during his visit. A time line, Who's Who, and bibliography complete the book. We used this guide as a textbook for our fieldtrip to the Acropolis for many years. Our students learned the basic facts, and enjoyed the activities. We became scholars and not just "tourists." This revised edition continues to be child-friendly, comfortable and accessible." Cheryl Makris, former fifth grade teacher, American Community Schools of Athens, Greece.
For ordering as an E-book go to www.nostosbooks.com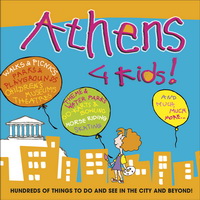 Athens 4 Kids: Hundreds of things to do and see in the city and beyond! Got Kids?.........Get This!!! There must be hundreds of great places to take your kids in Athens. So where are they ? This is the question Mark Ritchie has answered in his new book - Athens 4 Kids. This is the ultimate insider's guide to all the very best children-friendly places, activities, and events on offer in Athens and the Attica region. Residents and visitors alike will discover a huge variety of ways in which to celebrate family life here regardless of the weather, or their available time or budget. It really does have something for everyone! The book thinks practically about what parents (aunts, uncles, and grandparents), and, more specifically, children up to the age of 12 really need. Each careful selection is described and evaluated, in order to learn in advance what to expect upon arrival and at which age children might best appreciate the experience. The colourful illustrations and simple information-at-a-glance format makes choosing a venue fun, quick and easy. Athens 4 Kids is on sale in bookshops, selected stores, and in outlets at many of the venues that appear in the book. You can also order it directly from the author by e-mailing info@athens4kids.com