Capital of Greece's fur trade, Kastoria is also one of the most beautiful towns in Macedonia, on the shores of beautiful lake Orestiada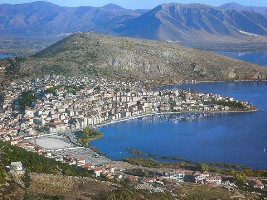 Kastoria, the capital of the prefecture of the same name, is one of Macedonia's most picturesque cities and is in fact regarded by the Greeks as one of the most beautiful towns in the country. Built on the an isthmus on the shores of lovely lake Orestiada and surrounded by mountains, it is a city of old neighbourhoods, narrow lanes, stately mansions and Byzantine churches. The city flourished, both culturally and economically, during the Turkish occupation, particularly in the 17th century and afterwards when large numbers of Jewish furriers came to the area because of the abundance of beavers. Unfortunately the beaver population was wiped out in the nineteenth century and the Jews not long after that during the Nazi occupation. Since that time, the people of Kastoria have dedicated themselves to working with furs and embroidery. Even today, the city boasts a large number of very profitable fur and textile shops and factories and if you are one of those people who believes he has a moral obligation to protest the slaughter of animals for the garment industry you will find yourself with plenty of targets for your wrath because just about every street has a business associated with the industry.

If you are one of those people who thinks its a shame to kill animals for coats but there are a lot worse things to be pissed off about then you will find the area interesting. If you are a person who regularly wears fur coats and believes they signify class and status, well, you are probably not reading this and you would be happier in a fur shop in Mykonos or Athens. But for those of us who fall somewhere in the middle there are plenty of interesting things to see in Kastoria with or without the furs which are a fact of life.

Kastoria has more than 70 Byzantine and post-Byzantine churches, dating from as far back as the 9th century up to the 19th. Most of their walls are filled with frescoes of exceptional quality. The city's famous mansions of the 18th and 19th century are well worth seeing. They are usually three-story edifices with large windows, enclosed balconies and projecting 'sahnisia'. Their interiors are spacious and sumptuously decorated with woodcarving and wall paintings.
Don't miss a visit to the Kastorian Museum of Folklore housed in one of the 500 year old mansion which belonged to the wealthy Neranzis Alvazis family.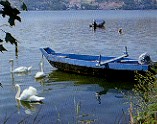 Lake Kastoria is especially beautiful in autumn and spring, the best seasons to get to know the town. At various points round the lake you'll find restaurants, tavernas, rotisseries, and cafes for gazing at the lake and reflecting on what you've seen. There is a 9 km road the follows the promontory and the lake is home to frogs, turtles and a great many spieces of birds.The road begins by the hospital and passes the Moni Mavriotissas, the 11th century church of Agia Maria and the 16th century Church of Saint John the Theologian. There is also a free campsite on the grounds of the Monastery. There are hotels of every catagory and plenty of reasonably priced restaurants.

You can get to Kastoria by car, bus from Athens and Thessaloniki or flights from Athens
Featured Hotels in Kastoria
Andromeda Boutique Hotel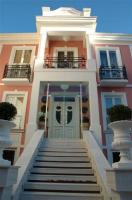 Hotel Andromeda is located in the Kastoria city-centre. Its building has been classified as a historical monument and it is now completely renovated and restored to its former glory. The small size, the simple style, the personnal service and a sense of familiarity are the elements that describe this unique place. When entering Andromeda, you can feel that here your dreams have found their grounds. The aura of the past accompanies you into a mysterious atmosphere, where luxury, elegancy and discretion become one. An escape, a business trip or simply 'an inspiration'. Wireless internet is available in the hotel rooms and is free of charge. For photos, information, maps and booking click here
Diamond River Resort & Spa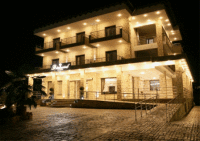 Set in scenic Kastoria, the newly built Diamond River Resort enjoys charming surroundings full of beauty and cosy interiors paired with warm hospitality.
Built in 2009, Diamond River Resort & Spa offers guests a relaxing and comfortable setting by the river Aliakmonas. Diamond Resort is just a short drive from the town of Kastoria.
Furnished to provide guests with an inviting atmosphere, Diamond Resort & Spa offer homely touches, including a traditional breakfast prepared according to local recipes. Diamond Resort makes guests feel welcomed from the moment they walk in.
Each guestroom is named after a precious stone and decorated according to its colour. Elegant furnished, the rooms are decorated according to the colours of emerald, ruby, coral and amethyst. Wireless internet is available in public areas and is free of charge. For photos, information, maps and booking click here
Chloe Hotel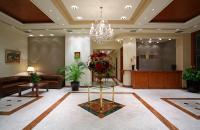 This hotel is actually a modern luxurious lodge, beautifully and centrally situated in the town of Kastoria with a view of the lake and the magnificent Mount Vitsi.
Tranquilly located amidst natural surroundings on the north side of the lake a short distance from the city centre, the area is known for its beauty and boasts an ancient historic heritage, cultural attractions and stunning scenery.
The spacious rooms and suites feature a unique design and contemporary character, offering the guests exceptional comfort combined with high technology. The furniture is of a classical style and the accommodation is warmly decorated in earthy colours. This residence blends a sense of elegance with discreet luxury, creating a sophisticated atmosphere from the cosy cafe and bar to the refined dining room. Wired internet is available in public areas and is free of charge. Wireless internet is available in the entire hotel and is free of charge. For photos, information, maps and booking click here
Αkropolis Hotel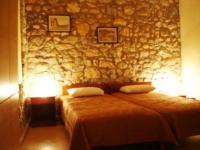 Akropolis Hotel, recently renovated, is located in the center of Kastoria city.The lake of Kastoria is the most precious treasure of the town. It is a jewel that both the visitors and the inhabitants can enjoy, as a place of recreation and as a stimulus for romanticism and reminiscence.
The hotel is the perfect place for the visitors to start exploring the area. There is a 24 hour reception desk that can assist you with everything you may need.The rooms are fully equipped in order to make your stay as comfortable as possible. Wireless internet is available in public areas and is free of charge. For photos, information, maps and booking click here
Anastassiou Hotel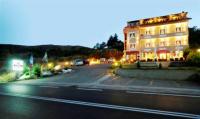 Situated at the entrance to the town and built in a simple neoclassical style, this hotel has a spectacular view over the beautiful lake. Relax in the friendly cafe, with a cup of coffee by the fireplace on winter nights, or in a beautiful garden on summer days, with a magnificent lake view. For your convenience, car parking spaces are available. Kastoria, the capital of the prefecture of the same name, is one of Greece's most picturesque cities and is regarded as one of the most beautiful towns in the country. Built on an isthmus on the shores of lovely Lake Orestiada and surrounded by mountains, it is a city of old neighbourhoods, narrow lanes, stately mansions and Byzantine churches. Internet via modem is available in public areas and is free of charge. For photos, information, maps and booking click here
Aiolis Hotel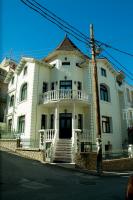 Formerly an Italian and German command point during the time of occupation, this hotel is an impressive building in this very picturesque city, with elements of German and Austrian architecture. Built in 1935 and bought in 1993 by Moses Kalaitzidis, all of the rooms are decorated in light, neutral tones and feature thoroughly modern wooden furnishings. Every room is equipped with air conditioning and a hydromassage shower. Built on an isthmus on the shores of Lake Orestiada and surrounded by mountains, it is a city of old neighbourhoods, narrow lanes, stately mansions and Byzantine churches. The prehistoric settlement of Dispilio is one of the oldest lake settlements ever discovered in Europe and it gives a full overview of an early civilization. Its early phase dates back to around 5500 BC. Wireless internet is available in public areas and is free of charge. For photos, information, maps and booking click here
Aposkepos Hotel
Aposkepos mansion is located at the rural District of Kastoria, which is also called Aposkepos. The distance from the center of the city Kastoria to Aposkepos is approximately 4 km.
The mansion offers traditionally decorated rooms, with all modern luxuries in order to make your stay as comfortable as possible.The facilities of the mansion include: atrium bar, dining room where you can relax while tasting the greek cuisine and a living room with fireplace. Wireless internet is available in the entire hotel and is free of charge. For photos, information, maps and booking click here
You can find more hotels on booking.com's Kastoria Page or by contacting Dolphin Hellas Travel in Athens