---
10/11/2009
Friends of Schinias Beach Clean-up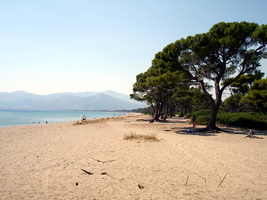 On Sunday, November 15th, a group of volunteers is organising our Third Clean-up of Schinias Beach and Forest. Our objective is to collect and bag as much garbage as possible, between the beach and the asphalt road. We will place the collected garbage in the recycling bins placed near the beach.

This last summer, record numbers of people visited Schinias. The forest and beach are littered with garbage, mostly plastic, metal and glass packaging. We will focus on cleaning as much of the forest region as possible.

The amount of ground we will cover will depend on the number of volunteers to turn out on November 15th. Please register by emailing Philip Ammerman at pga@navigator-consulting.com, so we can plan the work teams and meeting points.

Meeting Place
Meet near the "Glaros" Taverna on the beach. Take Leoforos Schinias past the Olympic Rowing Centre. After you pass a small group of houses and tavernas, take the first right-hand turn (dirt road). This leads you to the Glaros Taverna on the beach: once you arrive at the taverna, turn right and continue for about 100 m parallel to the beach, where you will see our registration desk. Please arrive at 10:00 so we can divide into groups and clean the area.

What to Bring
• Drinking water or other beverages for your personal consumption
• Comfortable work clothes, including work gloves

Everyone is invited to a group picnic lunch at 13:00: please join us and bring a salad, sandwiches, tiropitakia, keftedakia, dolmathes, drinks/ beverages or other food to contribute to the common lunch.

For more info see http://www.schinias-friends.org/2009/10/third-schinias-beach-clean-up.html