---
2/8/2010 Carrboro, NC
Watercolor Workshop with James Foot in Kyparissi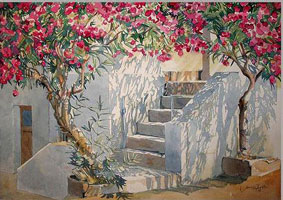 Watercolour artist James Foot will hold a week-long summer workshop in Kyparissi from Sunday 30th May - Saturday 5th June 2010. The workshop, 3 star hotel with breakfast, art materials, transport from Athens airport and back are all included in the fee of 710euros for those with a single room or 610euros for those sharing a room. The workshop will be conducted in English and is open to experienced painters and beginners alike. Both the hotelier, Esther, and James also speak Greek.

The essence of the workshop will be about looking at & recording light on the landscape, the architecture of the village and the sea - drawing with pencil and painting in watercolour - and the intention is to explore the expressive quality of a limited palette and single brush.

James will begin each daily session with a demostration from 10.30am and talk about the approach to that day's goals, after which he will circulate, paying individual attention to each student as they work. Students are free from 2.30pm onwards to have lunch, continue with their work, swim, walk or siesta. The students&artist will meet up again at 7.30pm each day at the hotel bar to look at work and discuss the achievements and developments of that day.
To take advantage of the transport from Athens airport to the village meet at dooor A of arrivals before 6pm on Saturday 29th May. The minibus will return to the airport by 1pm on Sunday 6th June.
Materials provided will be one Pro Arte brush per student, Saunders Waterford paper, Rembrandt watercolours and pencil - obviously students are welcome to bring their own materials if they prefer.
Charges are:- Tuition (including transport&materials 50euros per day x7days = 350euro
Hotel - single room&breakfast per person 45euros x 8nights = 360euro
- shared room&breakfast per person 32.50euros x 8nights = 260euro
For more on Kyparissi see www.greecetravel.com/peloponessos/kyparissi