The Temple at Bassae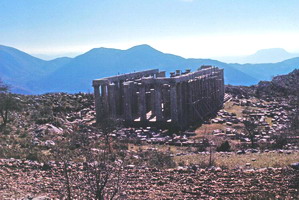 South of Olympia, one of the finest temples in Greece sits on top of a mountain plateau. Dedicated to Apollo Epicurus it was built around 420 BC by the Phygeleans in thanks for being spared of a cholera epidemic during the Peloponesian wars. The temple was discovered in 1765 and is one of the most well perserved in all of Greece and well worth the visit. The temple can be reached from Athens by way of Tripolis, or by going south from Pyrgos to Andritsaena. Apparently the Italian archaeologists doing the dig have covered the temple with a huge tent to protect it from the elements and so finding a decent photo is difficult. But my father took this photo in 1963 before they put up the tent.
(You can see more of his photos of Greece in the sixties at www.greecetravel.com/photos/sixties)

Getting to Olympia and Where to Stay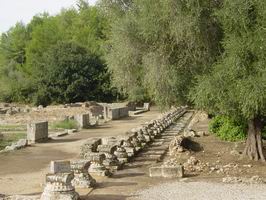 Many people seem to arrive on tour buses which can be arranged by any travel agency. Fantasy Travel's 3-Day Classical Tour and 4-Day Classical Tour include Olympia as well as Delphi, Meteora and the Argolis. The 7-Day Grand Tour also includes Olympia along with just about every other important site on the mainland.
For those using George the Famous Taxi Driver, keep in mind that it is a 5 hour drive from Athens and is therefore an overnight trip. But this can be done in combination with Delphi, Kalavrita or even Nafplio and the Argolis.
There are five trains a day to Pyrgos, half an hour away, and from there six trains a day to Athens and eight trains a day to Patras.
For those who are coming from Katakolon on a cruise ship there are usually trains which are coordinated to the arrival and departure of the ship. The trip takes about 45 minutes and costs about 10 euros round-trip which will save you money if your other option is taking the tour the cruise companies offer. You can also take the bus from Katakolon but you will have to change at Pyrgos. There is information about Katakolon on my Katakolon Page
If you are coming from Italy and have your heart set on Olympia take a bus or train to Pyrgos and then to Olympia. There are four buses a day from Olympia to Athens.
If you are planning to rent a car and drive from Athens to Olympia check out Swift Rent-a-Car. They will pick you up at the airport or your hotel and drive you to the National road and let you by-pass the notorious Athens traffic. See their website at www.greektravel.com/swift
Hotels in and Around Olympia
We stayed at the excellent Hotel Europa part of the Best Western chain. The hotel is located on a wooded hill overlooking the town of Olympia and the beautiful valley to the west. It has a swimming pool, a large dining area and beautiful rooms with televisions with many channels. Expect to pay between 80 and 90 euros for a double and 120 for a family room during the summer. For about the same price the Olympion Asty Hotel provides fantastic views of the area from its lovely outdoor pool and its spacious accommodation offers free wireless internet access. Just 15 minutes walk away from the sacred site of Ancient Olympia, the charming Hotel Pelops offers quality rooms, complete with orthopaedic mattresses, for a comfortable stay in a peaceful area and at affordable rates. The friendly, family-run Hotel Kronion in Olympia was renovated in 2008 and offers tastefully decorated rooms equipped with modern comfort, providing an ideal destination for guests seeking quality accommodation and convenience with doubles going for about 55 euros. Conveniently located in the heart of Ancient Olympia, next to the train station, Hotel Hercules combines a friendly atmosphere and great-value accommodation for your comfort with double rooms at about 50 euros.
You can find more recommended hotels in Olympia at Booking.com's Olympia Pages