Getting Married in Greece: Useful Information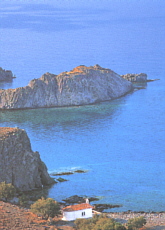 So in Greece there are many ways to do this and it depends upon what type of person you are which method you will use. If you are interested in seeing some wedding packages in Santorini offered by Fantasy Travel visit that page on their website at www.fantasytravelofgreece.com
They can give you a package and take care of all the details including the reception, transportation, paperwork and hotel reservations for your guests and handle any travel arrangements you will need either before or after the ceremony. They can also help you create your own unique wedding.
You can also do the simple Sifnos wedding as outlined above by contacting Aegean Thesaurus Travel with this Form
If you need wedding rings see www.athensguide.com/byzantino since if you are going to be married in Greece you will probably want something appropriate. Or check out Olympico Jewelry which has more modern Greek jewelry.
To read about the Traditional Greek Service of the Crowning click here

Read the Official US Embassy Report on Marriage in Greece.