The Story of Matt Barrett's 2004 Athens Olympic Photos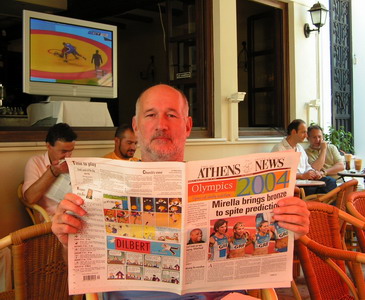 Our original plan for the summer of 2004 was to leave Greece on the 17th of August so my daughter could start school in the USA on the 18th. But right after we booked our tickets we decided to send her to Friends School which did not start until the 29th of August. The Olympics were opening on Friday the 13th, not an unlucky day in Greece (Tuesday the 13th is because that is the day Constantinople fell to the Turks) which meant that we would get to see maybe three days of events before flying home to watch the rest on television. This was semi-acceptable to me. Andrea had no interest in the Olympics and Amarandi just wanted to get back to America to see her friends. Besides it was impossible to change our tickets, we thought.
But as the day of the opening ceremony got closer a sort of Olympic fever was building up in me. NBC was writing to me every day asking questions about people on my website they could interview, I was getting e-mails from journalists from all over the world and every day it seemed some massive project was completed. The metro line was extended to the airport, the coastal tram was built and began taking people from Syntagma to the beach. New highways opened and streets that had been filled with traffic the year before were now like parks. As athletes and spectators began arriving my excitement was hard to contain, even though I was just watching it on the Greek evening news from the island of Kea. When George Bush Sr showed up on the island and Vladimir Putin came to Lavrion I decided there was no way I was going to miss the party no matter what it cost. I booked new tickets back to the USA for an extra 2500 euros and then was able to change my old tickets with the help of Mary at Fantasy Travel for a total of about 300 euros. Andrea and Amarandi decided I was right and accepted that this was a once in a lifetime situation and we were staying for the Olympics.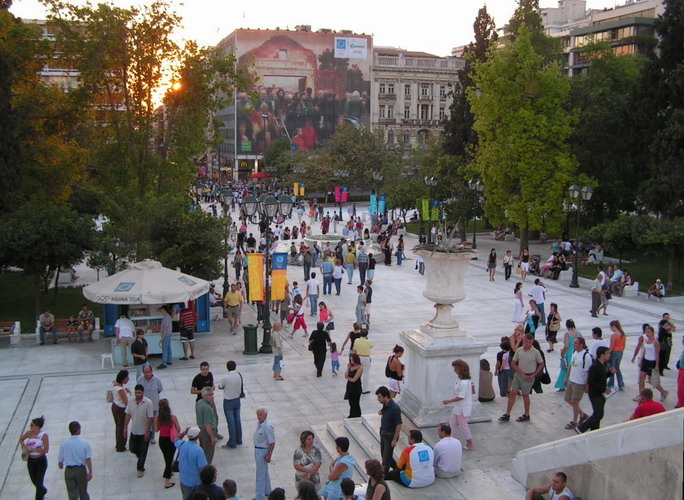 The opening ceremony we watched in the town square in Kea on a small TV. I am not an expert on opening ceremonies but has there ever been a better one? The next day we took the ferry to Lavrion and were met by our friend Panayotis, who works with George the Famous Taxi driver. "Athens seems awfully quiet" I said to him as we drove the highway from Lavrion past the airport and above the city on the new Hymettus ring road. Panayotis pulled off to the side where we had a view of the whole city and the northern suburbs. "Everybody is there..." he pointed to the Olympic complex which was illuminated like a giant space ship. I think that was when it really hit me that these Olympics that had raised so many doubts were actually going on right now. When we got into the center of Athens Syntagma Square was full of people and flags, new fountains and waterfalls, cafes and excitement. We dumped our bags at the hotel and went out to take part, finally ending up at one of our regular haunts the Paradosiako Cafeneon which was full of film crews and reporters. "Order quick" cried Dimitri, the owner. "I am running out of food. It has been like this all day!"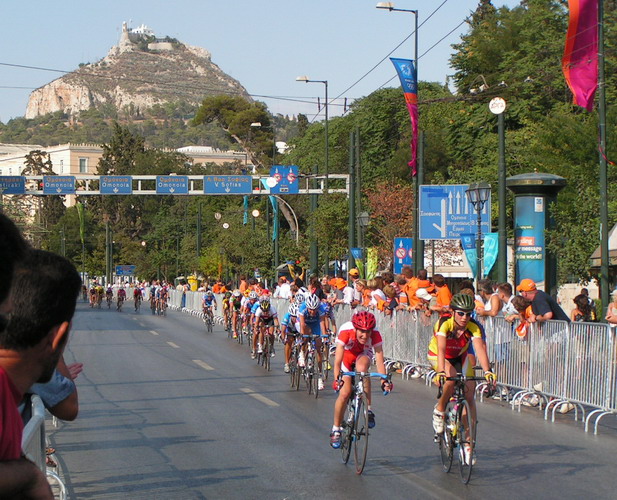 As we ate I looked around at the people crammed into as many tables as Dimitri could fit on the pavement. There were people from other countries, in couples and groups, some with painted faces, wearing their country colors, most wearing their tickets and press passes around their necks with the official Athens 2004 keyholder (I don't know what they are called but that is what I use mine for). I realized that all these people were in my city, reporting to the world. For the next two weeks Athens was the center of the world. Of course to we Athenians, Athens is always the center of the world but for these two weeks the whole world agreed with us.
Our focus was on team sports, specifically the sports we liked and the teams we were following. Tickets were not easy to get for the Greek Baseball team and any basketball games involving Greece or the USA but we managed to get them through a variety of sources. We did not try to see anything else. Track and field, gymnastics and swimming are better viewed on television where you have slow-motion replays and an announcer telling you what is going on. Since every cafe and restaurant in Athens, and around Greece had a television seeing these events was not a problem. There were three channels showing different events so if you wanted to change events you changed cafes. Even in my hotel room trying to keep up with my e-mail and the requests coming in from people who had realized that despite the media's dire predictions, the Olympics were happening, and maybe they could still make if for the last week, the television was always on, either to the events themselves or CNN's Olympic roundup, where their man in Athens tried to make the big story the lack of attendance, after spending the last year scaring the hell out of anyone who wanted to come.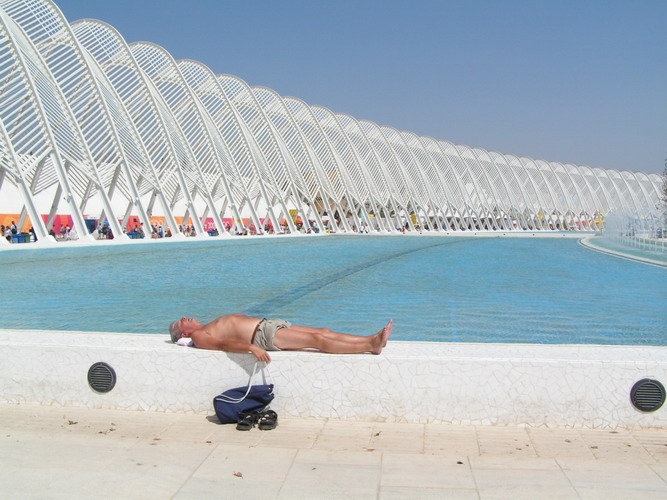 The empty seats was not unexpected. Many seats belonged to Americans who had bought tickets and then cancelled flights and hotels when they decided that maybe the world has gotten too dangerous or perhaps the Olympics would be cancelled because nothing would be ready. The world has always been dangerous and if you live your life in fear of what may happen there will always be something to be afraid of, and anyone who reads history knows that Greece has always been able to do miraculous things when their backs are to the wall. I look at the changes in Athens and then see how slow things move in my small town in America and think that maybe we should all have our backs to the wall if we want to get things done. Once the Athenians came back from their summer holiday, the stadiums filled up, with some exceptions of course. Few people are going to drive three hours to Volos to watch women's soccer, and no matter how exciting it gets, you are not going to fill the old marble Panathiniakos Stadium for archery. Events with low attendance usually filled up by the finals. Almost every event I saw was sold out or close to it.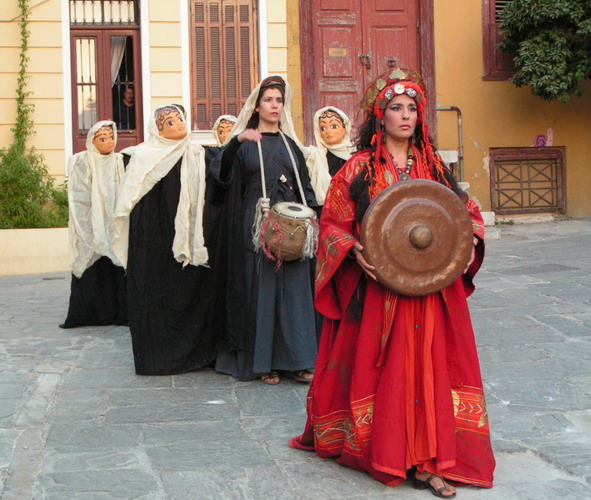 Of course the main event was Athens and the games themselves were a sort of background that you could tune in and out of, at least for me. Tavernas were full until three in the morning. There were concerts in every square and street theater, musicians, flame jugglers, art exhibits anywhere they could find space on the packed streets of Psiri, Plaka and Thission. The cultural events during these Olympics were as impressive as the games themselves. Maybe more.
So I have broken my photos up into three sections. The first are my General Olympic Photos, which are mostly of Athens, some of the venues, the people and the things that were going on. The other sections are for Baseball and Basketball which were the only events we really went to see. From what I have been told, with the exception of Beach Volleyball, these two sports were the most fun for the spectators, and I would have to agree.