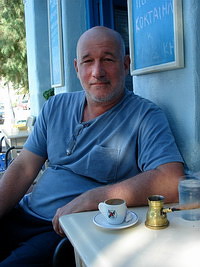 Unlike Lonely Planet, Frommers and Fodors I have not attempted to write about everything in Greece. I have written about what I know and enjoy. I have spent the best times of my life in Greece and my guides allow anyone to follow my footsteps and do the same. They include: Athens Survival Guide, Greece Travel Guide, Greek Island Guide, History of Greece, Lesvos: More Than Just Another Greek Island, Greek Food Guide, Hotels of Greece, and my original Greek Travel Guide. I am currently working on three non-Greece travel sites: A Guide to Paris and a North Carolina Travel Guide and most recently my Guide to Turkey. I also helped build my wife's Byzart Jewelry site and my daughter's Greece4kids.
The travel agencies and hotels and other services on my website have been on my site for years and I have complete confidence in their abilities to please the customers who find them through me. But should you have any doubt I have created a testimonial page where people can send reviews, not just about my websites but also the services I recommend. So if you are looking for a travel agent, hotel, taxi, car rental or guide that is a good place to look if you don't want to take my word for it.
If you need help putting together a trip to Greece and would like to work with a Greek travel agent but don't even know where to begin I suggest you visit my Create-an-Itinerary page and this will lead you through the process.
I love getting e-mail so don't be shy if you have compliments, criticism or have questions about your trip to Greece. I spend several hours a day answering e-mail and I answer them all! People ask me how I could have created so many pages of information. It's easy. I LOVE my job! Questions about Greece? You can e-mail me at matt@greecetravel.com
Remember that if you get lost you can always click on the bar at the top of any page and find your way back to my main travel index or check the links below it for my different websites.
If you love my website and wish there was some way you could donate, well, there is and all donations small or large are donated to the needy in Greece. See www.greecetravel.com/donations