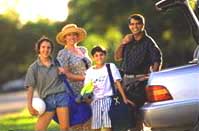 Car rental on the Greek islands can bring that extra independence and freedom which makes your stay all the more fun, enabling you to see the sights you could not get to in any other way.
If you are enthralled by ancient Greece and long to see the historic sites of the Greek isles, or escaping from it all by finding your own way at your own pace to remote enchanting beaches accesible only by private means ... if you want to get really close to the countryside and the Greek people then you will want to rent a car.
Car rental on the Greek Islands just couldn't be easier; we offer a range of models from economy vehicles, compacts, open top 4x4s and family sedans. In most cases, your rental car can be delivered and collected to and from your accommodation, airport or port, free of charge.
Please read the applicable terms and conditions for the above locations.
Please do not hesitate to contact us at mb@thesaurus.gr for any additional information you may require.
CAR RENTAL RATES 2018
All prices are in Euro per day
LOW SEASON
MIDDLE SEASON
HIGH SEASON
01 Jan - 02 Apr
11 Apr - 24 May
01 Oct - 31 Dec
03 Apr - 10 Apr
25 May - 30 Jun
01 Sep - 30 Sep
01 Jul - 31 Aug
GROUP A - Daewoo Matiz 1000cc or similar. Air Condition, 5 Doors, Manual Transmission, 4 Passengers
SEASON
1 - 5 days
6 or more
LOW
38
32
MIDDLE
44
38
HIGH
57
50
Prices are in Euro per day
GROUP B - Hyundai Matrix 1600cc or similar. Air Condition, 5 Doors, Manual Transmission, 5 Passengers
SEASON
1 - 5 days
6 or more
LOW
44
38
MIDDLE
50
44
HIGH
63
57
Prices are in Euro per day
The above rates apply only for car rental on Syros Island.
For car rental at other locations in Greece please click on this link: Car Rental in Greece
Car Rental Terms, Conditions and Optional Supplements applicable for the above locations in Greece.
All prices quoted are PER DAY, in Euro.
The minimum rental period is one day. One car rental day equals to 24 hours from pick-up time to drop-off time.
The car should be returned to the agreed drop-off location (car rental station or other) at the same hour that it was picked-up. Maximum drop-off delay without any charge: up to 1 hour delay in relation to the pick-up time. If drop-off is delayed for more than 1 hour, one full additional car rental day is charged.
All car rental types mentioned are sample models and are subject to change with a similar model.
DRIVERS QUALIFICATIONS:
- Drivers must hold a valid driving licence, with date of issue at least 24 months prior to the rental.
- Drivers from countries outside the European Union must also hold a valid International Driving Licence.
- Drivers must hold a valid passport or identity card, as well as a credit card for a security deposit.
Credit Cards Accepted for the security Deposit: VISA, MASTERCARD, AMEX.
Cash Cards such as Maestro, Electron, etc. cannot be used for a security deposit.
- Minimum driver's age permitted is 21 years for all other car hire group categories.
- Maximum driver's age permitted is 75 years, for all car hire group categories.
- Driver's cell phone number is required (please inform our office at least 48 hours prior to car pick-up).

SECURITY DEPOSIT:
A Security Deposit is required for all car rentals. The amount of the security deposit varies based on the car group category booked and any optional insurance cover chosen. The Security Deposit amount is equal to the total of the deductible amounts applied to the car rental insurance cover chosen. The driver must hold a credit card to be used as a Security Deposit. If a credit card cannot be supplied at the time of the collection of the vehicle, a cash deposit will be required as a security deposit. The amount of money to be blocked on the driver's credit card during the rental period, or the cash amount to be given as a security deposit, depends on the deductible amounts applicable in the insurance terms included in the car rental agreement, as well as in relation to the tank's gas volume and car keys & tires condition when the vehicle is returned. The security deposit amount blocked on the Driver's credit card is released, or the cash given as security deposit is returned, provided the car is returned in the same condition as it was rented, with the same amount of gas that it was received by the client and the keys & tires intact.
Car rental rates are fully inclusive of the following:
- Unlimited Mileage.
- One Additional Driver.
- One Baby Seat.
- Third Party Liability Insurance, which covers (coverage limits):
- Third party bodily injuries up to 500.000 Euro (driver of rented vehicle not covered) and
- Third party property damages up to 100.000 Euro (rented vehicle not covered)
- All Taxes.

Car rental rates DO NOT include the following:
- Global Positioning System (GPS) (currently not available)
- Roof Rack (currently not available)
- Snow Chains (currently not available)
- Personal Accident Insurance (PAI)
- Partial Collision Damage Waiver (CDW)
- Full Theft Waiver (FTW)
- Gasoline and Tolls
- Traffic and/or other Municipal Fines. The Driver is fully liable.


All insurance cover is invalidated if damage was caused due to violation of traffic laws, and/or being under the influence of drugs or alcohol. Damage to tires, wheels, glass, mirrors, car interior and undercarriage is not covered by ANY insurance.

Accident Administration Fee:
If an accident occurs, an administration fee of 40 Euro will be charged. This charge applies regardless of which party is at fault. If an accident occurs, an "Accident Statement Form" should always be filled-out and submitted, as soon as possible but not more than 48 hours from the time the accident occurred, to the Car Rental Company in order for the insurance covers to apply. This form can be obtained when picking-up the rented car, from the Car Rental Company office or representative.
Car rental pick-up or drop-off is free of charge, during the car rental station hours (06:00am to 11:00pm) when taking place:
- at the car rental station office on the island
- at the port on Syros island
- at the airport on Syros island
- at any hotel on Syros island

One Way Car Rental Fee (pick-up in one location and drop-off in another):
Availability and applicable Charges vary according to location (available on request).
Transport of vehicle via ship or other transportation means: The Car Rental Company's written authorization is required. Without the written authorization of the Car Rental Company the vehicle is not covered by any insurance coverage for the time that it remains on a ship or on other transportation means. This possibility and Applicable Charges vary according to transportation means and locations to be transported (available on request).
Cross border policy. Cross border rentals are not allowed when renting a car from Syros island.
If you have any questions about car rental in Greece please e-mail mb@thesaurus.gr
We wish you happy motoring.