Mainland Greece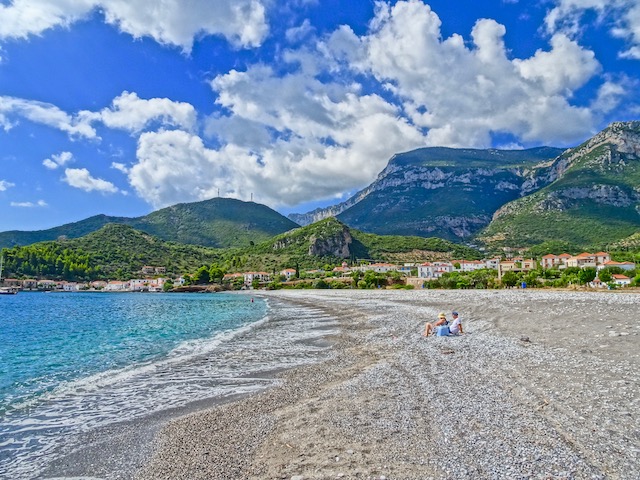 Most people who have traveled to Greece often or live in Greece will tell you that the mainland is the best part. It is also less developed and less expensive than the islands, at least the ones that you have probably heard of. And most of the important archaeological sites are on the mainland and the beaches are as good or better than what you will find on the islands, with a lot less people on them. Visit my Guide to the Greek Mainland and read about the Peloponnesos, Ipiros, Pelion and other beautiful places in Greece. Also see my Guide to Trekking, Hiking, Adventure, Cultural and Alternative Travel in Greece.
There are buses in Athens that go pretty much everywhere though in some cases you may have to change to a local bus. You can even take buses to Corfu, Kefalonia, Zakynthos and Lefkada. Buses are clean and well kept and usually privately owned. Most have air-conditioning if not all of them. But if you really want to explore the mainland you should rent a car.
The trains go north to Thessaloniki with a couple spurs that shoot off to Pelion and Meteora. The Peloponnesos Train goes to Corinth, Kalamata, Patras and a few places in between. Train fare is inexpensive and you will find yourself accompanied by many Albanians, refugees, Gypsies and poor villagers and even a few back-packing tourists. The train stations for both the Peloponnesos and the train to Northern Greece are easy to get to from Omonia. Walk down Agios Konstantinos Street and when you get to Kariaskakis Square take a right and walk a couple more blocks. The first station you will see is the Northern Greece line and the Peloponnesos Line is behind it. You can also get the Peloponessos train from Pireaus which is very helpful if you are coming from or going to Patras and the Greece-Italy ferry boats, because you can by-pass Athens if you like. The Pireaus station is right next to the Metro Station across from the ferries.
Getting to the long distance buses is another story. There are two bus terminals, both in a part of Athens you would never go to if there was not a bus terminal there. You can find the bus routes to the terminals at www.athensguide.com/schedules/terminals.html and schedules and other helpful info at www.athensguide.com/schedules as well as how to get to these terminals and which one you need to go to depending on where you are going. My advice is to splurge and take a taxi. The Greek National Bus System is actually a lot of smaller private companies driving under the banner of KTEL. There is a KTEL Website with links to schedules and more info though the quality of the information varies place to place. Some are not even in English. But the buses are nice at least.
Travel agents offer tours to many popular places on the mainland which are usually affordable, almost as cheap as going on your own, and include pick up from your hotel, transportation by luxury bus, tickets to the archaeological sites, the services of a licensed guide, and even meals. See Fantasy Travel's Organized Land Tours for examples.
If you are traveling with three other people it is just as cheap to hire a taxi. See www.greecetravel.com/taxi
See Matt's Greece Mainland Pages
Packing for Greece
If you travel light you will be a lot happier. I use a small backpack that can fit in the overhead luggage on the flight over and it has wheels too. You don't need a lot of clothes if you are going in the summer because during the day you will be wearing shorts and a bathing suit and if you rinse them at night they will be dry by morning. The sun shines every day and you can wash your clothes and hang them out and they will be dry in a couple hours. You don't need a load of books because you are afraid you will be bored. Just bring one or two and you can jettison them when you finish and find another in the hotels because that is what everyone does. A good guidebook is helpful. Lonely Planet is what I use but equally good is Frommers, Fodors, or Rough Guide. You can order them through my books page along with other interesting books about Greece. Bring sunscreen. It is expensive in Greece.
Getting to Greece
See Kayak and Justfly.com for inexpensive flights from the USA and keep trying and you should be able to find something affordable. From the UK look for deals from Easyjet and Ryan-Air and check the travel ads for charter companies that are trying to fill seats and are offering good deals through bucket-shops. If you are coming from or through Europe by train just get to Brindisi, Italy and go deck on the ferry to Patras. That's the cheapest way to get to Greece. Then take the bus to Athens. It's faster than the train, but the train will take you all the way to Pireaus if you want to skip Athens and go straight to the islands.
All this information and more is covered in my Athens Survival Guide and at www.greecetravel.com and you can e-mail me for more info or specific questions.
Not to discourage you from striking out on your own and dealing with the ferries and buses and cheap hotels in search of an inexpensive holiday, but there are packages available which include hotels, ferries, transfers, tours and breakfast to some of the most popular islands in Greece for as low as 62 euro a day per person. For more info see www.greecetravel.com/budget-travel