Using a Reliable Greek Travel Agency
Corfu has a very large selection of hotels of all different sizes and categories from Luxury hotels with swimming pools, tennis courts and health spas to smaller hotels and private rooms. There are a few cheap hotels and rooms to rent and you may get lucky and find them but when you get off the boat in Corfu you will not be in a quaint village but a pretty good-sized city with buses and traffic lights and it may be a little disorienting. Anyway it is recommended that you book in advance because in the summer Corfu can get quite busy and if you wait too long you may not find anything. You can book hotels through Dolphin Hellas Travel in Athens as well as Fantasy Travel. I highly recommend both of these agencies for hotels and your transportation needs, especially if Corfu is only a part of your Greece itinerary. If you plan to include Corfu with other islands or Athens and the mainland I invite you to use my Create-an-itinerary form which will enable you to see what is possible and how much it will cost. For Villas, holiday homes and self-catering apartments see Matt's Corfu Villas Page and also see Matt Barrett's Best Hotels in Greece Corfu Page
Booking Hotels in Corfu

For those who like to book hotels and bypass a travel agency here are a few recommended hotels listed by category. You can see more photos and get more information and book them directly by clicking on the link for each hotel and if the hotel is full there are suggestions for similar hotels nearby. You can also find apartments, villas and home rentals on Booking.com's Corfu Hotel Search Page
Corfu Imperial, Grecotel Exclusive Resort

Set amongst cypress and olive trees, Italianate gardens and private coves on its own private peninsula, this waterfront resort offers a sophisticated ambience with luxurious lounge areas and stylish touches. Previously a favoured retreat for royalty, including Queen Victoria and Empress Sissy, this island hideaway is designed for privacy. Splendid gardens and bungalows are snugly embraced by pine groves, and pastel-coloured villas are reminiscent of the vibrant Ionian sunsets. Sport and entertainment programmes are specially tailored to suit your tastes. Evening shows and musical nights highlight the rich traditions of the island. The hotel's conference and banqueting facilities are renowned throughout the business world and its meeting areas are the largest on the island. Just 12 km from Corfu town, this resort hosted the European Union Leaders Summit in 1994. On entering the hotel, you will understand why it was chosen.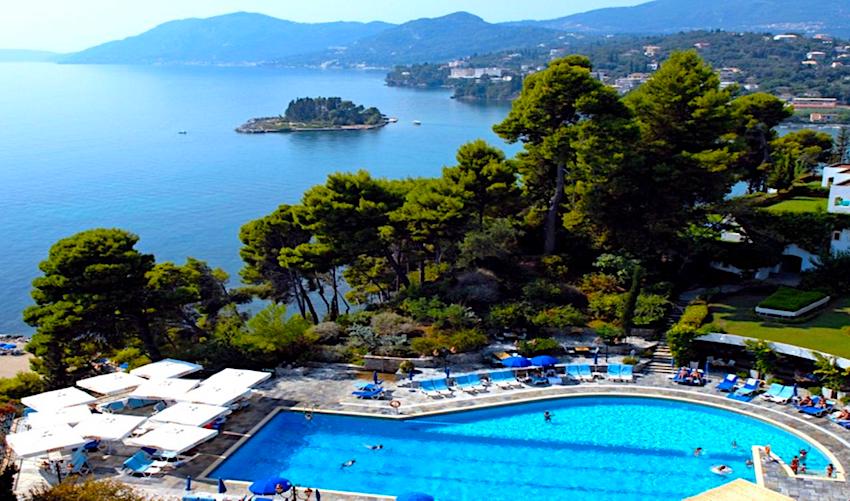 Corfu Holiday Palace

Corfu Holiday Palace situated on one of the most known cosmopolitan islands of Greece, the island of Corfu invites you to discover its hidden treasures, a white sand beach, crystal clear Mediterranean waters, a sun-drenched landscape, one of those mythical places that everyone should visit once... The renovated Corfu Holiday Palace nestles on an idyllic, peaceful bay with a direct view of the famous "Mouse Island", on the other side, a beautiful view of Lake Halikiopoulou and distant hills.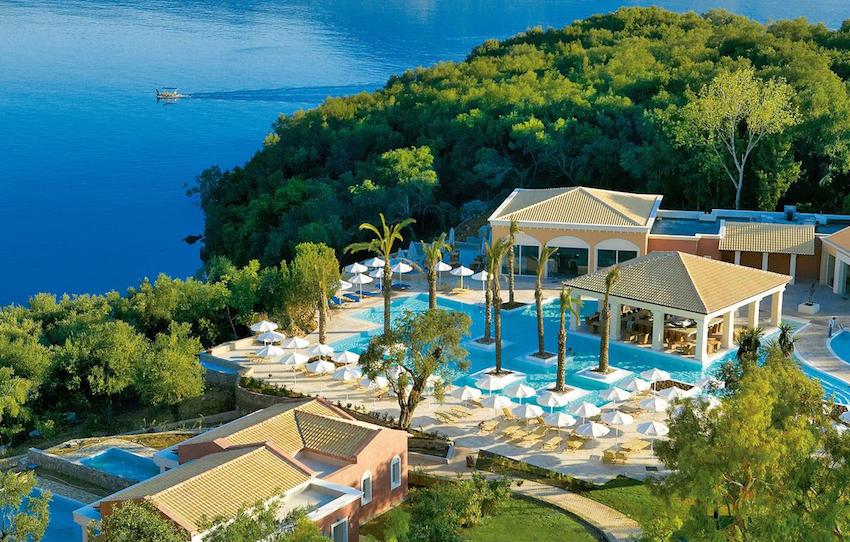 Grecotel Eva Palace

Secluded among lush exotic gardens, this idyllic resort is a private Eden where discreet, intuitive service is part of the attention to detail that delights at every turn. Kommeno peninsula, one of the most romantic spots in the Ionian, harbours an intimate, exclusive hideaway just for couples: the Eva Palace. A romantic mood permeates the entire resort. The gardens are designed for languid, barefoot strolls while holding hands. Narrow, secluded paths wind through the tranquil gardens linking the shimmering emerald cove to the large, free-form swimming pools shaded by a profusion of flowering bushes. At the Elixir Spa you can immerse yourself in the sensory delights of a rose-petal bath or a head massage. Surprise your partner with a Love Potion, the signature treatment of the Eva Palace that will free your mind, relax your body, and transport you straight to bliss.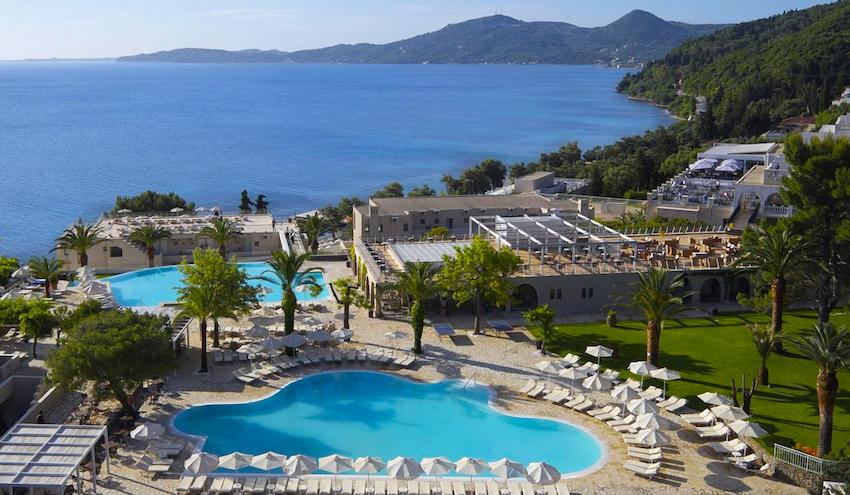 Marbella Corfu

Featuring free WiFi and a hot tub, MarBella Corfu offers accommodations in Agios Ioannis Peristerion just 8 miles from Corfu Town. There is a water park on site and guests can enjoy the on-site restaurant and bar. Every room at this resort is air conditioned and is fitted with a flat-screen TV. Some rooms include a sitting area where you can relax. Certain rooms have views of the sea or garden. The rooms are equipped with a private bathroom. For your comfort, you will find free toiletries and a hairdryer. There is a 24-hour front desk and hairdresser's at the property. This resort has a private beach area and bike rental and car rental are available. You can play tennis, ping-pong and darts at this resort, and the area is popular for biking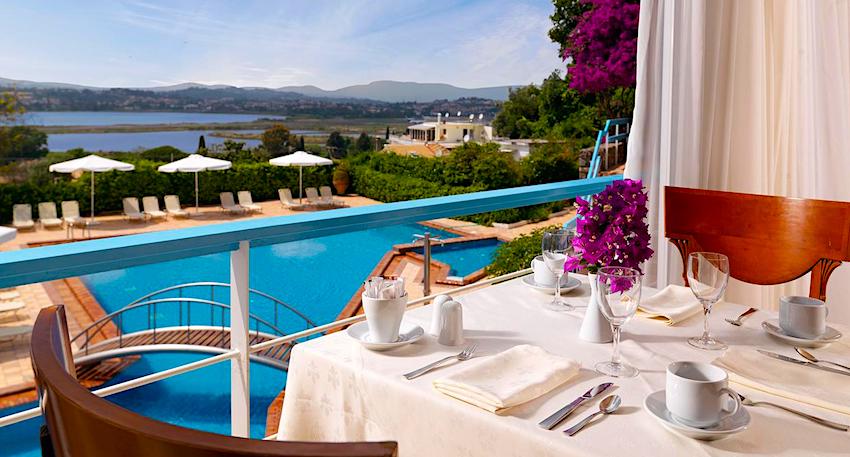 Divani Corfu Palace

This modern luxury 4-star hotel is situated on the green wooded hillside of Kanoni, overlooking the pristine waters of the lagoon. The Divani Corfu Palace is located on the picturesque island of Corfu, where idyllic beauty, cultural attractions and a thriving nightlife are all presented with a flair unique to this cosmopolitan island. The hotel is only 3 km from Corfu town centre and 1.5 km from the beach of Mon Repos. Our luxury Corfu hotel provides the perfect location for those who wish to be near Corfu town's activities and famous historical centre but crave the beauty and seclusion of the surrounding hills.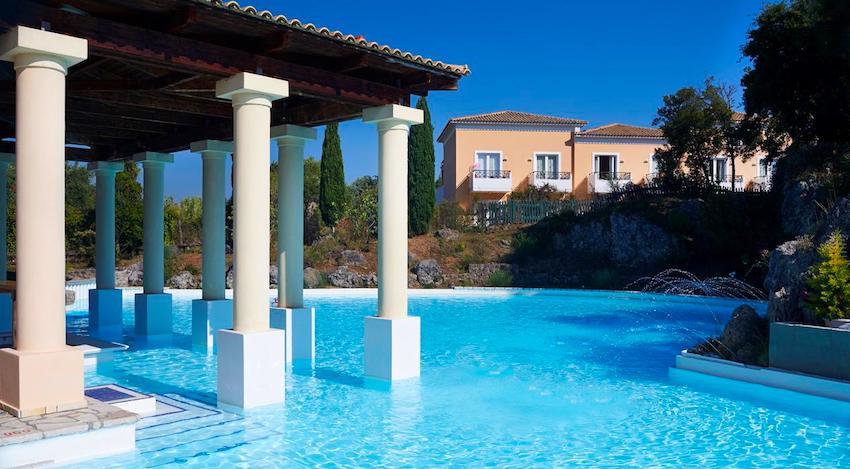 Louis Corcyra Gardens Hotel

Spread throughout 78 acres of unspoiled landscape, enjoying wonderful and comfortable facilities, this is a unique family holiday alternative. With a touch of individuality, friendliness and culture, this resort was fully renovated and upgraded recently. Situated in the area of Gouvia, it is between 2 magnificent natural coves, in a mixture of extensive greenery and sandy beaches with warm shallow waters. Only 100 metres from the shopping area, you are a 10-minute drive from Corfu and the airport. Driving north, Gouvia is one of the first places you come across. Once an old Venitian shipyard, it is now a popular tourist resort overlooking Gouvia Bay. The shops, bars and restaurants of Gouvia village are a 5-minute walk away.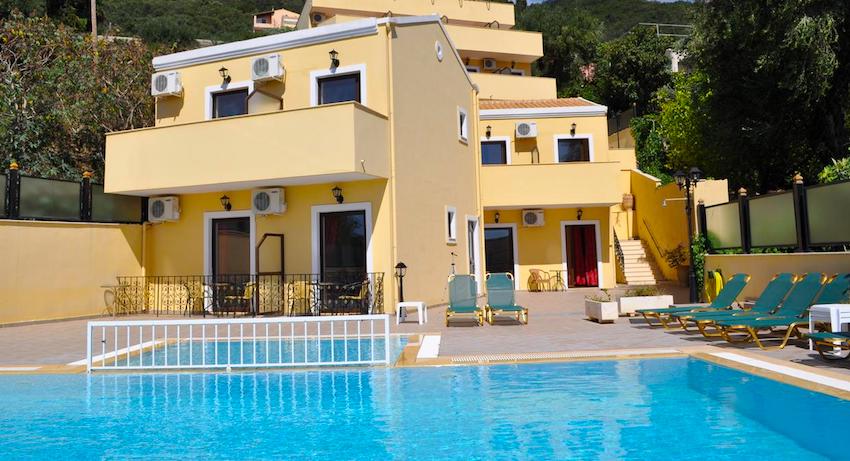 Corfu Secret Boutique Hotel

The architecture of this beautiful hotel will take you back to the 18th and 19th century while still providing the latest and most up-to-date comforts of the 21st century. The luxury and Venetian style with influences from French and English presence in the island fills every nook anc cranny of the hotel. Corfu Secret Boutique Hotel was not only designed to cover the needs of guests or business travelers but to cover a wide range of visitors of the island, those who seek a more personal service that cannot be found in other big hotels in Corfu. This popular hotel is more warm, more friendly, more familiar. The Corfu Secret Hotel is designed for those who love and appreciate art, for dreamers, for those who want to travel for a while to the old romantic bygone eras. The combination of the breathtaking view and the relaxing family environment greet you as soon as you arrive at Corfu Secret Hotel. The hotel is only 8 miles from the city of Corfu and the port, 10 miles from the airport, 2,000 feet from the beach and 20 feet from the bus stop and mini market. WiFi is available in the hotel rooms and is free of charge. The hotel is popular and fills up quickly so book it now if you want to stay here.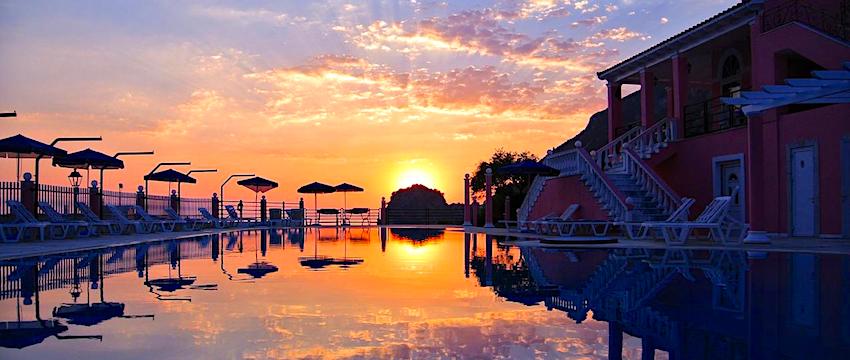 Hotel Elena Ermones

Hotel Elena is a friendly family run hotel on the island of Corfu. Located on the Ermones resort, this is a perfect opportunity for quiet outdoor relaxation. Hotel Elena provides a recreational alternative to the busier tourist locations of Greece. Presenting visitors with an idyllic natural silence, green surroundings and sandy beach this is perfect for those who value tranquility. Hotel rooms are spacious and immediately offer a balcony view of the crystal blue sea. You can relax by the outdoor pool with a beautiful view of the sea and hillsides, as well as enjoy the hotel's garden bar and restaurants. Children also have a playground where they can enjoy their time. For those who appreciate outdoor activities, Hotel Elena offers a pleasant variety. The Ermones Resort is perfect for diving, sailing and horse riding. A diving school is located in the area. You are also only about a kilometre away from the Corfu Golf Club with its 18-hole golf course.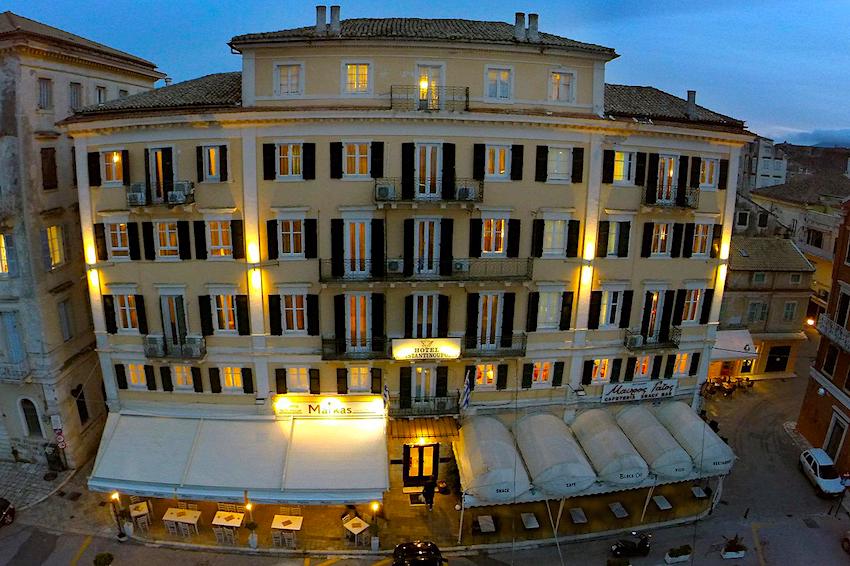 Hotel Konstantinoupolis

Given its advantageous position by the port in Corfu Town, the Hotel Konstantinoupolis was in great demand among the business community of the time as well as the high society of Europe who chose Corfu for their holidays, and attracted various celebrities and artists who came to the island to perform. The "Konstantinoupolis" has been faithfully restored keeping the original features and respect for the history and architectural tradition of Corfu. The hotel has the panoramic views direct facing the old port and the two small islands of Vidos and Lazaretto. The spirit of Konstantinoupolis hotel, full of charm, with a warm authentic family atmosphere, awaits you.This Traditional Hotel stands out for the excellent value of its quality services, its multilingual staff along with its charming Greek hospitality.Towards all visitors irrespective of their personal preferences. The hotel Constantinoupolis has 31 fully equipped rooms, all with intimate atmosphere, spread out over four floors of a five-storey building.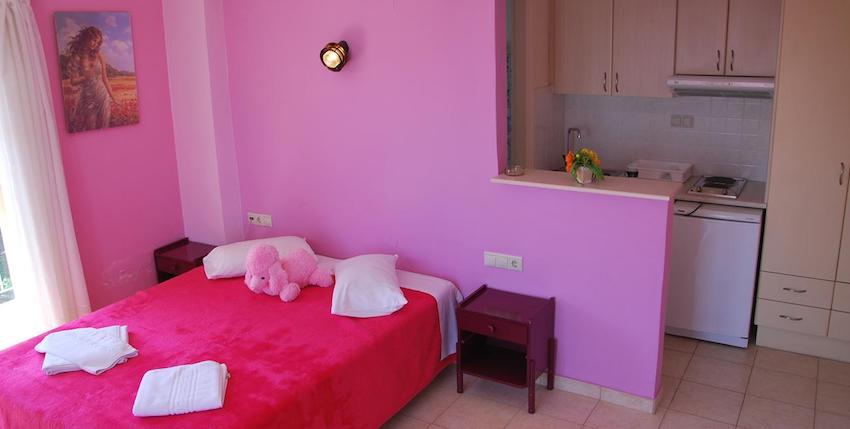 Bella Vista Beach Hotel

Bella Vista hotel in beautiful Benitses, Corfu is a charming small hotel, located close to the beach and recently renovated and upgraded. It is one of the brightest, freshest hotels on Corfu island. Bella Vista Beach hotel offers excellent value for money of a two star hotel with a five star attitude. All 23 bedrooms are air conditioned. Wireless internet is available in public areas and is free of charge. Bella Vista hotel is located just 30 meters from the beach in Benitses village. Benitses beach is an organised beach with sunbeds and umbrellas available for hire. In addition there are a number of private swimming pools nearby. Bella Vista is close to Benitses village centre with a selection of restaurants bars and coffee shops along the beach. There is regular public transport to beautiful Old Corfu town centre and the bus stop is located just 30 meters from the hotel. Car parking is free at the local car park at 150 meters from the hotel. Bella Vista hotel suits travellerers looking for a small and friendly hotel, a clean environment in the centre of the island with quality accommodation at great prices.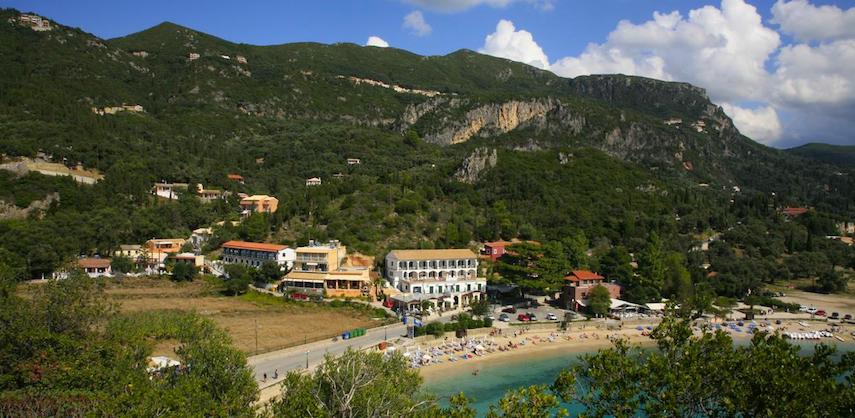 Apollon Annexe Resort Hotel

The Apollon Annexe Resort is centrally situated on the North West Coast of Corfu in Paliokastritsa and is spread out over 3 kms of the most amazing coastline where the dramatic mountains and olive groves sweep down to the crystal clear sea. There are numerous beaches offering safe bathing, excellent snorkeling, boat trips around the caves, self-drive motorboats, watersports or of course, just lazy sunbathing. All of the bays are either pebble or a mixture or sand and pebbles and the main bay of St. Spiridon is a blue flag beach with lifeguard, changing rooms and fresh water showers.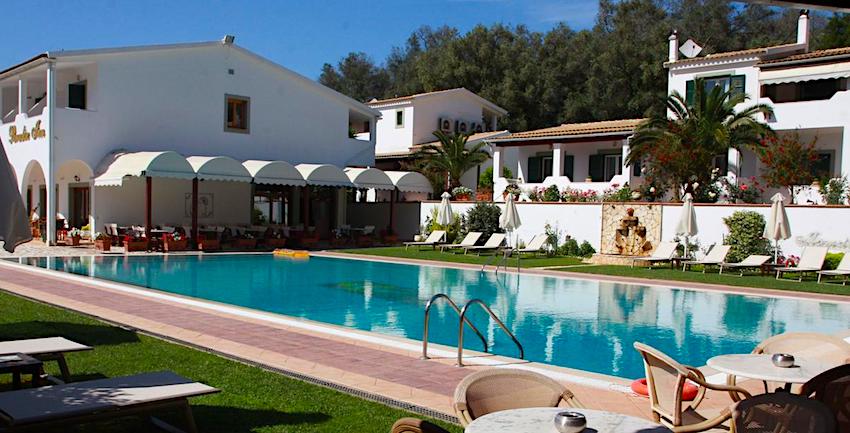 Paradise Inn

Set amidst lush olive groves, close to a beautiful, secluded beach, Paradise Inn offers tranquillity and modern facilities just a few kilometres from Paliokastritsa, one of Corfu's most picturesque resorts. Start your day with buffet breakfast, before relaxing around the pool with a drink and a snack from the bar. Later you can sample delicious Greek and Mediterranean dishes in the Paradise Inn restaurant, which are made with local, organic produce. The rooms are modern and airy. They are all air conditioned and equipped with satellite TV and fridge. From your private balcony, you can enjoy views of the pool area and/or the surrounding hills.
Corfu, the most cosmopolitan of the Ionian islands, is a place of exceptional natural beauty, rich history and wonderful architecture. Paradise Inn is surrounded by traditional villages, while Corfu Town is 20 kilometres away.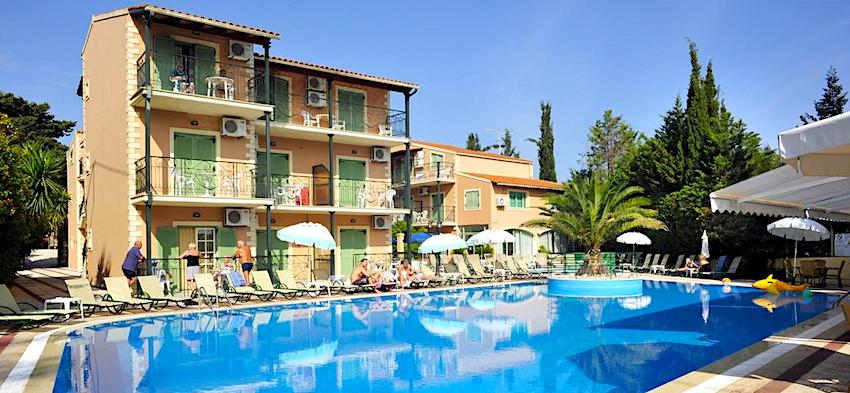 Philippos Hotel invites you to enjoy a peaceful and relaxing break in a comfortable, self-catering apartment, situated amongst Kassiopi's olive groves and close to a variety of local entertainment. Just 500 metres from Kassiopi's restaurants and bars, Philippos Hotel offers a peaceful setting allowing you to enjoy a relaxing break. There's a lovely outdoor pool for a refreshing swim in the afternoon, as well as a smaller one for children to play in. Enjoy light snacks and refreshing drinks at the friendly pool bar. Philippos Hotel is just a short walk from Kassiopi's charming centre and there is a supermarket nearby for all your grocery shopping. Should you wish to explore Corfu by car, you can enjoy free private parking facilities at Philippos Hotel.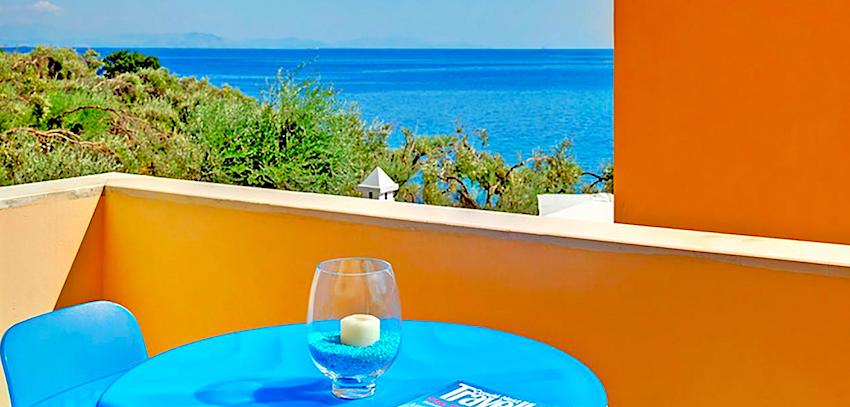 Glyfa Apartments is a newly built complex in the area of Glyfa in Corfu, right next to the sea, with free Wi-Fi internet access. All the apartments have spacious balconies that overlook the sea. Start the day there, looking at the place on the beach where you will soon be. Sunbathe at the beautiful beach of Glyfa that lies in front of the apartments.
Relax by either the 2 pools, or enjoy going fishing or diving nearby. For longer excursions, use the car rental service.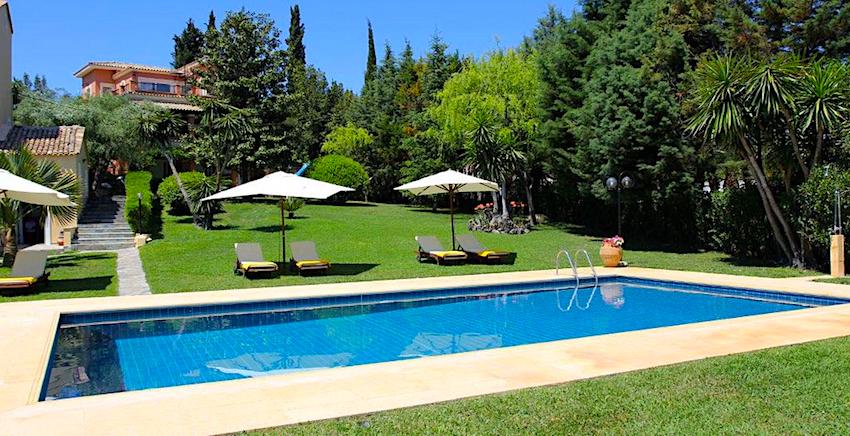 Isabella Country House is a complex that consists of small picturesque apartments situated just 400 meters away from the village of Gouvia, and 700 meters from Gouvia Marina. Relax on the terrace and in the garden. Take a refreshing swim in the pool. when ready, have fun using the barbecue facilities. Write home about Isabella Country House using the free Wi-Fi internet access. Country House Isabella consists of two beautiful villas built in a colourful garden covering 5,000 square metres. It offers a friendly, family atmosphere to guests. It is an ideal place for holidaying in a calm, relaxed environment as well as getting in contact with the beautiful nature of Corfu.

What makes The Pink Palace special? •Free pick up for all our guests from the airport or port on arrival. •Free kayak for a day for bookings of 7 days or more •24 hour reception and bar. •Free wifi. •Free Jacuzzi. •Free safety deposit boxes at reception. •Breath taking sea views and amazing sunsets. •We are a Family run Business. •Only a 5 minute walk to our beach bar & restaurant (just 300m) •We offer free sun beds & floating mattresses on the beach for all our guests. •Free access to the next door property swimming pool. (May to October) •Only a two minute walk to the center of Agios Gordios village and bus stop. •We organize island tours, car rentals, quad rentals, kayak rentals and safaris. •Double room with en-suite bathroom that includes a shower, a toilet and a sink with a large mirror. •Air-conditioning is also included along with a hairdryer, towels and linen. •There is a balcony that includes chairs and a table so there is an area outside to relax. •The view from the balcony is a beautiful ocean view and also our forest mountains.
More Helpful Corfu Information
You can find more hotels in Corfu by location, price, whether or not it has a swimming pool or is on the beach, and see photos, maps and customer reviews by using this link to Booking.com's Corfu Pages. Excellent prices and many hotels you can book and then cancel with no cancellation fee. For those who want to book without using a travel agency this is the best way to do it.
For Villas, holiday homes and self-catering apartments see Matt's Corfu Villas Page
For hotel descriptions, photos and booking info in Corfu see www.hotelsofgreece.com

If you prefer to book directly without going through a travel agency you can find a large selections of hotels in Corfu and book them at a discounted rate at www.booking.com
For booking hotels, ferries, flights, tours and itineraries that include Corfu visit Dolphin Hellas Travel and Fantasy Travel at www.athensguide.com/agency.html or use my Create-an-itinerary form