Peregrinations in Eastern Crete
by Diana Farr Louis
When I think of Eastern Crete, two kinds of memories spring to mind: moments spent with the warm, generous people I know there and snapshot-like images of its extreme contrasts – in scenery and in lifestyle. If you head east from Heraklion, ignoring the hotel-bar-souvenir shop belt along the coast as far as Mallia (saving beaches for later), you'll immediately notice the first striking difference – between the strung-out development on the sea front and the bucolic lack of it only a few kilometers inland.
The cave at Skotino
Take, for example, Gouves. Sur mer, it cannot be said to have much charm, despite the waves, but around Ano Gouves all is pretty farm country, olives and vines. Go to the next village, Skotino, and you would not even imagine the 21st century is just around the corner. Like many hamlets in Crete it's inhabited by the over fifty and the under fifteen, and it has a gentle, slumbering serenity that captivates me every time I go there. However, the main reason for a visit is not to step into the immediate past but rather into a cave that will carry you back at least four millennia. Inappropriately named Agia Paraskevi (St. Friday), it seems to have been a shrine to the Great Goddess, judging from the idols and other artefacts found inside.
Tipped off by Carol Christ*, a thealogian (sic) who leads "Goddess tours" on the island, I was lucky enough to be guided down it by the now retired Kyrios Nikos. He knew the cave like the veins on his gnarled hands, but making the steep and slippery descent 230 meters into the earth required a gulp of faith and the determination to banish any lurking fears of claustrophobia. Yet Carol had written so movingly about her own descent, alone and in the dark, that I wanted a taste of what she had experienced.
(*Carol P. Christ is a founding mother in the study of women and religion, feminist theology, women's spirituality, and the Goddess movement. She has been active in peace and justice movements all of her adult life. She teaches online courses in the Women's Spirituality program at CIIS. Her books include She Who Changes and Rebirth of the Goddess and the widely used anthologies Womanspirit Rising and Weaving the Visions. One of her great joys is leading Goddess Pilgrimages to Crete through Ariadne Institute. And she writes a blog, https://feminismandreligion.com)
The cave is not one of your spotlit extravaganzas streamlined for better ogling at stalactites molded into barely plausible anthropomorphic shapes. It has four levels, and at each one you can decide whether to proceed or retreat. As I groped and slid down the narrow passage into the planet's innards, sometimes quite intimately entwined in Nikos's legs while he with the greatest discretion guided my steps and saved me from tobogganning to the next flat zone, I found myself wondering about the worshippers of eons past. Did the goddess reveal herself to them as they neared the mysterious stalagmite at the bottom that resembles a female form? Was it as much a journey into themselves as a pilgrimage to do her homage? In this cave you can still feel the presence and the power of prehistoric religion, something that is missing in Crete's great shrines to Zeus on Mts. Dikti and Psiloriti (Ida). Souvenir stands and hustling guides mar the Dikti cave, while the Idean cave suffers from the opposite sin, total neglect, its entrance barred by a clumsily erected, rusting barbed wire fence.
Back in the sunshine, bluejeans streaked with mud and moss, I was relieved my experience was over, but awfully glad to have had it, and just as awed by my friend Carol's courage and devotion. My husband seemed equally pleased to have spent the hour sitting under the enormous planetree next to St. Friday's church above the cave. Driving back to the village, Nikos invited us into his tiny courtyard for some of his barrel wine and a chat with his wife Irini and we became friends. (I am not sure who has taken his place, but there must be a guide – don't attempt it on your own.)
Agios Nikolaos, Elounda and Spinalonga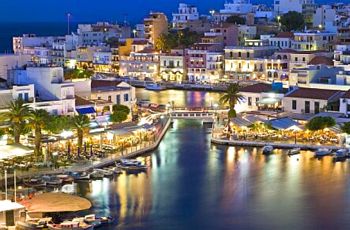 Next stop, Agios Nikolaos. Talk about contrasts. There are so many in this corner of Crete one is constantly being jolted. The last time I was in this neck of the woods (1969) this little port was a cute village built around a pretty little lake, thought to be bottomless until 1853 when the English explorer Spratt debunked the legend with the latest technology. Now it's a real town, not unpleasant, just changed. And the stony coast north of it has been transformed into one of the most luxurious resort areas in all Greece. Here at Elounda where "the elite mee," your bungalow comes with a private pool and a jacuzzi, lawns are plucked not mowed, and everyone's manners are impeccable. Here swaggering Russian entrepreneurs come to spend hot money on Zolotas bijoux and sable capes for their sweet-faced bimbos, while Americans clad in the pink shirts and yellow slacks of Palm Beach and Southampton come to spend a decorous honeymoon. But just a short drive further north will bring you to the deserted island/peninsula of Spinalonga, one of the Venetians' last holdouts before the Ottomans nudged them back to the Adriatic. After they left the place became a leper colony and the air of desolation and despair here is hard to reconcile with the frolicking and affluence down the coast. So pervasive is it that no developer has yet dared make a stab at turning Spinalonga into a holiday village. (But it has since become famous as the location of Victoria Hislop's novel, The Island.) See Richard Clark's Agios Nikolaos Page
The Lassithi Plateau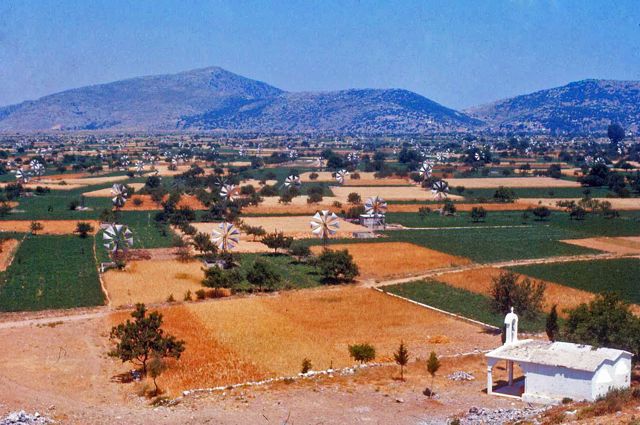 A popular excursion that must entail a certain amount of culture shock for the residents of Elounda's posh hotels is to Lassithi, the plateau with the ten thousand windmills. Though only thirty years ago the people here lived in log cabins plastered with mud, no electricity and no indoor loos, today they are prosperous. They fed the whole island during the second world war and now they send their apples, quinces, walnuts and potatoes, potatoes, potatoes to the mainland and Europe; besides they all have real estate in Heraklion. But despite its fertility, the beauty of the high mountains around it, and the garlands of apples and tomatoes dangling from the balconies, Lassithi is not a place most foreigners take to their hearts. It has a melancholy air, perhaps because hardly any of the windmills actually pump water any longer, perhaps because intimations of past brutality have left a lingering resonance through the land. Adding their fortifications to its mountains, the last of the Minoans took refuge here from the Mycenaeans and then the Dorians, their name changing in the process to Eteocretans or original inhabitants. They enjoyed the Pax Romana along with the rest of Crete and neither the Byzantines nor Arabs disturbed them, but the Venetians were not so benign. When, like Sfakia in the southwest of the island, Lassithi became a stronghold of anti-Venetian insurgency in the mid 13th century, they simply uprooted its trees, crops and population and closed it off for two whole centuries until hunger forced them to cultivate it again. It was they who dug the irrigation trenches and "planted" the first windmills.
To get a feel of what life was like before the 1960s, pay a visit to the small folklore museum at Agios Yiorgios. You'll see how really primitive conditions were – animals and their owners bedded down in close proximity – and if you'd like a good meal with some interesting talk about Lassithi then and now, have lunch at Kronio taverna in Tzermiado. It's been in Vassilis Karyiotakis's family for three generations. He runs it with his French wife, Christine, one of the very few foreigners who has had the temerity to settle there.
For a swim or a loll on a nice beach, you'll have to go back to the coast. Elounda has fine swimming but the beaches are, well, small; I suspect the sand of having been imported. Those along the gorgeous Mirabello Bay will do but the meltemi blows up the surf here. Be patient, the best is still to come.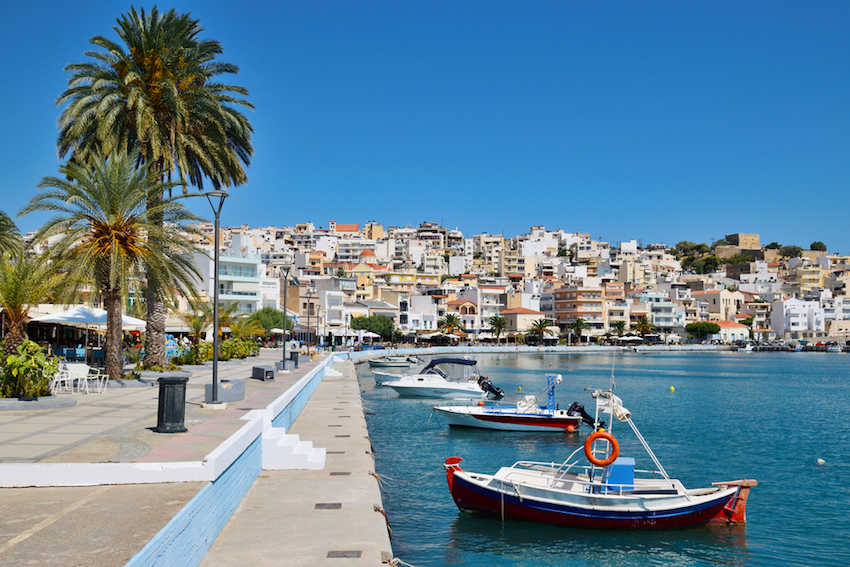 On to Siteia
Meanwhile, just enjoy the drive along this flat shore at Crete's narrowest point and continue up the cliffs into some of the island's most stunning scenery as you look down onto the sea-girt rocks and picturesque villages. Resist the temptation to speed over to Ierapetra on the south coast; it may have become the wealthiest town in all Greece since a Dutchman suggested the region was ideal for producing early fruits and vegetables, but the tattered plastic sheeting used to cover the greenhouses has severely disfigured the landscape and the Venetian harbor is barely noticeable amidst a horrific jumble of appalling architecture.
Instead, about a third of the way to Siteia, wind your way down to Mochlos, a spot that cannot have changed all that much in the last hundred years. This collection of simple tavernas and pensions caters at least in part to archeologists investigating the Minoan cemetery on the island just offshore. Quaintly named Psira (or louse), it has yielded treasures that are now in the Heraklion museum. The treasures that come out of Marika Petraki's kitchen (at the Sophia taverna and pension) are more accessible if less enduring. Her baked vegetable omelettes have endeared her to the archeologists – forget any preconception you may have about the best omelettes being French – while her bite-sized cheese and spinach pies are among the tastiest in Crete (and I have tasted lots!).
Back on the upper road, you could pause in Myrsini long enough to admire its splendidly restored church and a couple of pottery shops. Another half hour or so will bring you to Siteia, the raisin capital of Greece. Though like all the major towns in Crete it has its Venetian castle, it has little of the romantic medieval atmosphere of Chania or Rethymno. People are always disparaging when comparing Eastern and Western Crete: "the West is more dramatic, the population tougher and ruthlessly independent, the mountains higher, the cities and villages prettier." They are probably right, and yet I have come to love the Eastern gentleness, humor and hospitality, and definitely less touristed shores and monuments. I'm also partial to its pastries and the wines made by its local cooperative. Look for a shop called Siteian Sweets and sample them all but especially the patouda, a kind of shortbread wrapped around a filling of chopped nuts, raisins, sesame seeds, and brandy-laced honey.
You could make Siteia a base for exploring the rest of Eastern Crete. Its town beach is clean and long, its waterfront tavernas are lively and reasonably priced, and the castle is used for evening performances. You might even see a version of Erotokritos, the 17th-century epic poem by Siteia's most famous son, Vicentzos Kornaros; it has about as many verses as Lassithi has windmills.
Beaches and other good things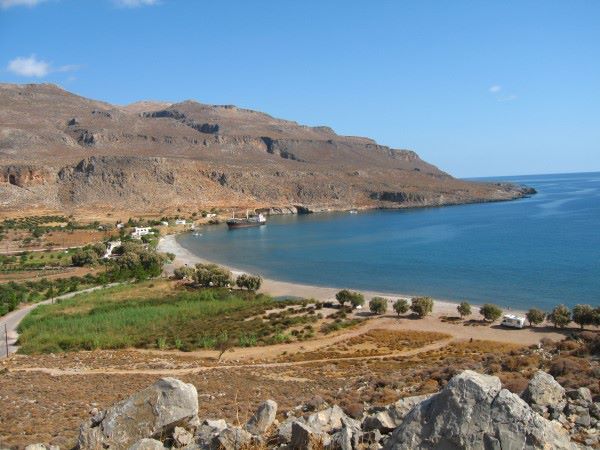 But if I were you, I'd head for Kato Zakros. It's nothing but a string of congenial tavernas, a few rudimentary rooms, an impressive Minoan palace and a black pebble beach. You would of course spend an hour or two at Toplou monastery on the way. When I first saw it almost thirty years ago, it was a seemingly haunted near ruin behind grim walls. Toplou is a contraction of the Greek word for weapon, and the place was once strongly fortified and armed. Recently, it has been restored into a "must-see" jewel with beautiful icons and other memorabilia, while the lovely gardens planted inside the walls give it a friendlier touch. Beyond it, you'll no doubt feel compelled to marvel at the palm trees at Vai, whose south sea island atmosphere has been a bit blighted by ranks of umbrellas and sunbeds.
But now you really are in beach country, so if it's privacy you're after, you'll find it. Either continue north from Vai to Itanos/Erimoupoli, where there are three exquisite beaches, poke around the dirt roads between Vai and Palaikastro (one goes down to the Minoan ruins at Roussolakos), or go beyond Zakros to Xerokambos, where sandy beach follows sandy beach just waiting to be discovered.
The advantage of staying in a small place like Kato Zakros or the larger village of Palaikastro is that you can get to know some of the people who live there. Ask them to tell you about growing up with a thousand sheep but no shoes, about embroidering and giggles by oil lamp in the 50s, about walking to Siteia and back several times a week to get supplies for the Germans and Italians during the war, about the Sfakian flock rustlers, or about the still popular custom of bride stealing. I guarantee their stories will make your holiday.
Restaurants in Eastern Crete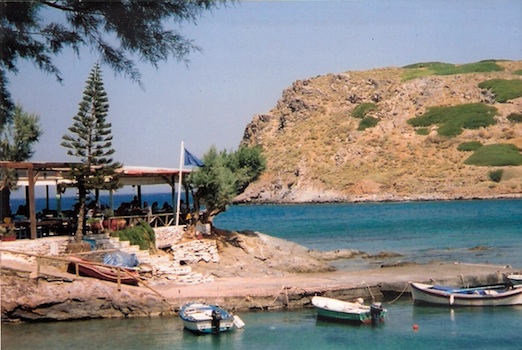 "Two of these tavernas are favorites of a well-known archaeologist who digs at Palaikastro. There, on Kouremenos beach and quite near the Minoan site, is Votsalo (Τel. 28430.61282). Not only are its dishes freshly prepared every day, the service is excellent, and the surroundings pleasant, with tables under the tamarisk trees and a not very ecological but very attractive lawn.
Up the coast at Vai, famous for its palm trees, which make a great shade for beach goers, To Metohi (tel 28430 61071) is THE place to eat. So called because the 300-year-old vaulted building was a dependency of Toplou Monastery, its chef Aristeidis trained at the prestigious Rhodes hotel school and will feed you divinely on locally grown vegetables, as well as meat and fish from the peninsula. The organic wine is from Toplou itself.
Down the coast, at Kato Zakros, where you must make a pilgrimage to the most recently discovered of the four Minoan palaces, Nikos Relakis's is a place I dream about. At the road's end, this row of tavernas with rooms to let is special. No cars, a black beach with smooth stones, the fascinating site and, then, best of all, wonderful food. Nikos's mother, Maria, who used to run the taverna, gave me several recipes for Feasting and Fasting in Crete. You can't go wrong here."
Diana Farr Louis is an American food/travel writer and long-time resident of Greece. She has published dozens of articles and two books on Greek cooking – namely Prospero's Kitchen, Mediterranean Cooking of the Ionian Islands from Corfu to Kythera, reprinted for the third time in 2012 as Island cooking of Greece, and Feasting and Fasting in Crete. She contributed travel pieces for the weekly Athens News from 1997 to 2007 and has written two excellent travel books, Athens and Beyond: 30 Day Trips & Weekends and Travels In Northern Greece, both highly recommended reading for those whose traveling in Greece goes beyond Mykonos and Santorini. Her cookbooks include recipes and anecdotes, history and tradition about the islands and are an essential ingredient in any Greek or Grecophile Kitchen. Her travel books and Feasting and Fasting in Crete can be ordered from Greece In Print in the US or from the publisher, Kedros, books@kedros.gr; Prospero's Kitchen is available from Amazon.com or co.uk
Hotel Suggestions for Eastern Crete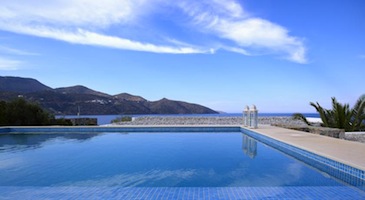 In Agios Nicolaos next to the harbor, the family-run Mantraki Apartments offers traditionally furnished, kitchenete equipped apartments with home comforts and large balconies. The beach is just 500 ft away. Constructed in typical Cretan style, the spacious apartments can accommodate between 2 and 4 people. They come furnished with air conditioning, free internet connection, flat-screen TV, ironing amenities and a kitchenette. Nearby, amongst lush surroundings 2 km from Agios Nikolaos, Pleiades Luxury Villas is a complex of individually designed villas. Each features a private pool, fireplace, free Wi-Fi and views over Mirabello Bay. Polydoros Apartments feature traditionally furnished studios and apartments with free Wi-Fi just a few feet from the beach. Vistamare Lodge B&B is situated on a hillside in Ammoudara village, 200 metres from the beach. Surrounded by a 6,000-m² garden with a large pool and a sea-view terrace, it offers self-catering accommodation and serves homemade breakfast with fresh local products. Facing the small island of Agii Pantes, the Hotel Kreta is conveniently located down a quiet street, 165 yards from the beach and a 5-minute walk from the center of Agios Nicholaos. St. Nicolas Bay Resort is on a private beachfront, one mile from Agios Nikolaos. It features 4 swimming pools and a luxurious spa and health club. Its stylish accommodations offer spectacular views of the charming Μirabello Bay. The 5-star Domes of Elounda features luxurious accommodations with a spa tub overlooking the island of Spinalonga and its Venetian castle. It has a spa and 3 restaurants serving haute cuisine. All of the air-conditioned suites are uniquely decorated and have easy access to the private sandy beach. They include a spacious living room with hardwood floors and a satellite LCD TV. Some suites also have a private pool or open-air hot tub.
For more hotels with photos and reviews check out Booking.com's Agios Nicholaos Page
Sitia Bay Hotel is on the most beautiful part of Sitia, right on the long sandy beach, awarded with a Blue Flag, just 5 minutes walking distance from the center of the town. Accommodations all come equipped with well-stocked kitchens with breakfast essentials. Studios and apartments at Sitia Bay have a furnished balcony with magnificent view of the sea. Nestled among the olive trees, 70 metres from the beach of Mochlos, Limenaria Apartments offers air-conditioned apartments with free Wi-Fi. Each has a furnished veranda with panoramic views of the Cretan Sea. The Kouremenos Beach Apartments are situated in Kouremenos bay 10 metres from the coast, a short distance from the town of Sitia and 5 km from the famous Vai palm forest. The accommodation consists of fully-furnished and equipped apartments. Set within a verdurous olive grove in the traditional settlement of Agathias in Palekastro, Sirines Studios is a traditional complex of self-catered studios with large balconies. It is 800 metres from the well-known beach of Hiona. Set on a hill full of aromatic plants in Kato Zakros, Terra Minoika Villas is constructed of local stone and wood and is just 300 metres from the beach. Its self-catered accommodation offers custom built furnishings, a sea-view veranda and free Wi-Fi. Set in a fragrant garden, Yiannis Retreat is a traditional complex of stone houses in the lush valley of Kato Zakros in Crete. It offers free bicycles and self-catered accommodation 800 metres from the beach. In Achlia, just 500 ft from the beach, Achlia Apartments and Villas features free Wi-Fi throughout, a communal swimming pool and villas with private pools. Its accommodations open out onto a balcony with Libyan Sea views.
You can find more hotels and search by location, category or price on Booking.com's Eastern Crete Page. Also see Matt's Hotels of Greece Crete Pages