Why I Love Heraklion
By Diana Farr Louis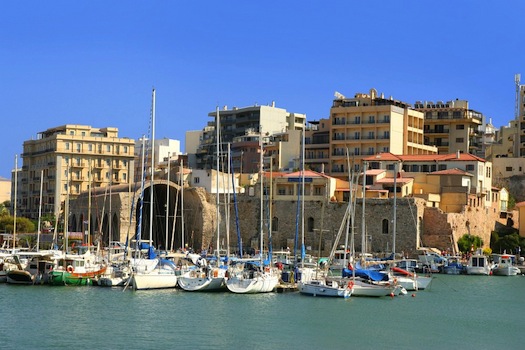 I can just hear you muttering, "Love Heraklion! She's got to be kidding. The city's nothing but a jumble of ugly buildings. It's infernally noisy. It's chaotic." Edward Lear would have agreed with you. When he went there to sketch in the 1860s, he complained in his diary, "Altogether a nastier and less interesting Turkish town I was never in."
But I beg to differ and let me tell you why. Heraklion is a place that grows on you. The fact that it has never been known for its beauty has caused it to develop other charms, the way a funny looking guy becomes the life of the party, while the Rock Hudson look alike smirks loftily, and alone, on the sidelines.
You've got to admit that the old Venetian touches are stunning. Okay, so there's no picturesque medieval district, but as the boat docks at dawn the stout Rocca al Mare fortress jutting into the sea to the west stirs up visions in your slumbering mind of the mighty trading fleets that plied the Aegean, stopping in Candia between Egypt, Cyprus and the Adriatic. Power still echoes from the great gaping vaults on the waterfront, the arsenals where the Venetians built and repaired their vessels (denuding the slopes of Cretan mountains in the process). Ironic, isn't it, that an empire fixated on making money and ruthless exploitation should have left behind such hauntingly romantic relics?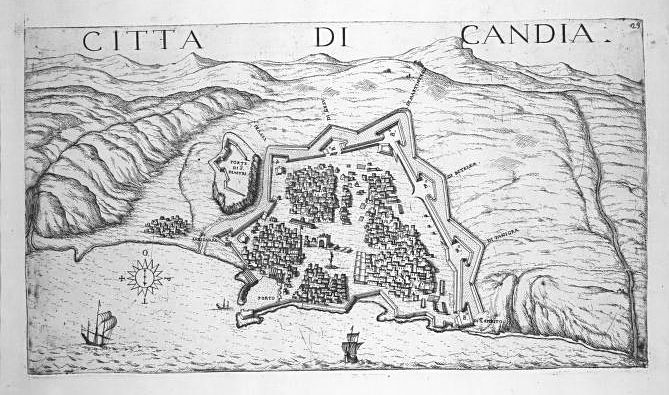 Or is it just me? I confess to a perhaps inordinate love of old stones. And the Venetian walls that still circle Heraklion almost intact conjure up for me the moving story of the longest siege in history. In 1648, the Turks – who had been battling the Venetians for dominance of the Eastern Mediterraean for more than three hundred years – had already conquered the rest of the island. Chania (Canea then) and Rethymnon had fallen easily; Candia (from the name for the original Arab castle, Rabd-al-Khandak) was another story. For twenty two years the city held firm while the rest of Europe held their breath instead of coming to the rescue. To get an idea of what Heraklion was like then, go to the Historical Museum (on the waterfront beyond the Rocca al Mare) where a model of the city in 1645 fills an entire room. You will see that large expanses of cultivated fields and vegetables patches behind most of the houses would have kept both famine and claustrophobia at bay. When the city finally surrendered, the Turks let the survivors depart unmolested but remained in charge for another two centuries and more. In 1718, a traveller named Tournefort visited Crete and reported the "Candia is the carcass of a large city, . . . at present . . . little better than a desert, all but the market place."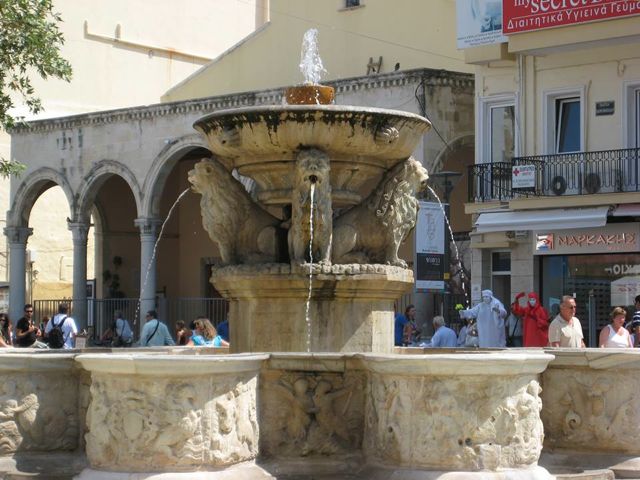 Getting to the market place, which is still a mecca for visitors, and some of the other Venetian monuments, requires that you find your way to the Lion Fountain (just ask for the Leondaria). One of the most appealing features of Heraklion is that once you've located this 17th-century landmark, everything else worth seeing in the town is close at hand (or foot). The cafes here are famous for their bougatses or cream pies, but I do not indulge so cannot advise. The street bordering the little square (more like a triangle) has a high concentration of notable buildings if you follow it back down towards the port: The Municipal Picture Gallery with some surprisingly good paintings by contemporary Cretan artists (look for those by Thomas Fanourakis), the famous Venetian Loggia with its elegant facade, and the church of Agios Titos, the patron saint of Crete. You can walk through the Loggia, once an exclusive club for noblemen now filled with the dingy, smoke-clogged offices of Town Hall civil servants, onto the church square. Agios Titos still looks very like the mosque the Turks transformed the original Byzantine-Venetian church into. Bordering the square is Pagopoieion, an old ice house metamorphosed into an ultramodern Nouvelle Grecque restaurant-bar-sidewalk cafe, a pleasant place to have a drink. The food is good and the loo is extraordinary, more lavish than any I've frequented in Athens.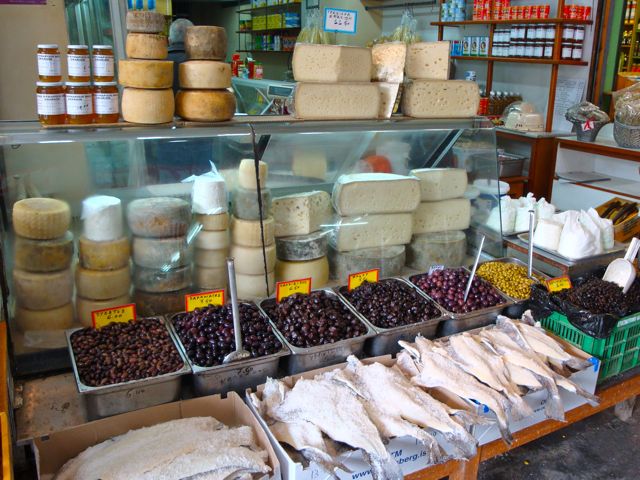 All around this part of town pedestrian streets lined with Benetton, Zara, Stefanel etc outlets proclaim that a lot of Cretans have a lot of money and the antiques stores make you wish that you did, too. There are plenty of sleazy souvenir purveyors to be sure, and the usual run of restaurants where Northerners are ordering Greek salads from an album of glossy photographs at unfashionably early hours, but the streets are thronged with students as well as foreigners, a reminder that Heraklion has an excellent new university. This preponderance of youth adds to the city's boisterousness.
This "kefi" is particularly evident on the market street. Though only a block long, so much exotica is on display that I can spend hours poring over it. You'll tell me that the market in Chania is much more impressive, and it is, but it's also much more of a tourist attraction. Heraklion's stallowners have made only a few concessions to foreigners in the form of the packeted spice and herb mixtures found all over Crete. But take a closer look at the vegetable stands, at the mountains of unfamiliar greens, some selling for more than fillet steak, the ubiquitous net bags of snails, fierce spiny artichokes, and buckets of soaking almonds and yellow loubounia, lupin seeds, to be munched along with a shot of raki. The butchers sell spare ribs, dainty skeins of intestines (gardoumba), and an intimidating array of hooves and heads, while outside the cheese shops are fezlike cones of snowy myzithra cheese and giant bowls of (unstrained) yogurt, so thick it doesn't even shiver when it's spooned out.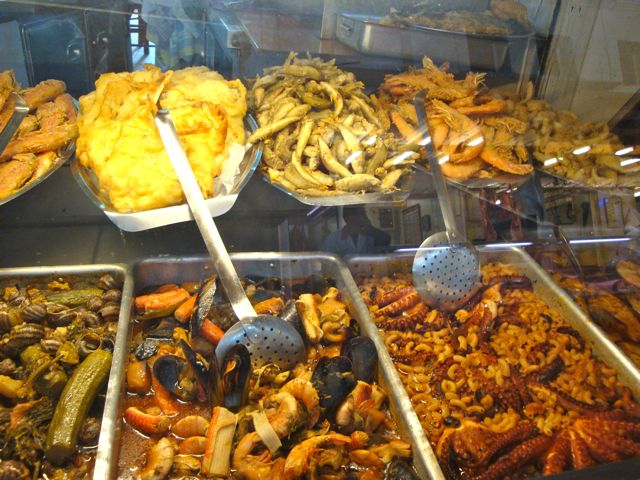 At the end of market street are two more delightful fountains, one a marble Turkish kiosk, the other Venetian, decorated with coats of arms and a headless togaed statue; a tiny shop stocked with nothing but Cretan bananas; and a few black-shawled crones hawking small bunches of herbs and a few eggs. But in the middle of the street is a covered alley lined with the mageiria so typical of markets in Greece, serving inexpensive traditional stews displayed invitingly in their windows. If a snack is all you want, choose a pie from one of the bakeries in the vicinity – not the usual fyllo variety but half-moons, rectangles or coils of homemade pastry stuffed with fresh, mint-scented myzithra or a mixture of succulent greens.
Perhaps you're wondering why I haven't mentioned the museum, whose Minoan collection is one of the wonders of the world. I pay my respects whenever I go to Crete (three times in the past year) and never cease to marvel at the extraordinary finesse and grace of that remarkable civilization. But everyone loves the museum. Usually it is all the average tourist ever sets eyes on in the town.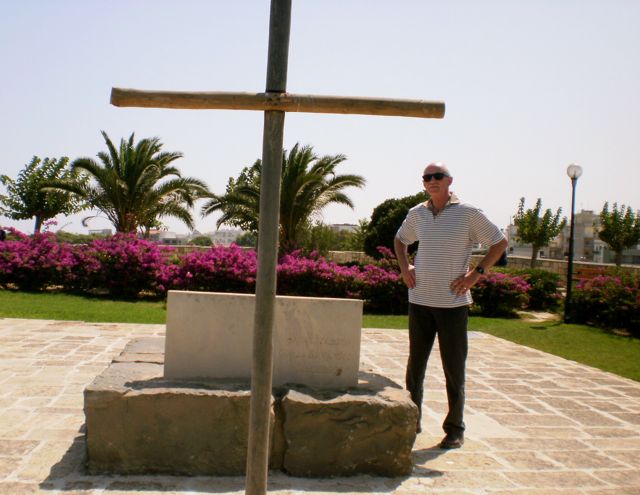 Across the big square (dug up at the moment) is another of my favorite spots, less well known – a miniature botanical garden – with some amazing trees. In early spring they may glow with bright orange flowers, later hyacinth blue jacarandas supply that magic touch of purple. Next to this oasis is a corner of old Heraklion, with one- or two-story wooden houses, some now converted into ouzeris/rakadika, where friends of mine often spend the evening. This neighborhood parallels the Venetian wall, whose stones in spring are half hidden by clumps of rampant daisies. If you like escutcheons and bastions as much as I do, you can walk the 4 kilometer circuit, which took one hundred years to complete and incorporates a good many stones from Knossos. Up on the Martinengo bastion lies the simple grave of Crete's most famous writer, Nikos Kazantzakis; he was buried outside hallowed ground because his unorthodox beliefs offended the Church.
More wandering round town may bring to light some strange sights: a hole in the wall shoe shop where the best mountain graviera is sold to those in the know, an electrician's shop camouflaging a fine Venetian vaulted cellar, a Turkish facade with flamboyant ogival arches or an Anatolian enclosed wooden balcony. But these are fast disappearing as money brings gentrification to the city.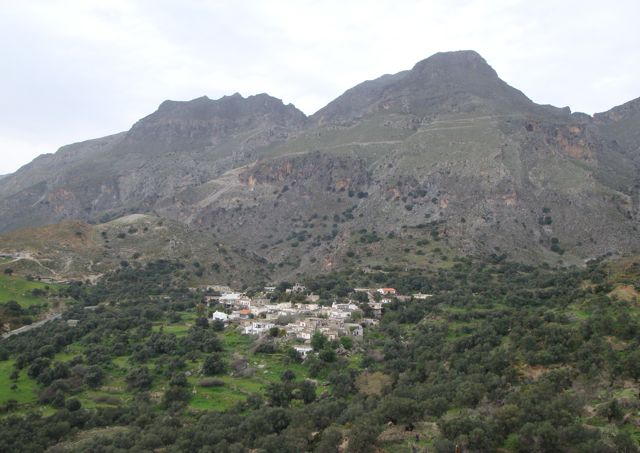 There are just two more reasons why I love Heraklion. One is the people who live there. The Cretans are friendly, feisty and more hospitable than any other Greeks I've encountered. This comment by a certain Bickford-Smith in 1898 could still apply today: "Not only do the well-to-do offer to the stranger their oldest wine and whitest cheese, but in the mountains the shepherd lays before the wanderer his little store and bids him help himself."
And lastly, I love the place because it's so easy to get out of it and go up to those mountains. Within a mere 30 minutes' drive are countless hamlets where contemporary life seems a distant aberration, intriguing Minoan ruins (not overrun by coach tours), a countryside so beautiful I can never get enough of it, and the biggest sky in Greece. But that's a different story.
Note: Since this piece was written, a new promenade along the Venetian harbor and the restoration of several handsome historic buildings have greatly embellished the Heraklion waterfront. Alas, the market street has succumbed to commercialization, with the same-old, same-old souvenir and clothes shops replacing most of the traditional food shops. The Minoan archaeological site of Knossos has its own page if you are wondering why it was not mentioned here. See Matt's Knossos Page
About Diana Farr Louis
Diana Farr Louis is an American food/travel writer and long-time resident of Greece. She has published dozens of articles and three books on Greek cooking – Prospero's Kitchen, Mediterranean Cooking of the Ionian Islands from Corfu to Kythera, Feasting and Fasting in Crete and, most recently, A Taste of Greece with Princess Tatiana. She was the chief travel correspondent for the weekly Athens News from 1997 to 2007 and has written two excellent travel books, Athens and Beyond: 30 Day Trips & Weekends and Travels In Northern Greece, both highly recommended reading for those whose explorations of Greece go beyond Mykonos and Santorini. Feasting and Fasting in Crete includes recipes and anecdotes, history and tradition about the island and is an essential ingredient in any Greek or Grecophile Kitchen. Prospero's Kitchen was recently republished in a new, third edition by IB Tauris in London/Palgrave in the US and is widely available through Amazon and other websites and bookshops. Feasting and Fasting in Crete can be ordered from the publisher, Kedros, books@kedros.gr or in the US from Greece In Print. Most recently, she co-authored the eccentric guide 111 Places in Athens that you shouldn't miss, one of the latest in the successful series by Emons of Cologne which is available on Amazon as are many of her other books.
Heraklion Hotels and Practical Information
Among the most highly rated hotels in town is the 5-star GDM Megaron Hotel in a 1920's building overlooking the Old Harbour of Heraklion. The 5-star Galaxy Heraklion Hotel is located in cities upscale neighborhood and offers 2 gourmet restaurants, a free wellness centre and a large freshwater pool. Within 100 metres from the city centre, the 3-star Kastro Hotel is well-located for exploring the ancient sites and museums of Heraklion. It offers spacious, air-conditioned rooms with breakfast included. The 3-star Lato Boutique Hotel features a rooftop restaurant-bar overlooking Heraklion's Venetian Fortress. The hotel in the photo is the 3-star Atrion Hotel is a short walk from Heraklion centre and the sandy beach and offers elegant accommodation with free Internet access. For cheaper accommodation the 2-star Iraklion Hotel is a modern, family run hotel centrally located, and has free wi-fi. You can find more in-town hotels at Booking.com's Heraklion Page which has photos, reviews, prices and in most cases you can book and cancel with no cancellation fee.
For those who want to stay at the beach there are dozens of inexpensive hotels, rooms and apartments at Amoudara. See Booking.com's Amoudara Page. The same can be said of the beachside community of Gournes. See Booking.com's Gournes Page. Also see Booking.com's Hersonissos Page and Booking.com's Gouves Page
Car Rentals, Tours and Travel Agencies

Autohire Chania is a family car rental business operating since 1996! Their office is located in the town of Agia Marina in the prefecture of Chania, but they have available service points, pick up and drop off locations from Heraklion city to Chania. See their website
For Transfers and Taxi Tours including trips to Knossos, city tours, and drop-off and pick-up at the Samarian Gorge see Lefteris the Taxi Driver's Website.
To visit Knossos go to the Bus Station at the harbor and it is about a 20 minute drive. There are two bus stations. The second one is near the Chania Gate of the Old City for buses to west and southwestern Crete.
For Travel agencies who can book your hotels, ferry tickets, flights, tours and advise you on which islands you can combine with Crete I recommend Fantasy Travel in Athens who also specialize in cruises and travel to Turkey. You can also use Matt Barrett's Create-an-Itinerary-form to put together your own trip to Crete.
Where to Eat in Heraklion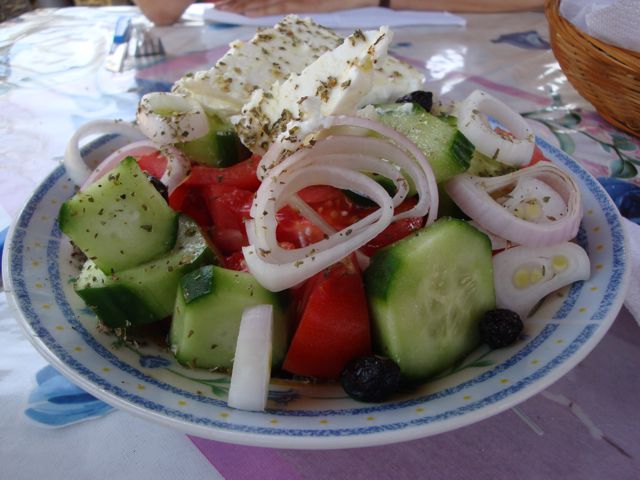 There are plenty of restaurants to choose from in Heraklion, not to mention souvlaki shops and bakeries where you can pick up a cheap and filling meal like those mentioned in the market. For fish try the family run psaro-taverna called Gerakas at Dimokratias 43 in Alikarnassos which is a neighborhood between the city and the airport. The restaurant is famous among the locals for having the best fresh fish at reasonable prices in an unpretentious, non-touristy atmosphere. Also for fish in a more convenient location try "Ligo krasi .. Ligo thalassa .. " in the Venetian harbor of Heraklion where chef/owners Nektarios Xylouris and Michael Dokimakis always choose the best fresh fish and the finest local vegetables as well as local extra virgin olive oil, local meats, ouzo and raki. They are located at Lohagou Marineli Ioanni & Mitsotaki Square 18 Agglon, right across from the Koules Fortress. For something more international and upscale the chefs at Loukolous Restaurant have been serving a variety of plates, from traditional Greek cuisine, Italian and French tastes, using the freshest meat and fish on the grill and in their wood oven. The restaurant has been open for over twenty years and is located at Korai 5 in an old neo-classical building near Theotokopoulou Park. Ippokambos Ouzeri at Sofokli Venizelou 3 in the Venetian Harbor located off the traffic circle is a small family run ouzeri-mezedes restaurant that is popular with locals and tourists.
The Natural History Museum of Crete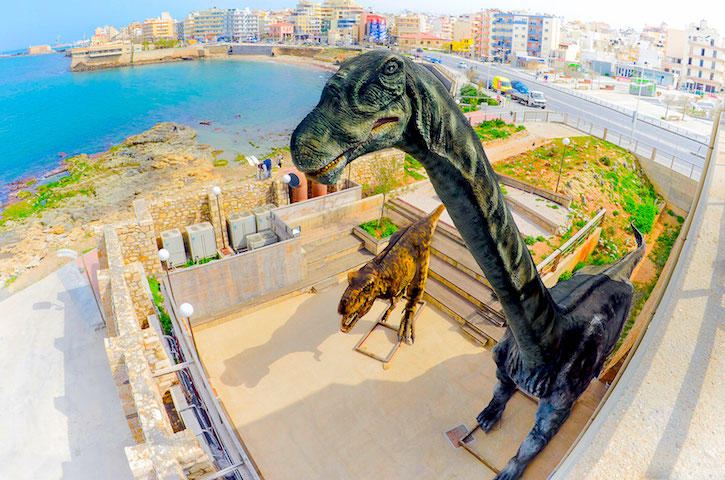 The Natural History Museum of Crete is housed in the renovated former premises of the Heraklion Public Power Corporation, on Dermatas' Bay. It is the largest exhibition of its kind in the Mediterranean, showcasing the natural environment of Crete and the wider Mediterranean area in an innovative, original way. Visitors have the opportunity to explore Cretan ecosystems alongside their equivalents in mainland Greece and elsewhere in the Mediterranean via dioramas, i.e. full-scale models of natural landscapes. Other areas are dedicated to exhibits such as the Giant Deinotherium, the largest prehistoric animal ever to live on Crete, the Living Museum, a display of typical animals of Crete and the Mediterranean, the Enceladus, an earthquake simulator where one can experience several earthquakes known to have occurred in different areas in the past, as well as the Erevnotopos Discovery Centre, an area specially designed for our younger visitors, where they can dig for fossils and explore Cretan nature hands-on.
In 2016 we also hold three temporary exhibitions; "Dinosaurs extreme", with real-size reconstructions of dinosaurs with extreme characteristics, e.g. the largest, the smallest, the oldest, the fastest and of course the famous T-rex. The second exhibition, "Light Mysteries", is an exhibition which includes aspects of holography and optics, through experiments and illusions. There is also the display "Crete, a continent in an island", featuring numerous exhibits and micro-dioramas on the biodiversity and geodiversity of Crete.
Qualified personnel can inform you about the exhibits or you can also have a guided tour. The museum is located at Sofokli Venizelou Av., Heraklion, Crete (west of the port).
Tel: +30 2810-282740, +30 2810-393630 fax: +30 2810-393636