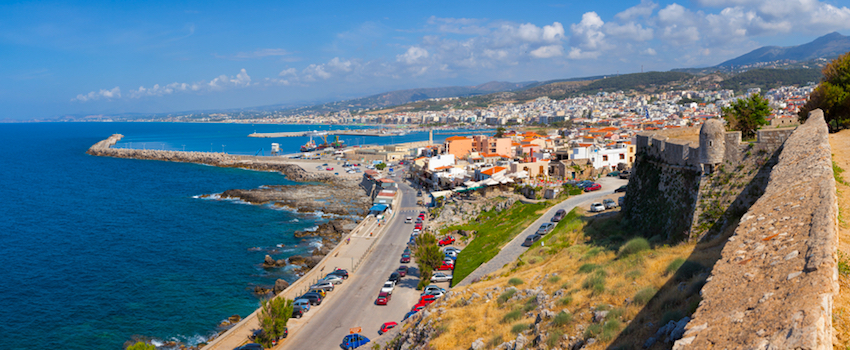 Past and Present in Rethymno
by Diana Farr Louis
The last time I was in Rethymno, Kyria Irini, a spry 92 year old, reminisced to me about her youth. She told me how as a child she used to like hearing the Imam call from his minaret, and how she learned many folk remedies from a Turkish doctor. She gave me his recipe for a miraculous salve for burns, whose ingredients included bees' wax, wine, mastic, olive oil and lamb fat.
Irini's Rethymno, where Turks and Greeks coexisted uneasily for 250 or so years, no longer remains except in the memories of a few venerable residents and a couple of delightful books. If you drove past it on the coastal highway that streamlines traffic between Heraklio and Chania, all you would see is a very long strip of beach walled by several very long rows of hotels. Yet while remorseless exploitation of the beach front has turned post-60s Rethymno into a grid of unrelenting concrete blocks, the town the Venetians founded in 1204 is still blessed with abundant charm.
Rethymno does not appear in history books before the chapter on the Fourth Crusade. After the Venetians carved up the Byzantine empire, they decided the spot could be made into a fine harbor for their trading ships. No Minoan palaces, Classical ruins or even Roman roads have been found there, though archeologists speculate they may lie buried under the old town.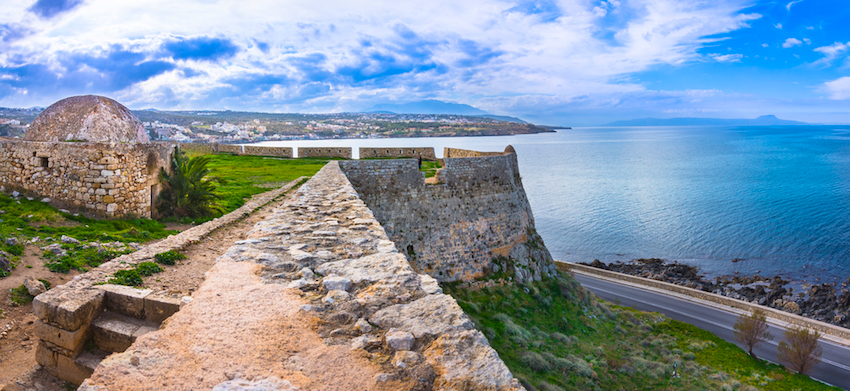 Dominating the port is the fortezza, a low promontory capped with a mosque and enclosed by stout walls and ramparts. Besides being a romantic place to stroll at sunset, it is also the largest Venetian castle in Crete. But for all its size, it only lasted 22 days when the Turks besieged it in 1646. Heraklio held out for 22 years. By the turn of this century, it served only as a refuge for "ladies of the evening" who had transformed some of its buildings into a bordello.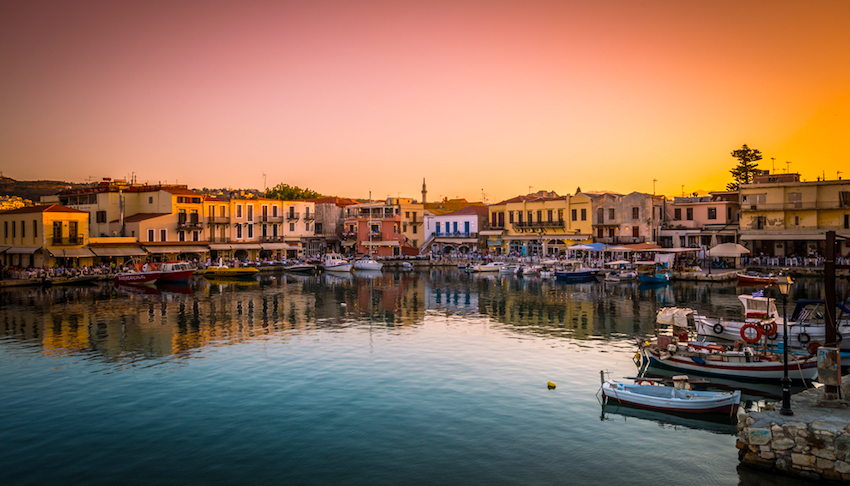 Apart from the castle, Rethymno has been described as "the best preserved example of Renaissance domestic architecture found outside Italy." Some 600 to 700 Venetian buildings, mostly houses, flank the narrow lanes, some sporting Turkish additions like latticework balconies through which harem women used to keep tabs on street life without revealing themselves. Graceful arched doorways crowned with coats of arms or Turkish inscriptions give enticing glimpses of flowering courtyards or vaulted ceilings. Some of these masterpieces have been converted into elegant pensions, bars and antiques stores and even the souvenir shops and restaurants here are on a higher plane than their counterparts on the beach, where plasticized photos of plastic-looking food act in lieu of menus to lure the sunburnt.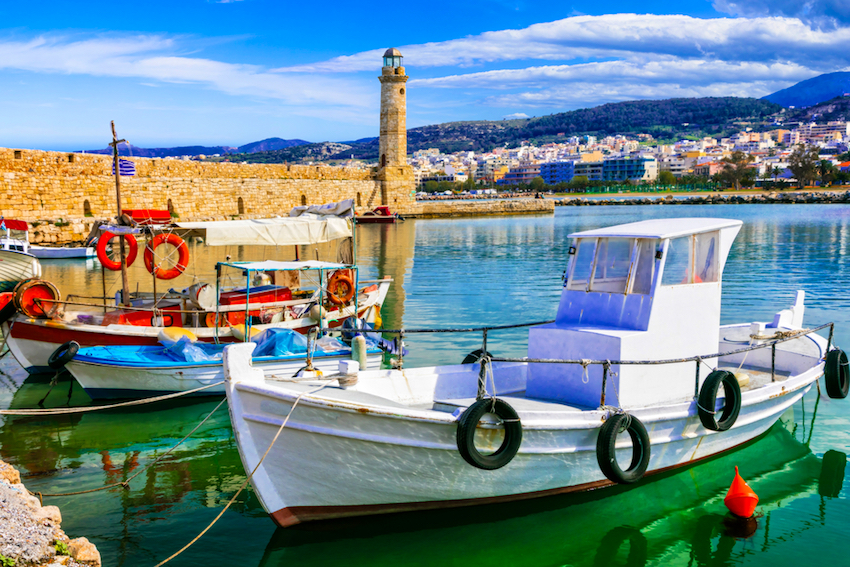 Among the obvious pleasures of Rethymno are the herb and spice emporia with their whiff of the Orient and unexpected juxtapositions like the gruff vendor guarding his rounds of cheese in a slot between the vitrines displaying brand-name minis and bikinis. A closer prowl around the back streets will reward you with sights and tastes rarely found today. The Xenakis bakery is considered to have the best lichnarakia in town – sweet cheese pies shaped like an old oil lamp – Gasparis has the best boukies, bite-sized rusks, and Spanoudakis boasts the most beautiful bread. A menagerie of buns and loaves decorates the bakery window, but who could bear to munch such an adorable antelope? Maria Spanoudaki practises the little known art of bread sculpture, creating whole scenes from dough. Her "secret school" with priest and schoolboys won her second prize at the biannual Artoza International Competition in Athens a few years ago. Perhaps the most startling find behind a Renaissance portal is the Hadjiparaskos fyllo factory. Watching the owner and his wife take a ball of dough, pull it and flap it till it's as broad as a double-bed sheet is better than going to the circus. Thin as an onion skin but surprisingly elastic, the sheet is stretched over a table measuring 2.50 x 2.50 m and covered with a burlap "blanket" to keep it moist. One sheet is equivalent to a packet of strudel leaves.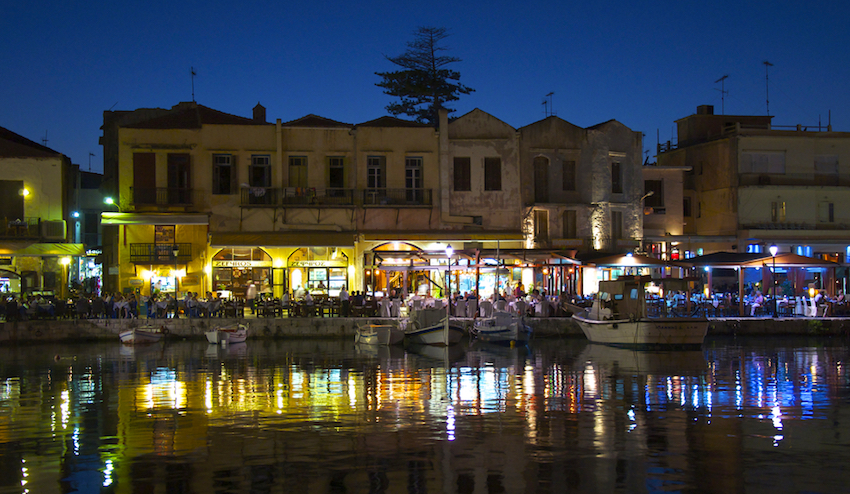 Dining is another of Rethymno's pleasures, preceded or followed by a drink on the old port, which has been taken over by atmospheric bars and restaurants. But I'd have my fish dinner at Antoni's, a hole in the wall in a back alley not far from the Arimondi fountain where water spouts from three lions' heads. If you stay in the port you'll pay for the view along with your meal. Yorgo's, amidst the main taverna cluster opposite the fountain, is also good, especially if you have some of his mother's cheese and spinach pies, which resemble delicately fried oversized ravioli. Yorgos, who happens to be Irini's grandson, could have stepped out of a Fayoum portrait.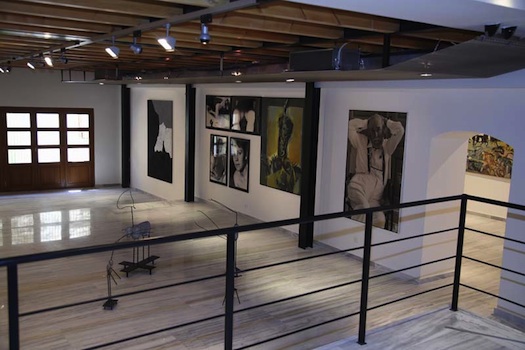 Food for the mind is as plentiful as raki in Rethymno, which prides itself on being the intellectual/cultural capital of Crete, scorning Heraklio's money-minded intensity and Chania's claims to being chic. Besides hosting the humanities department of the University of Crete, it has outstanding museums whose exhibits are doubly enhanced by their setting. Near the Kastro, the archeological museum occupies what used to be a Turkish jail, and near it the Kanekakis Municipal Gallery of Contemporary Art is a converted soap factory with breath-taking spaces and provocative works. In the vicinity the folk museum in a noble Venetian mansion has stunning embroideries, costumes, farm tools and intricately decorated traditional breads specially sculpted with birds, flowers and other symbols to commemorate baptisms and weddings. The Nerantze mosque, once a Venetian church, now houses the Conservatory; Rethymno's tallest minaret soars above it. And the newly opened Rethymno Center for Contemporary Visual Creation hosts temporary exhibitions.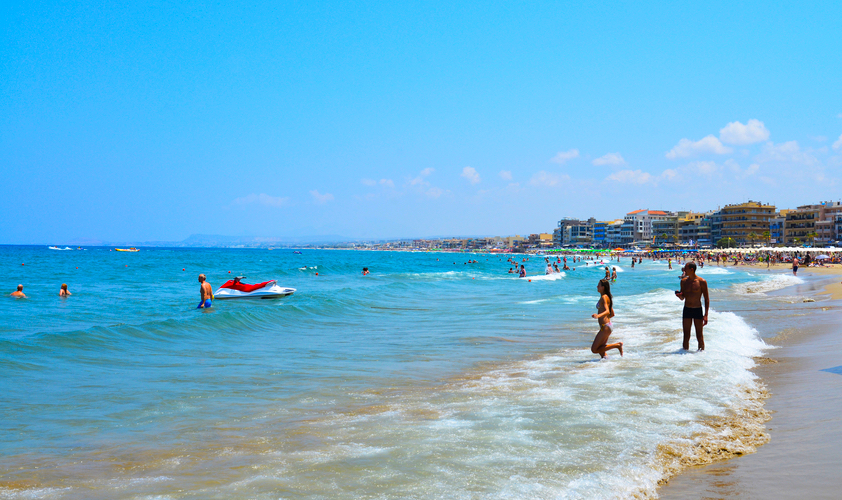 Around Rethymnon
Not just a sandy beach, not just a picturesque town, Rethymno is also close to some memorable inland destinations and some of the most beautiful countryside in Crete. A short jaunt to Armeni (9 km. to the south on the road to Spili) would combine a visit to an unguarded Minoan cemetery (signposted) and Efthalia's taverna on the outskirts of the village. Armeni is one of three places in Crete named for the Armenian troops brought in by Byzantine general/emperor Nikiphoros Phokas in the 10th century to subdue the locals after having evicted the Arabs who had occupied the island for about a century and a half. (Trying to subdue the Cretans was a never-ending process no matter who happened to be in charge, as every invader has discovered down to Hitler's Germans.) The three hundred Late Minoan tombs of different sizes – square underground chambers reached via sloping corridors carved out of the rock – must have belonged to an extensive and wealthy palace-city, but it has never been located.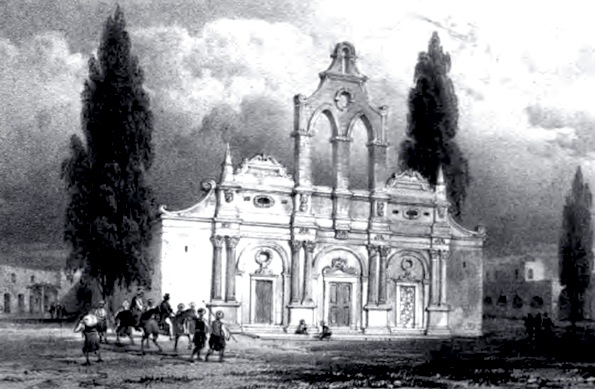 A longer trip would include Arkadi, Eleftherna and Margarites, connected in a loop running into the hills southeast of town. Arkadi, shown in the 19th century drawing by Robert Pashley, is a graceful baroque monastery built of mellowed golden stones, is a must for every Greek traveller to Crete as it is the ultimate symbol of Cretan resistance to the Turk. In 1866, confronted by a force of 15,000 soldiers and thirty cannon, abbot Gabriel and just under one thousand monks, women, children and villagers who had taken refuge there blew up the powder magazine and themselves rather than fall captive to the enemy. The incident stunned the Great Powers into trying to find a solution to "the Cretan problem" – the Kosovo of the day. In the 19th century bloody uprisings occurred on an average of once a decade until 1898 when autonomy was finally granted. The monastery was restored according to the original 16th century plans after unification with Greece in 1913.
Arkadi is inevitably crowded, but Eleftherna, a post-Minoan site inhabited until the Venetians destroyed it, has but a few visitors per day. Following the "To Ancientry" signs will bring you to a tranquil, neglected series of temple foundations, baths and other attractive old stones that will have little meaning for non-archeologists but are intriguing nonetheless.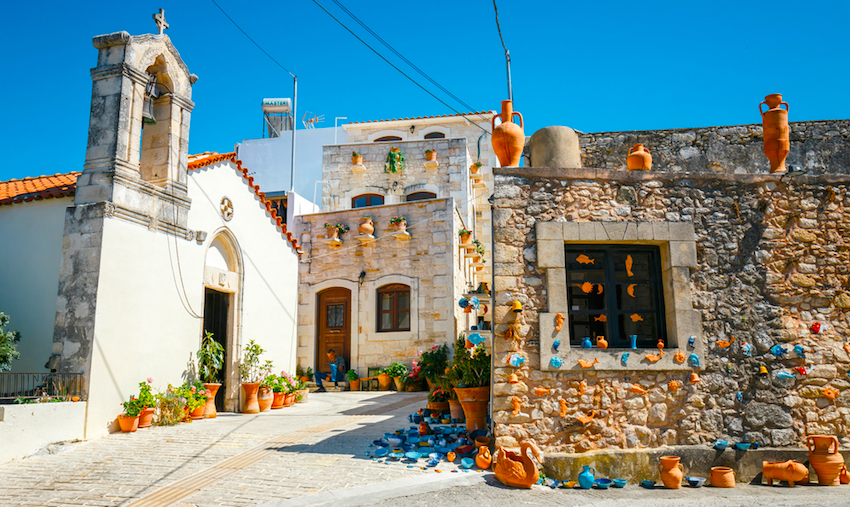 Twenty minutes or so further along a winding road, Margarites is living tradition at its best. It is a potters' village as well as being one of Crete's loveliest, with blue and green doors and shutters, lush greenery and flowering vines. When I first discovered it, a British film crew was re-enacting a scene around a kiln that could have been lifted intact from Classical Greece. Manolis Tsiragopoulos was treading his wheel no differently from his counterpart of 2,500 years ago amid shelves of pots shaped like museum pieces. Manolis had made few concessions to modernity. He even collected his clay from the riverbed and loaded it onto his donkey rather than a pickup truck. During the Occupation Manolis used to walk his donkey down to Rethymno and fill up pots with supplies for the English soldiers hidden in the countryside.
Before the 60s, walking was the only transportation available to most Cretans. After she married and moved to the mountain village of Spili, my elderly information, Kyria Irini, used to hike all night to sell her cheeses in Rethymno and return the same day. Not everything about the past makes one wistful.
Diana Farr Louis is an American food/travel writer and long-time resident of Greece. She has published dozens of articles and two books on Greek cooking – namely Prospero's Kitchen, Mediterranean Cooking of the Ionian Islands from Corfu to Kythera, and Feasting and Fasting in Crete. She was the chief travel correspondent for the weekly Athens News from 1997 to 2007 and has written two excellent travel books, Athens and Beyond: 30 Day Trips & Weekends and Travels In Northern Greece, both highly recommended reading for those whose traveling in Greece goes beyond Mykonos and Santorini. Feasting and Fasting in Crete includes recipes and anecdotes, history and tradition about the island and is an essential ingredient in any Greek or Grecophile Kitchen. Prospero's Kitchen was recently republished in a new, third edition by IB Tauris in London/Palgrave in the US and is widely available through Amazon and other websites and bookshops. Feasting and Fasting in Crete can be ordered from the publisher, Kedros, books@kedros.gr or in the US from Greece In Print She also writes a bi-monthly column for www.weeklyhubris.com called "Eating Well Is The Best Revenge" and contributes positive stories about Greece to the Huffington Post. Since the demise of the Athens News and the scandalous closing of its publications department, Diana's travel books have become as rare as hen's teeth, but the occasional copy can be found by doing an online search.
Hotels in Rethymnon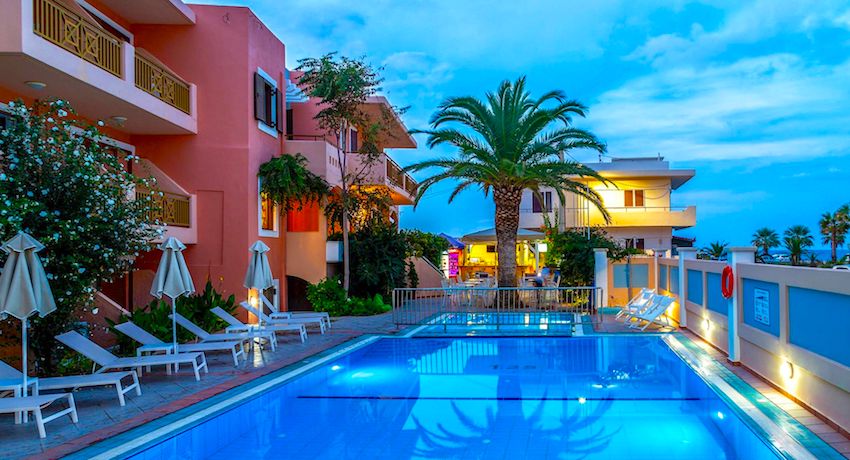 Aristea Hotel
There are all sorts of hotels in Rethymnon, of all categories and prices some of them in beautiful historic buildings that are hundreds of years old, yet have the same facilities that you would find in the most modern hotels.
The 4-star Casa Vitae is such a boutique hotel in an historic building. The hotel's air-conditioned rooms offer luxurious furniture some with spa baths. It is a short walk to the harbor and just about anything you want to see. The Macaris Suites & Spa offers sea-view suites, just 900 metres from the centre of Rethymnon. The 4-star hotel offers free public Wi-Fi. The spacious and modern Macaris Suites are fully furnished. Each has a luxurious bathroom with spa bath, a kitchen with dining area and a living room. During the summer, guests of the Macais Suites can enjoy 2 swimming pools, and a spa with indoor pool. The eco-friendly 4-star Bio Suites Hotel is in a quiet location, only 50 metres from the sandy beach in Rethymnon and a 10-minute walk from the Venetian harbour. It offers spa and fitness facilities, 2 swimming pools and wireless internet. The Aristea Hotel is steps away from the long sandy beach of Rethymnon and 3 km from the city center and the old town. It is a modern beach hotel with a large pool for adults and a safe one for children, a pool bar-restaurant and a gym. The boutique hotel Casa Maistra features spacious suites with a complimentary laptop computer and flat-screen TVs in every room, in a restored 19th-century residence on Rethymnon's promenade. Wi-Fi is free. The 3-star Jo An Palace offers comfortable accommodation with free wireless internet access and a large outdoor pool, just 5 minutes' stroll from the Venetian harbour. Ideally located inside the Old Town of Rethymno, Casa Dei Delfini is housed in an old Venetian- Turkish mansion. It offers spacious, self-catering accommodation with private balcony and free Wi-Fi. For less expensive accommodation the 2-star Leonidas Hotel and Apartments has 25 air-conditioned studios and apartments with kitchenette facilities. Each has a satellite TV, free wireless internet, private balcony and bathroom and a swimming pool. The Arcus Suites are a whole neighbourhood of old Venetian stone mansions of the 15th century, located in the village of Argyroupolis. The entire complex of buildings was declared in 2005 by the Ministry of Culture as a «Preservable archaeological monument». The Melitti Hotel is favorably located a few feet from the sandy beach of Rethymnon and 1.2 miles from the heart of the historic quarter and the famous Venetian Harbour. Amazing Villas is a collection of sophisticated and traditional accommodation units, located on the outskirts of Rethymnon.
You can find more hotels in and around Rethymnon at Booking.com's Rethymnon Page and on Matt's Hotels of Greece Crete Pages
For travel agents who specialize in Crete see Fantasy Travel who can book hotels, ferries, flights, arrange tours and rent cars.
Rethymno has the biggest Apokreas (Carnival) Celebration in Greece, after Patras. This would be a great time to come if you are going to be in Greece during the off-season. For more about Carnival see Matt's Apokreas Page