Private Tours: Istanbul Turkey
Burak Sansal: Professional Tour Guide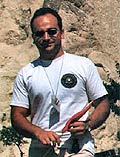 Burak Sansal is an experienced professional tour guide, introducing tourists to Turkey and its wonders. Burak is a licensed tour guide in English and Italian with an experience in arranging private and regular tours individually designed for tourists and business people for over 15 years. He was born in Istanbul in 1968 and loves the city and Turkey more than any other place in the world, which is why he chose to be a guide after living abroad for several years. Burak enjoys sharing his love and knowledge of his country with a great passion.
All of his travel services are coordinated with licensed local Tour Operators and are based on guests' satisfaction rather than commercial activity. His main concern is to make the guest comfortable and pass him/her all his knowledge in order to promote Turkey and gain another "goodwill ambassador" abroad.
Besides tours of Istanbul and the surrounding areas, Burak can arrange many custom-made itineraries such as; Religious Tours (Seven Churches of Apocalypse, Following Foot-steps of Saint Paul, Antioch, Nicea, Ephesus, Cappadocia, Jewish Heritage, Ottoman & Islamic Arts, etc.); Sports & Adventure Tours (Hiking, Rafting & Canoeing, Hunting, Jeep Safari, Rock Climbing, Skiing etc.); Bare-boat Renting, Private Boat Cruise, Gulet Charter, Rent-a-car, Limousine Hire, Hotel Reservations, Translation Services, Private Guiding Services, Rent-a-plane and so on.
You can contact Burak by e-mail
---