Cycling in Greece
---
---
CycleGreece are the first and only bicycle tour company located in Greece covering all regions of Greece by road bike and mountain bike. They offer some of the finest cycling tours in Europe. Cycle Greek islands. Bike Greek mountains. Their bicycle routes include the Peloponnese, Crete, Santorini, Olympia, Delphi, Rhodes, Lesvos, Naxos, Paros, Tinos, Meteora, Evia and Athens.
Their mission is to introduce you to Greece's sacred sites, cultural traditions and natural beauty so that you, too, will cherish its heroic legacy and regard it as an inspiration for future generations. They have not designed or created anything special for our cycling clients: everything Greece has to offer is already here! We are merely curators of its treasures.

The Athens Marathon: Join us when we run the Athens Classic Marathon, the original Marathon from Marathon. See Athens Marathon
Greece as a Cycling Destination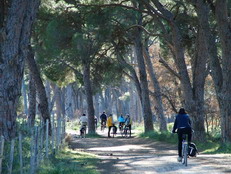 For many years Greece was never known or regarded as a cycling destination. As a visitor, you could rent a bike for a day and pedal around on your own, but multi-day cycling tours in diverse regions of the country were limited, if non-existent. CycleGreece is pioneering the field by offering long distance cycling tours for one to two weeks in all regions of Greece for all abilities of riders.
Greece is ideal for cyclists! It has a terrain suitable for every type of rider.
For the leisurely-inclined, there are plenty of flat roads hugging sparkling sea coasts, as well as moderate hills for casual climbing to reach pristine country villages. For avid cyclists seeking ascents, roughly four-fifths of Greece is mountainous, a continuation of the Alps.
Whatever your pace, a typical day's excursion affords thrilling encounters with one or more of Greece's many countryside treasures, such as, centuries-old olive groves, orange orchards, vineyards, windmills, gorges, kri-kri (wild goats), old stone bridges, caves, Ottoman era mosques, Venetian castles or 2,500 year-old ruins.
Advantage of the Bicycle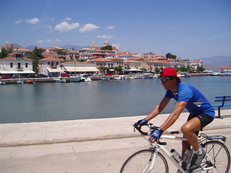 The bicycle is the best vehicle to explore Greece because it allows a precious intimacy with this magnificent, sacred land. Slow motion travel enables one-on-one encounters with the natural environment and exceedingly hospitable locals. You will not be surprised to learn that hospitality in Greek (filoxenia) means ''friend of strangers.''
Whether you've had a casual ride or a Herculean work-out, a day of bicycling prompts a feeling of colossal accomplishment. And a day of bicycling in Greece promises ceaseless joys in a land blessed with a perfect climate.

Why choose CycleGreece?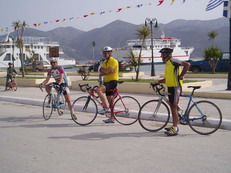 Simply put, because they are the best! In fact, they are the first and only bicycle tour company, road and mountain, located in Greece offering multi-day guided tours throughout the entire country. As the saying goes, the three prongs of a successful venture are location, location, location. Because they are located in Greece, they are in the best position to provide you better value and services for your money when you cycle with us.

CycleGreece is licensed and certified by the Greek National Tourist Organization, and are fully insured and bonded.
For information on their many tours please contact by USING THIS FORM

The Athens Marathon: Join us when we run the Athens Classic Marathon, the original Marathon from Marathon. See Athens Marathon
---
---