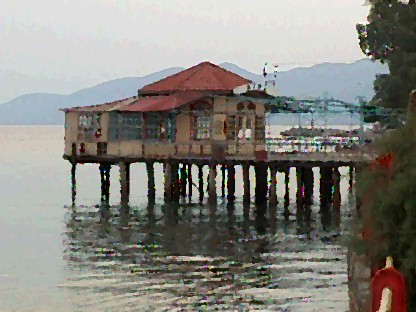 Athens can wear you down. I don't mean spending two or three days in Athens, visiting the Parthenon, shopping all day and going out to tavernas every night. I mean living in Athens, particularly in areas like Kypseli and Patission where the noise, the air pollution and general chaos can make someone question why he has chosen to make his life here. Take Andrea's aunts for example. Poppy and Amarandi are each pushing ninety years old and have been living in Athens almost all their lives. They live in Kypseli on a busy street where the cars, trucks and buses never stop.
Every spring when we arrive in Athens our first meal out is always with them at one of the two local tavernas they eat at, Bakaros which is only open for lunch and Spetsopolou which is only open for dinner. We ring the aunts' buzzer and walk up the stairs where they are waiting in front of their little apartment, both smiling happily but always looking older and more frail. I smile and kiss them but I am thinking to myself that I don't believe they will make it through the summer.
Then something amazing happens. They go to Edipsos for two weeks and when they return they are 20 years younger. What is Edipsos?" I wanted to know. What kind of magical place is it that these two old ladies would be tottering on the edge of death and come back rejuvenated? Andrea explained it simply. Its a European health spa in an area that is rich in hot mineral springs. When many older Greeks go to their family doctor for their check-up he will actually prescribe a trip to Edipsos and a certain number of baths. "Go and do 20 baths at Edipsos" he would tell the old aunts and off they would go.
I had an image in my mind of this mineral encrusted bath with a horde of old people in various stages of decrepitude clinging to the dirty stained marble sides. This did not really appeal to me as much as a beach full of Scandinavians in bikinis or a village full of discos and young people, which did not appeal to me either so Edipsos was sort of at the bottom of my list, though with an asterisk, since I am no fool and I know that someday I may get old and will probably need some sort of regeneration. But this summer my curiosity got the best of me and when my mother-in-law came to Greece with plans to go to Edipsos to pump some life into a body that suburban New Jersey had drained, I volunteered to drive her on our way to the Peloponessos, even though it was not on the way at all, in fact in the opposite direction.
Of course this made her so happy she kissed me which meant she was happy beyond measure.
And what I found made me feel like I had just discovered the secret to eternal life and I could not wait to share it.
Matt Barrett