Introduction to Edipsos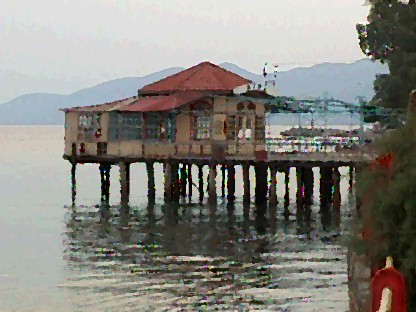 Athens can wear you down. I don't mean spending two or three days in Athens, visiting the Parthenon, shopping all day and going out to tavernas every night. I mean living in Athens, particularly in areas like Kypseli and Patission where the noise, the air pollution and general chaos can make someone question why he has chosen to make his life here. Take Andrea's aunts for example. Poppy and Amarandi are each pushing ninety years old and have been living in Athens almost all their lives. They live in Kypseli on a busy street where the cars, trucks and buses never stop.

Every spring when we arrive in Athens our first meal out is always with them at one of the two local tavernas they eat at, Bakaros which is only open for lunch and Spetsopolou which is only open for dinner. We ring the aunts' buzzer and walk up the stairs where they are waiting in front of their little apartment, both smiling happily but always looking older and more frail. I smile and kiss them but I am thinking to myself that I don't believe they will make it through the summer.
Then something amazing happens. They go to Edipsos for two weeks and when they return they are 20 years younger. What is Edipsos?" I wanted to know. What kind of magical place is it that these two old ladies would be tottering on the edge of death and come back rejuvenated? Andrea explained it simply. Its a European health spa in an area that is rich in hot mineral springs. When many older Greeks go to their family doctor for their check-up he will actually prescribe a trip to Edipsos and a certain number of baths. "Go and do 20 baths at Edipsos" he would tell the old aunts and off they would go.
I had an image in my mind of this mineral encrusted bath with a horde of old people in various stages of decrepitude clinging to the dirty stained marble sides. This did not really appeal to me as much as a beach full of Scandinavians in bikinis or a village full of discos and young people, which did not appeal to me either so Edipsos was sort of at the bottom of my list, though with an asterisk, since I am no fool and I know that someday I may get old and will probably need some sort of regeneration. But this summer my curiosity got the best of me and when my mother-in-law came to Greece with plans to go to Edipsos to pump some life into a body that suburban New Jersey had drained, I volunteered to drive her on our way to the Peloponessos, even though it was not on the way at all, in fact in the opposite direction.

Of course this made her so happy she kissed me which meant she was happy beyond measure.
And what I found made me feel like I had just discovered the secret to eternal life and I could not wait to share it.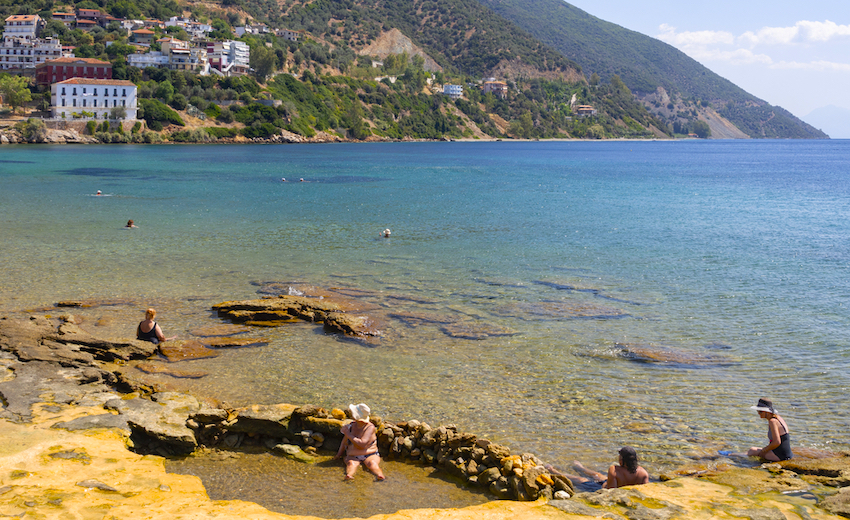 Edipsos History
Edipsos is not a new phenomenon. Even though few travelers from other countries have ever heard of it the cosmopolitan atmosphere combined with the healing spas have attracted reknown politicians, artists, writers and other notable people like Winston Churchill, Aristotle Onnasis, Maria Callas, Greta Garbo and Omar Sharif. But it is mentioned in the works of Aristotle in his Meteorological, and by Ploutarch and Strabon. The town even minted its own coins. In Roman times the area flourished and its healing waters were visited by the emperors Hadrian, Septimus Severus and Marcus Aurilius. The baths from the Roman period are the best preserved and are known as Syllas Baths. During the Byzantine era it was destroyed for being an area of paganism though it was visited by the Emperors Theodosious and Constantine the Great.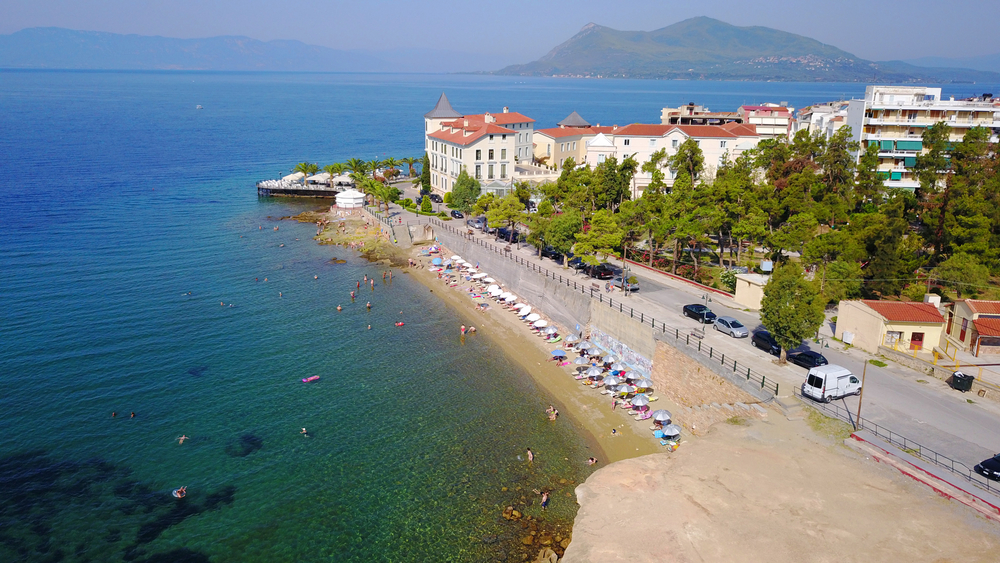 Entering Edipsos
As you drive down to Skala Edipsos it looks like a typical old resort village on the coast until you notice that some of the hotels are from the last century. Then as you swing down to the coast there are people bathing close to the rocks where steaming hot water is pouring through, leaving multicolored sediment in strange formations. There is a huge renovated hotel and spa called the Thermae Sylla Grand Hotel where workers are putting the finishing touches on what they say will be the most complete and modern center of Therapeutic health in all of Europe. The building itself is impressive and the services and therapies they offer make me have little doubt that they will live up to their claims. There are countless other hotels, some turn of the century and some modern. Many of them have swimming pools filled with the hot mineral water and those that don't have pools have mineral baths with big tubs which you can fill with the hot mineral water because there are hot springs literally everywhere. There are rivers that run down the street of steaming hot water. There are empty lots with geysers of hot water. And apparently the hotels can just tap into these springs.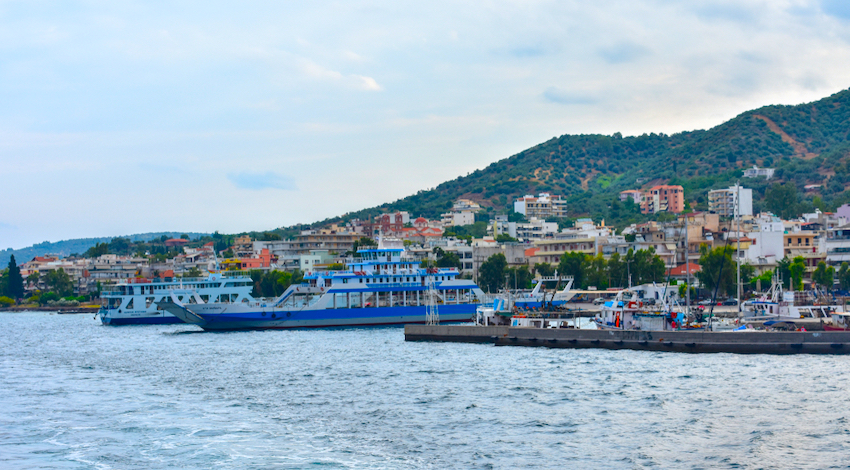 On the Waterfront
The center of town is the main street which is closed off to automobiles at dusk. There is a line of tavernas and cafes along the shore where people sit and watch the ferries which go back and forth to the mainland just about every 15 minutes. The most popular places are the ones that sell loukomades, which are fried dough with honey poured over them, and also fresh sheep yogurt with honey. Despite Edipsos being renown as a haven for geriatrics, there are people of all ages, shapes and sizes, with children running around or playing in the small amusement park. There are outdoor movie theaters which were all showing new English language films and lots of shops that sold a variety of eastern type sweets and pastries like loukoumia, baklava, and some Turkish sweets that I had never seen before. The town was really one of the most interesting places I had ever been to. The sunsets are quite extraordinary and there is plenty of nightlife for all ages.
We met Poppy and Amarandi at their favorite restaurant, which was unfortunately a cafeteria where we stood on line for traditional Greek dishes that were pretty unimpressive. Knowing that once they decide upon a restaurant they will eat there for the rest of their stay, or even their lives, we knew that we would not be staying long in Edipsos. They had chosen this particular restaurant they said, because the owner was from their island of Kea. But when I talked to the owner after our meal he was not from Kea, nor had the previous owner been. So it was kind of unfortunate that they had chosen to eat at this restaurant which was not particularly good because they wanted to support their fellow Kean and the guy was not even from Kea. It made me wonder how much needless suffering goes on in the world from similar circumstances. But when you are sitting watching fishing boats and ferries cross the path of the setting sun, it does not matter if the food is not that great, especially when you know that there are plenty of other restaurants to choose from.
In the harbor there are lots of fishing boats with big water tanks on the front deck and traps, along with nets. Fish are caught with the traps, transferred to the tanks and then scooped out and sold on the dock, alive and flapping, to the crowds that gather when a boat comes in. I had never seen this before in all my travels in Greece which was surprising. You can't get fish any fresher than this unless you are a seal. Further on is the town beach and its clear waters which is filled with families, couples and of course the ever-present senior citizens.
Even if Edipsos did not have the restorative healing waters the Aunts and all their friends renew themselves with, it would still be a great place to come for a holiday.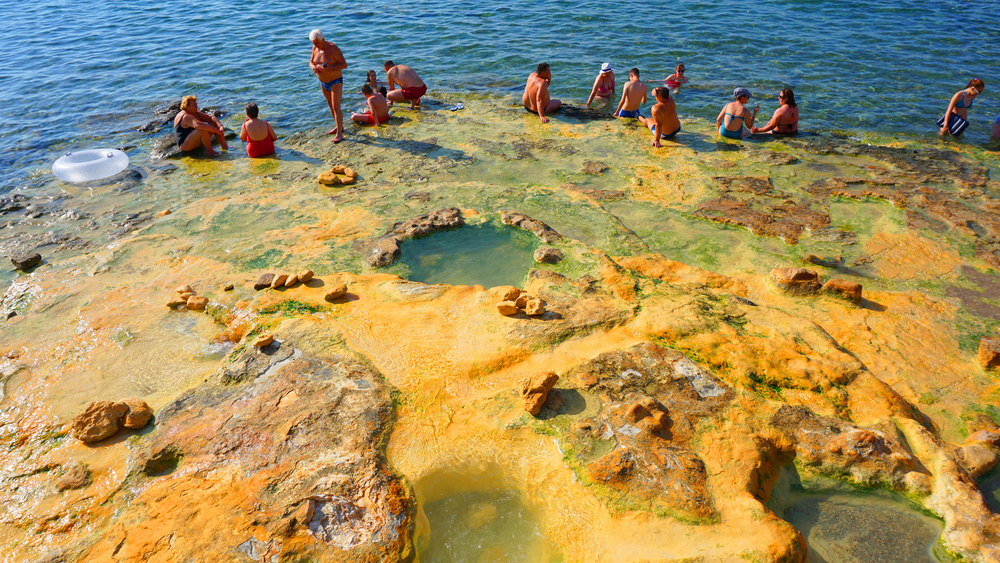 The Healing Waters of Edipsos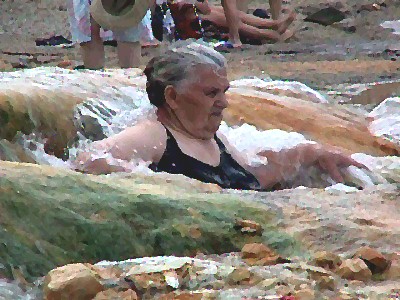 Edipsos has to be one of the most amazing resorts in the word when it comes to healing mineral baths. There are more than eighty individual springs with waters ranging from 28 to 86 degrees centigrade, which can be quite hot. These springs are said to be effective in curing problems such as rheumatoid and inflammatory arthritis, degenerative arthritis, spondylo-arthritis, myalgia, neuralgia, lumbago, neuritis, backaches, tendonitis, vessel diseases, diseases of the endocrine cycle and post traumatic inflammation. A number of gynecological complaints can be remedied such as salpigitis, endometrititis infertility, and ovarian deficiency. They also say it can cure men's potency problems. There are also many privately owned spa facilities, baths and pools, some of which belong to the hotels. Nature has also chipped in for a rare combined experience where the warm water gushes from the sea bed.
We went to visit Poppy and Amarandi at their hotel and they gave us a tour of the facilities. It was a little rough on our daughter Amarandi who loves swimming pools. Her eyes lit up as we walked through the lobby and she spotted the giant blue swimming pool and as we were greeted by Spiros, a muscular physical therapist, she leaned over to touch the water. "Don't touch it!" yelled Spiros, snatching her hand from whatever was in the pool that could be so healthful to old people and yet deadly to children. There was probably no reason a child could not go into the water but as we discovered in later journeys to spas and hot springs in Lesvos, its the general opinion that children and hot mineral water do not mix, for whatever reason, based on medical fact or old wives tale.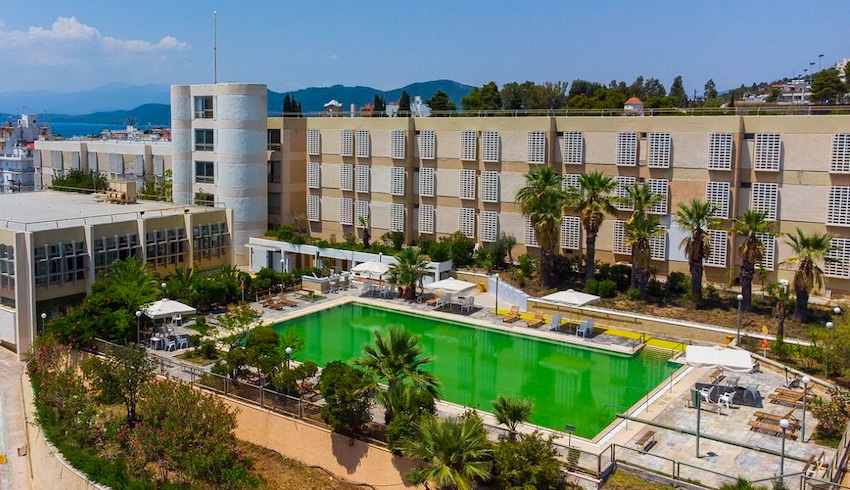 The Edipsos Thermal Spa
In 2022 The Edipsos Thermal Spa opened its doors to the public. The brand new spa facilities for state-of-the-art hydrotherapy, include 84 individual baths equipped for hydromassage, an indoor pool for kinisiotherapy and special bathing and shower installations for treatment of the limbs, slipped disk and cervical spine syndrome. There is a physiotherapy center offering inhalation and electrotherapy, massage with hand and electromassage as well as a fully equipped gymnasium. An outdoor pool on the grounds can be used for bathing in both mineral and sea water. There are steam rooms, saunas and a staff of doctors, nurses, and physical therapists.
The Edipsos Thermal Spa is located only 500 meters from the port and is open J
une 15-30: 7 days/week from 7am-3.30pm
July 1 – September 30: 7 days/week from 7am – 1pm & from 5pm – 7pm
October 1 – December 31: Saturdays, Sundays and official holidays from 10am – 6pm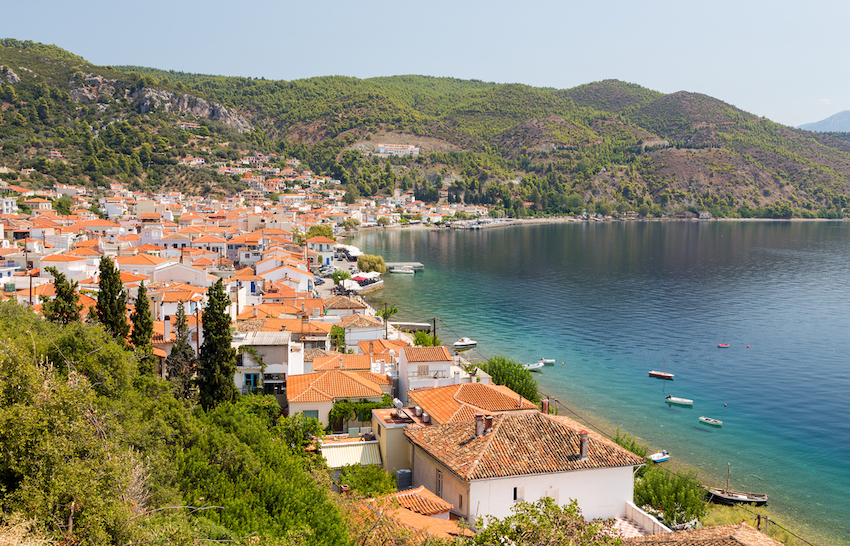 Limni courtesy of Deposit Photos
What To Do in and around Edipsos
There are many athletic and cultural events held in Edipsos including the Edipsos Festival featuring dance performances by Greek and International groups. There are tennis and beach volleyball championships and plenty of beautiful places to walk and explore. The beaches are among the most beautiful I have seen, particularly up the road in Agiokambo where you catch the ferry to Glifa and the road north to Volos and the there is also the beautiful beach at Agios Nicolaos . There are plenty of water sports including jet skis, windsurfing and sailing and excellent fishing. This is also an area famous for its hunting and the Greek Hunting Association keeps it stocked with pheasant, partridge and hare. Clearly this is not your typical 'lay out all day on the beach and get drunk all night' kind of destination. there is stuff to do in and around Edipsos. There are many other scenic mountain villages and beautiful beach towns nearby and the entire island of Evia is a treasure of natural beauty, monasteries and archaeological sites like the monastery of Saint George built over the Temple to Apollo, 2 kilometers from the village of Polylofos. There is also the well known Sacred Church of Saint John the Russian in the town of Prokopi, plus daily cruises to the popular Sporades islands of Skiathos, Skopelos and Allonisos. Edipsos is a short drive from the fishing village of Limni (above photo) where you can find beaches, hotels, restaurants and lush forests in one of the most beautiful towns on Evia.
But my favorite thing to do is eat and drink and there are plenty of inexpensive restaurants with excellent food and plenty of fresh fish.
One of the things that makes Edipsos so attractive is the cost. It is a fraction of what you would pay in the USA or Europe if you could even find a place which combined Natural Traditional Therapy, the latest in Thermal Spring Therapy with the beaches and atmosphere of a Greek island. If the wear and tear of life has dragged you down, a couple weeks here will do you some good, with or without a doctors prescription.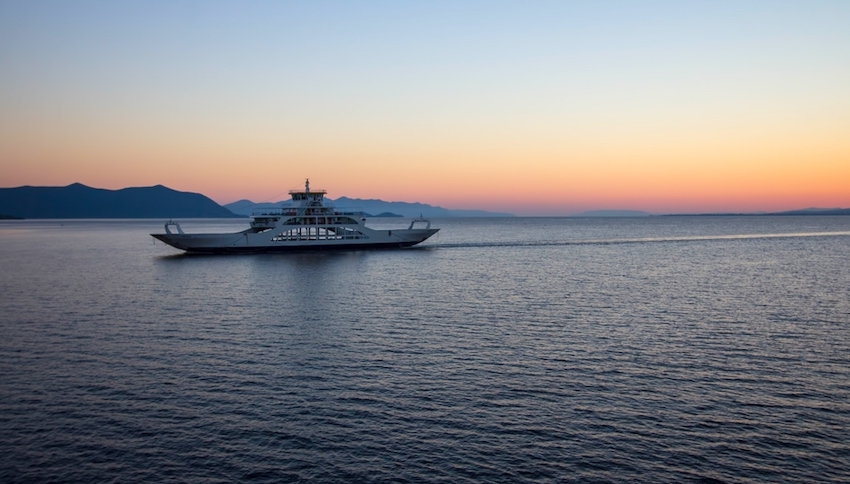 Getting to Evia
The Right Way of Going to Edipsos
There are several good ways of getting to Edipsos and there is also our way. The easy way is to just get a travel agent to do it all for you and they will handle the transportation and the hotels. Another way is to hire a taxi for the 2 hour trip, which is the way the aunts go, using our friend George Kokkotos, the famous Greek taxi driver. Then there is the bus, which is how my mother-in-law would have gone, and which is why she kissed me when she was told she wouldn't have to. There is a ferry from the mainland in the town of Arkitsa that takes about half an hour, and puts you right in the center of town. Its about a three hour drive from Thessaloniki and a little more then an hour from Volos and the Mount Pelion area.

My Way of Going to Edipsos
Pt 1. Looking for the National Road
We rented a car from Swift car rental in Athens. But the day before we were going to leave, the person who was renting our 4-door, air-conditioned Hyundai, wrecked it. Elias gave us his personal car, a Honda Civic, which he used in such emergencies and while it was a better car then the one we would have gotten it lacked a critical element, which was the air-conditioning.
Swift offers to drive their customers to the National Road, which is a wonderful service because you don't have to get used to the car and Athens traffic at the same time. But Leonidas, the young guy who delivered the Honda to the Adams Hotel agreed with me that since it was Saturday, traffic was lighter and I was already an experienced Greek driver, I would have no problem finding the National road myself, and he could take care of other responsibilities. This made sense to me and with a squealing of tires, a sound I became so used to I stopped noticing it, we were off for Edipsos.
Leonidas had given me a map of Athens with the route to the National road inked in. Unfortunately our road out of the Plaka only went one way which was in the opposite direction of the line of ink that would lead us to freedom. Also the main road had a median and we had to drive several kilometers before there was a place to turn. Of course by then we had found an alternative route, the proverbial 'better way" and we made our journey in a zig-zag pattern to Omonia square, which is a circle, from where we could pick up the ink line on the map until we found the signs for the national road.
We ended up on Archonon street, driving endlessly until we realized that we would never cross the National road because we were driving parallel to it. We could drive to infinity and never cross it, like living next to a parallel universe that you can only suspect its existence. Once again we decided to improvise and took a left. We were instantly rewarded by a sign with an arrow that said National Road. That was the last reference we saw to the National road for the next two hours.
We found ourselves in a world of Gypsy camps, small factories and five story apartment buildings on unpaved roads, where we looked for anything that could be a larger road then whatever road we happened to be on. We stopped at a gas station and asked directions. "Go straight down this road, cross the tracks, take a left, then take your second right. Then ask someone else". We followed the directions as perfectly as possible and ended up at another gas station. "Go back three lights, where the road ends make a left and then ask someone else." It seemed to be some sort of traveler relay system where we were just being sent from one person to the next, like getting a residence permit or doing anything with the Greek bureaucracy. Everyone we asked told us to go several miles, turning left and right and then asking someone else. Wasn't there someone who could just tell us where the National road was, and not directions to some guy, who knows a guy, who knows a guy who knows where the national road is? We wanted to find this person.
We never did, but two hours later we found the National road somewhere near Kifissia. In the process we had visited the towns of Nea Liosa, and Metamorphosis, both areas later leveled by the September earthquake. We were possibly among the first and last tourists to visit the area and in retrospect I am glad we did, just because I now have an idea of exactly what was destroyed in the earthquake. My advice to the city planners is whatever they do, don't build it back the way it was, and stick some road signs that point to the national road where people can see them. If there are more road signs they will not need as many people giving directions.

Part 2. The National Road
Of course we missed the sign for the National Road since it was only about a five inches tall and a foot long and two feet off the ground. Plus it was right at the entrance ramp with no warning, on a road where everyone is driving around 120 kph, so we had to go another mile until we could make a U-turn that would not endanger all my complaining passengers. Then we had to drive past the National road until we found another U-turn since coming from our direction you could only go south and we wanted to go north. Every time I found a break in the endless traffic the tires would squeal like I was going zero to ninety in one second, which I think had something to do with my style of driving, but more to do with whatever substance was on the road that made other peoples tires do the same.
It took awhile to acclimate myself to driving on the national road, and it took five minutes to decide that I did not want to be on the National road. It was a mass of cars, all driving a little too fast, except for the occasional old clunker who was driving a little too slow and everyone had to swerve to avoid. But the further out of Athens we got, the easier the driving became. When driving in Greece I like to remember the words of George the Famous Taxi driver "Matthew, stay to the right. These drivers are crazy". In parts of the National road where there is no median it is not uncommon to have a car coming head on as he tries to pass someone else in the other lane. By staying on the right you are increasing your chance of survival since rear ending a donkey will cause you and your car less damage then hitting a truck head on.
At the exit for Halkida we had a decision. We could continue on the National Road and make it to Edipsos (remember?) in about an hour, though by now it would have been about five for us. Or we could go through Halkida, the capital of the island of Evia, and take the small mountain road, and enjoy the scenery. This would take an hour or so longer but we were glad we did it. We crossed the bridge that connects the island to the mainland, drove through Halkida and then stopped for lunch on the country road the goes north the length of the island. The roadside taverna we stopped at specialized in delicious tygano-psomo, a fried bread with cheese inside, plus some of the best lamb chops (pai-dai-kia) of the season.
The road took us through forested mountains and valleys and then to a long flat area that was very green and followed a small river. We pulled off the road near a group of cars at a sort of park area where we waded in the crystal clear water, along with a wedding party that was being held in a country taverna across the street, where music was loudly playing and people were dancing the tsifteteli in a large gazebo. Then we followed the river until the road turned off to the west coast of the island along the small sea that separated it from the mainland.
Conclusion...
If you want to go to Edipsos my way then try to avoid everything I did until the last two paragraphs and you will save several hours and a massive headache. By the time we reached Edipsos I was in need of some radical healing. If you do somehow fall into the same pattern of mistakes then don't worry because once you finally get to Edipsos, there are facilities to care for any anxiety or trauma you may have suffered on the way.
If you are planning to rent a car and drive from Athens to Edipsos check out Swift Rent-a-Car . They will pick you up at the airport or your hotel and drive you to the National road and let you by-pass the notorious Athens traffic. See their website at www.greektravel.com/swift
Hotels in Edipsos
Hotel Kentrikon boasts a central location just a few minutes from the central park and the beach in Edipsos. It features an outdoor swimming pool with spring water for therapies and an indoor pool for relaxation. The 1935 hotel building depicts the glamor, charm and the style of this era. Today Kentrikon offers 50 spacious rooms with air conditioning, TV, and fridge. The private balconies offer views of the central road of Edipsos, or the hotel's swimming pool. Guests can participate in the exercise programs available at the gym.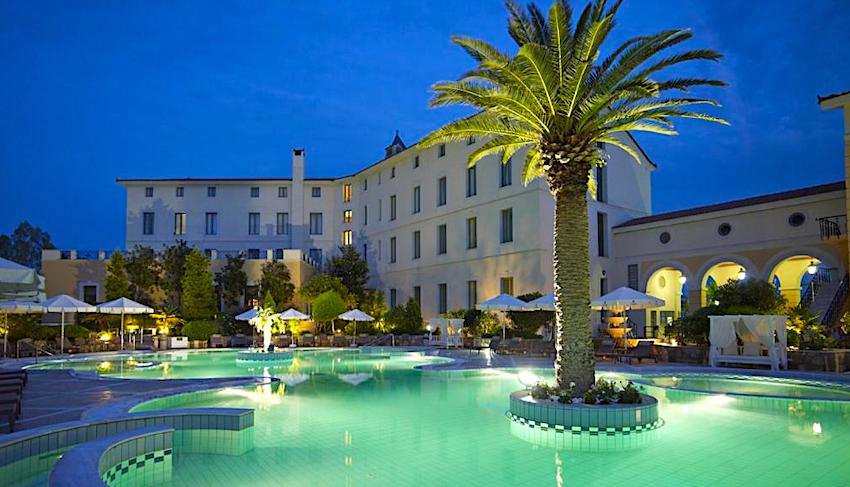 Thermae Sylla Spa & Wellness Hotel

This spa resort is located by the beautiful coast of Edipsos, providing a calm and relaxing setting, with all the modern luxuries to offer you a rejuvenating holiday. According to the well-respected magazine Condè Nast Traveller, the Thermae Sylla Spa & Wellness Hotel provides one of the top 10 thermal spa services in the world. The hotel has a classical interior and is built by an ancient spring. The Thermae Sylla Spa Hotel is a 2-hour drive from Athens. Treat yourself to a refreshingly complete holiday, within a setting of pleasant odours and relaxing music.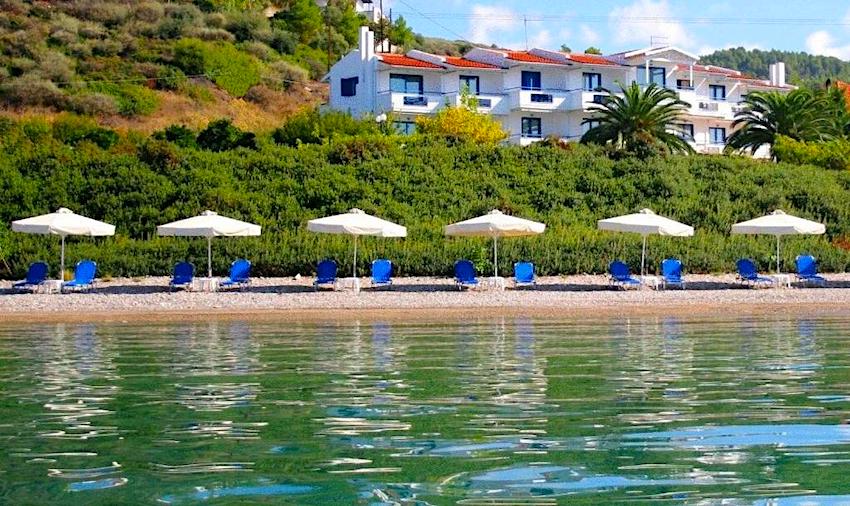 Agnadi Hotel

The charming Agnadi Hotel is proudly situated right next to the sea, amongst beautiful gardens and olive groves, close to the coastal village of Rovies, Evia. Each room has been decorated to offer warmth and comfort, with some featuring beautiful open fire places. Guests can also enjoy a magnificent view of the sea and sunset from their private balcony. The beach, directly in front of Agnadi, is perfect for swimming and water sport activities and there are plenty of local tavernas providing evening entertainment. The nearby village of Rovies is a great place for visitors, with its historic Venetian castle and lush olive groves. You will need a rental car to go to Edipsos from here.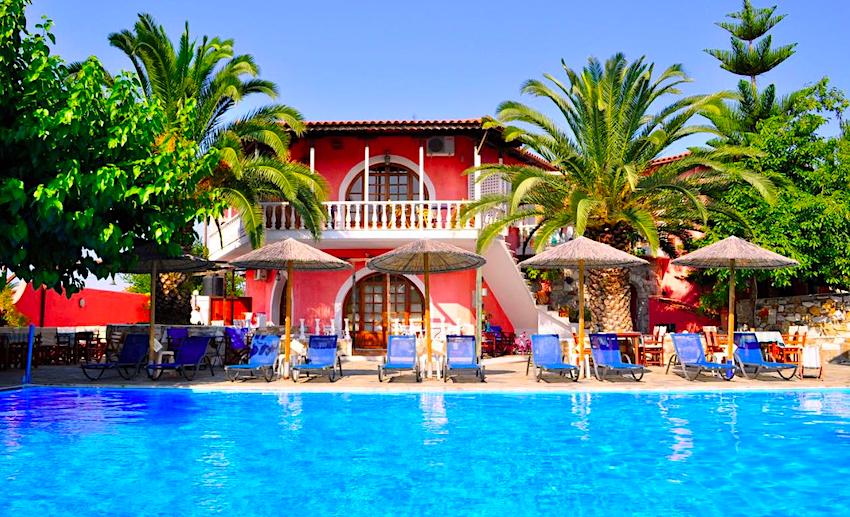 Nestled on the northern tip of the greenest Greek island, between the villages of Pefki and Artemisio (1 km), you will find this small, family-run lodge within the olive trees. In a beautiful, peaceful and friendly environment, the main building was inspired by traditional Greek architecture while the rooms, each decorated differently, combine the warmth of the wood with colour and convenience. Besides a welcoming smile and 24-hour hospitality, they also offer you a large, green garden with see-saws for children to play on, and a cafe-bar and restaurant with home-made food. You can also enjoy the use of their small library, with newspapers, magazines and internet access. You will need a rental car to go to Edipsos from here.