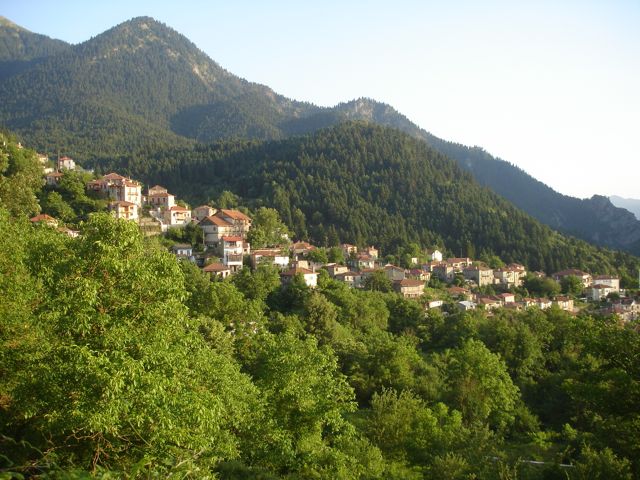 I live in North Carolina, a lush green state of mountains, rivers, forests and sea, and a thriving Greek community. Most of the Greeks from my town come from the villages around the town of Karpenissi, up in the mountains of Evrytania, which is not surprising because the area looks like the mountains of North Carolina. I can just imagine when the first Greek settlers arrived in North Carolina towns like Asheville, Charlotte, Chapel Hill and Durham and wandered into the hills and then raced home and wrote back to their families and friends in Greece: "Come quick! It looks just like Megalo Chorio! Only there is money here!" And come they did, starting businesses and opening restaurants and even building a Greek Orthodox Church called Saint Barbara that looks like a smaller version Agia Sophia. But like Greek's all over the world, the familiar terrain creates a nostalgia and just as I do, the North Carolina Greeks make their yearly summer sojourn to the mountains, rivers, fiests and villages of Evrytania.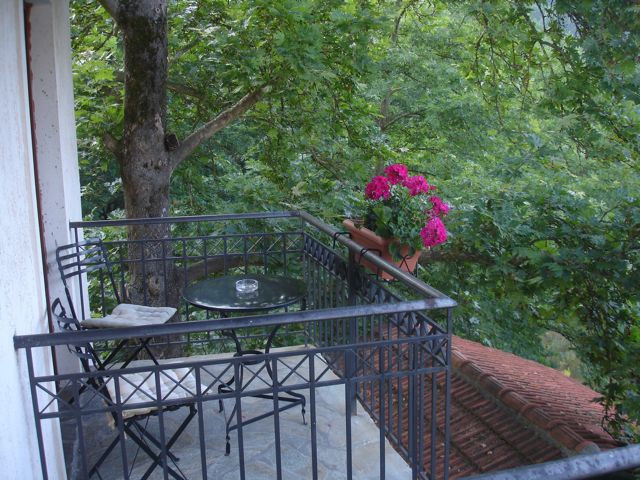 Karpenissi is not a beautiful city or at least it is not the paradise on earth that my Greek friends from North Carolina made it sound like. Maybe it was once, a long time ago, before they left for America, but now it is like many of the other provincial Greek towns, with three and four story apartment buildings and a congested downtown where it is hard to find a parking space. Only it is built on the side of a mountain instead of on a flat plain in grid fashion. This is the poorest area of Greece, or at least it was until everyone moved to America and got rich and came back with their money. The guidebooks say that Karpenissi is the largest town in the region known as Evritania with a population of 5000 people, but it looks more like ten or fifteen thousand and it probably doubles in the winter when Athenians come here to ski. It is famous for having the cleanest air in Europe and known for making the brass bells that are worn by sheep. But we did little more than drive through it. We were going to Megalo Horio, a town half an hour down a lush wooded valley that happens to be the ancestral home of my friend John Dimos who owns the Drydock Fish Restaurant between Pittsboro and Chapel Hill, North Carolina. "You have to stay at my cousin Fotini's hotel when you go", he told me every time we ate in his restaurant. So one summer when the heat at sea level became too much for us we set out for the cool hills of Karpenissi.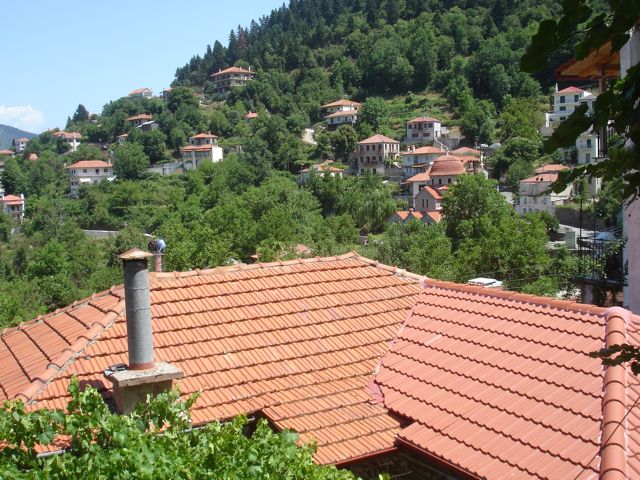 The village of Megalo Horio was in the forest on the side of a mountain. We drove through it and then asked directions for the Agrampeli Apartments owned by John's cousin Fotini. We had to drive down to the bottom of the village, cross the river on a bridge just wide enough for our car (Andrea was terrified) and into the community of Gavros, a collection of small shops, a few tavernas and some houses. We found the apartments right away, got a room overlooking the pool and the mountain, and marveled at the temperature and the fact that it looked and felt like the mountains of North Carolina. Is that the reason that so many of North Carolina's Greeks are from the Karpenissi area? Did they wander around America until they found a place that reminded them of home? I took a swim in the pool which seemed to have no chlorine. There was a river just below the apartments so I am assuming that the water is always circulating.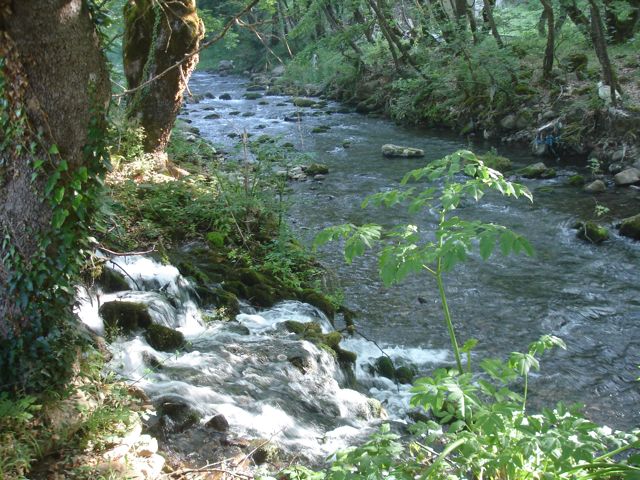 There was plenty of water in the village. Streams were everywhere with waterfalls leading into the main river which was about thirty feet wide and so cold my feet were numb in about thirty seconds. Our first friend was Vassilis who with his brother and sister ran a small gift shop in Gavros selling jars full of plastic fruit in water. They also had real fruit preserved and a lot of different home made alcoholic drinks like tsipuro, flavored with local fruits. We had several glasses of tsipuro and then bought a bottle before walking down the street to the Spiti Tou Psara, a taverna that is famous for its fresh trout. Andrea had the trout and I had paidakia along with home made spanakopita, tiropita and delicious home made fried potatoes. There was only one other couple eating there on the balcony that overlooked the river. Inside, Maria, our waitress was preparing several whole lambs for a baptism that was being held in the village the following day, while the owner, Efthimios, and his pals were talking over drinks at a table indoors. It was the first time this summer where we considered eating indoors because outside it was actually chilly. Just beyond the restaurant is an old trout farm that has closed down. Anyone who has ever wanted to own a trout farm should come up here and check it out. There is not much to do in Gavros once dinner is over. The whole main street is about fifty meters long so after dinner we went back to our room and went to sleep.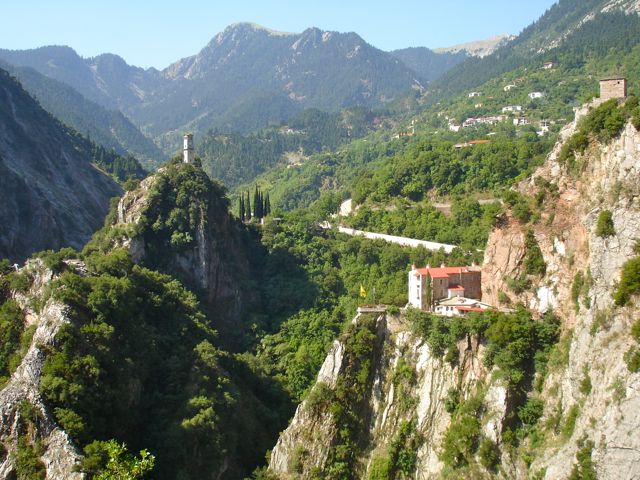 The next day we drove down the valley alongside the river to the Proussou Monastery in a spectacular location on the road to Agrinion. Rocks were scattered along the way and you can see that they are piled on the side of the road as if every so often a snowplow has to come and clear them. The chances of being hit by one is slim but you sort of have to be on the alert anyway because though it is unlikely one would be covered in a landslide, being smacked by an individual rock was not out of the question. Halfway to the monastery, where the Krikeliotis and the Karpensisiotis rivers meet by the Megdovas Bridge, is a center for white water rafting, though the rivers were not deep enough for that in the summer. Its probably a great place to go in the early spring and I have read that the area has the best white water rafting in Greece. Other popular activities are hiking through the Krikelioti River Canyon, horseback riding and of course skiing in the winter at the famous Velouchi Ski Resort.
We drove back to Gavros where two old guys were making kokoretsi and roast lamb in one of the shops. I asked them if they were doing it for the baptism. "No, we do this every Saturday" they told me. So if you like roast lamb and kokoretsi go to Gavros on Saturday. Afterwards we drove up to Micro Horio which was across the river valley from Megalo Horio. It was a settlement of modern looking houses, some made of wood. They use a lot of wood up here. Wood is to Evritainia as rocks are to the Cyclades. We crossed the bridge and went back up to Megalo Horio and had a coffee in the shaded main square and then walked one of the paths through the woods over a small wooden bridge that crossed another stream. The people who sell bottled water must hate this area. With fresh spring water pouring out of the mountain, the waiter in the cafe would fill our water glasses from the fountain in the square.
If you are serious about seeing a part of Greece that few tourists do, and are tired of the barren rocks of the Cyclades and would like to walk barefoot in mountain streams, hike forest trails, go mountainbiking or flora-photographing, eat fresh caught trout or freshly slaughtered lamb, go skiing in the winter or white-water-rafting in the spring then this would be a good place to go, especially if you are from North Carolina and are feeling homesick.
(You can click on all the photos to see them full size)
Practical Information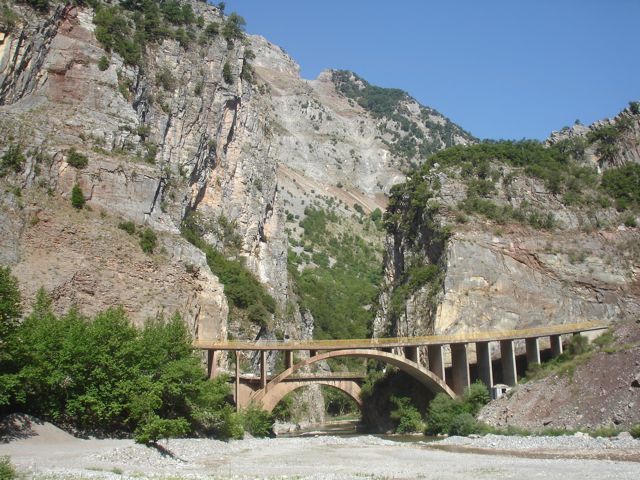 There are buses from Athens to Karpenissi but to come here without a car would be silly. Rent a car from Swift or else make this an overnight stop with George the Famous Taxi Driver on a trip between Delphi and Meteora. It takes awhile and you will need a really good map or GPS but you can avoid the highways and drive over the mountains from Karpenissi to Trikala (another neat place) to Kalambaka-Meteora. If you are coming from Athens take the national road to Lamia and follow the signs to Karpenissi heading west.
I recommend the Agrampeli Apartments where we stayed. Besides being the cousin of my friend John from Chapel Hill, it is a really nice hotel. It is next to the Karpenisiotis River and has traditional rooms with views of Mount Kaliakouda. It also has a swimming pool and BBQ facilities set within a lovely garden and serves a very nice buffet breakfast with homemade bread, jams and other traditional local food and it is right by all the restaurants. For more hotels see Matt's Hotels in Evrytania Page

You can find hotels in Evrytania by location, price, whether or not it has a swimming pool, and see photos and reviews by using this link to Booking.com. Excellent prices and many hotels you can book and then cancel with no cancellation fee. For those who want to book without using a travel agency this is the best way to do it. I suggest staying outside of Karpenissi in one of the smaller villages like Mikro Horio or Megalo Horio, close to the river. If you come in the winter then stay in Karpenissi.
Help Support Matt's Greece Guides
Do you enjoy using my site? Have you found it entertaining as well as useful? If so please show your appreciation by booking hotels through the travel agencies and the links found on my Hotels of Greece site. The small commission I make on the bookings enable me to keep working and in most cases you won't find them any cheaper by searching elsewhere. You can find hotels in Greece by location, price, whether or not it has a swimming pool, and see photos and reviews by using this link to booking.com which also contributes to my website when you book. If you are appreciative of all the free information you get on my websites you can also send a donation through Paypal or Venmo
Join Matt Barrett's Greece Travel Guides Group on Facebook for comments, photos and other fun stuff. If you enjoy this website please share it with your friends on Facebook and other social media.