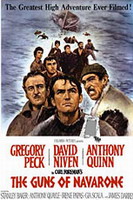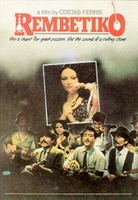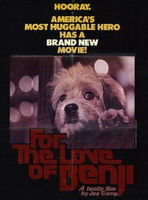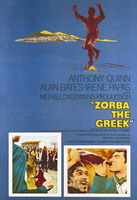 by Matt Barrett
In the early seventies we used to joke about Greek films (before ever having seen one), that to make a successful Greek comedy you need several things: A fat woman in a mini-skirt, a man in ladies clothing, a cross-eyed guy who yelled all the time, and a scene in a bouzouki joint. That is because all we knew of Greek movies were the ads in front of the theater that all seemed to show these same things. Greek comedies seemed like Jerry Lewis on acid. Regardless, it was not until I left Greece and was nostalgic for it that I began to go to the Greek Film Festivals that were being held on any campus with a large enough Greek community to support one. Films like Rembetiko, Stella, Glyka Symoria, and others opened my eyes to Greece in a way that being an American and living within the American community couldn't. Greek movies helped me find the Greek in my Greek-American-ness. I have complied a list of films and a description of not only Greek films but also foreign films which take place in Greece which will be helpful for anyone needing a Greek-fix or inspiration.
Rembetiko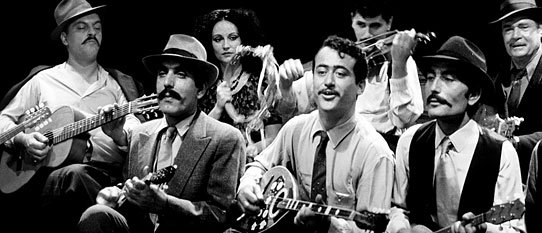 This is my favorite Greek film. It is a history of the Greek urban blues told in the form of a story about a singer named Marika, (based on Marika Ninou) and her sometime lover composer Babis, (whose character is based on Vassilis Tsitsanis, Greece's greatest musical composer who wrote over 2000 songs on subjects like love, betrayal, prison, the occupation drugs and the life of the refugees). The film begins in Asia Minor and follows Marika to Athens, Thessaloniki and America and features a fantastic soundtrack by Xarhakos. The film was made by Kostas Ferris. I still cry when I see it.
No Budget Story, Cheap Smokes, Heart of the Beast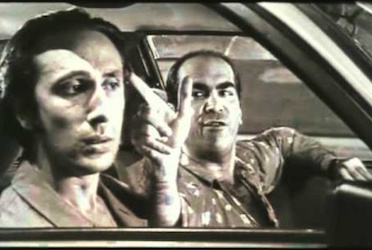 These 3 films by my favorite Greek filmmaker and actor Renos Haralambides offer a look into the mind of the director as well as a view of Athens that makes me nostalgic for people and places every time I watch them. Basically they are about the trials and tribulations of being an artist and a thinker in modern day Athens. They are also very funny and in my opinion philosophically brilliant. There are characters in his films that should have their own film or TV series. If Hollywood ever saw these they would hire Haralambidis or more likely just steal his ideas. There are links on the front page where you can watch all his films on Youtube including his latest 4 Dark Suits. Watch them in chronological order as listed above and Renos will be your favorite Greek director and you will most likely fall in love with Dimitra Papadima as I did.
Zorba The Greek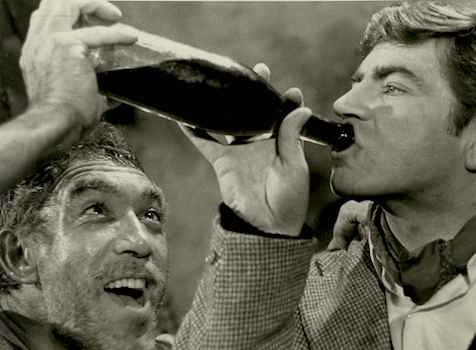 This movie turned Anthony Quinn into a Greek forever. Based on the book by Nikos Kazantzakis (which should be read by everyone who feels that life is passing them by) it also stars Alan Bates whose character has inherited a lignite mine somewhere in Crete and meets the free-spirited Alexis Zorba in a cafeneon in Pireaus. Zorba convinces Bates to hire him to run his mine. Filmed in black and white the movie documents a Greece that has almost completely disappeared, (with the exception of the villages my wife takes me to keep me out of trouble). With an inspiring soundtrack by Theodorakis (the best work he has ever done) and the greatest performance of Anthony Quinn's career this is another movie that must be seen, and not only once.
Never On Sunday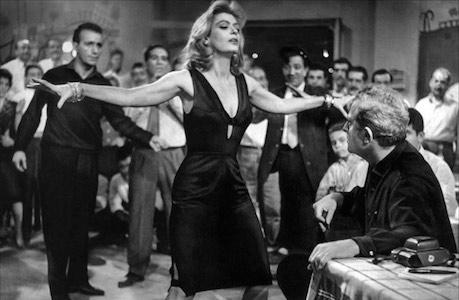 This 1960 film made Melina Mercouri almost a household name in America and an icon in Greece. It is about a prostitute who lives a life of free-spirited bliss and the American who tries to 'civilize' her and make her miserable like him. Just as in Rembetika and Zorba, Never on Sunday is also aided by a great soundtrack, this by Manos Hadzidakis and the song Children of Pireaus is the most recognized piece of Greek music after the Zorba Dance, and only because that song is played at every baseball game in America. The American in the film is played by Jules Dassin who directed it as well. This is also in black and white and creates a nostalgia in me of a Greece I barely glimpsed before it was swept away by western culture. It won the Academy Award for Best Song (Manos Hadjidakis for "Never on Sunday"). It was nominated for the Academy Awards for Best Actress in a Leading Role (Melina Mercouri), Best Costume Design, Black-and-White, Best Director (Jules Dassin) and Best Writing, Story and Screenplay as Written Directly for the Screen (Dassin). Mercouri won the award for Best Actress at the 1960 Cannes Film Festival.
Z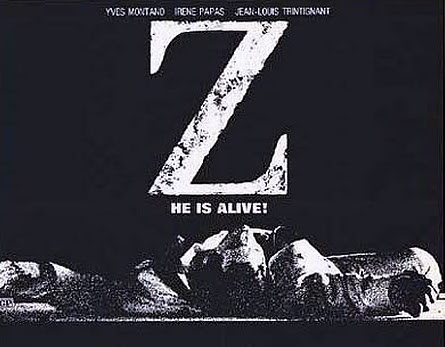 This movie by one of my favorite directors, Kostas-Gavras, is about the assassination in Thessaloniki of pacifist minister Grigoris Lambrakis in 1963 and the investigation by a courageous prosecutor, Christos Sartzetakis, (who later became President of Greece) that led all the way to the Inspector of the police and other high-ranking officials in the government being indicted. This movie was banned in Greece during the dictatorship as was the soundtrack by Theodorakis. It is in French with English subtitles and though it looks like Greece, was not filmed there. Still it is a great movie. People who have little understanding of Greek politics and probably have not seen the movie seem to think it is about the Greek Junta of 1967 but it actually takes place four years before the dictatorship during the regime of Constantine Karamanlis. The film came out in 1969 based on the book by Vassilis Vassilikos, (which makes great reading by the way). Z is also one of the few films to be nominated for both the Academy Award for Best Foreign Language Film and Best Picture.
The Best of the Rest...
The Tempest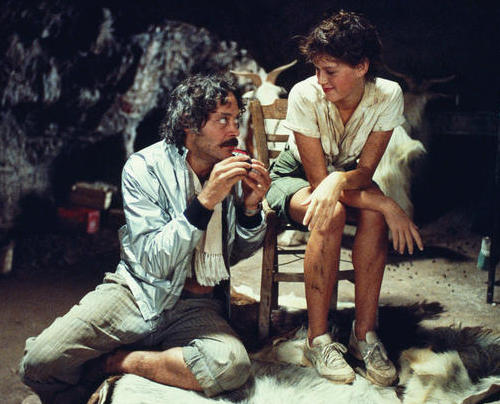 Directed by Paul Mazursky, this film came out in 1982. John Cassavettes stars as a Greek-American businessman who leaves New York and moves to some island with his daughter played by the unbelievably cute Molly Ringwald. On the way they meet adventurous woman traveler Susan Sarandon in a cafe in Athens, who joins them as they attempt to restore an ancient theater with the help of a goat loving shepherd played by Raul Julia. Of course this was based on the play by Shakespeare. It's a little long but worth seeing for some beautiful scenery of an undisclosed location in Greece and some classic moments like Sarandon and Ringwald's sea-serenade, the goat dance and one of the most inspired attempts by a kamaki to attract a very young woman. For those who want to find that beautiful island whose location is kept so secret, you may be looking in the wrong place. It was filmed near Githeon in the Peloponessos.
Mediteraneo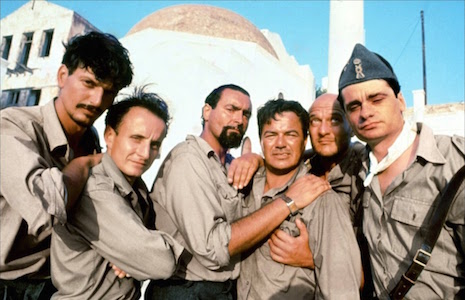 This is a 1991 Italian film that won the Academy Award for Best Foreign Language Film in 1991 about a group of Italian soldier garrisoned on the island of Kastellorizo during World War Two which was not a bad place to be during the war. If you want to see a film that will make you want to go to Greece this may be it because the scenery is beautiful and the characters are memorable (even though I don't remember them). One thing you may not know about this film, even if you are one of the many people who loves it, is that it was produced by Silvio Berlusconi. Yes. That Silvio Berlusconi.
Pascali's Island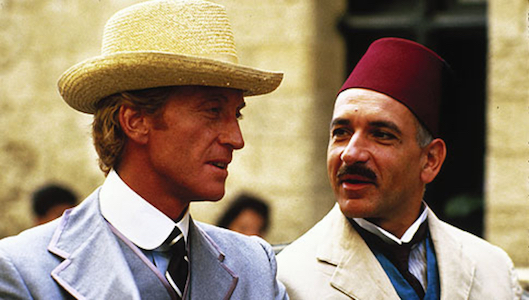 Great movie that came out in 1988, based on the novel by Barry Unsworth and written and directed by James Deardon. The film stars Ben Kingsley and Helen Mirren about the theft of an ancient statue on the fictional island of Nisi and is filmed on Simi. Kingsley plays a spy of the Ottomans who has been living on the island for the last 20 years. Charles Dance plays a British archaeologist who visits the island who may not be what he seems. When this came out it was the favorite movie of almost everyone I knew, whether they had been to Greece or not and was entered in the Cannes Film Festival. Now you don't hear many people talking about it. Find it and watch it anyway.
A Touch of Spice (Politiki Kouzina)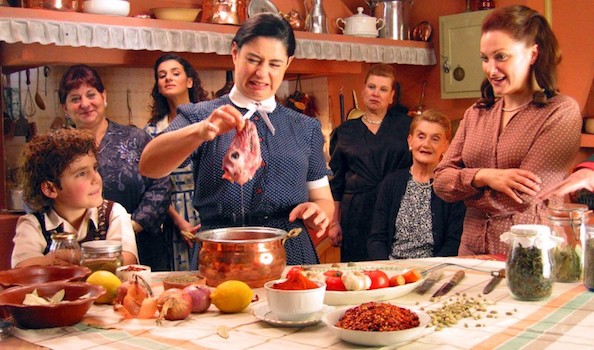 This is the favorite of many Greek-Americans, parituclarly those with their roots in Constantinople (Istanbul). It is a story about a young Greek boy (Fanis) growing up in Constantinople, whose grandfather, a culinary philosopher and mentor,teaches him that both food and life require a little salt to give them flavor; they both require... A Touch of Spice. Fanis grows up to become an excellent cook and uses his cooking skills to spice up the lives of those around him. 35 years later he leaves Athens and travels back to his birthplace of Constantinople to reunite with his grandfather and his first love; he travels back only to realize that he forgot to put a little bit of spice in his own life. - Review written by Anonymous
The original Greek title is Politiki Kouzina which means Cuisine of the City and refers to the Cuisine of Constantinople. The Turkish title, "Bir Tutam Baharat" means "A Touch of Spice".
For The Love of Benji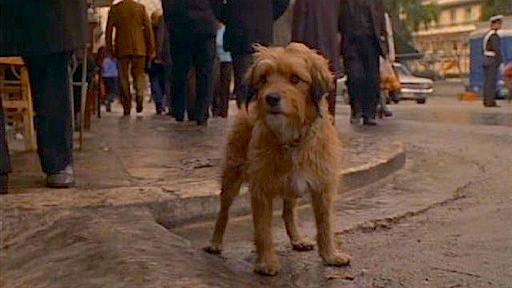 I can hear the film critics howling but this was a terrific film about a very smart dog that has had a micro-chip planted on him by terrorists who escapes into 1970's Athens where he has numerous adventures including making friends with one of the stray dogs in the agora. There are few films in English which show Athens as well as this one does as Benji makes his way from the Plaka and Monastiraki all the way to the Kypseli Market on Fokionos Negri trying to reunite with his family while secret agents pursue him with dobbermans and guns. An entertaining film that will keep you on the edge of your seat up to the thrilling finale at the Caravel Hotel. Some say this was Benji's best movie ever and that its failure at the box office sent America's most loveable dog on the sad tail-spin that led to his well documented drug addiction, his affair with Lindsay Lohan, and his eventual death.
Shirley Valentine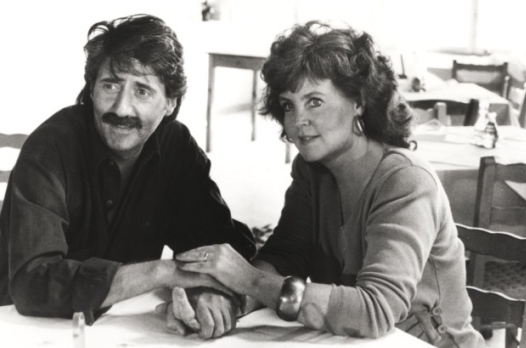 This award-winning 1989 British romantic comedy-drama film Staring Pauline Collins and Tom Conti is based on Willy Russell's 1986 one-character play of the same title. It has inspired several thousand middle-aged British housewives to leave their boring husbands and run away to Greece in search of love in the form of a Greek fisherman or waiter. Worth seeing especially if you are a middle-aged housewife bored with your husband who wants to run away to Greece in search of love and have an attraction to Greek fishermen and waiters, which I guess is just about every housewife in Britain and the USA. The funny thing is that I know a lot of women who did exactly what the woman in Shirley Valentine did, and stayed in Greece, and never went back to their husbands and used my website to do it. The success of the film and the play created a cottage industry and who knows what else? A lot of happy waiters and fishermen. They say the movie is based on a real life person in Molyvos whose daughter owns the Captain's Table restaurant.
Captain Corelli's Mandolin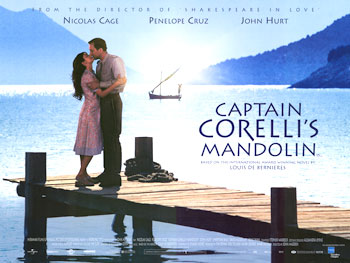 They made such a big deal about the making of this war movie in 2001 it seems amazing that it could have been such a dud. Nice scenery and it somewhat follows the script of Louis De Benieres book, which is more worth reading than the movie is worth seeing. But if you want a Greece fix and you can tolerate Nicholas Cage in probably the worst role of his career (maybe) then it is worth watching, at least according to my wife. I saw half of it in the theater and I refuse to watch it again until they remake it, which someone should do, hopefully before I die. Enough time has passed hasn't it? The movie takes place on the beautiful island of Kefalonia and you can visit many of the places they filmed and hear stories from the locals on the making of the film which by now has turned into Greek island folklore and will probably be passed down from one generation to the next. Perhaps 500 years from now people will look more kindly on this film.
Summer Lovers
Before Shirley Valentine there was Summer Lovers, made in 1982, which was about three beautiful young tourists (one of them Daryl Hannah) in the early seventies who have a three-way affair in one of the cliff houses in Santorini. This movie was pretty much un-watchable for me but it inspired a generation of beautiful young people to come to Santorini like Muslims to Mecca, searching for the house that Darryl Hannah and her co-stars made love in. (The villa that the characters stayed at was purchased by a couple in 1987 and is a gift shop named "Summer Lovers" for those of you who are interested). The film has a lot of nudity in it, especially for that time. Funny even that could not get me to watch it. I guess the truth is I don't want to watch a handsome young guy having sex with beautiful women on a Greek island. It is too unrealistic.
The Burglars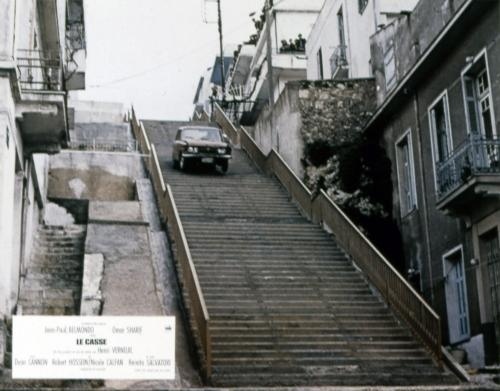 This was a 1970 film by French director Henri Verneuil, starring Jean-Paul Belmondo, Omar Sharif and Dyan Cannon, about a jewelry heist, features some great car chases through an Athens that had so few cars you actually could have a car chase and not get stuck for hours in traffic. When I lived in Athens in the early seventies this was always playing somewhere though it was in French with Greek subtitles so unless I wanted to watch cars racing around Athens without having a clear idea of why, it seemed best to wait to see it in America with English subtitles or dubbed. (The movie was actually shot twice, once in French and once in English, by the same cast. The French version is Le Casse). Anyway in French or Greek or English or Swahili the chase scenes through the streets (and steps) of Athens in this movie make it worth watching. Check it out
Eleni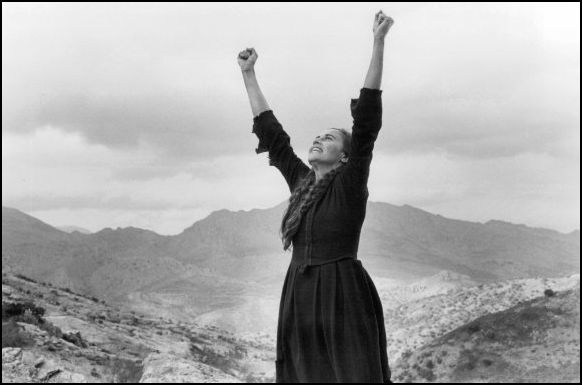 This 1985 film was made from the book by Nicholas Gage that tells the story of his mother's courage and death in a small village by the Albanian border during the Greek civil war which immediately followed the Nazi occupation of WWII. It is well worth seeing for historical purposes and as entertainment as well as some good old fashioned soul searching. (The book was pretty good too). Interestingly the movie was shown at the New Democracy party's political rallies during elections in the 80's to whip supporters into an anti-communist frenzy. The book and the movie do lend themselves to use by the right wing but you can't fault Gage for that. I don't know what his politics are but I know I would be anti-communist if they murdered my mother. But it is more emotional than political and is about Gage, John Malkovich actually, investigating and coming to terms with his mother's murder and murderer.
For Your Eyes Only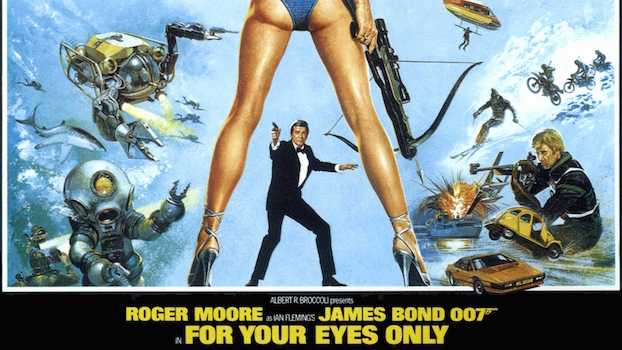 The worst James Bond, Roger Moore, makes one of the worst James Bond movies in one of the most spectacular settings in Greece, the monasteries perched on top of the massive rocks of Meteora. Interestingly the monks were against the filming and did all sorts of things to sabotage it and spoiling the shots. Whether this was a religious issue or they were Sean Connery fans I don't know, but the filmmakers solved the problem by building both a fake monastery on a nearby unoccupied rock, and a monastery set in Pinewood studios. Roger Moore had a fear of heights, and to do the climbing in Greece, he resorted to drinking to calm his nerves. There is another scene filmed in Corfu though in the movie it takes place in Spain and features a car chase on mountain roads with a Citroen deux chevaux. I will probably watch this again someday for a couple reasons: The scenary in Greece and the fact that since they made this movie there have been worse Bonds and worse Bond movies.
The Guns of Navarone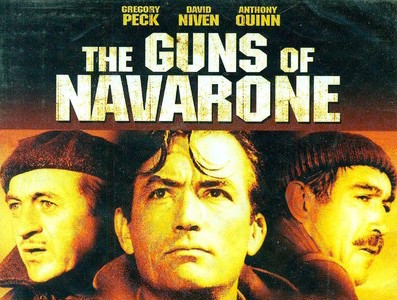 This 1961 movie is based on Alistair MacLean's 1957 novel The Guns of Navarone, which was inspired by the Battle of Leros during the Dodecanese Campaign of World War II. It stars Gregory Peck, David Niven, and Anthony Quinn plays himself playing Zorba the Greek. It also stars Irini Papas. The story is about a bunch of commandos in the Second World War who team up with some Greek resistance to blow up these guns firing from and impregnable German fortress that have been sinking allied ships and delaying an invasion of Europe, or something like that. I don't think the guns ever existed in case you plan to go to Leros or Pylos, which is actually called Navarino, to find them. But the movie had a cameo in an episode of the Dick Van Dyke show when he gets arrested and his alibi was that he was at the movies seeing The Guns of Navarone, and when they ask him the plot he says he fell asleep and the cops don't believe you can fall asleep during the Guns of Navarone. Not because it was so good but because it was loud. Anyway see the movie. The Dick Van Dyke episode is worth seeing too.
The Greek Tycoon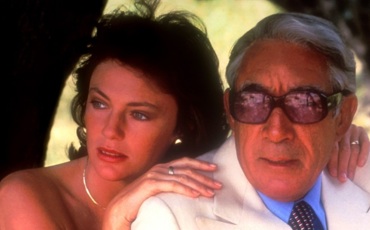 Anthony Quinn dusts off his Zorba character for one more run, this time as a Greek millionaire based on Aristotle Onassis. I remember when they were making this movie every young Athenian actor, model or person with a face raced off to wherever they were filming this to get a role, believing this would be their big break. My best friend actually had a personal letter he was supposed to give to Anthony Quinn that would get him into the movie. Many of my friends got scenes in the crowd and were dismayed when they finally saw the movie to discover that besides the main characters everyone else in the film was blurry.
Ulysses Gaze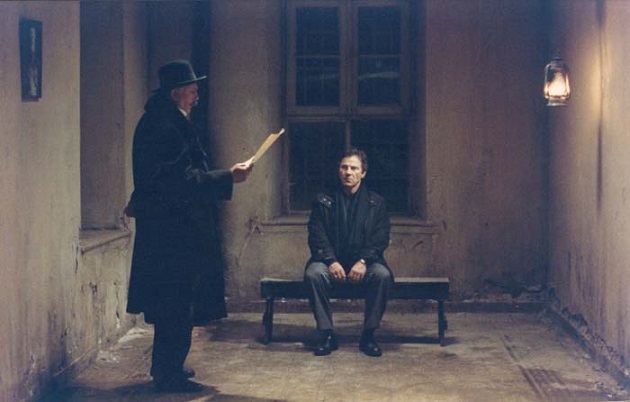 A tedious journey with Harvey Kietel as he searches for the roots of Balkan film. Like all of Theo Angelopoulos' films that I have seen, this one also substitutes speeches and poetry for dialogue and tarries a bit too long to wring meaning out of each shot which turns twenty minutes of plot into three hour marathons of what for anyone but the most devoted film students could be described as unbelievably boring. But they say he is a genius so I keep watching in the hopes I will someday get it. One interesting thing is that the movie used the town of Lavrion as a stand-in for war torn Sarajevo snce they could not film there because the war was still going on. Other films by Angelopoulos are Landscapes In The Mist, The Traveling Players, and Eternity And A Day all the kind of movies that make you feel like getting up and doing something important like washing the dishes. You should read my Review of Weeping Meadows too.
Glyka Symoria (The Sweet Bunch)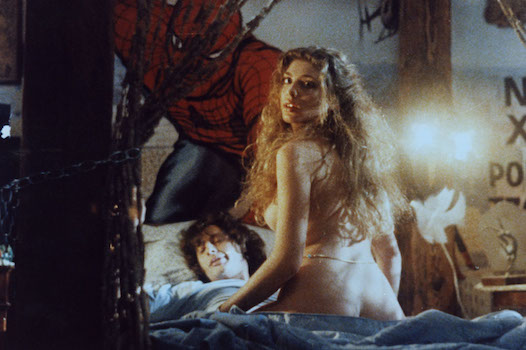 This subtitled Greek film is about a group of young disillusioned Athenians who commit crimes just for the hell of it who attract the attention of the police and features a Sam Peckinpah Wild Bunch ending that embraces the philosophy that if you don't like the game you destroy the board so nobody can play. I saw this at the Hellenic Film Festival in Berkeley, California by myself because my two Greek-American friends I was visiting were much happier smoking pot and watching Jeapardy, which actually is a pretty typical situation for me. I can never get my Greek-American friends to watch Greek movies with me because they refuse to believe that a Greek movie could be any good. The irony in this situation that the favorite movie of these two happened to be The Wild Bunch and had they gone to see Glyka Symoria they may have been hooked on Greek film for life.
Stella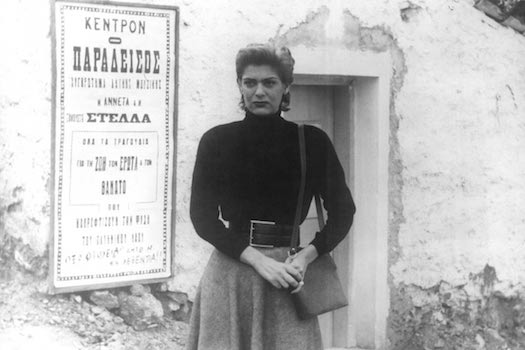 This 1955 Greek film is a retelling of Carmen directed by Michael Cacoyannis and written by Cacoyannis and Iakovos Kambanelis. The music was composed by Manos Hadjidakis and Vassilis Tsitsanis. This is another movie with Melina Mercouri and while this time she is not a prostitute as in Never On Sunday, she is a woman rembetika singer who refuses to settle down with one man. Unlike Never on Sunday it is more of a tragedy than a comedy. It has some amazing views of 1950's Athens. It was originally panned by Greek critics but is now considered a classic which I suppose reflects badly upon Greek film critics. It is in Greek and you can find a copy with English subtitles in the World Classic Cinema series along with The Girl in Black, another early Cacoyannis film..
My Big Fat Greek Wedding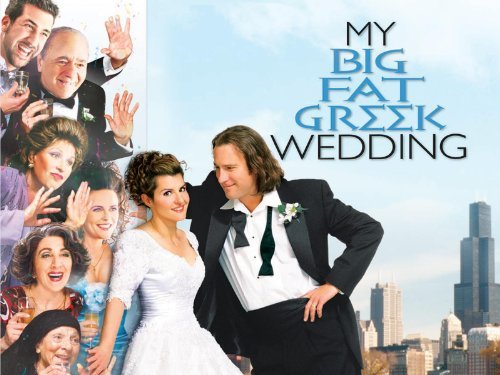 OK. I have to admit that I did not think this movie was all that funny and the fact that so many people did sort of depressed me. The introduction when the camera goes past one house after another until it comes to the one with the columns and the kitchy Greek statues truly made me laugh out loud. But that was the last time I laughed at all. Everything seemed so situation-comedy predictable and the film seemed filled with lost opportunities. I mean with the subject matter they could have made a really funny movie. Most people loved it so maybe there is something wrong with me, but my family is a lot funnier. Well, actually Andrea's family is a lot funnier. My family is not funny at all, at least not in that ethnic way that MBFGW makes fun of. I took my friend to see it in Athens to cheer him up. He had not seen a movie in 12 years and I thought from the reviews that this was a sure thing. It made him even more depressed. A couple years later he died. I don't blame the movie but it was the last film he saw and it was my fault that he saw it so I blame myself. Not for this death. The movie was not that bad. But for the fact that his final movie was not a better one. Shit. Now I am really depressed.
Mamma Mia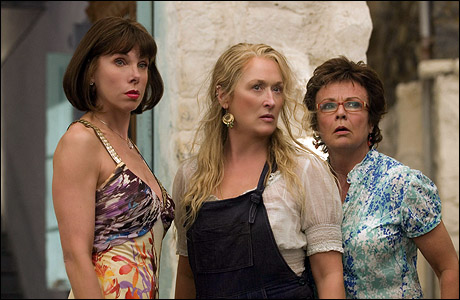 This film that takes place mostly on the island of Skopelos with a shot or two of Skiathos, came out in 2008 and was based on the West End/Broadway play of the same name. I was prepared to not like it since the idea of it seemed pretty silly to me with award winning serious actress Meryl Streep and a former James Bond, Pierce Brosnan, dancing and singing to the music of Abba. But I saw it on a flight back to Athens from Paris and the combination of the scenery and the music actually made me cry and long for Greece, even though I was going to be there in an hour and I had only been gone for 4 days. If you love Greece you will love this movie. If you love Abba you will love this movie. If you hate Abba you will love this movie and end up loving Abba. And if you love Meryl Streep (who according to the Human Genome Project is my cousin) then you will absolutely love this movie. If you love Pierce Brosnan? Well nobody loves Pierce Brosnan so it doesn't matter. But Colin Firth is in it too.
America America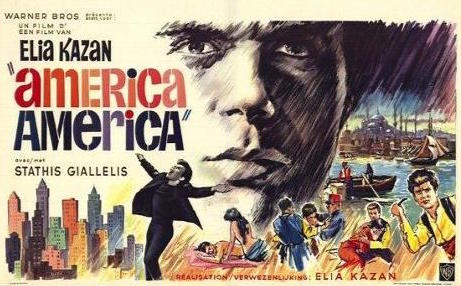 This 1963 American film, directed, produced and written by Elia Kazan, from his own book, had an effect on me before I ever saw it. When I was about eight years old my father told me about the film, I suppose because it told the story of his own father and the hardships he and many other immigrants faced when they left Greece to come to America, though in the case of the film the guy was leaving Asia Minor, (though he was Greek). I remember being so inspired by the story that I turned our garage into a theater, the garage door was the curtain, and the audience; the neighborhood children, sat outside while the performers; my brother and sister and our closest friends, were in the garage which was the stage. I starred and directed in my own eight year old version of America, America. There was no script, just a vague plot and me telling everyone what to say and do. Though it was a step up from lip synching Beatles songs while playing tennis rackets it was the last play I ever directed and except for a small role in an elementary school play, as the March wind (where I ran roaring across the stage dressed as a lion), it was the end of my acting career as well. So since my version of America, America is lost forever the next best thing may be to see the Elia Kazan film since after all it was nominated for best film and best director at the 38th Acadamy Awards.
3 More Greek Films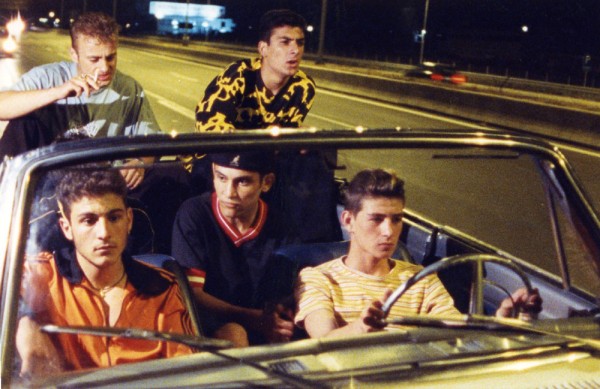 You gotta see these Greek movies. If you are not familiar with Greek film you may not like them. You may think they are poorly made, over dramatic, too artsy or pretentious. But if you have ever sat through a movie by Theo Angelopoulos these three will be easy for you. The first is called From the Edge of the City by Constantine Giannaris which was made in 1998 and is about some young immigrant kids, ethnic Greeks from Russia, Albanians etc, who live in Ano Liossia and Menidi on the outskirts of Athens. It is an interesting look at youth and the underworld. Not for you 'Summer Lovers' or 'Shirley Valentine' types who don't want to know about the harsh realities of life in Greece. But for those of us who can take the darkness with the light it is an eye-opener. In the same vein and also by Giannaris is Hostage. This film is about a bus hijacking in northern Greece and focuses on contemporary Greek-Albanian relations among other issues. Both films star Stathis Papadopoulos who is terrific. I think I got these when my local video store finally went out of business and I bought out their entire Greek film collection which was these two and a movie by Angelopoulos (of course).
Kynodontas (Dogtooth)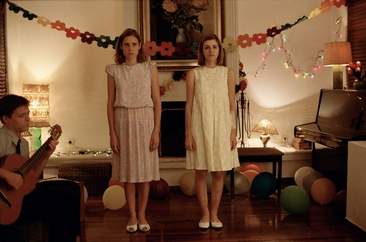 Also on my must see list is one of the strangest films I have ever seen. It is called Kynodontas (Dogtooth) by Giorgos Lanthimos which I read somewhere is like Leave It To Beaver directed by David Lynch. It is about three young people, two sisters and a brother, brought up in isolation by parents who shelter them from everything. They live in a big modern house surrounded by high walls which they have never been outside of. They have no idea what exists beyond the walls because they have never seen a movie or a television show. (The television set is used only to watch the family's home videos.) Their questions are answered in a way that will keep them from being curious. They don't even know that a telephone is. (They think it is a salt shaker). Any word that comes from beyond their world is assigned a new meaning. So 'the sea' refers to a large armchair and 'zombies' are little yellow flowers. They are told that a cat killed their brother, who they have never seen, so they are terrified of cats. (It reminded me of the countless times I have seen a Greek mother or grandmother scream and snatch her child away before he could pet a cute little kitten or puppy, thus injecting into the child a fear of animals that may last a lifetime). It's pretty extreme stuff but if you want to understand the Greek family in a dark exaggerated way, rent this movie and stay with it even though you may feel compelled to turn it off. That being said this film is not for everybody. You may even get mad at me for recommending it. My first reaction when the film ended was "What the @#%$ was that?" By the next morning I felt like I got it. No parents could be this bad, but the parents in Dogtooth are following a self-centered path that may seem familiar to some of us. These kids are not being 'protected'. They are being groomed to take care of the parents when they are too old to take care of themselves. The kids don't have an alternative because beyond the family and the home there is nothing else.
By the way Dogtooth was nominated for an Oscar as Best Foreign Film, it won Un Certain Regard Award at Cannes, it won the Dublin Film Critics Award and several other awards, so this is not one of those under-the-radar films. You may wonder how it won those awards but after you find yourself thinking about the film for a few days you may understand.
I found most of these films on Netflix.