Introduction to Gay Greece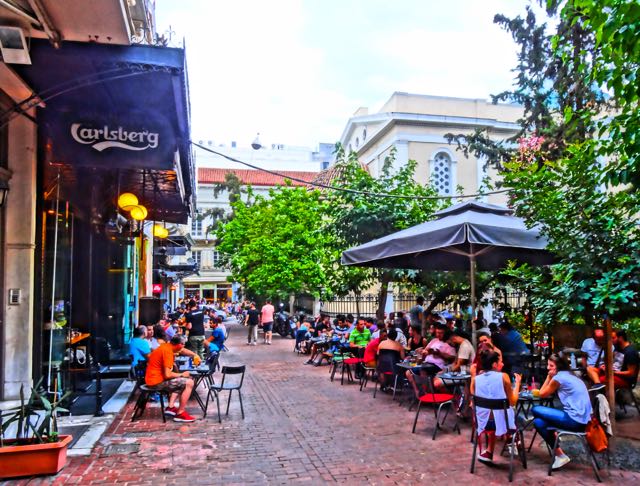 Greek society continues to be shrouded by a traditional air of conservative, faith-based and family-oriented ideology, but the LGBT scene is slowly and surely catching up with the rest of the western world. In Athens there are lovely and lively central neighborhoods such as Monastiraki and Gazi where gay mingling blossoms in earnest, with a large number of excellent clubs, cafes and bars offering quality entertainment attracting bright, beautiful crowds. Top island destinations like Mykonos and Santorini as well as several other options that have become more gay-accommodating over the years such as Skiathos and Paros, also offer the idyllic combination of stunning locations and top notch venues with an exciting and enticing gay scene. Greece's northern capital, Thessaloniki, is also becoming a popular destination for gay tourists, something enthusiastically backed by the city's progressive Mayor Yiannis Boutaris, with some great events (including an annual international gay film festival) and locales as well as holiday packages geared to gay travelers from around the world now on offer.
Greek Society and Legislation
Legal and social recognition and support for gay rights in Greece could be said to have been officially born 65 years ago, when gay sex was finally decriminalized. According to research on gay rights in 49 European countries conducted by ILGA (the International Lesbian, Gay, Bisexual, Trans and Intersex Association) and published in The Economist magazine last year, Greece came in the 21st position (after Ireland and before Georgia), with only a 39% rating in terms of how much it respects LGBT rights (UK, Belgium and Malta were in the first three positions, in case you are wondering). In 2005 discrimination against gay individuals was prohibited in the workplace (but not in the armed forces) and in 2006 male prostitution was legalized.
A great social triumph was celebrated by the gay community in December 2015, when the government passed - with a wide parliamentary majority - a legislation granting gay couples full marriage rights, offering same-sex couples the option of having civil partnerships, thus offering them full marriage rights, but not necessarily the right to adopt. Meanwhile, however, homosexuality is still considered a sin by the Greek Orthodox Church. "Homophobia is still rampant in the church, state, police and all political parties with meagre exceptions," says gay psychotherapist and writer Leo Kalyvorias, who has been involved in gay rights activism for many years,"but this doesn't mean LGBT people don't live full happy lives, at least in major urban centres."
Although a passionate gay couple smooching bang in the middle of a village square is likely to be frowned upon (or give an old man at a nearby kafeneion a stroke), LGBT individuals in Greece- both the local and especially the tourist variety are generally welcomed with open arms. "Being openly gay and PDA can be dangerous in certain areas but not in tourist resorts, where locals have a laxer attitude," Kalyvorias says.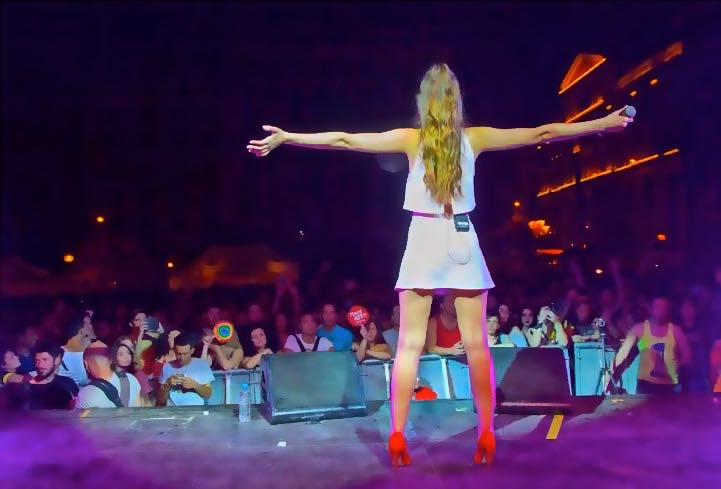 Andrea, who is behind Athens Pride, which holds its parade every June says organizations like the one she helps run have made all the difference not only to the ethos but also the acceptance of LGBT individuals, encouraging participation by the tens of thousands: "In general, the growth of Athens Pride and its supporters have without doubt advanced the visibility and acceptability of LGBT people in Greece. Attendance has gone from 500 people (at most) in 2005 to over 30,000 in 2015. In the past decade, but primarily since 2008, when Athens Pride made its first leap in attendance, at least 10 new organizations have been formed. Notably, Colour Youth, which was formed in 2011 by Athens Pride volunteers and organizers. While we cannot take credit for all of this, the success of Athens Pride in fostering acceptance of LGBT people has certainly paved the way for other Prides in Greece: Thessaloniki, Crete and now Patras."
Not only because the Greek financial crisis has led to a new mindset of needing to be far more inviting to paying visitors in order to survive, but chiefly because of the Greek spirit of warm hospitality known as filoxenia, staid, old fashioned ideas are being hurled away by younger generations especially and personal differences are becoming a cause for celebration rather than contempt.
Forget Gay Paris - Head To Gay Athens!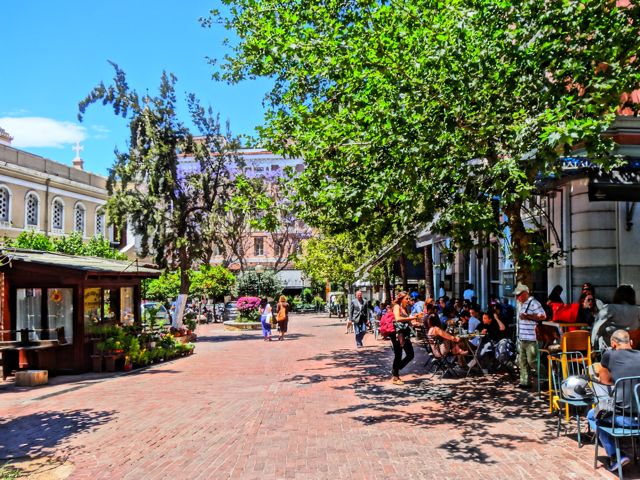 Guys certainly get the better deal when it comes to options for gay lifestyle in Greece, as bars, clubs, saunas and cafes cater more to their desires. Still there are enough enjoyable options for lesbians too. Any gay visitor worth his salt will know that post-industrial Gazi, the area you will find upon emerging from Kerameikos metro station on the blue line, is the gay village of the capital, with numerous options for all levels of entertainment from dusk 'til dawn and some hidden gems like art galleries or design shops, as well as the popular Alexander Sauna, which also serves as a limited-space accommodation. High profile Aghias Eirinis Square in Monastiraki is another gay hotspot, where you can sip coffee or a drink at Rooster, or choose among a plethora of bars, restaurants, cafes and clubs as well as enjoying delicious Greek and ethnic street food, and stores selling trendy vintage clothing and colorful flea market goods. The well known Flex Sauna is also in the area.
As in all cities, Athens has its cruising areas - usually within public parks such as the National Gardens near Syntagma Square and Pedion Tou Areos near Victoria metro station, but cruisers are warned that violent incidents in such scenarios are not uncommon nowadays.
Food & Drink Top Picks:
Daytime - Afternoon - Early Evening:
Rooster café / bar and restaurant (Agias Eirinis Sq 4) is a popular hangout and a good place to start the day or evening. Crazy Daisy (Romvis 13) has a relaxing retro-chic 60s décor and serves snacks and drinks. Del Soul, (Voutadon 44, Gazi) serves quality coffee, drinks, and snacks.
Rising spirits: Night to Late Night
Big (Falesias 12) is a 'bear bar' with a warm atmosphere and easy going décor. Girls seem to love Noiz, (Evmolpidon 41 and Konstantinoupoleos) for its great DJ set and buzzy ambience, although Group Therapy, (Lepenioutou 11) is also popular and low-pressure. Kanella, (Konstantinoupoleos Ave 70) is a modern taverna that turns into a romantic female night haunt.
Late Night to Early Morning
Life's definitely not a drag at Koukles Club (Zan Moreas 32), Athens' classic cabaret drag venue. Sodade2 (Triptolemou 2) has also bewen around for a long time but remains among the top venues for dancing, especially during weekends. Go go dancers, drag shows and DJ sets feature at S-Cape (Iakchou 32). More extreme party-goers can find their hard-core fun at Fou (Keleou 8), which hosts an annual Bear Weekend every summer. Myrovolos (Giatrakou 8) is a popular pizza restaurant/cafe in the daytime that turns into a popular late-night lesbian bar at night. And a popular way to end the night - or start the day is heading to Moe (Keleou 1-5).
Daytime Activities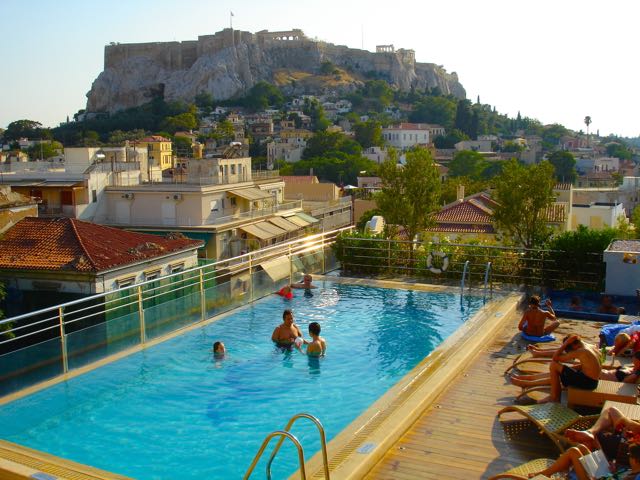 Swimming: Limanakia B in Vouliagmeni is a popular nudist/gay hangout. It can be reached by bus (the third stop on E22) from Gyfada Sq. Many medium to upper range hotels in Athens have rooftop pools with a view where you can sunbathe and relax with a coffee and club sandwich.
Bookstore: An all-gay bookstore, Colorful Planet, (Antoniadou 6, Victoria Sq) Mainly sells Greek language literature but also has a variety of gay foreign press, DVDs and gay guide books to Greece.
Gay Tour: Athenian Love Stories: a tour that takes you on a journey of ancient homoerotic love in Athens.
Top Events: Athens Gay Pride - Every June, and recently celebrated its 10th anniversary. A large outdoor show is followed by an all-night party after the parade. On the local front, Athens Pride is partnering with OLKE (Gay and Lesbian Community of Greece), Thessaloniki Pride and Positive Voice on the telephone hotline 1528 to support LGBT youth. Athens Pride produces cultural, social and political events (films, parties, panels) throughout the year.
Outview - One of the most prominent European annual gay film festivals.
Quirky event: Let's Dance Again Latin dance classes every Monday

Gay-Friendly Hotels top picks: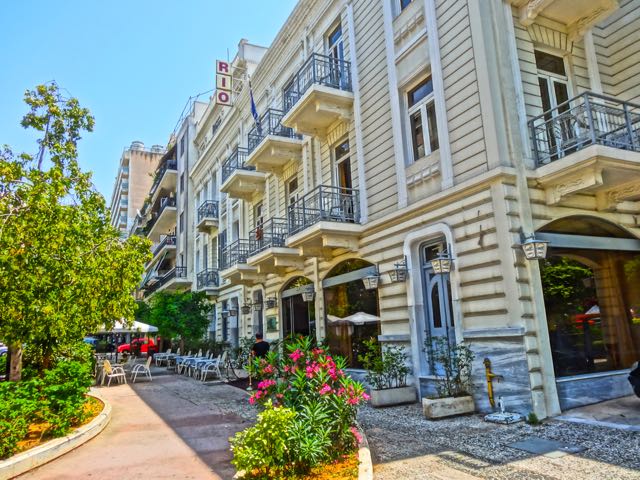 Really there are no gay unfriendly hotels in Athens. You can stay at any of the popular or even lesser know hotels in Matt's Athens Hotel Guide and you will be perfectly happy. But there are a number of very nice hotels that are popular with the gay travel community. Hotel Rio Athens in a restored neoclassical building in the neighborhood of Metaxourgeio is a 41-room hotel catering exclusively to gay and lesbian clientele. Alexander Sauna offers apartments for rent above the bathhouse. New Hotel on Fileninon Street right by Syntagma Square, is part of a new generation of uplifting design hotels and gay-friendly, as is popular and stylish Fresh Hotel a block from Athinas Street near the Athens Market and close to Agia Irini Square. For something more high profile (and expensive) stay at King George Hotel on Syntagma Square. As for using a travel agency to book hotels in Athens and the islands, as well as tours, ferry tickets, and whatever else you need Fantasy Travel has several decades of experience assisting the gay/lesbian travel community visiting Greece.
Top Gay Destinations in Greece
No.1 Mykonos
Anyone who knows anything about the Greek islands knows that Mykonos is one of the world's leading gay tourism destinations - and one of the most fun too, among other hot places like Barcelona and Ibiza. Less than five hours by ferry or a half hour flight away from Athens, Mykonos annually welcomes thousands upon thousands of LGBT visitors who arrive to enjoy its striking, cosmopolitan beaches, friendly hotels, stylish shops, sophisticated gastronomy scene, picturesque towns and of course, the endless array of sexy, scintillating party venues for all tastes.
Most of the popular gay bar / clubs are in the main town or hora and include Jackie O' Bar and VooDoo, which used to be known as Pierro's (the Paraportiani Church area nearby is a renown cruising area), and Porta Bar nearby, while Glam club has also developed quite a following. Lesbians seem to prefer the more chilled ambience of Montpanasse Piano Bar in scenic Little Venice and Gilles Magic Bar.
Mykonos is also host to the circuit XLSIOR event every August, attracting buff men from around the world for days of extreme partying and boozy cruising.
Daytime can be just as wild as night on Mykonos, with beaches starring all kinds of glistening nude bodies and boho chic beach bars hosting shot-filled parties. that'll get you dancing on a table without a second thought. Sandy Elia beach which has a great fish restaurant as a decent refreshments and snacks service from your rented sun lounger is by far the most "out" gay beach and even has a rainbow flag claiming it; for a less busy option head to Agrari next door (5 minutes walk along the rocky cliff path), known for its restaurant. If you want more party than beach, head to Super Paradise, once a gay-only beach but now attracting a revelrous mixed crowd. Parties start as early as 4pm, usually at the Pink, a highbrow champagne bar, or at Jackie O' Beach Club.
Hotel Top picks: Elysium Hotel is the most favored "pure gay" hotel - well known for its 'Pool Sunset Parties. Other top gay-oriented hotels include A Hotel, Greco Philia Hotel, Kivotos Luxury Boutique Hotel, Mykonos Theoxenia, Blue Villas Mykonos Collection, and very popular among lesbians, Rocabella Mykonos Art Hotel & Spa. Honestly speaking a hotel would have to be suicidal to not be gay friendly on Mykonos so if these popular hotels are full, as they often are, use Booking.com's Mykonos Hotel Search or else contact Fantasy Travel. You can also use Matt Barrett's Create-an-itinerary Form
Be sure to visit Matt Barrett's Guide to Mykonos
Santorini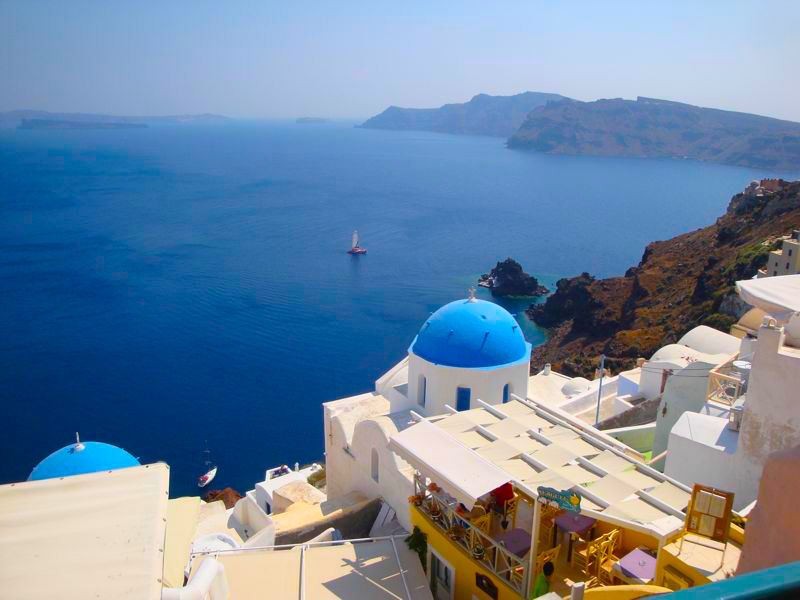 A stunning and globally worshipped vacation haven because of its magical views, stunning architectural lay-out with pastel colored houses in Oia, world famous delectable cuisine and excellent winemaking tradition, Santorini draws romance-lovers and livers of all kinds. Locals are very welcoming to LGBT visitors
Unlike Mykonos it's not officially a "gay and lesbian destination" but still has something for everyone. Fira and Perissa are Santorini's most gay-friendly towns, and Tropical and Murphy's in Fira are the most 'in' places, although Franco's in Oia is also a lovely venue, especially if you lie back in a deck chair under the stars on its scenic rooftop at night.
Build your tan at Cape Columbo, Exomitis and especially Vlychada beaches, which are the most popular among LGBT visitors. Once on Santorini, don't miss impressive beaches such as the Red Beach with its russet cliffs and cobalt waters, or black volcanic sand beaches such as Perivolos or Kamari. If you're more into crystal waters than the beach scene visit Amoudi.
Most hotels on Santorini are gay-friendly. Adelphi Apartments in Perissa is gay-oriented, as is Iokasti Private Villa in Fira, Windmill Villas, Pegasus Suites or Dreams Luxury Suites in Imerovgli, Canaves in Oia are all excellent choices. For more hotels try Booking.com's Santorini Hotel Search or contact Fantasy Travel. You can also use Matt Barrett's Create-an-itinerary Form
Be sure to visit Matt Barrett's Guide to Santorini
Other Greek Island Destinations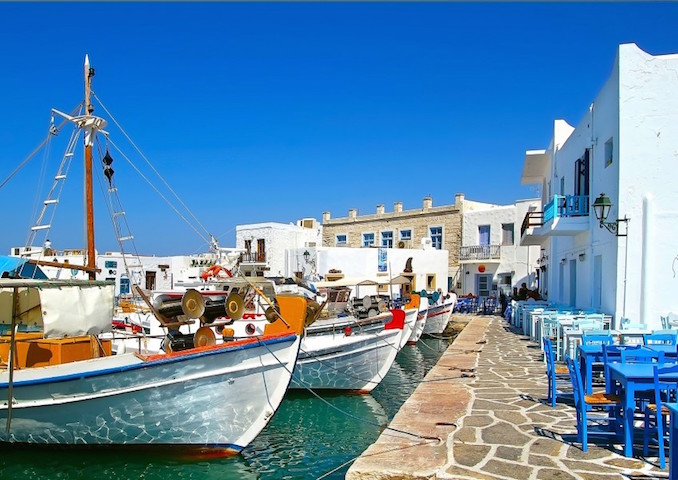 Cycladic gem Paros has never been a classic gay destination but some aspects of it are very appealing to LGBT visitors, who feel welcome here and can combine pretty, sandy beaches with glamorous nightlife, especially in more high-profile Naoussa village where you can dine on grilled octopus at Barbarossa Ouzeri, sip great cocktails at Agosta and dance til the early hours at Linardo. There are no specifically gay bars, restaurants or hotels, but all higher end places especially are friendly and welcoming. Semi-nudist Kalamies and Lageri beaches have a cruising scene.
Less touristy islands are also becoming popular among LGBT travelers who like to get away from the constricting throng of bigger holiday venues like Mykonos. Tiny and naturally gorgeous Folegandros, also a Cycladic island, is known for its breathtaking vistas, awe-inspiring beaches and laid back, romantic aura; in fact in recent years gay couples from around the world head there to enjoy their honeymoon or even get married.
Small boutique hotels such as Anemi, Provalma and Anemomilos Apartments are very gay-friendly, while popular beaches are Livadaki and Agios Nikolaos.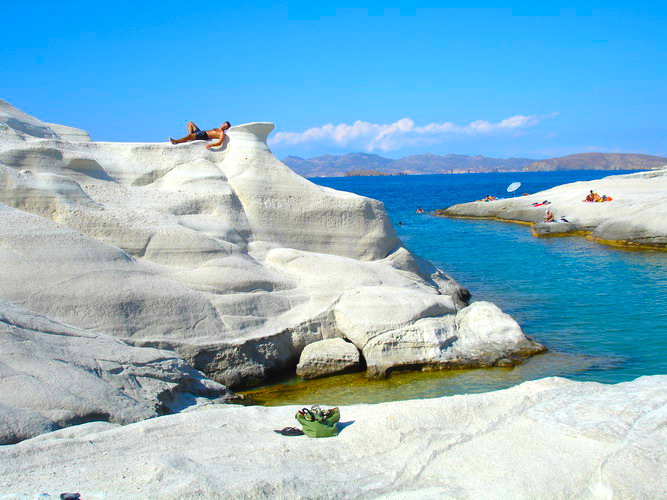 Milos is also increasingly considered a top romantic destination for gay travelers, not least because of the island's famously large variety of magnificent, tranquil landscapes and beaches and incredible sunsets. Santa Maria Luxury Suites, and Kapetan Tasos Suites are all top choices for accommodation on the island .
Another naturally abundant, lushly scenic, chilled out and increasingly popular gay destination is understated cosmopolitan Skiathos, in the Sporades islands. There is no official gay and lesbian scene (although last summer the island organized the 1st International Gay Culture Festival) but there are a few beaches and bars that attract discerning, non-straight visitors from around the globe. De Facto is Skiathos' one and only 'gay bar'. Little Banana beach attracts a mixed crowd (including families) but has a low profile cruising scene depending on the day and hour, while Lalaria and Koukounaries beaches are also popular swimming / flirting zones. Most hotels on the island are gay friendly but Atrium Hotel and Skiathos Princess in Agia Paraskevi and Fresh Rooms and Studios and Bourtzi Boutique Hotel in Skiathos town are especially popular.
For gay couples looking for some privacy in a remote, natural setting, though not so remote that you can't enjoy the beaches, restaurants, archaeology and nightlife of the beautiful and truly Greek island of Kea, Agrikea offers the kind of escapist setting people dream about. With a spectacular view of the Greek mainland from Athens to Sounion, and the hospitality of Haris and Rob, and access to the famous ancient walking paths of Kea, this is a place you will always want to come back to. See their website
Thessaloniki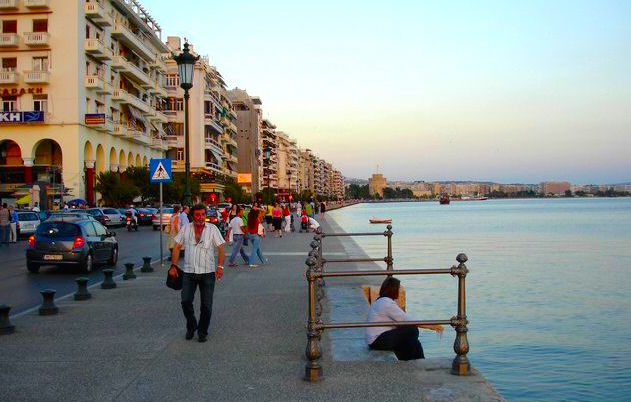 Greece's northern capital of Thessaloniki, next to Turkey and the Balkans, is a culturally progressive coastal city with a strong LGBT scene. The city center is where most of the action takes place, with bars, hotels, restaurants as well as festival events such as film, art and music happenings and the annual Thessaloniki Pride, geared at the LGBT public.
Enola is the city's most well known gay bar, on central Valaoritou Street, although Splash Sauna in the Vardari area never fails to attract adventurous travelers. DaDa is a lesbian hotspot that's as lively as it is small, while TS14 is geared mainly to a trans clientele. A gay-friendly mixed crowd enjoys the fun at Don't Tell Mama, Stretto and Alma Libre while Bar Me is exclusively for bears and bear-lovers. House lovers can dance away at Decadence Club which starts its DJ sets at 2am.
Anatolia Hotel, the Hyatt Regency Hotel, Met Hotel and the Excelsior Hotel are all gay friendly upper-end accommodations. Egnatia Palace, Hotel Olympia, El Greco, Mandrino and Aegeon are good mid-range options.
Gay-friendly beaches in and around Thessaloniki include Nea Kalikratia (considered the ultimate crusing spot), Epanomi, Korinos, Kalamitsi and Loutra Eleutheron.
For the Ladies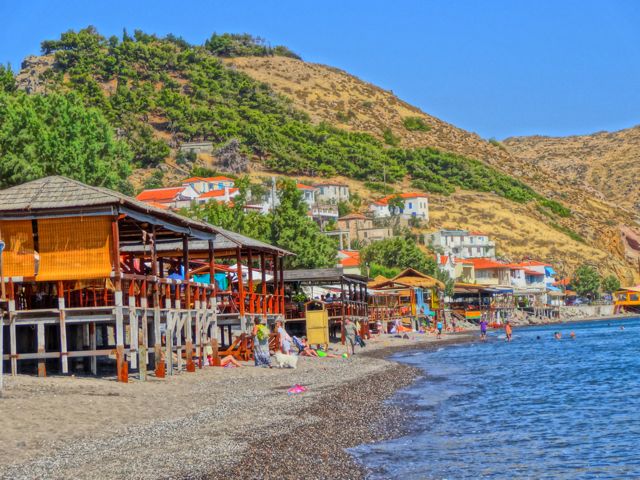 It might appear that the men have an easier time of finding places to go where they can meet people than gay women do. But you have to think quality rather than quantity and the beach town of Skala Eressos on the island of Lesvos is one of the most beautiful spots in Greece. Being the birthplace of the poet Sappho, the town has been a beacon to lesbian women for decades and is as hip a place as you will find in Greece, full of wonderful restaurants with Greek, Italian, Mexican and Asian food, a half dozen hip cafes that become bars at night, all sorts of classes, mediations and workshops from yoga to Pilates to Rajneesh Active Dance as well as healers, massage, psychotherapists and anyone else you might need to have a successful holiday. In September they host the International Women's Festival, a week of music, dancing and meeting people. While it is not exclusively for gay women just as Mykonos is not exclusively for gay men, both being popular with families, honeymooners, artists and just plain old tourists, Skala Eressos is probably as close as you can get to a Mecca for gay women, and being on the beautiful island of Lesvos certainly helps. For all-women hotels and assistance contact the all-women staff at Sappho Travel in Lesvos. But like Mykonos it would be sill for a hotel in Skala Eressos to not be gay-friendly so you can find other hotels on Booking.com's Eressos Hotel Page.
See Alexia's blog: I'M VERY WELL, THANK YOU! Perfect getaways, amazing therapists, health products, all-round WELLBEING…in Greece & beyond!