Greek Food is suddenly very popular and there are now dozens of Greek Cookbooks available. These are some of my favorites that I use at home.
| | |
| --- | --- |
| | You can find most of these books by using the Amazon.com search box on the left, which I have placed conveniently all over the site. Just copy and paste the title into the search window and Amazon will find it for you. |
All You Can Greek: Food, Life & Travel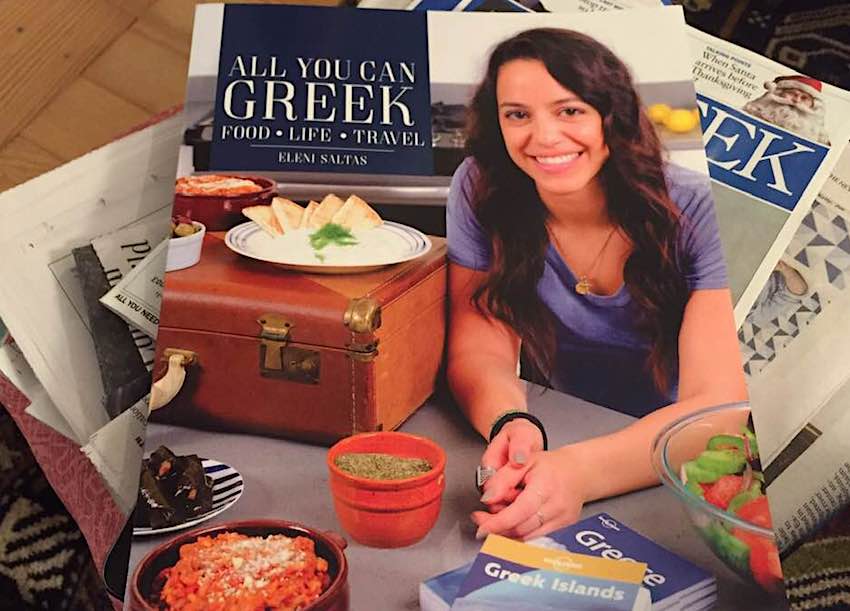 We were discussing cookbooks one day in my Greece Travel Group on Facebook, of which Eleni Saltas is a member. A few days later she sent me her beautiful cookbook/guide and my family and I love it. It is very simple and perfect for beginners, very friendly and contains all the familiar dishes and some that may not be familiar. She has photos that are not enhanced. (You know how those big money cookbooks have professional photos and you feel like a loser because your dish does not look as good as the photos in the book). And she is honest. (Eleni admits she has never tasted Windex.) If you are looking for a Christmas gift for the special person who cooks for you get this.
Eleni was born in Salt Lake City, Utah and since childhood has been fully immersed in Utah's vibrant Greek community through dance, sports, and youth activities. Those activities eventually took her to regional and national Greek events that helped open her eyes to the greater Greek-American community. With a degree in Exercise and Sports Science from the University of Utah, Eleni is a full time personal trainer with a specialization in training the aging body. Her passion for health and fitness led her to starting a popular fitness blog which eventually morphed into stories and blogs about healthy foods as well ... which of course means healthy Greek foods. Her blog led her to compiling her work into her first book, All You Can Greek: Food, Life & Travel. As a young, proud and stereotype-busting millennial, Eleni fully understands the great need for her generation to have access to the foods and memories of their proud parents, grandparents, and great grandparents. Her zest for life embodies the pages of her cookbook. Enjoy. Order from Amazon
The Grecian Plate Cookbook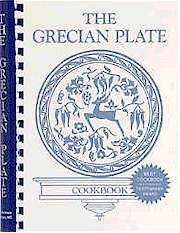 One of my go-to cookbooks, The Grecian Plate Cookbook is a collection of recipes compiled by the women of St Barabara's Church in Durham, NC, National Winner of the Prestigious R.T. French Company Tastemaker Cookbook Award and March 1988 Cook Book of the Month from Good Housekeeping Magazine. Now in it's 9th Printing (probably more by now) this book does not have the fancy color photos of many of the glossy cookbooks available but in terms of recipes which were collected from the mothers and grandmothers of just about everyone in this small Greek church it is probably the most honest and traditionally Greek cookbook you will find anywhere.
Traditional Recipes for the contemporary cook.

Nearly 300 time-tested recipes from appetizers to desserts

Step-by-step instructions and many easy to follow illustrations

Special Chapter features 'trim' versions of traditional recipes

Hardcover-Spiral-bound to lay flat, 254 pages

Introductions to the chapters provide insight into the origins of recipes and how they fit into daily life in Greece

Order by e-mail or use the Amazon Search widget at the bottom of the page.
The Everything Healthy Mediterranean Cookbook by Peter Minaki
300 easy, healthy, and delicious Mediterranean recipes—many ready in 30 minutes or less—perfect for busy weeknights or just about any time!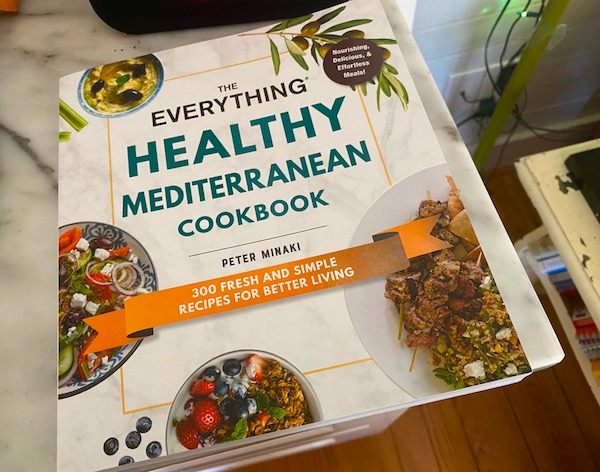 Peter Minaki's book is full of mostly Greek recipes but with a number of Italian and other Mediterranean dishes as well. Unlike many cookbooks and cooking websites where each recipe is accompanied with nostalgic reminiscences of the smell of Yaya's kitchen as she happily lugged water from the village fountain and chopped down trees for firewood to make her famous revithia that was praised all over the village, Peter goes straight into the recipes. This absence of autobiographical creative writing leaves room for what most people want in a cookbook: lots of recipes. 300 if you count the dozen or so cocktails in the last section which I suspect some people will use more than others. Peter Minaki is the creator of the popular Kalofagas food blog () and a frequent contributor to Greece's Free Press gastronomy website. He teaches cooking classes, provides catering, and creates restaurant popups at venues around Toronto. His recipes have been featured in Canadian Living, Opa!, National Herald, Stahl, and Ensemble Vacations, and he is the author of The Big Book of Mediterranean Recipes (which has 500 recipes) and The Everything Mediterranean Cookbook. He lives in Scarborough, Ontario. He also contributes and is quite helpful when people ask questions about Greek food in Matt Barrett's Greece Travel Group on Facebook.
Greek Cuisine by Vefa Alexiadou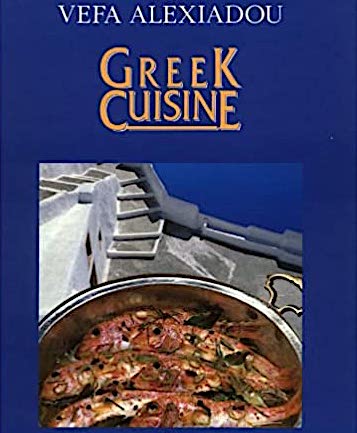 Probably more than any this is the cookbook I use when I am not trying to cook from memory or intuition. In fact even then when I start to panic Vefa's book is where I go just to make sure I am doing it right. It has a surprising number of recipes in it because she manages to squeeze several per page and lots of photos as well. She has written several others after I bought this in 1994 when it came out and since then there have been dozens or maybe hundreds of Greek cookbooks published, most of them by hyphenated Greeks (Greek-American etc). But this is a good solid Greek recipe book for making the same food they eat in Greece rather than Astoria or Chicago. I am assuming it is a translation of one of her 13 Greek cookbooks since she is considered the leading authority on Greek cookery and has her own television series in Greece.
"This collection of wonderful Greek specialities has served to revitalize the interest of a whole new generation of cooks in traditional Greek cuisine. Vefa Alexiadou invites readers and cooks to her table, which is laden with the tasty dishes of vegetables, fish, traditional cheeses, and olive oil, key ingredients in the nutritious diet of the Eastern Mediterranean. These 300 authentic life-tested recipes have been adjusted to modern tastes without sacrificing traditional textures and flavors."
We just got her new cookbook called Greece: The Cookbook but I have yet to use it.
Ikaria Lessons by Diane Kochilas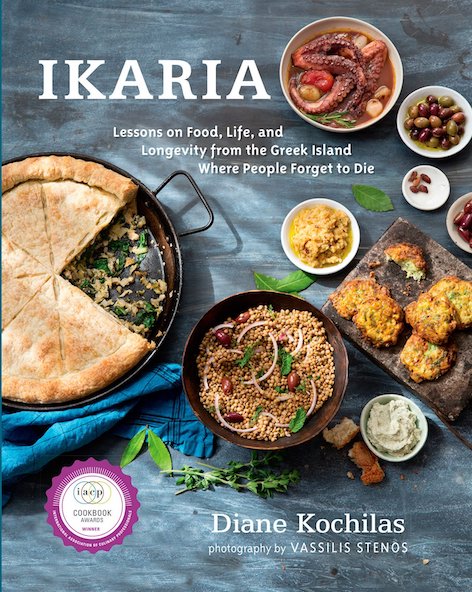 Ikaria is mythical, beautiful, enigmatic—and, as we learned after reading the New York Times article about it, a place where residents live unaccountably long lives. Part cookbook, part travelogue, filled with gorgeous photography, stunning recipes, and interviews with locals, and packed with the often quirky secrets to a long life that Ikarians are spoon-fed at birth, Ikaria is award-winning author Diane Kochilas's ethno-culinary paean to this magical island.Here, Kochilas will marry lore to lesson and recipe to interview: we'll meet a 101-year-old weaver—the best on the island—and taste the combinations of herbs that he cooks with and that he believes give him life. We'll learn about the life-giving benefits of delicious salads both raw and cooked, the gorgeous breads and savory pies that are a part of every meal, the bean dishes that are passed down through generations, and the seafood that is at the root of the Ikarian culinary culture. filled with mouthwatering recipes and remarkable stories, this book will introduce many Americans to food as life, as only the Ikarians know it.
You can order this book through Greece In Print by using this form
Against The Grain: 150 Good Carb Mediterranean Recipes by Diane Kochilas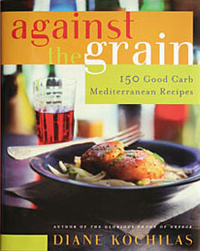 "Several years ago, after jump-starting my own desire to shed the pounds I put on during pregnancy, I went on the Atkins Diet. I began to realize that I actually felt great, so much less bloated and so energized, by eating a diet high in protein but low in carbohydrates.
To accommodate my own palate and body temperament, I curbed some of the fat that is egregious on Atkins, albeit the cheeses of the Mediterranean, especially those of Italy, France, Spain, and Greece, are a constant source of both inspiration and temptation. I simply began to rethink the foods I have always loved to cook, dishes rooted in Mediterranean traditions that are based on fresh, seasonal vegetables, chicken and other poultry, some red meat, and lots of fish and seafood.
The Mediterranean always offers a great selection of innovative, fresh, nutritious ideas for every meal. Against the Grain is filled with satisfying, good-for-you recipes inspired by the best Mediterranean traditions. Whether you're trying to lose weight or simply improve your eating habits, sticking to a good carb diet is a great idea. The Mediterranean diet isn't all bread, pasta and white rice. There is plenty of other delicious food to satisfy the soul and slim down the silhouette! That's what this book is all about. Against the Grain was selected by the New York Times as on of the 100 best cookbooks of 2005." You can order this book through Greece In Print by using this form
MEZE: Small Plates to Savor and Share from Around the Mediterranean by Diane Kochilas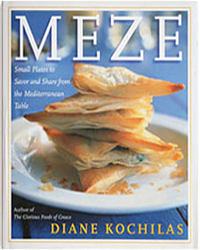 Make every meal a party, and nobody knows how to throw a party better than the Greeks! Meze is a spirited journey across Greece and the Mediterranean, exploring these simple and simply irresistible dishes. You'll find robust dips, tangy, skewered meats and juicy meatballs, delicious seafood dishes from crisp mussels to ouzo-flavored shrimp, savory pies and a recipe for the best fried potatoes in the world, Greek fried potatoes, in olive oil, of course. The writing is warm and inviting and the recipes clear and easy to follow. Sharing and conviviality are basic to the meze concept. With this book, you'll be able to make Mediterranean hospitality and vitality part of every meal.
You can order this book through Greece In Print by using this form
Mediterranean Grilling by Diane Kochilas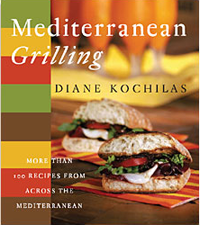 From the meshwi and ground meat kofte of the Middle East to the great kebabs of Turkey to the Bisteka alla Florentina of Italy to France's grillades and famed Chateaubriand, grilled delicacies are part of every culture of the Mediterranean. The flavors of grilled foods throughout the Mediterranean are often intense and highly aromatic; marinades and spice rubs include everything from yogurt to citrus fruits to the myriad herbs growing under the Mediterranean sun.
Offshore Grilling takes a look at both traditional and contemporary Mediterranean grilled dishes and offers them up with ease and speed for the American cook.
You can order this book through Greece In Print by using this form
The Food and Wine of Greece by Diane Kochilas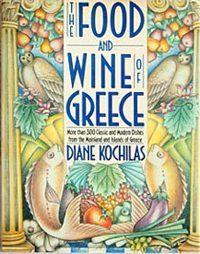 This tantalizing collection of recipes covers all aspects of Greek cuisine and pays tribute to the history and tradition, the folklore and culture that surround each dish. Each chapter—from olives and bread, to appetizers, stews and savory pies, fish, poultry, meat, eggs, grains, vegetables, and sweets—is filled with details on the ancient, religious, amd folkloric origins of various dishes.
The Food and Wine of Greece is a celebration of a cuisine and a people whose love of good food extends from their passion for garden and farm freshness, to their pride in the cook's art of preparation, both simple and complex, to their love of entertaining and sharing of bread, wine, food and friendship.
You can order this book through Greece In Print by using this form
My Greek Table: Authentic Flavors and Modern Home Cooking from My Kitchen to Yours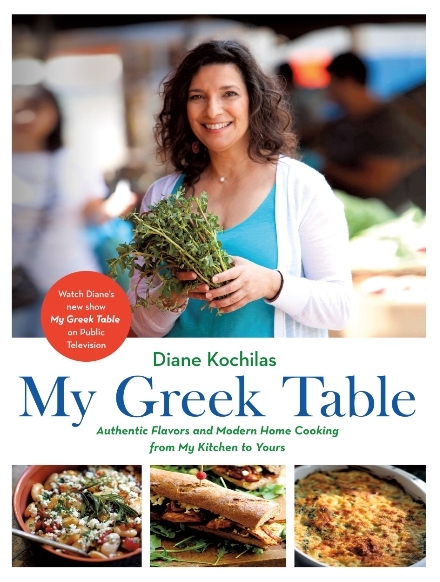 Celebrity chef and award-winning cookbook author Diane Kochilas presents a companion to her Public Television cooking-travel series with this lavishly photographed volume of classic and contemporary cuisine in My Greek Table: Authentic Flavors and Modern Home Cooking from My Kitchen to Yours.
Inspired by her travels and family gatherings, the recipes and stories Diane Kochilas shares in My Greek Table celebrate the variety of food and the culture of Greece. Her Mediterranean meals, crafted from natural ingredients and prepared in the region's traditional styles?as well as innovative updates to classic favorites?cover a diverse range of appetizers, main courses, and desserts to create raucously happy feasts, just like the ones Diane enjoys with her family when they sit down at her table.
Perfect for home cooks, these recipes are easy-to-make so you can add Greece's delicious dishes to your culinary repertoire. With simple-to-follow instructions for salads, meze, vegetables, soup, grains, savory pies, meat, fish, and sweets, you'll soon be serving iconic fare and new twists on time-honored recipes on your own Greek table for family and friends.
You can order this book through Greece In Print by using this form
Lesbian Cooking by Matt Barrett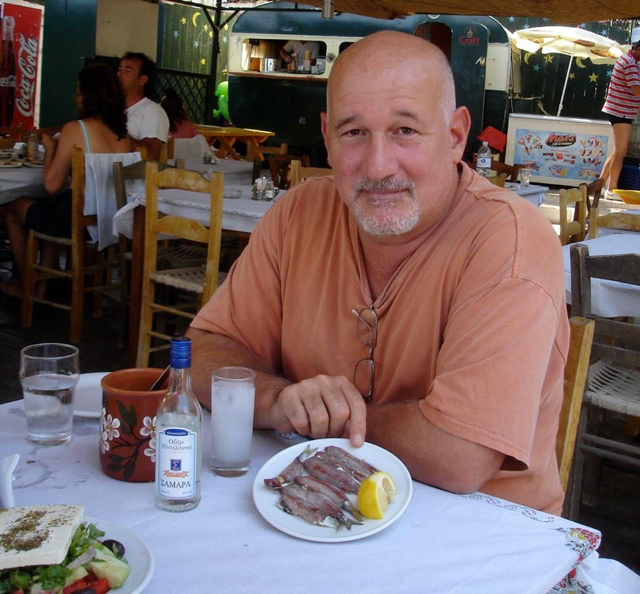 It is easy to see why the cuisine of Lesvos is considered by many to be the best in Greece. Stand on any beach or mountain side on Northeastern or Eastern Lesvos and the coast of Asia Minor is so close you can see towns and villages. It was from these shores the recipes of the Greeks of Asia Minor came along with the Greek refugees who made the island of Lesvos their first stop in the first part of the 20th century. Many of them made Lesvos their home while some moved on. But the dishes they brought with them became part of the cuisine of Lesvos, which was no ordinary Greek island. Rich in fertile farmland, olive groves, fish and fowl, Lesvos was not a land of poor farmers trying to eke out an existence in difficult conditions, as on many Greek islands. Lesvos had cities, large towns, industry, and imported and exported a number of products with its neighbor to the east and to the west. The refugees from Asia Minor did not bring good food and culture to Lesvos. They added to the food and culture which was already in place and had been for centuries.
This cookbook/web-site contains some of my favorite dishes from Lesvos, and comes from friends, some with restaurants, some who just cook for their families. They are in many cases the recipes that have been passed down from generation to generation, and in some cases they are the same traditional recipes that you find all over Greece with a unique twist that makes them somehow Lesbian (or Mytilinian). See www.lesbiancooking.com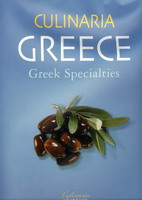 Culinaria Greece: Greek Specialties by Marianthi Milona with photos by Werner Staplefeldt. This book is something special. It is a combination food-travel-guide and cook-book too big to take anywhere with you but one you can sit happily traveling through Greece, learning about what they eat where and why, how they make it and when. It is the best resource on Greek food around.
In my opinion every Greek-American household should have a copy of this book as well as anyone who is interested in Greek food. Before I bought this book I thought that my Greek Food page was complete. Buying it and reading it made me realize I have a lot more to do. This book is an inspiration. I found mine at Barnes and Noble in the discounted section for about $25. It is worth at least twice that.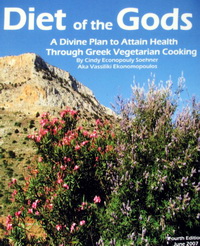 Diet Of The Gods: A Divine Plan to Attain Health Through Greek Vegetarian Cooking by Cindy Econopouly is a self published cookbook with dozens of recipes for those who wany to eat Greek and eat healthy at the same time. People often wonder how much there is to eat in the Greek diet for vegetarians, since we normally associate Greek food with souvlakia, mousaka and roast lamb, but the heavy on meat Greek diet is a relatively new phenomenon. Greece's agricultural roots have given Cindy plenty to work with in the way of salads, mezedes, and main dishes and she has added a couple veggie versions of classic meat dishes like mousaka, pastitsio and even souvlakia. But this is more than just recipes. Cindy writes about her philosophy of eating a Greek vegetarian diet that has enabled her to lose weight and keep it off and stay healthy. For more information on this book e-mail Cindy at cindyeconopouly@yahoo.com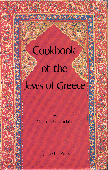 Cookbook of the Jews of Greece is a collection of recipes collected by my high school history teacher Nikos Stavrolakis. His book comprises representative recipes from the Romaniot and the Sephardim Jewish communities of Greece. It is divided according to holidays and rites of passage, and the recipes are preceded by material that focuses on the unique character of each community and their traditional customs. Nikos Stavrolakis is not only a great cook but has written a number of books on Jewish History, is the founder of the Jewish Museum of Athens, the Jewish Synogogue in Chania, Crete and his a renown artist in Greece.
You can order this book through Greece In Print by using this form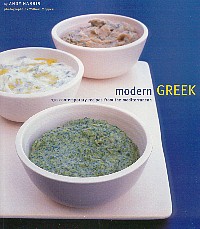 Andy Harris has been the editor for some of the best food magazines in the USA and his native Australia but what many people did not know is that he and his brother Terry (as in the famous photographer) were brought up in Greece and still travel there every year or so. Andy's cookbook, called modernGREEK is exactly what it says, a fusion of traditional Greek recipes and Neo-Greek cuisine, the kind of food you find in upscale Greek restaurants in Manhattan rather than Astoria. But wait a second. The cool thing is that when I have needed a traditional recipe and gone through all my cookbooks, it often turns out that his is the one I use. Andy is now running Jamie Oliver's magazine and probably there is a Jamie Greek cookbook in the works, but until that comes out anyone with an interest in Greek food and Jamie Oliver style cooking should snatch up any copies of modernGREEK they find because it is not certain that there will be a Jamie Oliver Greek cookbook.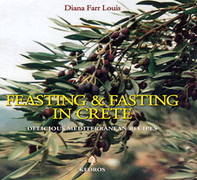 Diana Farr Louis is an American food/travel writer and long-time resident of Greece. She has published several articles and two books on Greek cooking – namely Prospero's Kitchen, Mediterranean Cooking of the Ionian Islands from Corfu to Kythera, and Feasting and Fasting in Crete. She has been contributing travel pieces for the weekly Athens News since 1997 and has written two excellent travel books, Athens and Beyond: 30 Day Trips & Weekends and Travels In Northern Greece, both highly recommended reading for those whose traveling in Greece goes beyond Mykonos and Santorini. Feasting and Fasting in Crete includes recipes and anecdotes, history and tradition about the island and is an essential ingredient in any Greek or Grecophile Kitchen.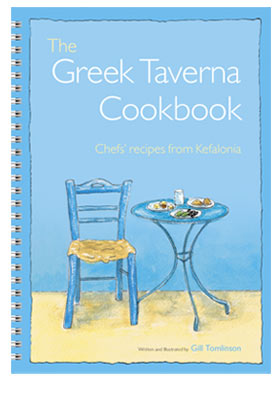 The Greek Taverna Cookbook: Recipes from Kefalonia
"A colourful celebration of Greek taverna life"

Real Greek recipes, straight from the taverna kitchens of the island of Kefalonia. Recreate the flavours of Greece in your own home with forty traditional family recipes. 24 chefs share their culinary secrets for creating familiar Greek dishes as well as Kefalonian specialities. More than just a cookbook, this is an artistic celebration of Greek taverna life. It is full of local info and insights into Greek culture. Classic taverna recipes have been carefully selected and personally tested for the home. Cook, artist and grecophile, Gill's evocative watercolour sketches capture the colour, light and atmosphere of 'Captain Corelli's Island'. The measurements are British. For information on ordering contact Gill at gill@artistswindow.com or use the Amazon Search widget at the bottom of the page.
| | |
| --- | --- |
| | You can find most of these books by using the Amazon.com search box on the left, which I have placed conveniently all over the site. Just copy and paste the title into the search window and Amazon will find it for you. |