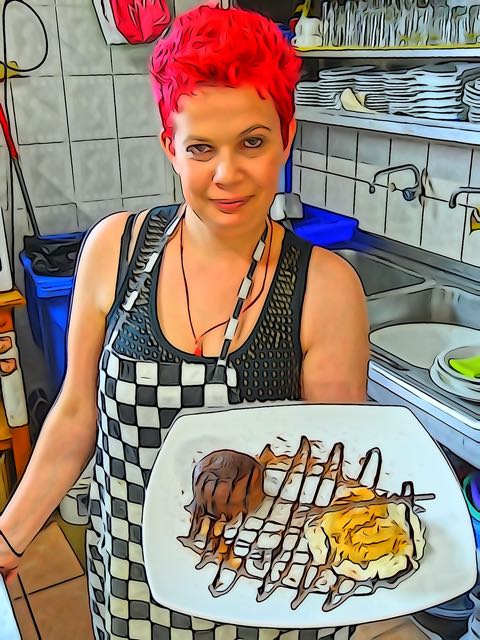 Greek deserts have come a long way in the last fifty years as this sad little story will illustrate...
A long time ago there was a little boy named Matthew who moved with his family to a far away place called Athens, Greece. He had come from a place called Long Island where ice-cream was plentiful, in fact every Sunday his grandfather would take him and his brothers and sister to Carvel's for ice-cream sundaes and banana splits. Carvel was owned by a Greek. In fact Matthew's grandfather and his uncles who were Greek also made ice-cream. So it was only natural that little Matthew and his brothers and sister would assume that they were going to the land of ice-cream. But to their shock, when they got to Athens the only desserts they could find were gummy things with white dust on the outside from Syros called loukoumia or sticky brown things with nuts called baklava or kataifi. Things looked pretty bleak. Until one day little Matthew and his family heard that near Omonia Square there was a zacharo-plastion (sugar shop) that had ice-cream and after some pleading their father agreed to take them. They were so excited. They could not believe that in a few moments they would be tasting ice-cream again for the first time in months. They got to the shop and even though there were only a very few flavors they did not care. Matthew order vanilla and it came in a small glass bowl. He took his first bite. But something was wrong. Yucchh. Orange rinds in the ice-cream. Why would someone go through the trouble of making ice-cream and then putting orange rinds in it? For the rest of his life Matthew hated orange rinds (and fruit cake) and is considered psychologically damaged.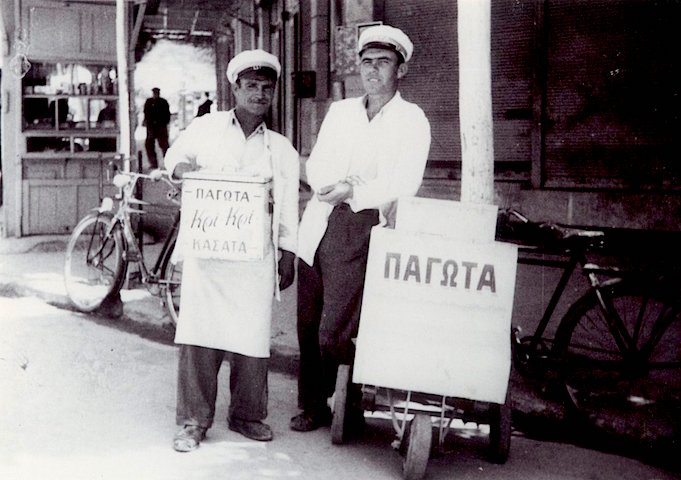 Things have changed in Athens since 1963. For one thing back then people had ice-boxes, not refrigerators. For another, now ice-cream has become the most popular dessert and can be found not just in Omonia Square but in every neighborhood, city, town, island, village and highway truck stop in Greece. Little did Matthew know but ice-cream had been growing in popularity since 1936 when street venders had to rush out on the streets to sell their supply before the blocks of ice in their carts melted and the ice-cream turned to warm mush. When pastuerization and freezers arrived in the fifties ice-cream became big business and besides the trucks that bring the 30 varieties that each Greek ice-cream company makes to all the freezers and soft ice-cream machines, there are now gelato shops with incredible flavors that make Ben and Jerry's and Baskin-Robbins look like low-class upstarts. In Greece ice-cream is king, at least in the summer. But what about the desserts that were eaten before ice-cream and gelato-mania took over the country? For those who love the old ways you will be happy to know that traditional sweets are alive and well all over Greece as are some un-traditional desserts. The word for sweets is glika, one of the most important words in the Greek language for children and adults.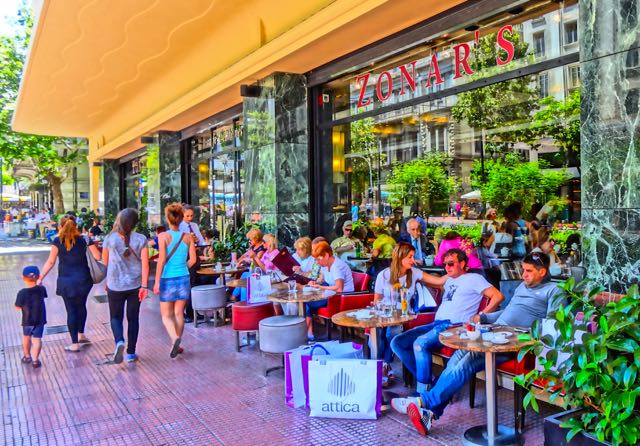 First a little about the zacharo-plastion, the sugar shops that are in every community. Anyone with a sweet tooth will find these places to be a heaven on earth. Crammed full of beautiful looking home-made pastries and candies of all shapes and sizes, cakes, liquors, traditional sweets and ice-cream you can sit down and have a dessert and a coffee or buy some for whoever you are on your way to visit, a Greek tradition. Before European style cafes became popular in Athens, these zacharo-plastions were a center of Greek social and family life and many of the cafes still have that same feel though they cater more to young people in their teens, twenties and thirties. But you can still find the neighborhood zacharo-plastions and like the come-back of the traditional ouzerie, there are traditional sugar shops opening in Psiri and other areas in central Athens. Also what the Greeks call a 'cafeteria' which is what we would call a cafe, is a place where people mostly order coffee and desserts despite the fact that they have sandwiches, snacks and even entrees. Greece is a sugar eating society. You might say that the whole country is fueled on sugar, coffee (and cigarettes).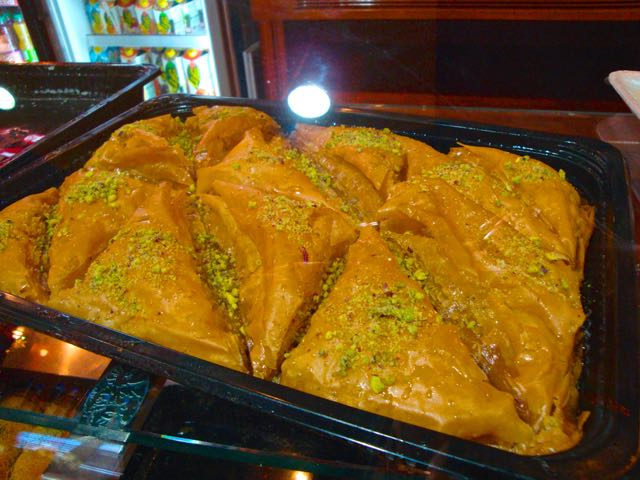 Among the traditional Greek desserts there is of course the most famous, baklava, made from phyllo dough, ground nuts (walnuts, pecans, or pistachios), lots and lots of honey or a ton of sugar syrup and comes in a variety of shapes and sizes. There is a rolled version of baklava called Saragli. There are even baklavaki which are small packaged baklavas that come in a box of a couple dozen. In the same group is kataifi which has similar ingredients though this is made with a shredded pastry that gives it a Nabisco Shredded Wheat appearance. Some people love baklava and kataifi. I am not one of them but if you throw a little ice-cream on top it is a whole different story. Galaktobouriko is also made with phyllo pastry but this is filled with a sweet milk custard and sugar syrup. These three are known as the glyka tapsiou or pan sweets because they are baked in a pan. In the same family, if deserts can have families, is the Turkish Kazandibi, a sort of baked pudding where they slightly burn the bottom to give it a sweeter flavor. These traditional desserts are found all over Greece.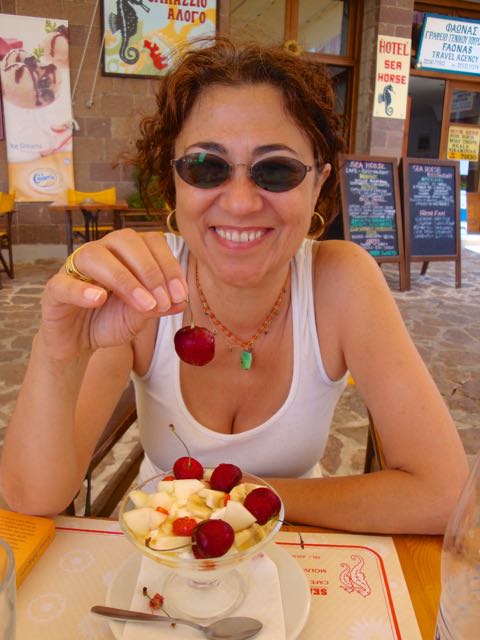 Yaourti me meli (yogurt with honey) has long been popular among the travelers and the Greeks, but now you can get yogurt with a large variety of fresh fruit, honey and ground nuts that makes a healthy breakfast seem like dessert. Greek honey is considered the best in the world and each island considers its honey as the best in Greece. Also yogurt can be eaten with the fruit preserves which are offered to guests and known as glyka tou koutaliou(spoon sweets) because when you normally eat them they are served on a small plate with a spoon and a glass of cold water or a Greek coffee. But they go well mixed in yogurt. In fact if you are like me you will dread seeing them appear at your table after a meal if you don't have any yogurt or ice-cream handy. Even the small packages of orange marmalade or apricot jam you get at hotel breakfast buffets make a bowl of plain yogurt extra delicious. Throw some muesli or whatever the European granola is called and you have a full day's vitamins and minerals disguised as dessert. And in case you have been living on another planet and haven't heard, yogurt is one of the healthiest things you can eat, especially sheep's yogurt. Actually the popularity of Greek yogurt in the United States came as a surprise to me. I thought it was always popular because I always ate it. In Greece the most commercial yogurt is made from cow's milk. But you can get yogurt made from sheep or goat in many small grocery stores and even in some of the chain supermarkets where it often comes in ceramic bowls that you can take home and give them to relatives and pretend they are expensive gifts from traditional potters.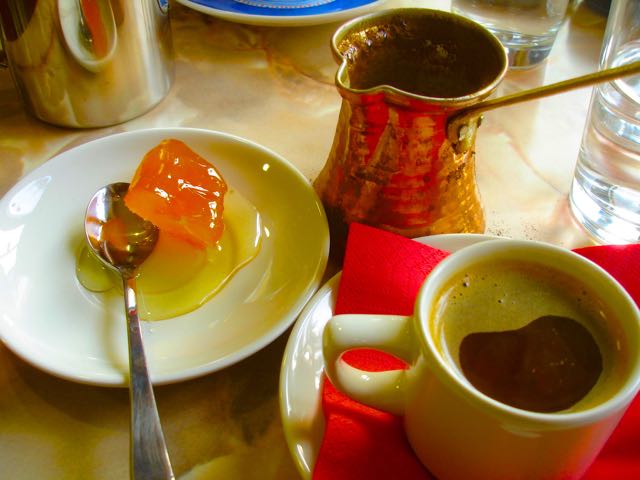 If you happen to get the above mentioned glyka tou koutaliou (spoon sweets) in their home-made natural form when you visit a Greek home you may be surprised at the variety of fruits they use. Among the most popular are cherry and orange, but you will also see figs, almonds, walnuts and believe it or not even baby eggplants. Another spoon sweet which was one of my favorites, we called a submarine. This was a thick vanilla syrup that was put on a spoon in cold water and then you would eat it like a pop-sickle. You can still buy this in supermarkets and in some zacharo-plastions and it was for a while the closest thing to ice-cream for us. Another great dessert is Risogalo (rice-pudding) which I survived on until they stopped putting the orange rinds in the ice-cream. On Lesvos in the different villages you will find women's cooperatives which sell home made local sweets and glyka tou koutaliou and other traditional food items.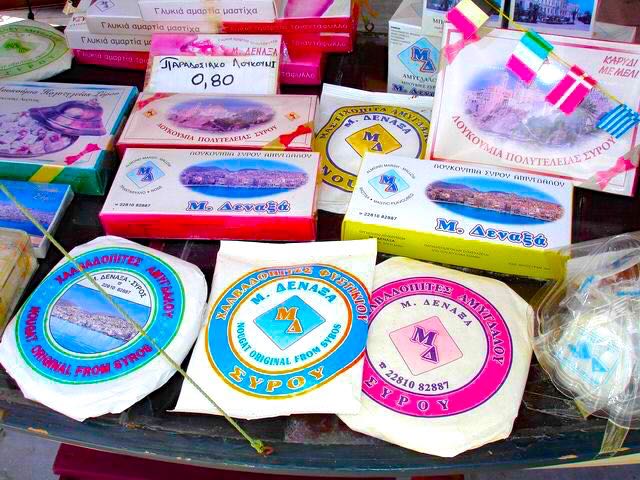 Loukoumia is a sweet from Asia Minor that is the traditional dessert on the island of Syros which is famous for it. Some of the companies who made it in Smyrna and escaped as refugees when the Turks burned the city in 1922, relocated on Syros which was one of the primary ports for Greece. Loukomia are like gummy-bears in texture but are cut into squares. Some have pistachio nuts in them and they come in a variety of flavors and are coated with powdered confectionary sugar. My first month in Greece was spent on Syros and we ate our share of loukoumia and of nougat which is a white hard flat candy with nuts in it that is sold by venders on the street. In fact if you take a slow ferry that stops in Syros, often these venders will get on the boat to sell loukoumia and nougat. Pasteli is made from sesame seeds and honey and comes in the shape of a candy bar and is one of the traditional sweets of Kea and some other islands I am sure.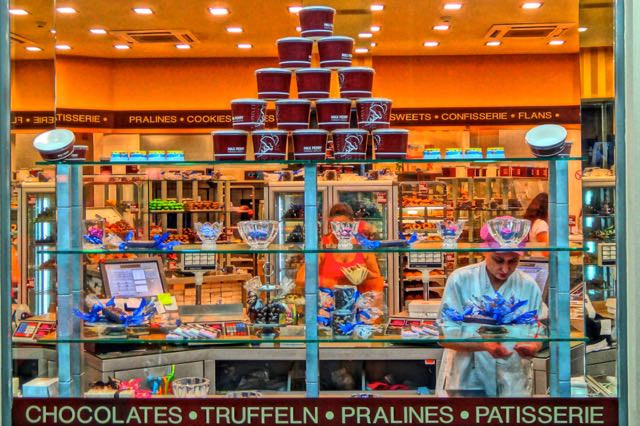 The Greeks eat lots of chocolate and in fact the dark chocolate bars by Pavlidis are rated very high by my expert wife. Any zacharoplastion will have chocolate candies for sale in bulk as well as a variety of candy bars. The Papadopoulos Chocolate Cookies which were in the possession of every Greek-American teenage hash-smoker in the late sixties and early seventies are still around and selling well. They also make the Viennese wafers that look like little cigars but are filled with chocolate and hazelnuts that my daughter seems to buy every time we get on a ferry. Halvah, the rich sesame and honey candy that is popular in the middle east can be found in the Athens Central Market, sold by the kilo in a variety of flavors including my favorite which is chocolate covered. You can also find many of your favorite chocolates from home in the neighborhood periptero (kiosk), like Toblerones, Snickers, Mars Bars and even M&Ms. But you should try the Greek chocolates first. Visit the Max Perry shop on Fokionos Negri or the Leonidas Chocolates in Kolonaki.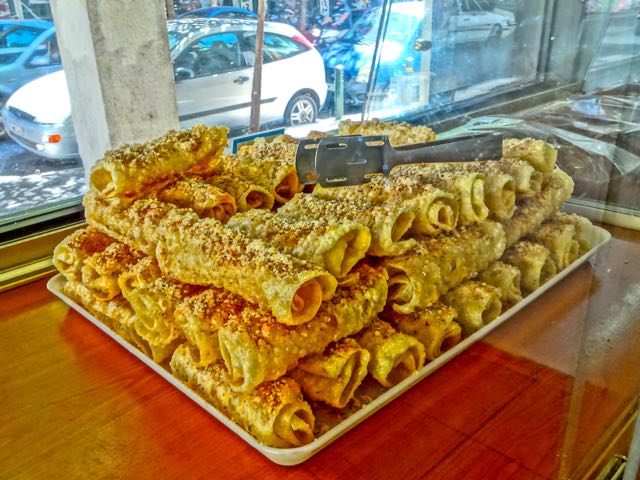 Milopita is apple pie and it tastes like apple pie. Bougatsa is a popular desert that is similar. It comes from Thessaloniki but they eat it at any time of day, breakfast, lunch or after dinner. Loukomades are deep-fried dough coated in honey sauce. The loukomades shops used to be all over Athens but even just a few years ago we were searching all of Athens and Pireaus to find some. If you want to find some a good place to look is Doris on Kolokotronis Street if that is still around. But I suspect that there will be a loukomades renaissance in the near future as I have seen a couple open up in Psiri and Aeolou Street in the last couple years. Diples are delicate deep fried pastry rolls that are coated with honey and/or powdered sugar and sprinkled with nuts. The best Diples (and loukoumades they say) are by Theodoros Tarkasis' IDI ZACHROPLASTIKIS at 185 Drossopoulou which is beyond Foikinos Negri in Patission (photo). He may have retired though.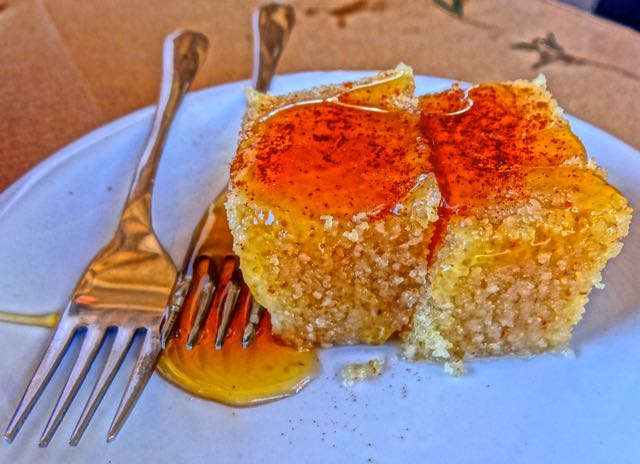 After a meal in a restaurant it is customary to have a dessert and often it is complimentary. A typical dessert may be sliced apples and pears with honey and cinnamon, water melon, honeydew melon, cherries, strawberries, grapes, figs, or whatever fruit is in season. Baked halvah (photo) which is not to be confused with the candy is also served in restaurants, made from sesame seeds and honey or sugar. I don't know how Greek it is but another restaurant after-dinner-offering is creme-caramel which in case you don't know is like it sounds, a creamy custard and caramel. A very common traditional dessert in the psistarias (grill houses) of Athens is yogurt with honey that is placed in the middle of the table and shared while everyone smokes cigarettes. The best place for complimentary desserts though is Thessaloniki where they often give you ice-cream.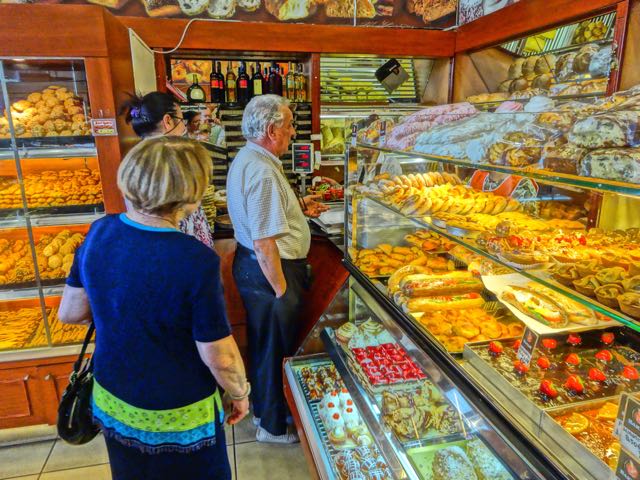 On the island of Sifnos they make two or three different kinds of amigdelota, which are almond cookies. My favorite are the baked ones. They make them unbaked too. Both are coated in confectioners sugar. There are also Christmas cookies called melomakarona made with brandy, cloves, honey and unfortunately orange rinds and topped with walnuts which originated in Phoenicia. Karydopitas are walnut and almond cakes usually soaked in honey. Kourambiethes are shortbread cookies coated in powdered sugar and are served at weddings, baptisms and other festive occasions. They can be shaped in balls, crescents or ovals. Koulourakia are crisp semi-sweet cookies that you dip in coffee, tea or hot milk favored with orange and vanilla. All these things can be found in the bakeries that are in every neighborhood in Athens. In my neighborhood of Kypseli there are at least a dozen bakeries within three blocks of our apartment.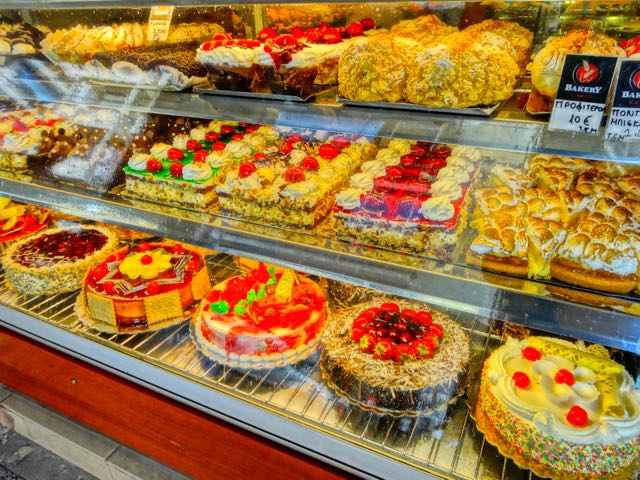 A visit to these bakeries is better than a trip to an art gallery. They have the most amazing selection of pastries and cakes in all different shapes, sizes and colors. I used to live above one when I was a teenager so I am pretty much immune to them and I am sure I remember what each one tastes like. But an unsuspecting American with a sweet tooth and no self-discipline may find his life in turmoil should he venture into one of these places and he embarks upon a path that will cause him to sell all he owns and gives up all he loves just to scrape up the money to buy a ticket to Greece and the taxi fare to Kypseli to indulge in an orgy of sweetness. The streets of my neighborhood are littered with the souls of travelers who beg for money and live only for their next pastry.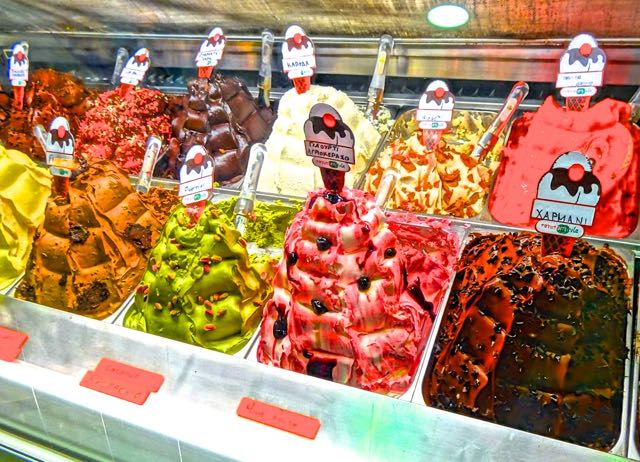 But let us leave the traditional Greek sweets and get back to ice-cream. As I said, there are gelato shops all over Greece now and you can choose your flavor by pointing just like you do in the Greek restaurants or at your local ice-cream shop at home. Also look for posters in restaurants and cafes with pictures of different ice-cream cups, cones and sticks with American sounding names like Boss, Status, Choco-Magnum, made by the big dairy companies. Nearby you will find a big freezer that you can look through until you find the ice-cream that matches the one you wanted on the poster. They even have them on the ferries. Warning: The actual ice-cream may disappoint you in appearance because they very often don't look like the pictures just as when you see a famous actress in person she doesn't look like she does in the movies. But they still taste pretty good (the ice-cream) and I have friends who go to the nearest ice-cream freezer for a Choco-Magnum as a nightly routine. Also in many places these freezers are empty in the winter especially on the islands where it does not pay to send the trucks to refill them because nobody eats ice-cream in the winter except in Athens. Dodoni is a chain of ice-cream shops that are all over Greece too and there are even a few Haagen-das shops. Last summer Ben and Jerry's magically appeared in the supermarket on Kea.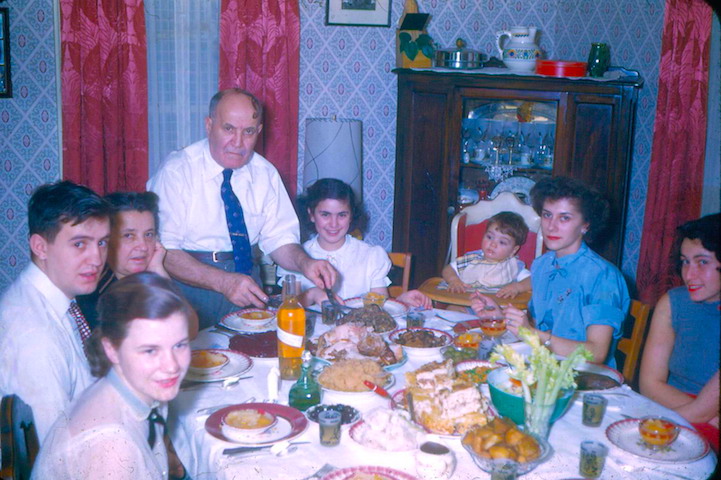 You can now buy ice-cream in almost any cafe or zacharoplastion or at any kiosk. A great treat for adults is frappe me pagoto (Nescafe frappe with ice-cream). Don't get this for your kids or they will be awake for days. Your best bet for super ice cream is one of the gelato shops in the Psiri section of Athens where the ice-cream tastes as good as it looks. Nowadays, unlike 1963, it is hard to go wrong with ice-cream in Greece. They have definitely mastered it, leaving out the orange rinds, (though they can occasionally reappear in chocolate). But the fact that the Greeks have gone from being an ice-cream poor country to turning it into an art form is actually not so strange. My grandfather Giorgos Economopoulos came to America in 1915 and started an ice cream company in Hicksville, Long island which he sold out of his store, the Hicksville Sweetshop. He called it Ice-Cream By George. It was the first gourmet ice-cream in America. Sometimes in Greece it takes a generation or two to get things right. But when you trace it back to its roots, sure enough there is often a Greek at the beginning.