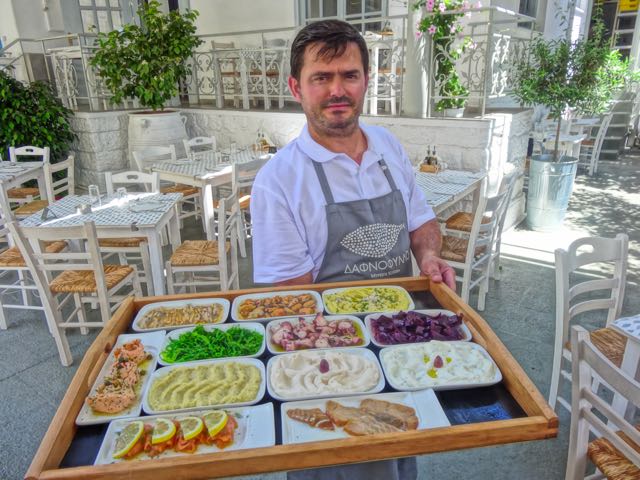 As an ouzo drinker by nature, the topic of mezedes is a favorite one for me. Mezedes or meze are the small plates of food served with ouzo since in Greece it is customary to eat while you drink. Ouzo is never served without mezedes, even if it is only a handful of nuts or some potato chips at the tourist rip-off bar. Ouzo's cousins, raki, tsipouro and tsikoudia which are similar in spirit but without the anise-licorice taste, are also served with meze which soften the effects of these powerful drinks and enable you to drink and talk for hours rather than getting drunk and incoherent. You will rarely see the Greeks rip-roaring drunk. This is because they drink slowly, eat meze and in between every bite are talking, listening, watching or reflecting.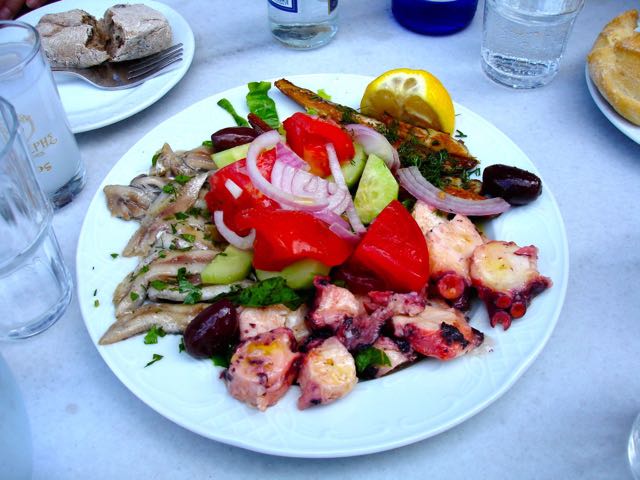 What kind of meze depends on where you are. If you are by the sea you can count on it being seafood. If you are in the mountains you may find yourself eating cheese or even the sweetbreads of a lamb. In different areas of Greece the mezedes are different too. What you are served in Lesvos won't be the same as you get in Volos or Thessaloniki though all these areas are famous for their mezedes. Recently there has been an awakening of traditional drinking behavior and many ouzeries, tsipuradika or mezedopoulions have opened in Athens and on the islands and all over the mainland. These are restaurants that specialize in ouzo, raki, tsipuro, tzikoudia and meze and can have a variety of local snacks or even snacks from all over Greece and Asia Minor.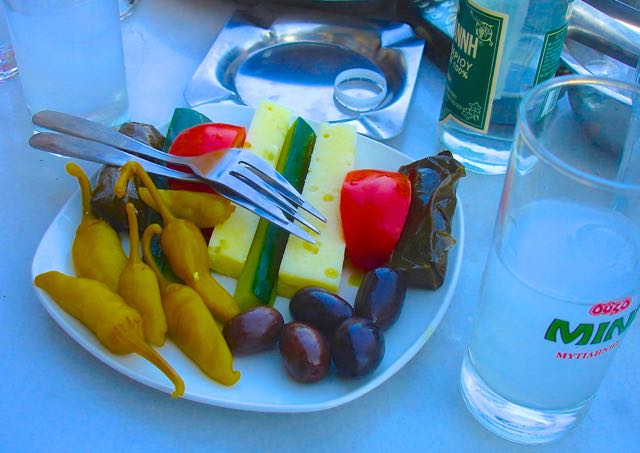 Of course even if you go to the simplest old-man cafeneon with bare walls and a few guys sitting around and laying cards and order an ouzo you will probably get a meze, usually something simple: a slice of tomato and cucumber, an olive or two, a piece of cheese, maybe a canned sardine or an anchovy. In Lesvos in the traditional villages where few tourists venture you get a plate of food with your ouzo and this can be anything that the cafe owner or his wife has made for that day, a small salad, some goat cheese and olive oil, some dolmades, or in the case of my wife's aunt Aglaia, a hot plate of tsikotakia which means liver but is actually the liver and everything else that was left over from the sheep that her son the butcher slaughtered that day.
So lets start with some of my favorite mezedes....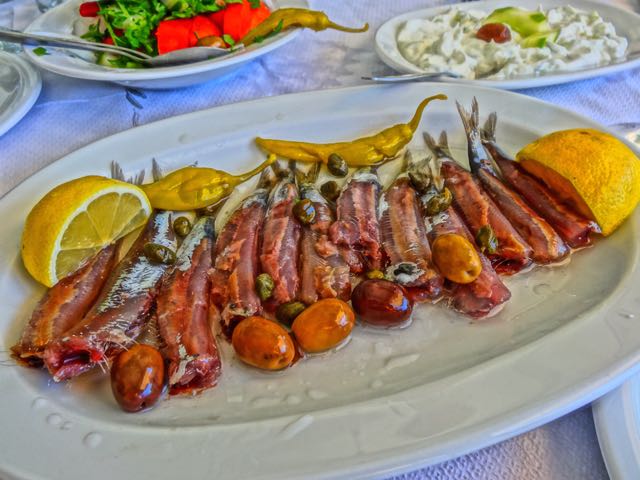 For me the best meze is sardeles pastes, which if you have read the section on fish, you know that these are the small seasonal sardines that are salted in the morning and eaten that night, raw, like sushi, on the island of Lesvos. They can be served plain or with lemon and olive oil. If you are a sardine-anchovy kind of person you will love them. If not, well you should try them anyway because you never know. You can find them in July in Lesvos at just about any restaurant. You can also buy them in the market in Mytilini but be warned that if you do, there is a procedure you need to go through to remove the salt, the skin and the guts that will make your hotel bathroom or kitchen a smelly mess. You are better off ordering it in a restaurant or ouzerie. My daughter eats these by the dozen even though she does not drink ouzo, proving you don't have to drink to enjoy raw sardines. You won't find them in Athens or on all the islands. In fact I have only had them in Lesvos though there is no reason why they should not have them in Evia where sardines are also plentiful.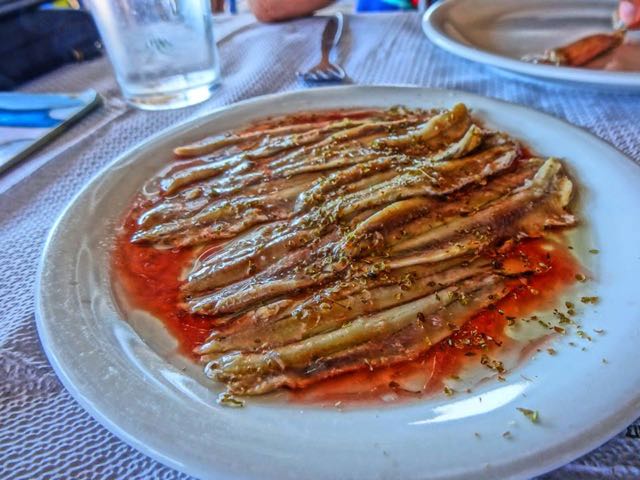 Gavros Marinatos (photo) are marinated anchovies in oil, lemon and oregano and these are available all over Greece, even in the supermarkets. The best may be at The Captain's Table in Molyvos, Lesvos but I have had these all over and have never had a bad plate. Lakerda is bonito, a sort of tuna, marinated for a few days in olive oil and served with lemon. You can get this fresh in Lesvos but every time I have ordered it in Athens or on other islands even though they said it was fresh it was either from a can or too salty. Good lakerda is not salty. It should have some red in it and not be gray like the canned fish which you can also buy in Greek supermarkets or at the Athens Central Market. Fresh clams or mussels make an amazing meze though you may have to travel to Evia or Volos for the clams.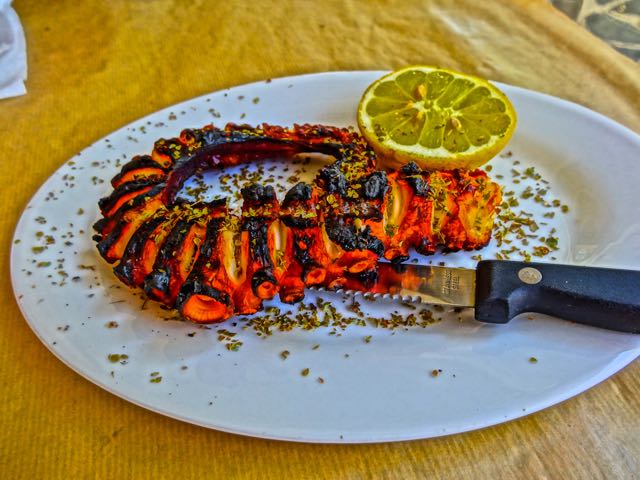 Most people say that octopodi (octopus) is the best meze for ouzo, especially when you are sitting by the sea. It is hard to disagree with them. Some of my finest moments have been eating my first grilled octopus and sipping my first ouzo after getting off the plane from the states and waiting for the ferry in Lavrion. The best octopus is grilled, provided it is done right and is tender. In Sifnos, Nick at Kamari Ouzerie, boils it first and then grills it, serving it with oil, lemon and oregano and I have never had a bad one of the dozens I have eaten there. Octopus is also served marinated and this is also good, though I prefer the grilled as do most people even if you have to wait a little longer for it. You don't have to go to Sifnos for grilled octopus. It is served at Atlantiko in Psiri and in just about every traditional ouzerie-mezedopoulion and fish taverna in and around Athens.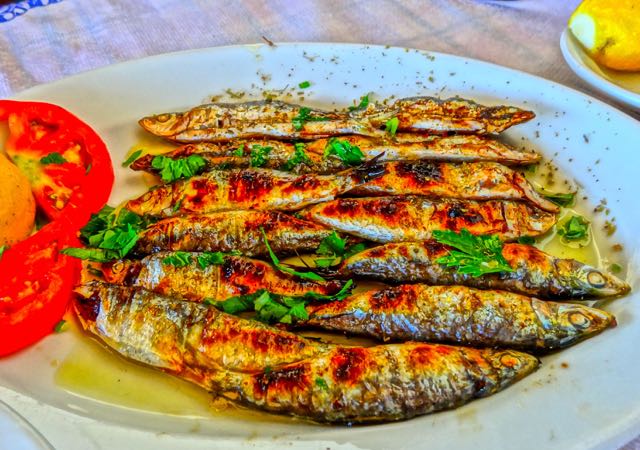 Fried or grilled kalamari as well as grilled sardines are served in most ouzeries and all fish tavernas and many tourist restaurants and they are a nice meze. Rolando's ouzerie serves galeos me skordalia (shark with garlic sauce) and this makes a nice meze too. Many ouzeries and restaurants in the tourist areas will have on the menu a seafood pikilea which is an assortment of seafood on a big platter, usually with a few other appetisers since a giant plate full of just seafood would cost a fortune. But if you have a carafe of ouzo one of these will keep 2 to 4 people busy for awhile and it will give you an idea of what is available and next time you can order things individually since you may not like everything on your plate. Plus most of it is fried. They also do meat pikileas or a mixture. I think it is better to just order whatever fish is in season and is good fried, like gavros (anchovies), marides (smelt) garides (shrimp) or sardeles (sardines) grilled or fried.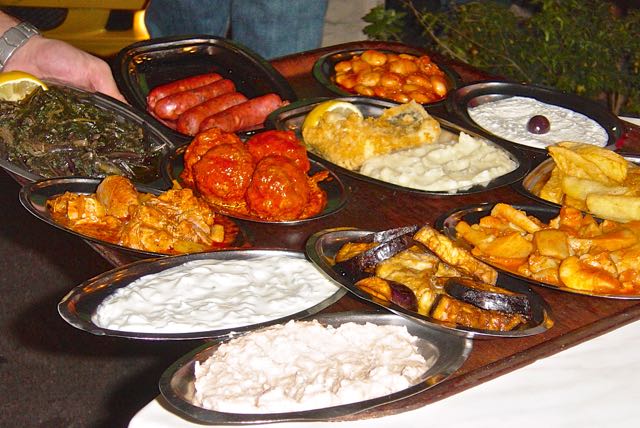 Sometimes the best meze is a salad, a piece of cheese and some beans. But for those who want to add a little excitement there are ouzeries and mezedopoulions that give you a vast assortment of meze. Saganaki with either grilled or fried cheese makes a terrific meze that you can easily make at home. A simple fried saganaki is a piece of kasseri cheese deep-fried and seasoned with lemon. The more complex saganakis are with tomato sauce and either mussels, shrimp, pastourma or whatever the restaurant's specialty is, in a small casserole dish usually broiled in the oven. A simple saganaki you can make at home is Rolando's secret recipe from his restaurant in Kea. You take a slice of feta, cover it with oil and a little oregano, ground pepper or paprika, and broil it until it gets brown on top. Take it out and squeeze some lemon on it and eat it with bread. Another popular cheese meze is tiro kafteri, a soft cheese, usually feta, but seasoned with hot peppers.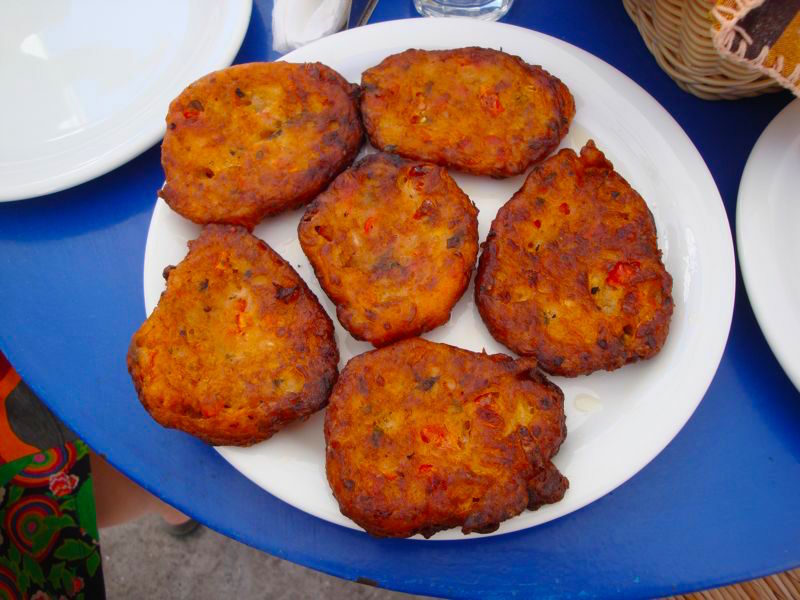 There are a number of fried balls that are served as mezedes which you can find in just about any mezedopouleion. In Santorini you have the tomato keftedes (fried tomato balls in photo) which have changed the life of many a tourist, and in Sifnos you have the fried revithia keftdes (chickpea balls), and in some places you have the kolokithea keftedes which are fried zucchini balls. But for me there is nothing as good as the true keftedes, the small meatballs that are seasoned with mint and onions and are deep-fried. But you can have keftedes made from just about anything including psarokeftedes (fish), octopodikeftedes (octopus), garidokeftedes (shrimp), kotokeftedes (chicken), hortokeftedes (wildgreens), kavourikeftdes (crab) and prassokeftdes (leeks).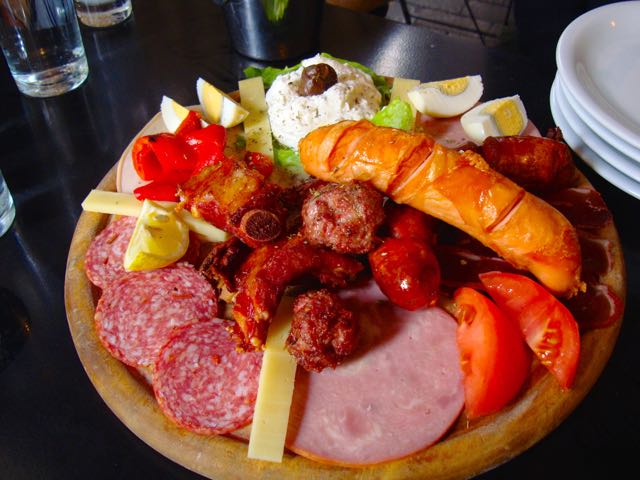 Loukaniko (sausages) make great mezedes especially as part of a pikilia like this one from Kapni Karea Ouzeri in Athens where people drink ouzo, eat meze and spend the afternoon listening to live rembetika music. Pastourma (heavily seasoned smoked beef) sliced makes an easy meze if you are sitting on your hotel balcony with a glass of ouzo watching the sunset. Add a few olives and a piece of cheese and you have a meze you can eat anywhere. There are a variety of small pitas which are triangles made with phyllo dough and filled with anything from feta cheese to ground beef, spinach, lambs liver or even pastourma. But if you get this as part of a large pikilia it will most likely be cheese. Stuffed grape leaves are a popular mezedes as are stuffed zucchini flowers on Lesvos. Bourekakia are served in Lesvos and these go back to the Ottomans. They are cheese filled pastry rolls usually deep fried.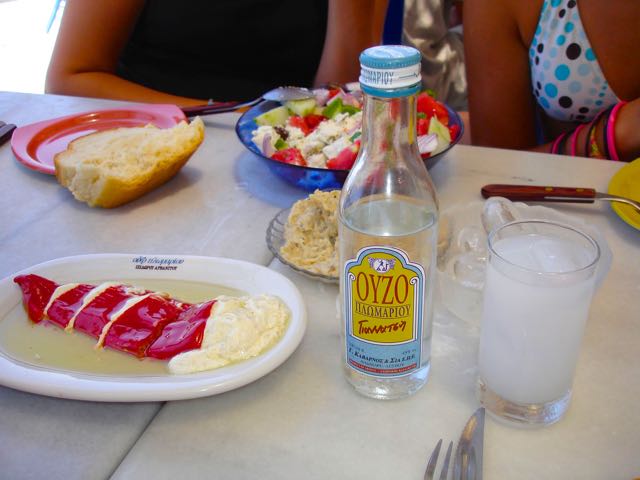 Fried or grilled peppers are a popular meze, especially the Florina peppers stuffed with cheese. The spicier the cheese the more I like it but unless you are traveling in Northern Greece it is unlikely to be too hot to handle. Volvi which are the bulbs of the tassled hyacinth that are pickled are eaten during the sarokostiani, the 40 days of fasting for lent make a good meze. The popular dips are skordalia, which is made from garlic and bread or potatoes and goes with bakaliaro (fried cod), galeos (shark), and badzaria (beets) but tastes great on bread too. The same goes for sadziki which most people know as the white yogurt-cucumber-garlic sauce that comes on souvlaki but is just as good as a dip for fried kolokithea (zucchini) and melitzana (eggplant) and on bread. Melitzana salata (eggplant salad), fava (yellow split pea puree), and tarama salata (fish roe salad) are also popular mezedes.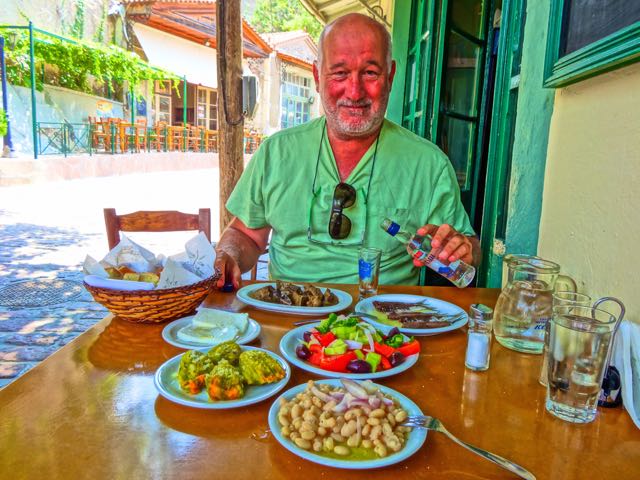 Some great places to get traditional no frills mezedes, if you can't get to the remote villages of Lesvos, are in the working class cafes in or near the fish and meat markets in Athens and on the bigger islands. In Athens most of the restaurants in the neighborhood of Psiri specialize in fancy mezedes that can be expensive and sometimes not very good. But there are a few that have integrity and reasonable prices such as Evi and Atlantiko. In the Plaka To Cafeneon on Epiharnou Street is a safe bet as is Paradoisako Cafeneon during off hours, or check out Thission or Foikinos Negri where there are several traditional ouzeries. But your best bet is to go to the fish market in Lavrion, or Volos or Mytilini or Thessaloniki or Chios and find some hole-in-the-wall where the men's voices are loud and the atmosphere is more smokey than decorous, sit down and order an ouzo me meze and see what they bring you.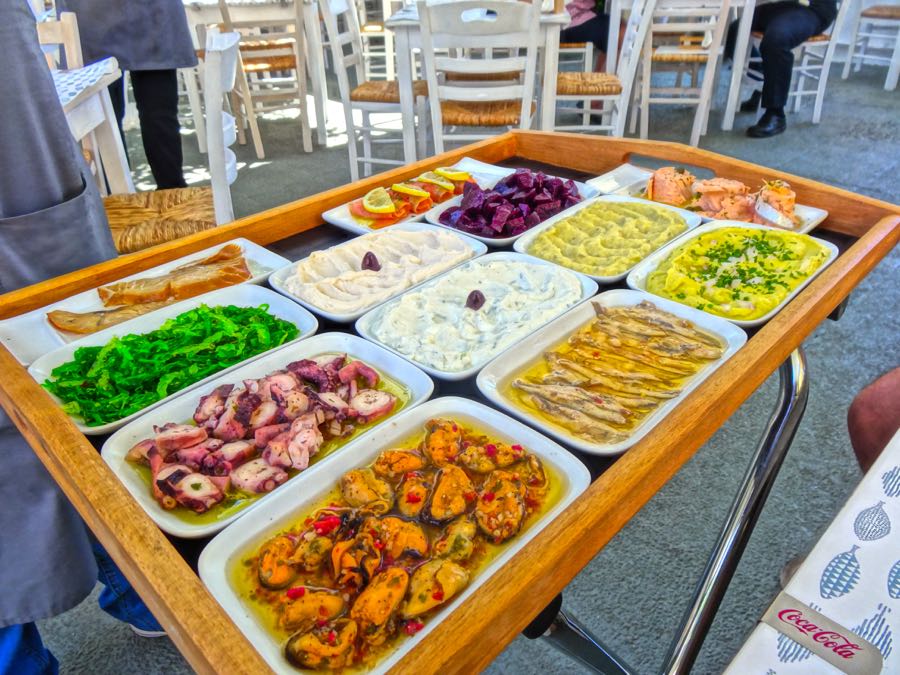 For ouzeries, mezedopoulions and restaurants in Athens see Matt Barrett's Athens Restaurants Page