Agnanti Taverna (and Mike's Diner)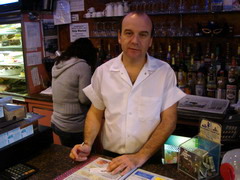 I was sitting in a noodle shop on 10th street with my family and our friend Porter and we were talking about Greek restaurants (as usual) and the guy sitting next to us told me to go to Agnanti in Astoria. I told him I liked Uncle George's and he waved me off. "Forget it. Go to Agnanti." So the next day I got on the N Train and got off at Ditmars, the last stop in Astoria. The first thing I did was stop at Mike's Diner which was right near the stairs to the elevated train, not to eat but to see if there was somewhere I could hang up one of my GreeceTravel.com flyers. Mike's is your typical diner, like all the others run by Greeks, though they had a big ice-table in the middle of the dining area where you could pick out a fish to grill, just like a seafood restaurant in Greece. The owner was a guy from Sparta named Kostas Pavlakos (photo), actually from a village right near my grandfathers and we hung out and talked about Greece and Astoria. By the time I left there I was ready to leave North Carolina and get a studio apartment in the neighborhood.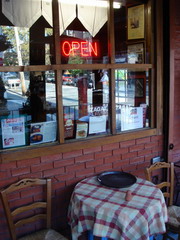 From the elevated train I walked up to Ditmars Blvd and turned left past the Starbucks and other shops and eventually homes and apartments. The guy in the noodle shop had told me to just keep walking and that's what I did until right before I got to Astoria Park and the river there was a small brick building with some empty tables and chairs outdoors. I had reached the legendary Agnanti. Inside there was a small kitchen and a dozen or so tables and a structure that looked like it used to be some steps with bottles and bottles of Greek wine. The waitress greeted me with a smile and gave me a menu. Do you really have barbounia (red mullet) I asked. "Yes we really do" she said as she served me a big glass of retsina. It took me half an hour to choose what to eat because there were so many of my favorite foods on the menu. I settled for some sadziki, a dakos salad, which is a Cretan salad made with tomatoes, cheese, olives, capers and olive oil on top of a dried paximadi (which is usually a husk of bread made from rye that you soften with water, olive-oil or dip in coffee in the morning). Of course I also had the barbounia. How can I resist? In Greece they cost 50 euros a kilo and here they cost... well not 50 euros a kilo.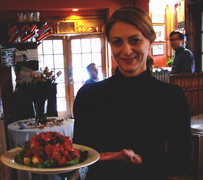 The dakos salad was as large as my head. It was going to take me a long time and a lot of retsina to finish this meal. Other dishes on the menu that had me wishing I had an extra stomach were the grilled sardines, soutsoukakia from Smyrna, and the variety of homemade pitas. Baccalaro me skordalia, santorini fava, grilled octopus, fried kalamarakia, ... it was like I was in Greece. When I was finished they presented me with a complimentary desert of homemade halvah, Greek yogurt and cherry preserves. I think you get the point. If you are looking for a Greek restaurant that will make you think you are in Greece rather than a Greek restaurant in New York then come to Agnanti. If it's a Saturday or Sunday afternoon have a nice meal and then take a walk in the park or along the river (or the LI sound or whatever that water is). You can even stand right below the Triborough bridge and marvel at the massive construction. It ain't the Parthenon but it will do.
I am betting they get pretty busy on weekends and many weeknights so call first. 718 545-4554. They are at 10-06 Ditmars Blvd in Astoria and 7802 Fifth Ave in Brooklyn. (718 833-7033).
Ithaka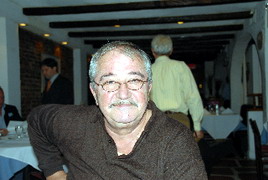 Ithaka is a traditional Greek restaurant, disguised as something a little more fancy. It is the only time in my life that I have had Malamatina Retsina, (the kind you open with a beer-bottle opener), served from an ice-bucket, wrapped in a towel, by a waiter from Turkey wearing a tie. The owner-chef is an older gentleman from Polychnitou, Lesvos whose name is Hatziparas Kevas but everyone calls him Harry (photo). The food was very good. I had the lamb giovetsi, my buddy Leigh had the swordfish kebobs and brother-in-law Frank had the paidakia. My favorite dish was the stuffed peppers. Not the ones with the rice. These are stuffed with 3 kinds of cheese and baked or broiled til the cheese melts and drips out. Try the Loukaniko Sparta, sausages which come from Lacedemonia, my grandfather's neighborhood which have a taste of orange in them. Or kouneli stifado which is rabbit stew since how often do you get to eat rabbit? Ithaka has all your standard mezedes (kalamarakia, saganaki, dolmadakia, tirokafteri, sadziki, tarama) as well as some you won't find in most restaurants like Glikadakia which is sweetbreads sauteed in white wine, or Ortykia which is quail, marinated in red wine and herbs, grilled and served on a bed of arugula. Included in the mezedes section is bacalaro me skordalia (fried cod with garlic sauce).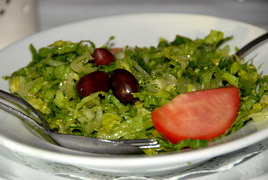 I thought I would please my wife, who could not be with us, by getting a maroulosalata which is 'thinly chopped romaine lettuce, scallions and dill with extra virgin olive oil' as the menu describes it, a dish you always fine in restaurants in Greece during the non-summer months. Its funny how you can go to a restaurant and have a relentless desire for the foods that are the most fattening and rich but then you eat something like a maroulosalata or horta or vleeta and it can taste so perfect. Its like God made them taste good so that we would eat them and stay healthy. I know you won't believe this but in Greece, on the island of Kea where we live we go to this little restaurant called Rolando's and every night we eat vleeta (amaranth). After 2 weeks my toenails become so hard that I can barely cut them. Maybe hard toenails are at the bottom of the list of changes you want to make in your life but the point is that the reason they are harder is because something in the vleeta is making me healthier. If it grew hair I would eat it every meal. So don't deny yourself the Kapamas (Boneless lamb simmered in fresh tomato sauce), or the Mousaka or Pastitsio. But be sure to order the vleeta, horta, maroulisalata or the badzaria me skordalia (beets with garlic sauce), not just because its good for you but because it tastes good too.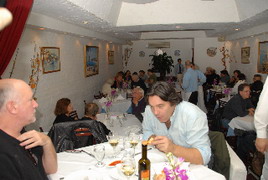 Ithaka has some classic fish dishes including the kakavia which is a rich seafood and fish broth thickened with root vegetables and garnished with shrimp, scallops and sea bass. It may be a coincidence but in Harry's neighborhood of Vatera, Lesvos there is a little fish restaurant on the sea at Agia Focas called Akrogialli that is famous for its kakavia. But in Lesvos you have to call the day before and they make it for you. At Ithaka you can just order it off the menu.
The legendary Serafim Lazos plays guitar and knows every Greek song you know and if you stay late enough you can grab a table near him, drink some tsipuro and play 'name that tune'. (That's what we did and also called out requests since we were the last ones in the restaurant). So if you need a one man Greek music show for a restaurant or party call him at 718 721 0590. Ithaka Restaurant is at 308 East 86th Street. Tel. 212 628-0100. Call for reservations or you may end up eating at the bar which is pretty small. If its slow ask to meet Harry who is probably in the kitchen. If its busy leave him alone so he can get everyone fed.
Pylos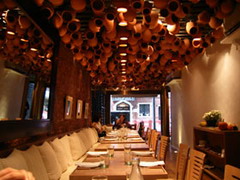 The last time we were in New York was in 2005 and this was where we chose to have a big dinner for all our Greek friends in the city. To tell you the truth I was drunk before I even got there and I don't even remember what I ate but we joined the table and we kept ordering more food and more wine and I don't recall anyone complaining or even freaking out when we got the bill. Pylos is a modern looking restaurant but the menu is traditional, and the food is probably quite good. How do I know this? My friend who lives around the corner eats here several times a week and though he is not Greek, he owns a house on a Greek island and has eaten enough Greek food to know good from bad. True, his island village has only one restaurant and maybe that has something to do with him eating at Pylos so often. It could be just habit. But I doubt it. He is not the kind of guy who would eat at a crummy restaurant more than once unless it was the only restaurant in his village and he did not have a choice. In NY there are plenty of choices so the fact that he is here most nights means that Pylos is doing something right. Besides that he is the kind of guy that if the food was bad he would let you know.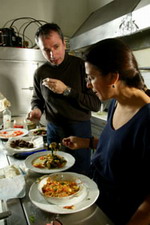 The concept at Pylos is simple: Use recipes from Greek food guru Diane Kochilas popular cookbooks (which are on display in the entrance) and bring her in as a consultant and watch as yaya's favorite recipe's become the next big thing in NYC. I look at the menu and it all sounds very extravagant but then I realize that they are describing a dish I know intimately but in a more attractive language then I would ever use. They paint a nice picture with their descriptions and the familiar dish is enhanced by the very words that describe it. So you have an excellent traditional Greek restaurant that appears to be neo Greek because of the language of the menu. Give the restaurant a modern decor and you have New Yorkers eating out of your hand, thinking they are experiencing 'neo Greek cuisine' rather than 'Greek food'. In any other restaurant the kalamarakia tyganita would be simply 'fried squid'. In Pylos it is not merely fried squid but 'crisp, fresh, fried squid.' I mean even if I was not in the mood for kalamarakia I would still order it when you describe it that way. Sardelles Scharas is not just 'grilled sardines'. Its 'Classic grilled fresh sardines served with chopped parsley, garlic and extra-virgin olive oil'. I guarantee that someone who spent their entire life hating sardines would risk trying this. Taramasalata is a 'robust and lemony fish roe dip'. The keftedes are described as 'Dianne's light as air meatballs pan fried in olive oil. You can almost see them floating around the dining room'.
There are a few entrees that you might have a hard time finding in your friendly neighborhood Athenian taverna like pan-seared duck breast with Greek thyme-honey and garlic mashed potatoes or poached salmon over spinach rice pilaf and sun-dried tomato and olive sauce and this is where the Neo Greek moniker comes in. But as long as the traditional dishes are well represented a Neo Greek restaurant could serve braised Arabian snow bunnies over trachana and I would probably come back.
But here's the bad news (for me).... I didn't eat here.
We could not get a table there before 11:30 and went to a cool Brazilian Tapas restaurant on 10th and Avenue C that just by chance happened to be owned by a Greek.(I love NY). The next night when I returned to Pylos after 11:30 by myself to have a drink at the bar that was full too. But I met the owner Christos Valtzoglou and talked to him for a few minutes though by then I had already drunk 2 bottles of Sangeovese at this Italian place on Avenue A that played rap-disco-pop at full volume, and what we talked about I can't even remember except that he came from Peristeri. But I can tell you to make a reservation before you come here no matter what day it is or you too may have to settle for an Italian or Japanese meal with bad music played loudly or take your chances at an Indian joint on 6th street. (There's always Tapas). Anyway my friend from the neighborhood likes it enough to eat here several times a week so its not like I am taking a big chance by giving Pylos the thumbs up. Pylos is at 128 E Seventh street between Ave A and First Ave. Tel: 212 473 0220
Molyvos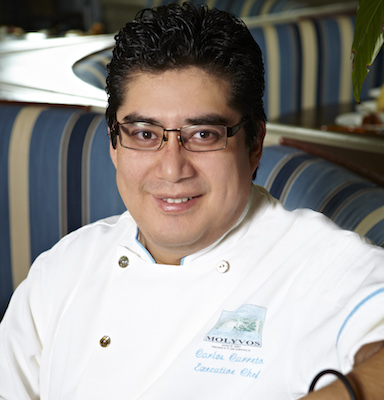 This has to be the most upscale of all the Greek restaurants but just like Pylos the dishes are basically traditional cloaked in fine descriptions. Unlike Pylos the restaurant is in an enormous space and may remind you of the Alexander bar in the Grande Bretagne in Syntagma Square though the prices won't if you are used to euros. If you are living in the world of the US dollar then you might find it expensive but what the heck. This is one of the great restaurants of the world, not some dive in Astoria like the kind I usually eat at. Greek classics like Arni Yuvetsi, Garides Saganaki, Lahano Dolmades and the famous Aglaia Kremezi Mousaka will cost you about $22. The serious meat and fish dishes like grilled paidakia, beef brizola sto fourno, moschari galaktos and the fish of the day will cost you a bit more. The New York Times awarded Molyvos 3 stars. Esquire magazines named Molyvos among the Best in America. New York magazine named it to its New York restaurant list for the Best of 1999.
"When Molyvos opened 18 years ago, it pushed the envelope of the possibilities of Greek cuisine in the US," says owner Nick Livanos. "We're continuing to do that, featuring dishes that Americans aren't accustomed to seeing on a Greek restaurant menu, while also highlighting the classics." Executive Chef Carlos who has been a part of the team for over 17 years offers guests a menu of mezedes, appetizers, hyper-local specialty Greek cheeses and honey, wild greens, an array of fresh fish, savory pies, and more.
Bring a credit card and an appetite to Molyvos and you should leave quite satisfied. You can always save money by eating a light Greek style breakfast tomorrow (like coffee and a cigarette at Dunkin Donuts). Molyvos is at 871 Seventh Avenue somewhere near 57th street I think. Call for reservations 212 582-7500
Stamatis Taverna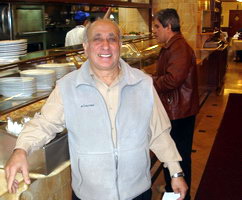 There are two Stamatis Tavernas. One is on Broadway and the other is on 23rd Ave and both are simple, traditional, Athenian style Greek food. We went to the one on 23rd Ave for our last meal in New York before we had to catch a flight from Laguardia Airport, about 5 minutes drive. Service was a little slow and confused but I think that was because we kept ordering from the Mexican busboy in Greek instead of the Greek waitress. Big Greek salads, super-sized pastitsio and mousaka and lots of grilled meats and even more choices of fresh fish that you can pick from. I had the soutzoukakia smyrniki with oven roasted potatoes. Andrea had the aginares (artichokes) in avgolemono (egg-lemon) sauce. Amarandi had the stuffed tomatoes and Leigh won the dish of the day with the grilled beeftekia. If I had to do it again I would go for the arni fricasse but it looked so rich and hearty that all I could think of was how small the toilets are on those small jets that fly between New York and North Carolina. The large appetiser platter, which you can find at most Greek restaurants in New York, had tarama, sadziki, melitzana salata and skordalia, which seemed to be pretty consistent with the other restaurants, even the upscale ones in Manhattan. I doubt you will need a reservation here but just in case call 718 932-8596. You may as well ask them for directions because we had to search for it by car and by the time we found it I was not sure where we were. But it is definitely within walking distance of the N Train.
Uncle George's or Baba Giorgis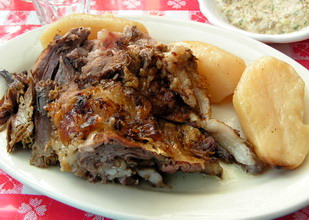 Its not often that I buy a T-shirt from a restaurant but the last time I ate here my meal made me so happy that I wanted to return the favor and parade around North Carolina in my Uncle George's T-Shirt. Those people who claim to know Astoria in the 'good ol days' will tell you that Uncle George's is a shadow of its former self when it was arguably the best and most authentic Greek restaurant in Astoria. The guy in the noodle shop who seemed to know Greek food did not seem to think much of it. But the last time I ate there I ordered roast baby lamb from the spit with roast potatoes and it was the best thing I had eaten in New York that week and maybe since. I liked it enough to take a photo which sat in my computer for 2 years until I finally made this website. The retsina was dirt cheap. I ordered a glass and it came in one of those bronze carafes that actually contains two and a half glasses worth. It may be a matter of taste or it might be that it depends what you order and who happens to be working that day or night. But I would take a chance again because I have had not eaten anything I would complain about in my many visits to Uncle George's. Its also cheap and the only Greek restaurant that is open 24 hours which puts it in a category with the Ipirus restaurant in the Athens Central Market. But do they serve patsa? Hell yeah! I am a working class guy at heart so this is my kind of place. Its at 3319 Broadway in Astoria. Just get off the N-train at Broadway and walk away from Manhattan and it is 3 blocks up on the right. If it is still open that is. I saw an article a couple weeks ago that said it was closing.
Gus's Place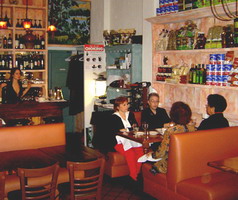 This small restaurant was a favorite of locals when it used to be on Waverly Place. When it closed down Gus's many fans in the neighborhood went into deep mourning. They would see each other on the street with gaunt faces and hollow eyes, asking each other "Is there any news about Gus's Place? Have you heard anything at all? How could he leave us like this?"
Now its back at a new location on Bleeker Street in Greenwich Village. Featuring appetisers like Feta Sto Fourno (baked eggplant & feta with balsamic glaze), Kolokithokeftedes (zucchini & herb fritters with tzatziki), Loukaniko (spicy lamb sausages) and a great selection of entrees that taste like they were homemade, Gus's place is famous for its good food as much as for the personality of the owner, Gus, who is an integral part of the day to day operation, acting a host, chef and tour-guide. Nope. I didn't eat here. I just sort of stumbled upon it while putting up my flyers. But I met Gus and the place looked nice and then I read these reviews from people who were so pleased that Gus was back that I decided to include it and take my chances. Its easy to find at 192 Bleeker Street near MacDougal Street. For reservations call 212 777 1660
Elias Corner
This is another of those favorite of the Greeks Astoria restaurants which has been around for years. Their specialty is fresh grilled whole fish and they know how to cook it. With outdoor dining in the summer, a cozy dining room in the winter, fried calamari, greek salad, saganaki, grilled eggplant and zucchini with sadziki and best of all no menu. Just like on a remote Greek island. Their octopus is rated highly by locals as are their fried potatoes. 2402 31st St
in Astoria. For directions call 718 932-1510
Uncle Nick's
The day after I posted this website someone wrote to me that I needed to go to Uncle Nick's in Hell's Kitchen. I took note of it and then forgot about it until I was walking down 9th Ave on my way to the Javitz Center for the NY Times Travel Show when I passed Uncle Nick's Greek restaurant. I made note of it again but this time I decided it was probably fate that my hotel was nearby and I was meant to eat here. The problem was I had the flu and felt lousy and did not even want to leave my hotel at night. The last night of my trip I felt better, in fact I felt good enough to walk back to my hotel on 59th street from the Javitz Center. Again I passed Uncle Nick's and again I reminded myself that if I were to accomplish anything this trip (the travel show was a waste of time) I had to eat at one Greek restaurant. That night my friend Paul who moved to NY from Chapel Hill around 10 years ago called to invite me out to his favorite Greek restaurant. You guessed it. Uncle Nick's.
I have to say that the food was pretty good. More Mykonos style than say Kypseli or Ambelokipi, which means that it was more of a Greek restaurant for Americans than for Greeks. That being said it was a lot better than most American-style Greek restaurants and there were items on the menu that no non-Greek would order. Like the grilled sheeps glands that they called Glkydakia which we ordered and got into a twenty minute discussion with the waiters (all Greek by the way) about whether or not they were archidia. (They weren't). Really nice sadziki and horta and avgolemono soup, the perfect thing for a lingering flu. We had the saganaki which arrived with a fireball around 2 feet from my friend George's head. I could feel the heat from where I was sitting and George had his back to the waiter and was taken totally by surprise. He was not happy about it at first but got over it when he saw how much joy his shock and discomfort was giving us. If I had a photo of my own to use it would have been the flaming cheese next to his singed hair but I was not quick enough. But despite the drama we had a fun night here and then went next door to Uncle Nick's Ouzeri and had a couple drinks.
Uncle Nicks has a large selection of fresh fish and meats for grilling and an extensive menu that makes narrowing down your choices hard, so I recommend coming with a group of people and trying everything so you know what to order for yourself when you come back alone or on a date. You can get souvlakis at lunch or dinner. We all had the grilled meat dishes. I had lamb souvlaki. I don't know why. I don't think I have ever ordered this in Greece. But it was good. Is the food at Uncle Nick's as good as the above restaurants? Maybe not. Its not my favorite Greek restaurant in NY. But I would go back again. I liked the waiters. They were pretty cool and more relaxed than the fancy Neo-Greek restaurant waiters are. Sort of like waiters in Greece. Go with friends and drink as much wine as you can and you will probably go back. Uncle Nicks is at 747 9th Ave, New York 10019, Btwn 50th & 51st St. Phone: 212-245-7992

Avra
Someone from my website sent in this review: Avra is a splurge but worth it, a great place for special occasions. Beautiful interior - very comfortable. The bar is nice for a drink and the fish is fresh and really nicely displayed. The fried zucchini is outrageous and large enough to share. They make Greek coffee traditionally in a large container with hot sand. Summer they have a terrace. Its at 141 E. 48th St. between Lexington & 3rd Aves in Manhattan. 212-759-8550