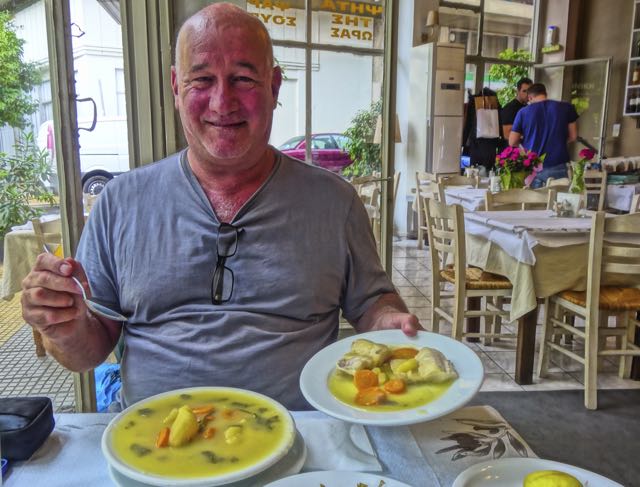 After eating at and writing about Athens restaurants for the last twenty years my Athens Restaurant page has become quite cumbersome. I kept adding restaurants and keeping the ones I already had and it was becoming difficult for people who only had a few days in Athens to make a choice of where to eat. So I decided to do my top-10 restaurants in Athens to make it easier for people. (I ended up with a dozen actually). I can't tell you for certain that these are the best restaurants in Athens. My preference is traditional and simple. There may be some amazing neo-Greek or Greek/Asian Fusion that rival restaurants in New York or San Francisco. But that is not my style. I prefer casual, good food, large servings, Greek atmosphere with hopefully Greek rembetika or laika music playing, and waiters who have worked there for years and know your name and an owner who cooks and loves his job. These are the restaurants that when I am in Athens I will try to go to, mostly because I have been craving them since the last time I was in Athens. I left off the seafood restaurants in places like Anavissos, Rafina and Lavrion and listed the ones in central Athens or easily reached from there by tram, metro, bus or taxi like the ones in Glyfada. But you can find the others in the seafood section of my Athens Restaurant Guide along with a few dozen other restaurants that could have just as easily made my top 12.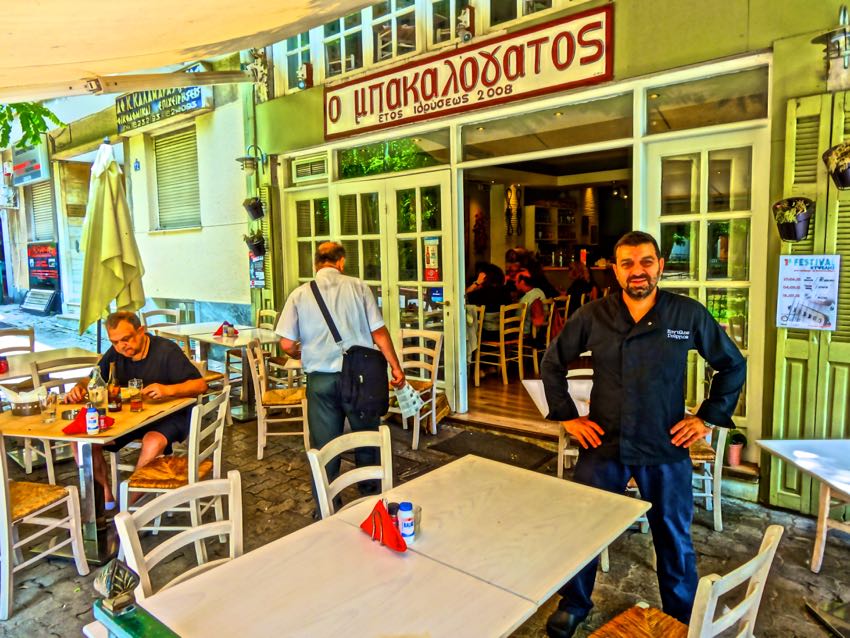 #1 Bakalogatos Restaurant
This is my main go-to restaurant. The menu is the creation of famed chef Panayotis Papanikolau and his equally famous student and owner of the restaurant Giorgos Kantelis who comes from the island of Kassos, which is one of the least known of the Greek islands. The concept is simple, using the best local and healthy ingredients they have dishes from all over the Greek Islands and mainland. My favorite dishes are any of the mussel entrees, especially the ones from Mytilini cooked in ouzo, the dolmades, sikotaria (liver and other organ meats cooked in wine sauce), makaronades with cheese and crispy onions from the Peloponessos, and any of their dozens of mezedes, entrees, grilled meat and fish, salads or desserts. If you can only eat in one restaurant in Athens this should be the one. It is in Kypseli which is a 5 euro taxi ride from the center of Athens. Take the taxi to Platia Kanaris (Kanaris Square) and walk down Fokionos Negri, the tree-shaded park that begins at the square and it will be a half a block down on the left. Open for lunch and dinner every day though it closes for 2 weeks in August. Did I mention their organic tsipuro from Lemnos?
72 Fokionos Negri. Kypseli. Tel (30)21 0821 6598 E-mail: mpakalogatosf.negri@gmail.com
#2 Ouzeri Tou Laki
This hole-in-the-wall fish restaurant, the kind that people search Athens for, is in the neighborhood of Victoria Square where most of the tourists come from Syria or parts east or south. Though it is called an ouzeri, which implies that it serves mostly mezedes, which it does, there are plenty of main courses and you can choose just about any fish from the display case and have it grilled or fried. They have several different saganakis (melted cheese) with mussels and jumbo shrimp. Try their excellent potato salad and gavro pasto (marinated anchovies), their fish soup, soupia (cuttlefish) with spinach, and their Rizotto me Thalassina (Seafood Rizotto)made with shrimp, mussels and mushrooms. Lots of salads and vegetable dishes, this is a great place for serious vegetarians but for those who can't live without meat they have grilled beef and pork steaks, and some casserole dishes. They also have a dozen or more different ouzos, tsipuros and tsikoudia and nice house wine. Nice music, nice atmosphere and cool clientele. Not really a place for families with young kids, its small, but great if you are young and adventurous which you need to be to find it. Take the metro to Victoria Square and when you are in the square look for a small pedestrian street called Elpidos and walk towards the light. Or else take a taxi. If you are nervous about the area at night go in the day which many business people do, intending on returning to work and never making it back after too many fishes, ouzo or both. The owner's name is George Lamprou and he inherited the business from his father and speaks English. The menu is in English too. Tip: Come for lunch after the Archaeological Museum.
16 Elpidos St. Victoria. Tel (30)210 8213776. E-mail info@ouzeritoulaki.info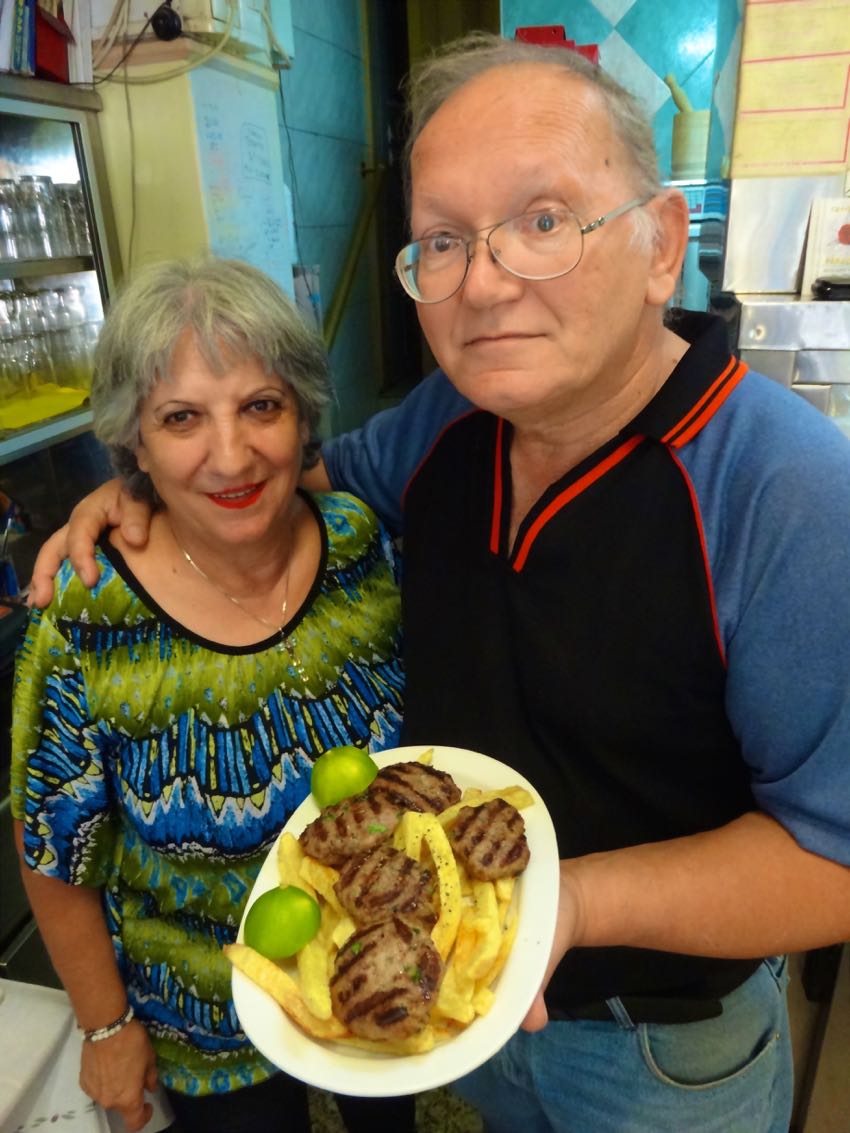 #3 Eugenia's Paradosiako Cafeneon
This must be the smallest successful restaurant in Athens. It began as an ouzeri-mezedopoulion known for its good food and festive atmosphere, particularly in the afternoon but it is now known for having fresh fish and grilled meats and daily specials that all taste like food you would find in someone's home, especially if the someone was as good a cook as Evgenia. Dimitris does the shopping and the serving and usually has help from a friend or family member. The best time to eat here is when they are both working which is usually in the daytime. They are located at the intersection of Voulis Street and Nikodimou Street, a few steps away from the Electra Palace Hotel. If you can't find a table and don't want to wait walk towards Syntagma on Voulis Street and turn right on Apollonos and on the left you will see another Paradosiako Cafeneon. This is owned by their kids and Evgenia does the cooking for this restaurant too.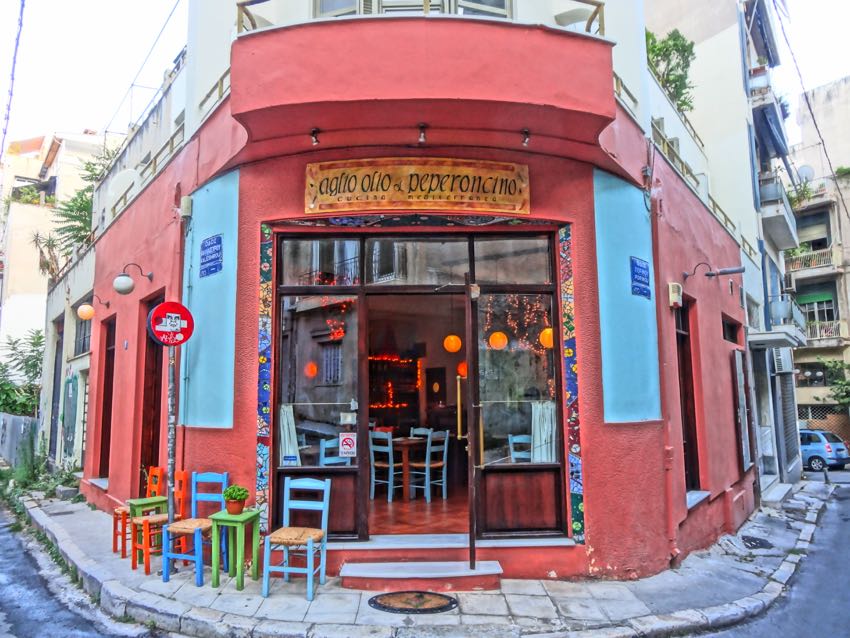 #4 Aglio, Olio and Peperoncino
My favorite, and one of the best Italian restaurants I have eaten at anywhere, is Aglio, Olio & Peperoncino, right by the Acropolis Metro Station in Makrianni. It is a small restaurant with a dozen or so tables and does not have a big outdoor space, but the food makes up for this. Try any of their pasta dishes and daily specials, beautiful salads and their bruschetta appetisers and you will forget that you are in Greece. It is easy to find. Look for the entrance to the Acropolis Metro Station on Diakou Street and take a right, and walk past the Wine Point wine bar and you will see it. The address is 13 Porinou street though asking for directions might be fruitless since this has to be one of the shortest streets in Athens. But you can call for directions or to make reservations. 210 921 1801.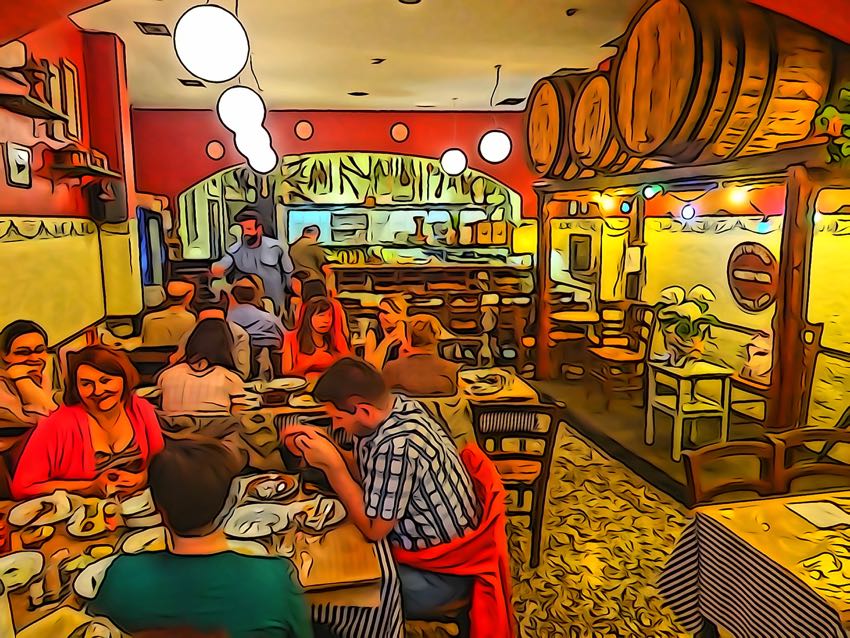 #5 Oinopoulion Taverna
This famous taverna in Psiri has a long history including a story in The Longest Night: Chronicles of a Dead City by Petros Haris. It is owned by the same family who own Markos Winery in Spata. As you might expect the wine is excellent, in particular their house white, red and retsina though you may want to splurge on a bottle to see what the fancier stuff tastes like too. Try the politiki salata which is a spicy slaw style salad from Thessaloniki. Their grilled sausages are great as is the tigania, a spicy sauteed pork. The best thing I have eaten there is the roast lamb shank with potatoes. In fact it is one of the best things I have ever eaten in my life. The small Mixed Grill is a mountain of meat and potatoes and the large even more so. Get the Vareniki or Pilimeni, both Greek ravioli, one with cheese and one with meat and both amazing. On Thursday through Saturday nights they have live music and people get up and dance and keep dancing until 3 or 4am. There are also tables out front if you like to people watch and a garden with tables in the back. If you have only one night in Athens and are in the neighborhood then this is where I recommend you go. It is located at Eschylou Street just up from Iroon Square which is the little square in Psiri where Beertime and the Bougatsa and desert places are. The owner is Maria and we graduated from the same American high school though many years apart. If they are full just go next door and eat at Taverna Psiri which is also very good for food, wine and atmosphere and another of my usual haunts.
Eschylou 12 Tel: (30) 213 0081 461 E-mail: oinopoleion.cookhouse@gmail.com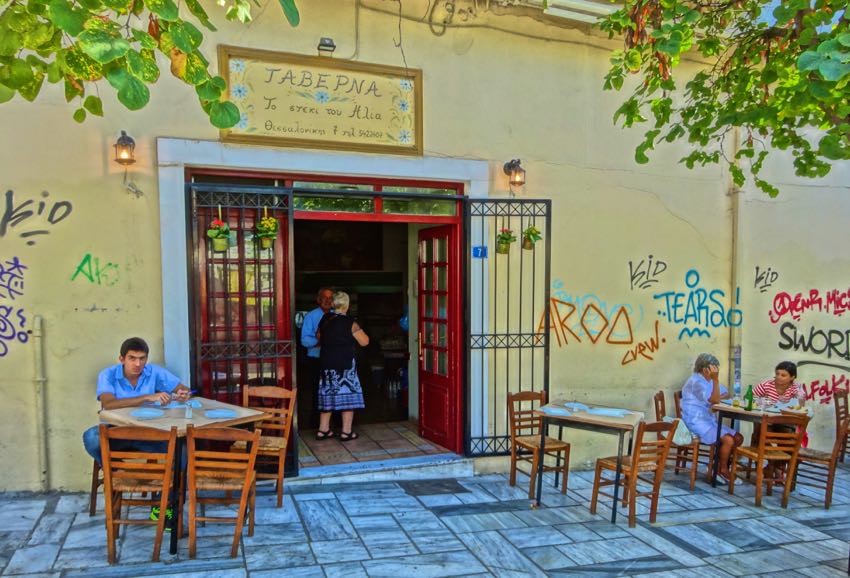 #6 To Steki tou Elias
For many this is the perfect example of a typical Greek taverna with simple food, grilled meats, strong sadziki and nice home made wine. Well, I don't know how home made it is these days but it is still good. There are actually two Steki tou Elias on Eptachalkou Street in Thission which is the small sort of pedestrian street that runs alongside the metro tracks to Pireaus. Order grilled meats especially paidaikia (lambchops) and loukaniko (sausage). That is what you are here for. Also the fried melitzanas and kolokithia (eggplant and zucchini), fried potatoes and the wine. Nice place for a Saturday or Sunday afternoon and they have live music sometimes. You can find restaurants like this in most neighborhoods but this is the closest to downtown.
5 Eptahalkou Street, Thission. Tel (30) 210 345 8052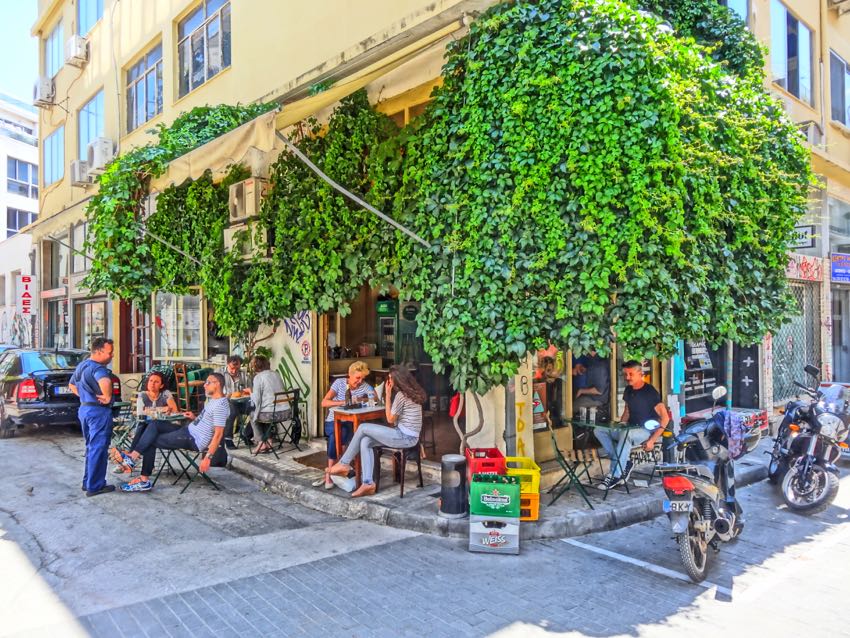 #7 Cafe Evi
This tiny hole in the wall needs no advertising especially since it only has a dozen or so tables. But if you want to eat excellent mezedes all made to order and drink the best ouzo in the kind of romantic underworld atmosphere that Psiri was known for half a century ago then this is the place. The menu is handwritten and changes somewhat though there are some things you can count on like fried shrimp, grilled soupia (cuttlefish), rokka-tomato salad, hummus, souzoukia (spicy sausage) and a few other things. The easiest way to find it is to walk from Monastiraki Square down Ermou (away from Syntagma) and take a right on N. Apostoli Street where it connects with Leokourou Street. It is about a block up. If Evi is full continue down Evi Street and take a left into the small alley where you will find Atlantiko, owned by the same guy and the same style only it specializes in seafood. If they are both full ask for directions to Mavros Gatos.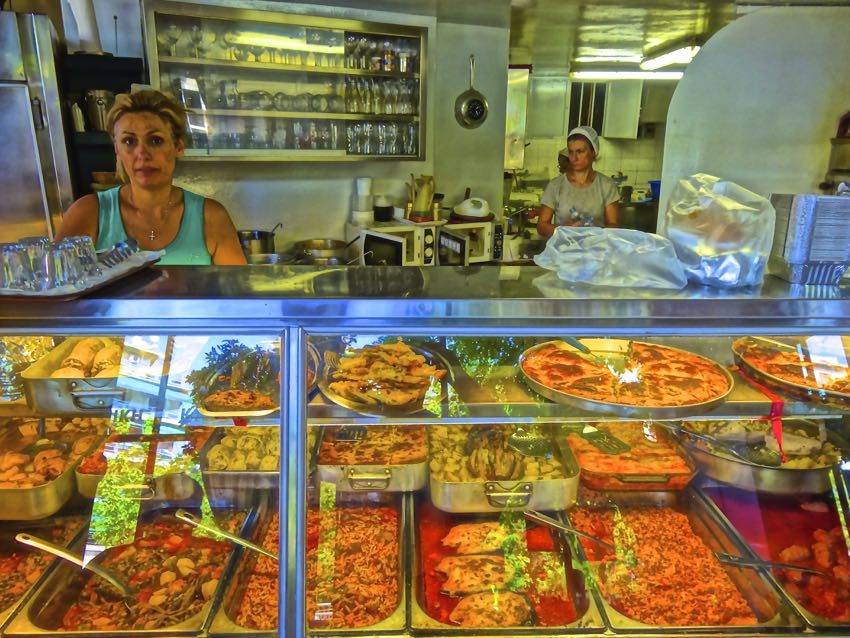 #8 H Nostimies tis Marie's
Many neighborhoods in Athens have a family owned restaurant like this one, with inexpensive food served in generous portions, in a quiet atmosphere. But there is something special about Marie's in Kypseli. Everything tastes a little better and the bill is always a lot less than I expected. Like many estiatorions you go inside and see what you like on the steam table, point to it or ask what it is, and either order it on the spot or go back to your table and order it there. The inside is very cozy and clean and there are a few tables outside and even more on Saint George Square, and since they have brizoles and other grilled meats it has the feeling of a taverna too. The family come from Tripolis, in the Peloponessos and Mary and her mother do the cooking and her sons George, Lefteris and Niko do the serving. (George speaks English and is a professional basketball player). The clientele is a mix of people from the area, old and new actors (every time I go here with a friend he points out someone who used to be famous), artists, writers and average people from around the neighborhood and a smattering of tourists who somehow managed to find it. Try their psarosoupa (fish soup), spanakopita, tiropita or any of the oven cooked dishes like aginares (artichokes) or roast chicken or lamb with potatoes. Great bakaliaro (cod) with skordalia (garlic sauce). Even better than the basement places in the Plaka. This is a good all purpose restaurant for lunch or dinner and even for a romantic evening when the weather is nice and you can sit in the square. Finding it is the hard part. The easiest way is to take a taxi to Platia Agios Giorgios in Kypseli which is at the intersection of Ithakis and Eptanisou. You can easily walk here from the Archaeological Museum on Patission (28 October) Street. It is about 12 blocks to Ithakis Street where you turn right, and they are short blocks. They also deliver. Tel (30) 210 8229239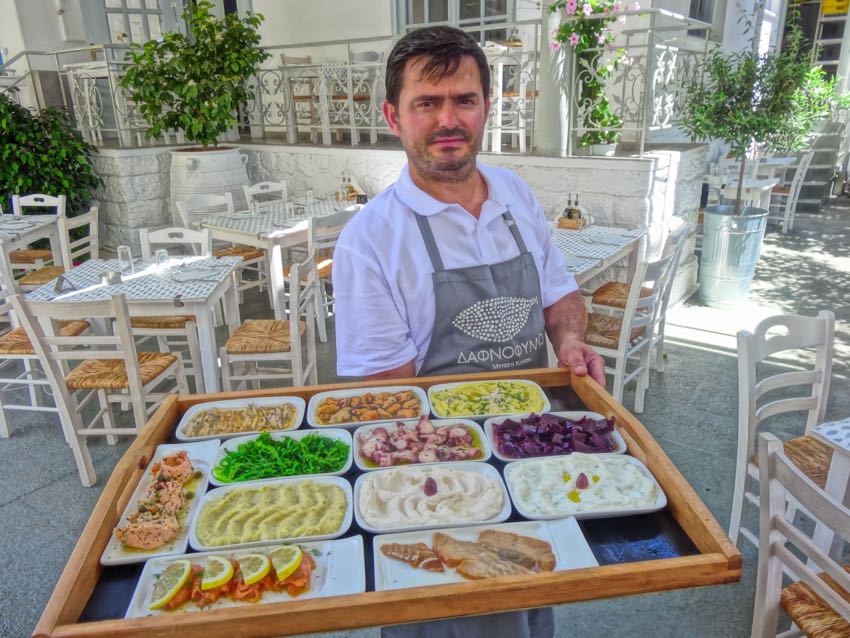 #9 Dafnofylo
This combination mezedopouleion, fish taverna and meat restaurant in Glyfada Square is worth going out of your way for, especially on Sunday afternoon when they crank up the hot coals and serve kokoretsi, kondosouvli and Lamb Antikristo, which is a Cretan way of grilling lamb. Great selection of mezedes and salads with tables and chairs in a nice covered courtyard. It is on the fancy side but not expensive. They have live music some weekend nights. I won't even tell you what to order because when you see the menu you will probably find something you like even better.
8 Giorgou Kondili Street, just off Glyfada Square. Tel (30) 210 894 9991. E-mail:dafnofillo@gmail.com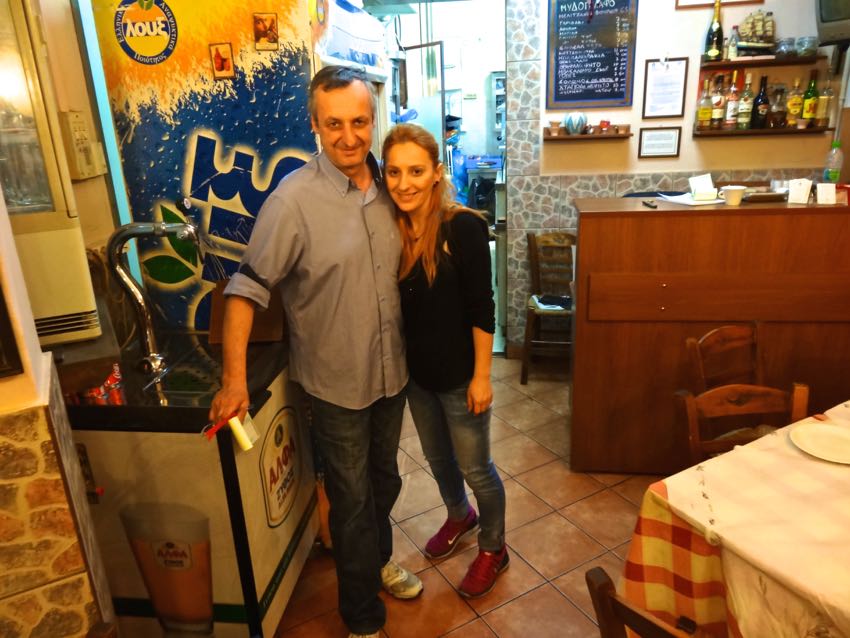 #10 Triantafilo Tis Nostimias-Paradosiako Cafeneon
This little hole-in-the-wall restaurant may be a bit of a problem for those unfamiliar with Athens but it is in a small arcade at 22 Lekka Street right across the street from the Achileos Hotel. The owner, whose name is Triantafillo, comes from the town of Petra in Lesvos and serves only fresh fish which he picks out daily from the central market just a few blocks away, oven baked dishes, fresh meat and lots of salads and dips. There are specials every day depending on what looked good at the market and what is in season.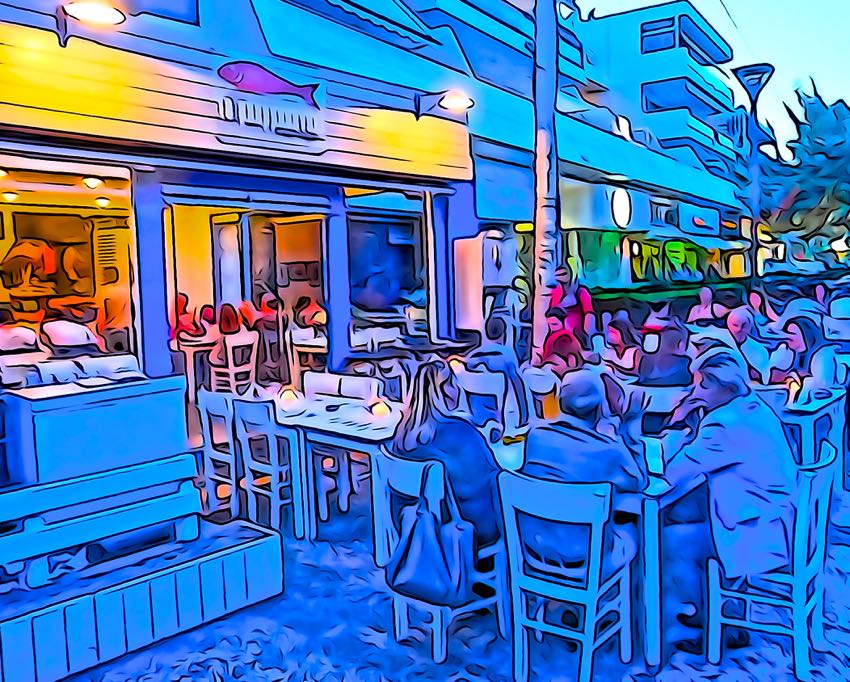 #11 Barbounaki
This excellent fish restaurant in Glyfada has the feel of an upscale fancy hotel restaurant but with much better food and cheaper prices. Lots and lots of fish mezedes, salads and all your favorite fish entrees from giant grilled kalamari to grilled sardines and of course barbounia (red mullet) and a couple of seafood pastas and rizottos. The more in your party the better. I don't think I have ever eaten here at a table with fewer than ten people which means lots of sharing and tasting which is a good thing because there is a lot to taste. If you want ouzo and fish mezedes you will be very pleased with the choices. Anyway what do you expect since Glyfada is on the sea and has a fleet of fishing boats. The restaurant is at 48 Leoforos Dimarchou Metaxa Agelou, which is the road the Athens Tram is on. If you take the tram from Syntagma just get off a stop or two after Glyfada Square. If it is full ask them where their sister restaurant Sardelaki is and go there. A reservation is a good idea, especially if you are a party of 10. Tel (30) 210 968 0651. Oh and there is now one on the Metropolis Square across from the Cathedral so you don't have to go all the way to Glyfada.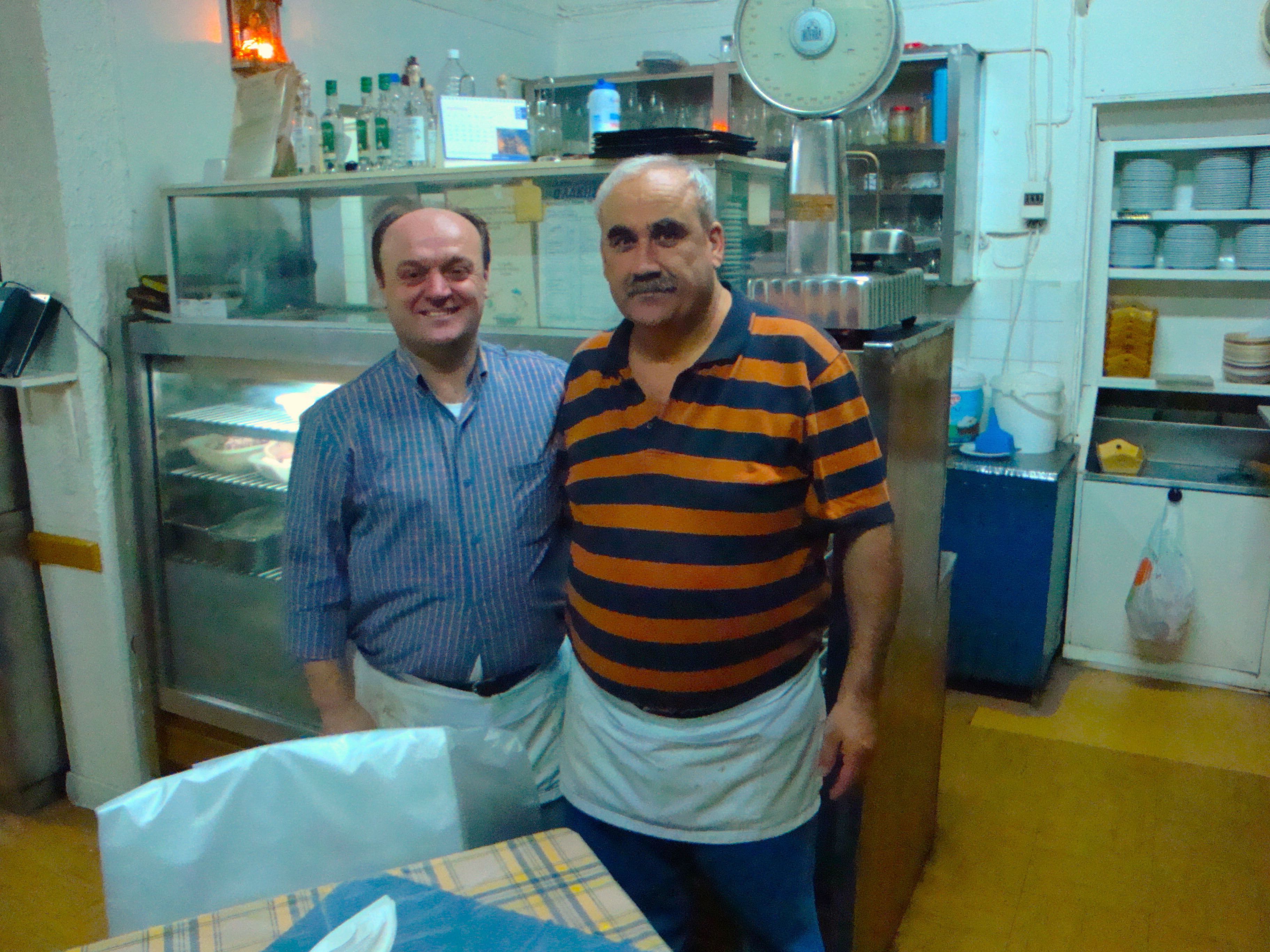 #12 Spiros and Andonis
This is a small neighborhood taverna at 24 Gavrilidou Street off Patission Street in Ano Patissia that is a favorite among my friends in the area. It is hard to find and only open at night but you can take a taxi there and they will call one for you when you want to go home. Or you can walk to Patission Street and you will find one right away. Lots of grilled meats and magerefta like arni-lemonato, dolmades, and all yiour favorites in an atmosphere that I hope will last forever. Open every night and Sunday day but closes Sunday night. You can call and ask. Unless it is a Friday or Saturday night you are unlikely to need reservations but it can't hurt to ask. 210 202 2358
Here are the best of the rest of my favorite Athens restaurants and really any of these could be in the top 12 too.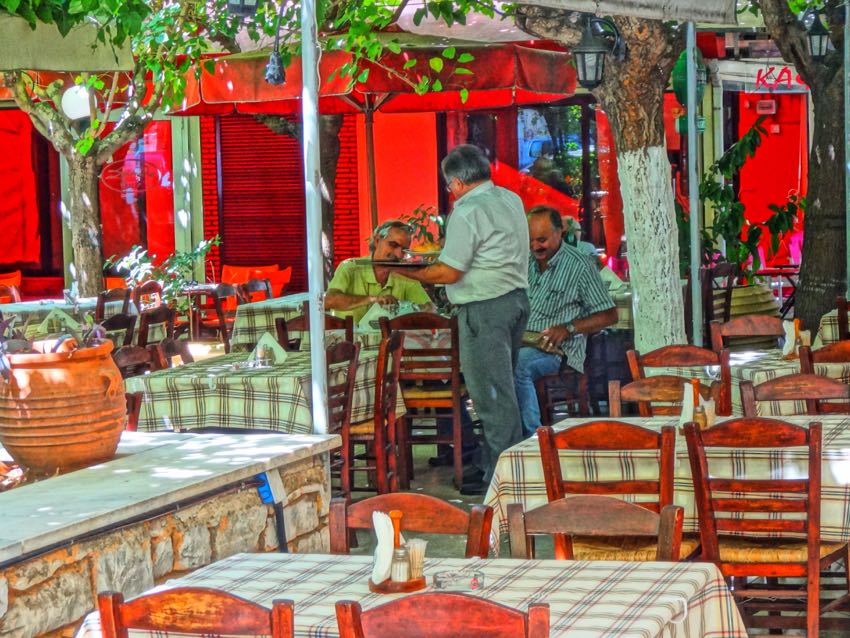 Platanos Taverna/Mezedopouleion
In the middle of Kypseli, surrounded by a sea of apartment buildings, and yet it feels like you are in a Greek village because it sits on a tree-shaded square. Great restaurant with authentic Greek food with a modern twist, sort of like the Neo-Greek cuisine that people go crazy about in New York City but not as fancy and larger portions. Make sure you get the mixed grill and then a bunch of appetisers and you will be quite happy. The more people you go with the more dishes you can order and try and they have a large and varied menu along with five or more daily specials so you can go back the next day and have something totally different. I would have out it in my top 10 except I was worried about too many people getting lost and wandering around Kypseli in the middle of the night. Take a taxi and it is at the intersection of Kalifrona and Agia Zoni Streets in Platia Platanos. The phone number is 210 8612749.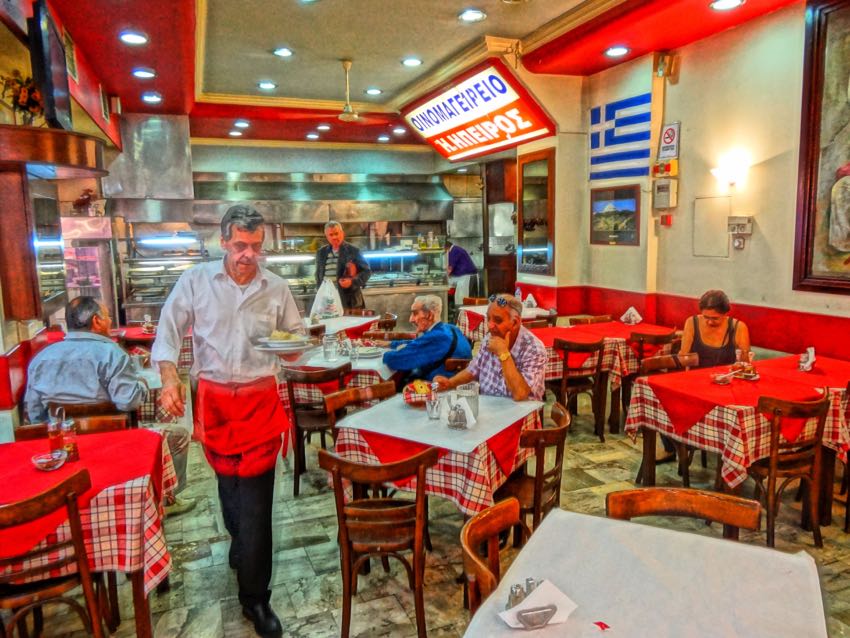 Ipeiros
Located in the Athens Meat Market on Athinas Street, this is not the kind of restaurant you would bring someone on a date or anniversary dinner, however it is cheap and they have large portions of almost every oven and pot cooked Greek dish you can think of including patsa which is the tripe soup of Greece, and podi which is soup made from the foot of a cow and actually comes with a foot in it. Both are considered the cure-all to many ailments like hangovers, colds, and general listlessness and the loss of the desire to live. (See my Guide to Patsa) Ipeiros along with its neighbor Papandreou, were originally both open 24 hours a day and were for the workers in the market but they gradually became popular with the nightlife crowd who would come in groves after leaving the clubs. It is not the scene it once was but it is still a bargain and have the best lamb fricasse in town, among other things. This is my daughter's favorite restaurant. She says to order the mayeritsa.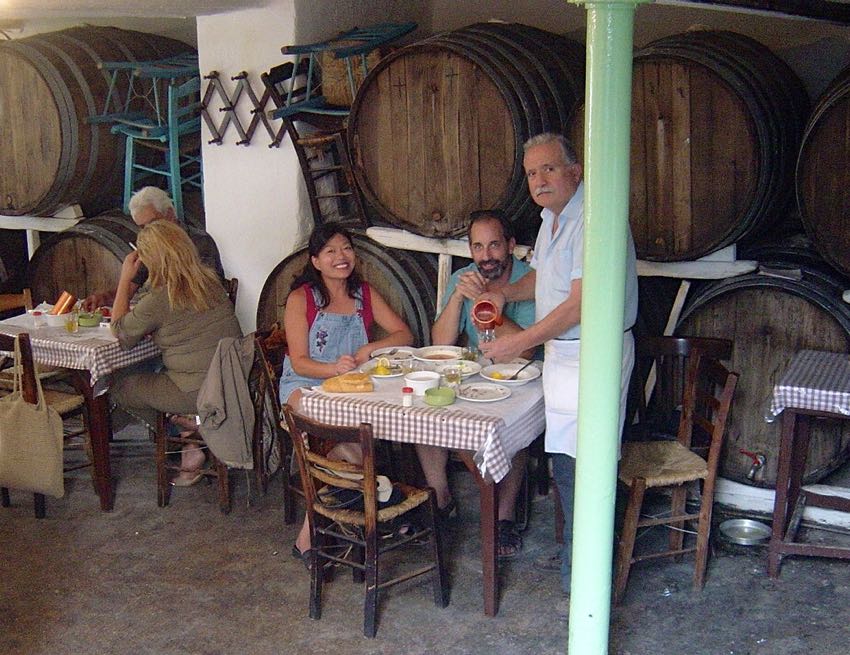 Secret Underground Restaurant
The concept is simple. You walk down the steps of one of the two doors this basement restaurant has, find a table and sit down. If there are no empty tables just join someone. The busboy puts a paper tablecloth on your table, leaves the bread and a carafe of their wine which you are expected to drink at least one glass of before the owner comes and asks what you want to eat which is usually a choice of 3 or 4 things he made that day along with salads and some side dishes. Then you get drunk and wait for the musicians to show up and people to start dancing and singing. This all happens in the afternoon. Where is it? In the market. That is all I will tell you so as not to raise the ire of the archaeologists, classicists and lowlifes who have been coming here for decades and don't want to see it filled up with a bunch of tourists looking for "the real Greece".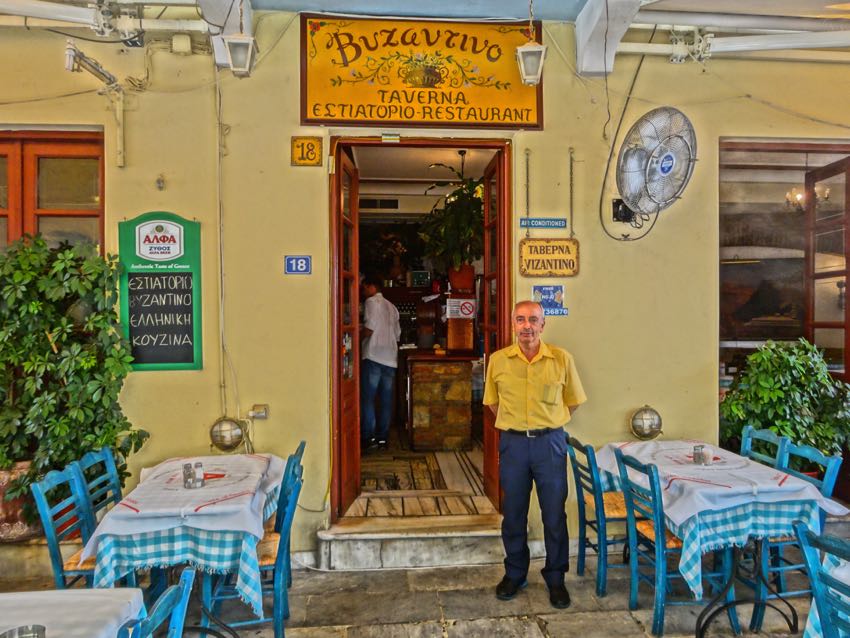 Byzantino Taverna
Those who live in the Plaka remember the restaurant known as 'Kostis' on the small square on Kydatheneon Street. Blessed with a near perfect location on a pedestrian street in the center of the tourist district, when the lease expired the landlords took over and opened Byzantino and it has been a popular restaurant for Athenians and tourists ever since. The rule is to eat mayerefta (oven dishes) for lunch, and 'tis oras', grilled and fried meat and fish at night. That means no mousaka or pastitsio or stuffed tomatoes once the sun goes down. Their menu is in several languages and to get a job there you have to at least speak Greek and English, if not French, German and Spanish. But as tourist restaurants go this is probably the best, and most of the people I know who own businesses in the neighborhood eat here. Amarandi says the pasrosoupa (fish soup) here is better than H Nostimies tis Maries. You can easily spend an afternoon here eating, drinking and people watching. In fact there is no better spot in Athens. If you can't find a seat because there is a large group filling up the place go next door to Plaka Taverna. Basically same food and if one is better than the other it is hard to say which. And if they are both full go up the street to Saita.
Nikitas
This tiny restaurant on Ag Anargiron Street in Psiri used to be a souvlaki shop but now serves delicious home-style meals and is popular with the locals. Easy to find with tables and chairs on the street and across next to the church for which the street is named.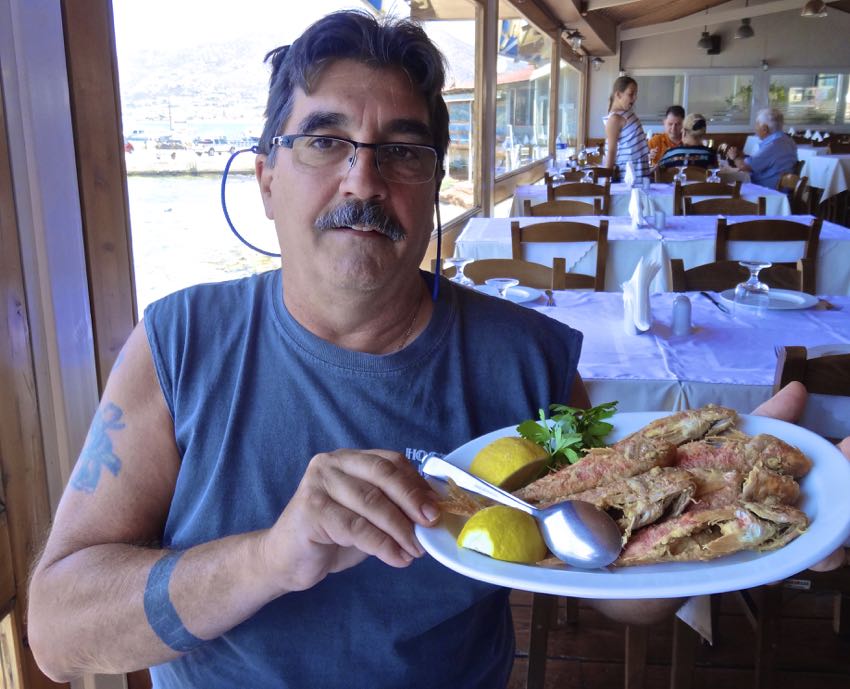 Akroyiali Fish Taverna
Yes I know I wrote that I was only going to include the fish restaurants in Athens and not the ones on the sea that are far out of town but since many people who use this guide will be going to see the Temple of Poseidon at Cape Sounion and probably wanting to eat on the way there or back mentioning Akroyiali Fish taverna will be useful. If it was downtown it would probably be in my top 10, as would several other fish tavernas on the sea outside of Athens like Litsa's in Daskaleio and a few places in Lavrion. Akroyiali is in the town of Anavissos, on the coast road and is one of several fish tavernas in a row which as you approach them the waiters signal you to park your car and come in. Akroyiali is the preferred restaurant by many of the taxi drivers who take people on day-trips to Sounion because it is clean, the fish is fresh and it is not expensive. That being said I always order the barbounia (red mullet) which is expensive. That's my cousin Craig Econopouly by the way.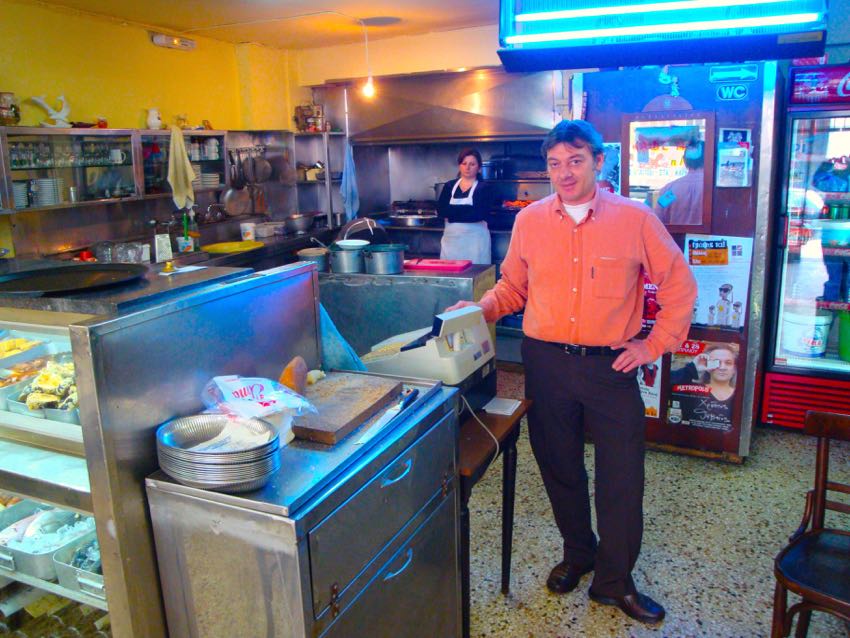 Ouzeri Lesvos
I usually spend about a month in Lesvos every summer and while I am there I spend much of my time eating the food they are famous for like grilled sardines, sardeles pastes, lakerda, louloudakia, and of course drinking lots of ouzo which the island is famous for. When I am in Athens and I get a craving for my favorite food I go to a tiny place called Ouzeri Lesvos in between Omonia Square and the anarchist neighborhood of Exarchia. It is at #38 Emanual Benaki Street which you can find by towards Omonia on Panapistimiou (Venizelos) Ave and turning right a couple blocks before you reach Omonia (just past the Hotel Titiania). Its open daily from noon til late at night but closes at 7pm on Sundays which is a fun time to be here. I think they close early on Sunday because they run out of food.
You can find lots more restaurants in my
Athens Restaurant Guide