There are several types of Greek eating establishments. Here are the most common so that you know what to look for if you want a certain type of Greek food.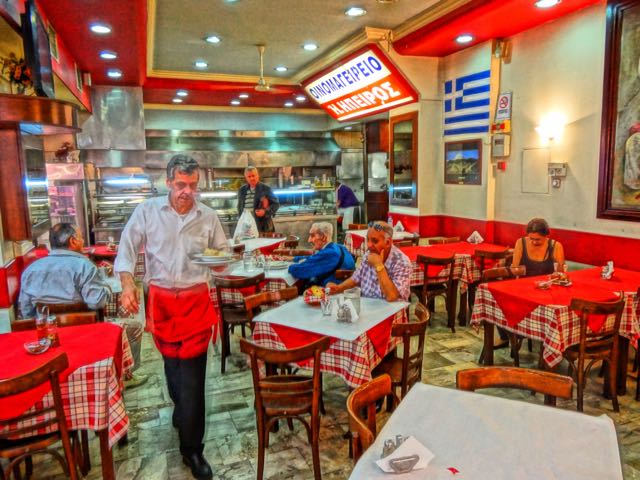 An estiatorio is a restaurant that serves cooked foods from the oven called magerefta but it can also have grilled to order foods called tis oras, and even fish, as well as appetisers (mezedes), and salads. You eat in these places day or night. Some are only open in the day. A good example of an estiatorio in the Plaka on Kydatheneon street is Vyzantino. You go in and look at the food which is cooked in the morning and is in pots or trays behind glass. They do have taverna-fare, which is recommended if you eat in these places at night, like grilled meats, and they even have psaro-taverna fare: fish. But it is really just an estiatorio that took advantage of their location to have everything. A more traditional example would be the Iepirus restaurant at the meat market which is a working class estiatorio that is open 24 hours a day and serves patsa and podi. Another example might be Paradosiako on Apollonos Street near Syntagma or H Nostimies tis Maries in Platia Agios Giorgiou in Kypseli. Sometimes a restaurant will invent a word that describes what they are. For example in Kea, the Kalofagon Taverna in Hora that serves grilled food and oven dishes calls itself a Oinozythestiatoriaon which means a wine and hot food restaurant.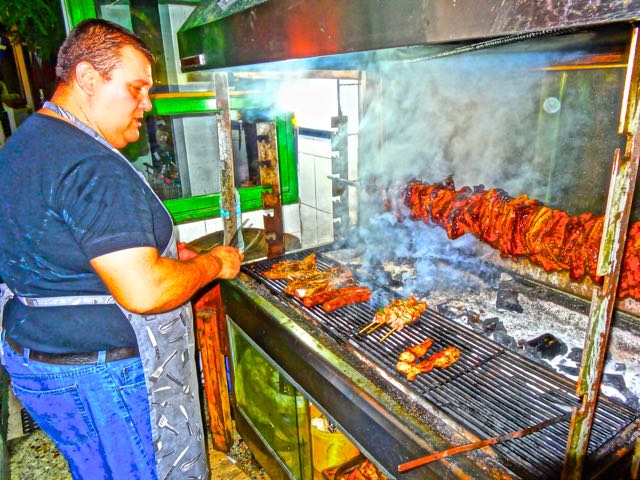 A psistaria is a grill house where you get spit-roast lamb, steaks, kokoretsi, grilled or rotisserie chicken as well as salads and appetisers. You can even get lambs heads. Psistarias are more common when you get out of the city because you need space, and you also need to be in a place where the smoke from your grills is not going straight into someone's apartment. So you have several areas like Vari which is a town between Voula and Varkiza where there are dozens of psistarias and the smell of cooking meat fills the air. Other areas where you can find psistarias are on Mount Parnitha, north of Athens and in the area called Kalivia which is past the airport on the road to Lavrion. In neighborhoods that have a large platia (square) you may also find a psistaria or two. If you take the road called Ethnikis Anditassis towards Kessariani there are a couple psistarias at the edge of the city. Some psistarias will specialize in a certain cut of meat or type of grilled animal but they will all have some variety. There is an area in Evia on Mount Dirfys in the village of Steni, about a half hour drive from Halkida and about an hour and a quarter from Athens that people come to on Sunday for provatina, which is mutton or old sheep, which when cooked well is amazing. They also have paidaikia (lamb chops), roast lamb, goat, kokoretsi and other meats all sold in a line of psistarias that go up the mountain on the back side of the town.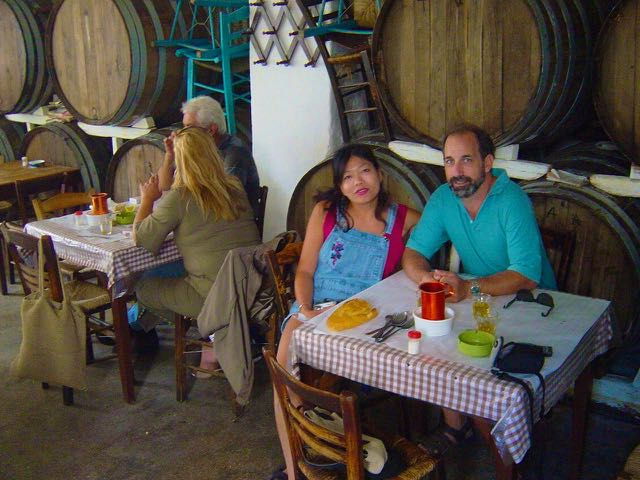 A taverna usually has a smaller menu and specializes in something, like this taverna is known for its paidaikia, or this taverna is known for their rabbit stifado, or this one is known for their home-made wine. They are mostly open only at night for long meals, lots of wine and conversation and are often known for the personality of the taverna owner. Some have live music a couple nights a week and some may have impromptu live music when some guy from the neighborhood just shows up, has dinner, and then pulls out an instrument and starts playing. I have gone for a quiet dinner at Taverna Psiri when the entire place erupted into dancing, singing and plate-smashing, beyond what you could imagine. Beyond what could be considered legal. (They were cops!) But most tavernas are quiet neighborhood places and everyone has a favorite taverna. Unfortunately there are very few good tavernas downtown for a couple reasons. One reason is that some of the tavernas that did exist have changed to tourist restaurants or have moved out because the rents were too high. That is why you will find more decent real tavernas in a neighborhood like Goudi than you will in the Plaka. Some tavernas just went upscale until they were no longer tavernas. During the financial crisis some tavernas became psistaria-souvlaki shops where you could get a taverna meal or if you were low on money a couple souvlakia, a salad, fries and a carafe of wine.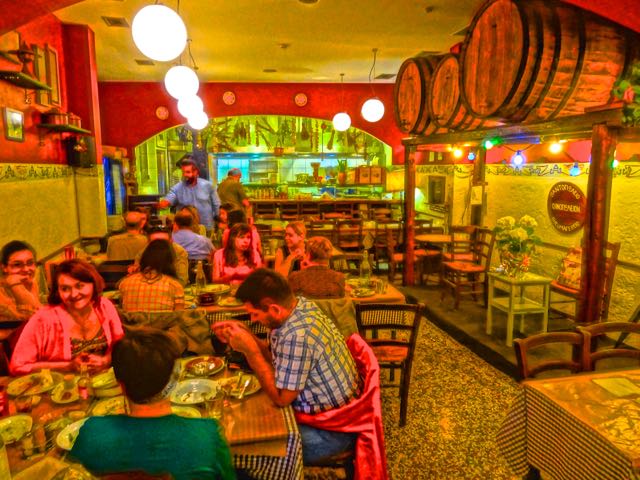 Within walking distance of central Athens there are a few real tavernas such as Taverna Psiri and Oinopoulion (photo) which are on Agios Dimitrios Street, or To Steki Tou Elia next to the metro tracks in Thission. Right in the Plaka you can find Saita which is a basement taverna which specializes in bakaliaro (fried cod) but also has a varity of taverna food. What is taverna food? Grilled meats like paidakia, appetisers, a few oven cooked dishes, in short whatever the vision of the taverna owner says is taverna food. There are some tavernas with live music in the Plaka like the Old Taverna Stamatopoulos where you may get decent food and you will probably be dragged up to the dance floor. Some nights everyone dances. The general consenus is that most of these places serve atmosphere and mediocre food to go along with it. But I will say that the food can also be bad or good depending on the place, the month, the year or any number of factors. Climataria Taverna in Platia Theatrou behind the central market has good food and good music during the weekends as does Oinopoulion, mentioned above. In the winter tavernas can be quite smokey, not just from the kitchen but from all the people smoking. During Apokreas (Carnival) the next to last Thursday before lent is called Tsichnopempti and everyone goes out to a taverna to have one last big meal before winding down and finally giving it all up for lent. Of course in actuality it is just the beginning of the last 11 days of furiously eating and drinking. But is it is a great time to be in Athens.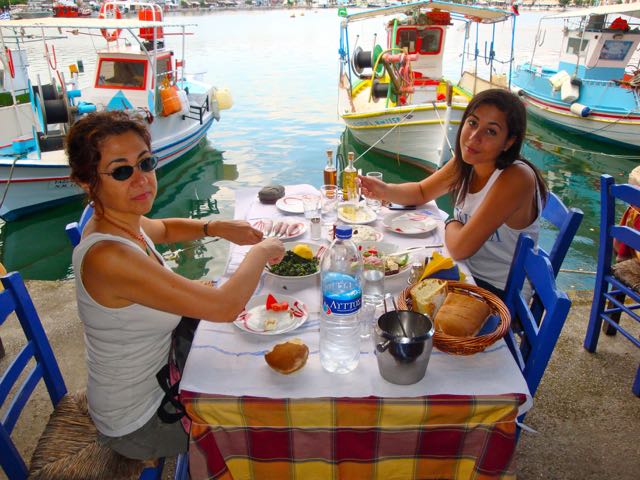 There are psaro-tavernas (fish tavernas) by the sea or even in Athens and of course on the islands. In the summer, especially on Sunday,these can get very festive with people spending from 2pm into the evening eating, drinking, talking and often even dancing. Here you will have a choice of fresh fish sold by the gram, kilo or order, lots of appetisers, and even some meat and vegetable dishes for those in the group who don't care for fish. In Athens there are a number of these around Anagenessios Square on the road to Kessariani. A drive along the coast and you will see many. The town of Anavissos which is about a 45 minute drive out of the city is to fish tavernas as Vari is to psistarias, all in a row and overlooking the sea. In central Athens the pickings are slimmer. Psaras, was a great fish taverna 20, 50, and even 100 years ago. But the family who owned it all grew old and died. Now it still calls itself a fish taverna but it has a little of everything and is a little more expensive than the original. In Foikinos Negri the small Violetta is a combination mezedoplion-psaro-taverna and across the street there is a fish taverna called Vlassis that is actually a fish market where you choose the fish in the market section and they cook it for you. On the islands and the coast of the mainland, its another story and fish tavernas are everywhere.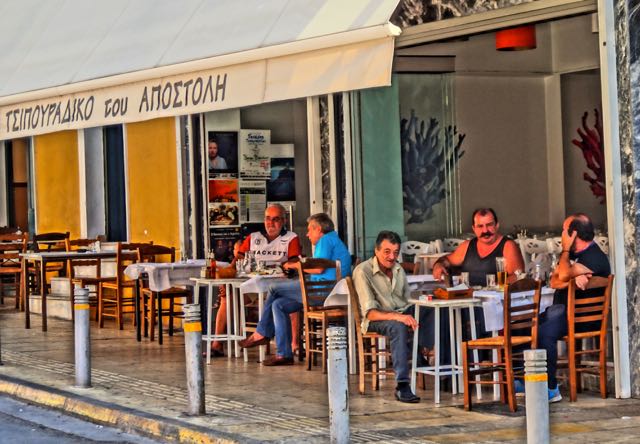 Cafeneons, Ouzeries, Tsipuradikos and mezedopoulions specialize in smaller dishes which you eat with ouzo or tsipuro, though they serve wine and beer too. Many of these have stretched the definition to include larger dishes and even pastas like some of the more fancy ouzeries in Psiri, Koukaki, Petralona and Fokionos Negri. In the ouzeries of Psiri there is often live electrified music, usually two guys and a drum machine, and waiters trying to pull people off the street. Its actually hard to find a traditional ouzerie in the neighborhood that is known for them. But since they are in fashion they have sprung up everywhere and spend their energy on making good traditional mezedes without the festivities. If you go to an island like Lesvos or a town like Volos or Thessaloniki with a rich tradition in ouzo and mezedes, finding a good ouzerie is easier than finding a bad one. In Athens its more tricky.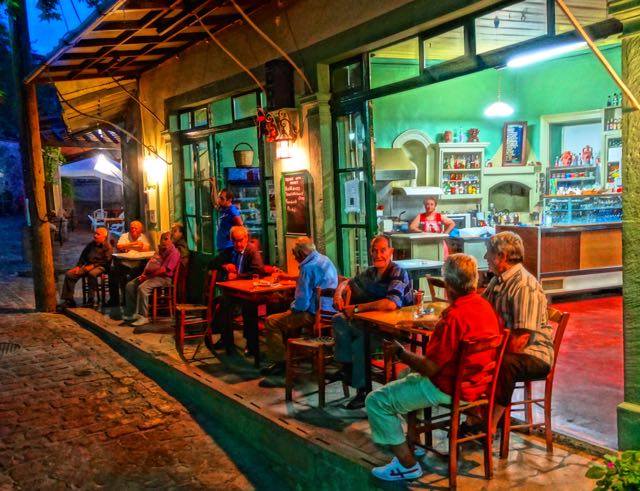 Within walking distance of central Athens you could go to To Kafeneon on Epiharmou Street in the Plaka or Cafe Evi and Atlantiko or Mavros Gatos in Psiri, or To Hani Ton Othona in Monastiraki and have a quiet meal and drinks and get an idea of what an ouzerie should be. A Tsipuradiko is an ouzerie which specializes in Tsipuro, another strong drink that is like ouzo without the anise flavor. Usually you can tell a traditional ouzerie by the tables and chairs. The tables will be smaller and the chairs will be made of wood. Many of the places have a unique personality and a decor you won't find anywhere else while others seem like the were stamped out in a mezedopoulion factory. Most cafeneons, which are coffee shops, also have ouzo and mezedes though they have a limited menu and often they just bring you whatever they happen to have that day, especially out of Athens and in the villages. Ouzeries by the sea or on the islands usually feature fish and local dishes as well as some meat and popular dishes from around Greece.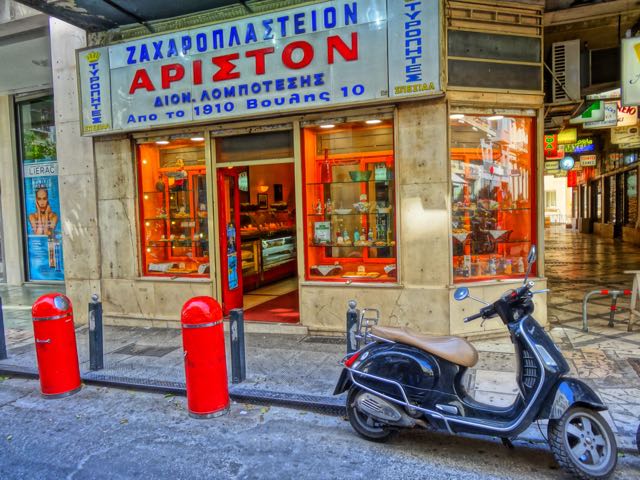 All over Athens are fournos (bakeries) that along with loaves of bread sell tiropitas (cheese-pie), spanakopitas (spinach-pie), prasatopita (leek-pie), kolokithopita (zucchini-pie), kremedopitas (onion-pie), melitzanitopita (eggplant-pie), kaseritopita (kaseri-cheese-pie), kotopita (chicken-pie), kreatopita (meat pie) and tipatopita or zeropita (pies that don't appear to have anything in them. These shops may also sell sandwiches, paximadia (dried bread), cookies and other sweet things, as well as other foods made with bread. For a quick meal these pitas can't be beat though it may be hit and miss before you find the shop that has your favorite pita. The most famous and one of the best is Ariston on Voulis street just 2 blocks down from Syntagma Square. Bakeries too, have pitas though maybe not as extensive as places like Ariston which take pride in their variety.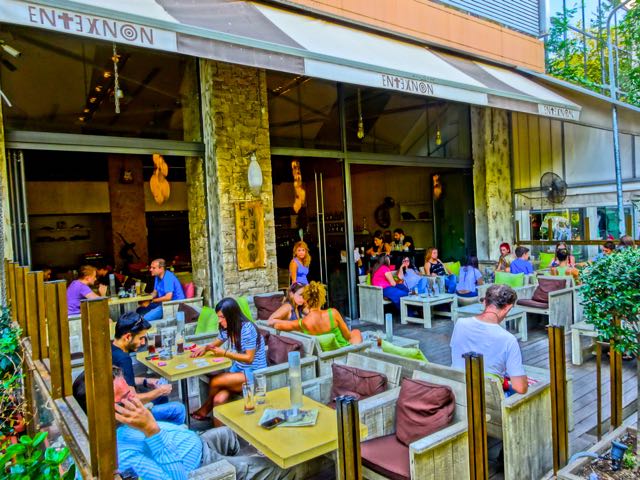 In many of the major squares you will find large cafes that also have food which they call cafeterias. These will have some typical Greek main dishes and appetisers mixed in with dishes from many different countries including of course different pastas, maybe a hamburger, and even something Mexican. Mostly people just hang out and drink coffee, smoke cigarettes and talk about their problems. The main food items they sell are sandwiches and sweets but some of these mega-cafes can have a very creative chef and in particular some very interesting salads. If you are looking for variety and are tired of Greek food then these are an option and you will find them anywhere there is room for a lot of tables and chairs outdoors. In doors they are usually fancy. One of the best things about these cafes are the toilets. They seem to try to out-do one another in modernity and cleanliness. If you are walking in Athens and you have to go these are the best places to go and nobody knows or cares if you have eaten there or not.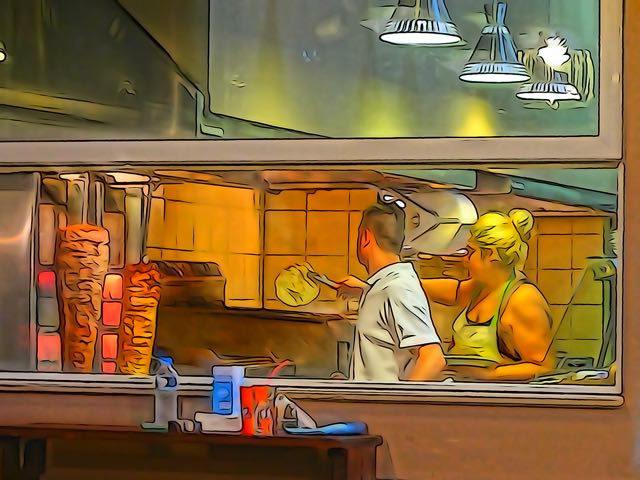 Last but not least are the lowly souvlaki shops which serve gyro and kebabs and take in more of the tourists money than all the other types of restaurants combined. But that does not mean that Greeks don't eat there too and sometimes the best meal can be a souvlaki, some fried potatoes, a horiatiki salad and a beer. At the end of Metropolis street in Athens, where it empties into Monastiraki Square are a couple very popular souvlaki shops where tourists are most likely to eat, that need no advertising and there are also smaller shops scattered all around the city. There are even chains of souvlaki shops which are Greece's fast food. It is interesting to note that Greece is the one country where McDonalds has not been a success and the Greek fast-food joints like Goody's enjoy overwhelming support from the Greek kids who eat in these places. Since the crisis began many souvlaki shops have expanded their menus to include magerefta (oven cooked dishes) and many restaurants have become souvlaki shops.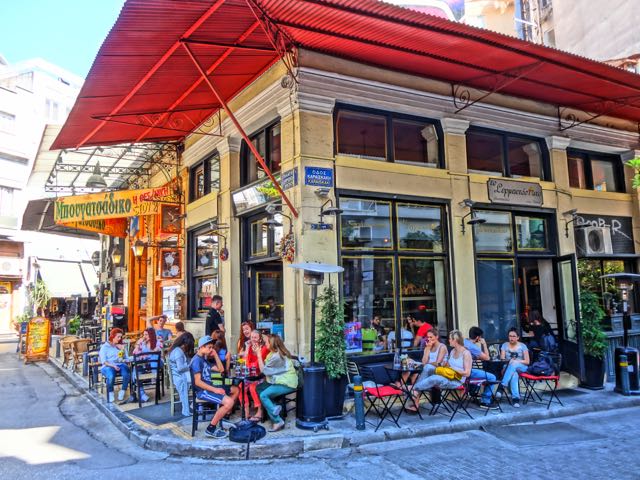 There are lots of ethnic restaurants all over Athens. Chinese, Japanese, Indian, Mexican, French, Russian, Polish, Italian, Syrian, African, Arabic, Egyptian, Argentinian, Brazilian, Cypriot and more are represented. There are also American restaurants like Applebees, TGI Fridays, Hard Rock Cafe and even a Hooters, a fine way to introduce the Greeks to American culture. There are Beer Houses and Micro Brewery restaurants that have sausages and other foods that go with beer, and wine bars that have food that goe with wine. There are fancy modern Greek cuisine restaurants in some of the high class hotels as well as a restaurant that specializes in ancient Greek cuisine. There are bistros and pizza places and some places that are a mix. And I almost forgot about the zacharoplasteions, which are the cafes and shops full of pastries and deserts, or the bougatsidika that specialize in bougatsa and other sweets from Thessaloniki, or the gelataria which of course have gelato and other ice creams and frozen yogurts.
I could go on and on about different kinds of places to eat but I am sure you get the idea. Remember that the Greeks go out to eat late, usually after 10pm. So if you are sticking to your own eating time you may find yourself surrounded by tourists. Eat late and join the fun. Yes you may gain a few extra pounds but what you gain in weight you will lose in inhibitions as you make friends with the tables around you.
See the Restaurant section of my Athens Survival Guide for reviews or places to eat.