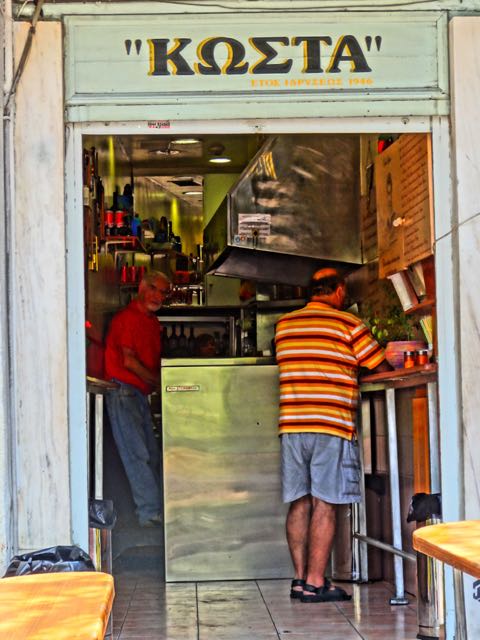 1. Asking for a "souvlaki" will normally result in a kebab - meat on a skewer, especially outside Athens.
2. The classic "souvlaki" known throughout the world is purchased by asking for "gyro pita" (YEE-roh PEE-tah) Note that the "pita" is essential to denote the wrap, asking for "gyro" will likely get you the full monty - a "merida" (portion) with the disappointing results Matt mentions in his article. On the other hand, a "souvlaki (me) pita" would be a classic souvlaki with meat from the skewer in it instead of meat sliced off the big spit.
3. A "doner" is another name for "gyros" (the Turkish original, I presume) and a term more widely used in the city centre rather than in the neighbourhood "souvlatzidiko."
4. Fancier souvlakia (kebabs) may come with pieces of onion and green bell pepper between the pieces of meat.
5. Chicken souvlakia are increasingly common and many shops now carry them. Some shops have a separate spit for chicken but I'd go for the souvlaki instead.
6. Any professional who calls it a "souvlaki sandwich" ought to be condemned to a year of flipping burgers at McDonalds. I've never heard of it, it's probably a strictly tourist shop term and would make any Greek look at you funny.
7. Many places in the centre have blackboards with the menu written on them outside the shop, usually in awful but recognizable transliterations.
8. Sitting down is an implied invitation to be served a full meal. Go inside and stand in line.
9. Some places will lace the onion with parsley to draw out the bitter flavour of onion that's been cut for a while. Others will combine it with lettuce.
10. The meat in the gyros is commonly a blend of pork and lamb (or mystery meat). Definitely not kosher. If you're Jewish or Muslim, you'll want to avoid it and go for the souvlaki, which is usually lamb (see 2.).
11. Tzatziki is meant to have the consistency of yoghurt. The only thing dripping out of the bottom of a wrap should be grease, not runny tzatziki.
12. Good tzatziki contains garlic - lots of it. Beware!
13. I had no idea I knew this much about souvlakia.