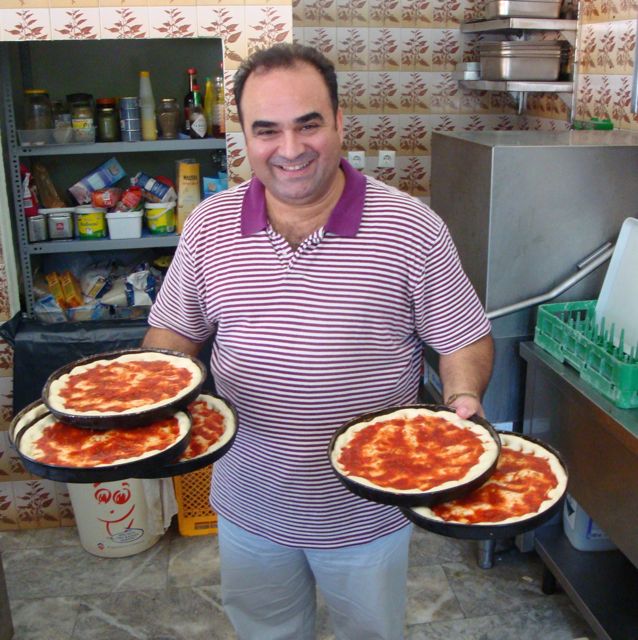 Yiannis Hahathakis was born in Athens in August 1966. He attended primary school in Vrisa village and graduated from Polichnitos's high school in 1983 as an excellent student. He was high school President, for two years. At the same time he worked on Lesvos, in different bands as a drummer. From 1983 – 1985 he studied at a private school in Athens in the Tourist business, marketing and management. During the same period he also studied phonetics, Sol fez, guitar and Byzantine music at the Greek National musical academy.
At the same time he worked as a professional singer in various night clubs in Athens. In 1985 he was drafted by the army to do his military service. (24 months). By 1986 he was working full - time in the family tourist business in Vatera – Lesvos (restaurant and rooms to rent), where he met his wife Maria, who was born in Canada. During the years 1986 – 1992 he traveled to Canada very often - Winter in Canada, summer in Greece. In Canada he enrolled in a class for tourist business, in one of the most famous schools in Vancouver B.C. and at the same time he worked as general manager, in his wife's family chain – stores "OLYMPIA GREEK RESTAURANTS". He also sang in different music halls and concerts for the Greeks abroad.
In 1988 he married Maria Koutsantoni, in Canada, who was graduated as a teacher in English at the University of British Columbia. They have two teenaged girls Maria and Melitsa and ten years later a little boy Konstantinos (junior) came along. In 1992 they moved permanently to Greece, on Lesvos Island so they could deal exclusively with the family business of Aphrodite Hotel and Hahathakis Tours.
In 1996 he was responsible for all the tourist issues, promotions and development of village Vrisa and Vatera.
In 1997 he was selected as a member on the Board of the Hotel Association and was responsible for public relations.
He has been Secretary General on the Board of the Hotel Unioneers since 2002.
During the period from 2002 – 2004 he was the President of the Tourist department of Lesvos - Limnos chamber.
---