Breaking Through the Disability Barriers in Greece

By Alexia Amvrazi
In a country where getting around town on an average day is a prime-status struggle for the average citizens, not to mention people with physical disabilities, changes involving improved accessability are eagerly awaited. Importantly, Greece will be hosting the Olympic Games in 2004 and the Paralympics in September of the same year, only two years away from now, yet little has been done to make life easier for the disabled. In 1998, the Greek government vowed that by the year 2002, all public transportation as well as public buildings and streets would be "special needs friendly". This promise remains unfulfilled, proving to be a disappointment - not only for handicapped individuals. The Olympics 2004 Committee is also getting hot under the collar at the prospect of not meeting the advanced and sophisticated methods employed to correspond to such a crucial issue by the Australian state prior to the Sydney 2000 Olympic Games. "Yes, there have been many setbacks that forced us to draw up a new schedule," Ioannis Bertsimas, the Athens 2004 Organising Committee (ATHOC) president, told the Athens News weekly in an April 2002 interview, "The schedule had to change, but now we are duty-bound to meet the new (December 31) 2003 deadline. We can't push the deadline back again as there is no more room for delay because of the Paralympics. I believe that this, for us, is an opportunity that comes once in a million years. These Games are a guarantee that these changes will be made."

The approach of the Olympic Games should therefore prove to be a heaven-sent opportunity to finally witness an improved awareness and action by Greece on disability issues. The new Eleftherios Venizelos Airport at Spata has excelled in this area, proving through its 100% disability friendly design (with too many specialised categories to list here) a sophisticated understanding of issues at hand, and meeting all needs. The Athens Metro too, was built a few years ago to satisfactorily cater to the needs of wheelchair-bound individuals, providing elevators that transport passengers to all platforms, specially-trained staff and wide corridors. However, circulation within the actual city of Athens still proves a magnimonious task.

"As a society we are not prepared to deal with the enormous responsibility of the Paralympic Games," announced the president of Greek Parliament Apostolos Kaklamanis in December 2001, thus emphasising the point that apart from the numerous public works changes that need to be made, awareness and sensitivity to the issue of disability needs to be raised on a wider social scale. Yiannis Vardakastanis, president of the Greek National Confederation of Disabled People (GNCDP), sees the approach of the games, as well as that of 2003, which is The European Year of Disabled People as a hugely significant chance for improvement. "It is a time to monitor, publicise and mobilise society," he sustains.

Currently, a physically disabled visitor to Greece will be considerably limited in what he can see or do, compared to an able-bodied tourist, particularly if travelling without someone to accompany and assist him. Museums, archaeological sites, restaurants cafes and bars, cinemas and theatres, and hotels are often not accessible (see listings below for details).

Aliki Hamousfakidou, a weathered travel agent who runs Dolphin Hellas Travel (www.greecetravel.com/dolphinhellas), has conducted her own research on the issue of disability access whilst organising tours for handicapped clients. "Organising trips for disabled clients has been one of my dreams as an agent because it is a major challenge and gives a totally different dimension to my work," she says. She warns handicapped potential visitors however, that coming to Greece during a 'high season' period is a risk, as the busier locals are, the less they will be capable to provide extra assistance. She also came to realise that although numerous hotels country-wide claim to be 'disability-friendly', in actual fact: "Very few hotels all over Greece have the necessary facilities. Even five star hotels in Athens offer only handrails in bathtubs and wide enough doors for the wheelchair to go through. I could not find a hotel with a roll-in shower or with a bathtub that has a seat that can be pulled out and then pushed into the bathtub." It is advisable therefore to conduct a thorough check -even by phone, of what exactly 'disability friendly' accomodation includes, before booking.

Hamousfakidou also notes that many archaeological sites are not accessible. Sounio, Delphi and the Acropolis, among the most awe-inspiring of the classical sites, being among them. When I commented to a leading Greek engineer working for the Ministry of Public Works on how important it is to make the Acropolis disability-friendly, he answered, without second thought, that "can you imagine how ugly it would look to have any such complex structure built onto the Acropolis?" I answered that the 'ugliness factor' Greeks and foreigners alike have had to look at during the last few years of the huge cranes on that site is not any lesser, and that with sophisticated engineering plans a discreet model could perhaps be created, but he would not hear of it. Vardakastanis of the GNCDP says "We have long been lobbying the government to make the Acropolis accessible to the disabled. Just imagine how great it would be to see a disabled person touching the Parthenon."

"Getting around is the greatest problem we face," says Yiorgos Hristakis, , who directs the press department of the Paraplegics Association of Greece. Broken or narrow sidewalks, sidewalks on which cars are parked or on which motorcycles drive along to surpass traffic, pose a considerable problem. The few handicapped parking spaces (a Ministry of Public Works estimate of 5% in all of Greece) are often used by others with complete disregard to the signs, and public transport (excluding the Athens Metro) provides the basics but in reality cannot offer comfortable service. OASA, the Athens public bus system, has created 1,200 buses with ramps and a kneeling system, and 450 trolleys with a kneeling system, but actually accessing these is a different story when the bus is jam-packed during rush-hour.

In this case too, however, prospects for 2004 are far more superior, the International Paralympics Committee recently announced that prior to the Games, 300 specially-designed buses will be constructed to serve handicapped individuals. These buses will be able to carry between 10 and 15 wheelchairs each, and will be used chiefly for the transportation of athletes during the Paralympics. Following the games, however, the buses will be used to transport disabled school children as well as for adult citizens with special needs. Taxis for people with physical handicaps are hard to come by in Greece, but there is one particular service providing them, as well as a limousine confederation which can cater to special needs. All of Athens' municipalities, together with the Ministry of Interiors and ATHOC plan to spend around (420 million Euros) on the so-called "American model" for the above-mentioned changes in the transportation system, as well as realising the law of making all buildings, such as banks, shopping areas and hotels accessible to the disabled.

Typically, on December 3 every year, a day named 'National Day for People With Special Needs' since 1996 by the Greek Parliament, the media buzzes with criticisms for what more needs to be done to help alleviate or forever banish the hurdles faced by the disabled, and the government announces its future plans to serve this purpose. On this day, the disabled in Greece gather in central Athens areas to spell out their needs to society and the state, protesting that attention should be paid to their problems (appropriate housing, higher employent opportunities, better benefits are among a few) every day and not just once every year.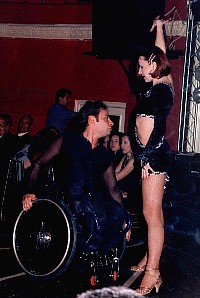 Reversing social prejudices about disability is a process that the disabled - through the formation of several active societies - as well as the non-disabled in Greece are gradually proving effective at doing. "In the past - even up til 10 years ago - there used to be a huge social stigma attached to being disabled. Parents with handicapped children often felt not only helpless but ashamed, and prevented their children from participating in normal life activities," says Yiorgos Hristakis, who among other things is rated among the top European competition dancers in a wheelchair. His uncle, Konstandinos Hristakis, is a lecturer on studies about disability at the Marazion University in Greece, and has also campaigned, for over thirty years, to pragmatically heighten awareness about learning disabilities. He has changed, in positive ways, the outlook of society towards children with learning disabilities by creating specialised teacher-training programmes, educational books and government ministry initiatives. "Society is more helpful, more understanding and more active on these issues, but we aren't even close to Americans or western Europeans on that level. The main problem is that the state says it recognises the issue and encourages further research and action to help better the situation, but once it comes to funding they often shy away."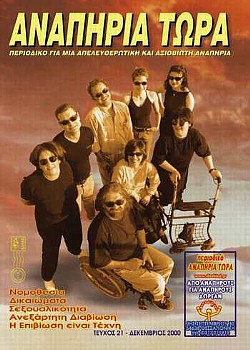 Disability culture in Greece has helped this considerably. Disability.gr (http://www.disabled.gr) , the largest, most popular and most useful website created in Greece to address issues on disability, has created an interactive society which has offered those who enter it greater freedom of thought, expression and lifestyle. "We publish, online and in our magazine Disability Now, informative articles, opinions, statistics, research, and news about our activities," says Panos Tsinganos, one of the founders of the site, which also has an English-language version. Eight thousand subscribers are sent the magazine for free. "Hundreds of people communicate with each other daily via disabled.gr, and often online meetings lead to personal meetings which bring people out of their shell and out into the world. Friendship, sexuality, family and work are openly explored". Nikos Voulgarakis, co-founder of the website, stresses that "apart from breaking through our isolation and fortifying our sociability, it helps us live with our disability. To live with dignity and independence." This is a great message for all, creating hope and incentive, not to mention inspiration. The disabled in Greece must stop being treated like faulty individuals who don't require and deserve as much responsible assistance, attention of both the practical and social kind. Although generally attitudes have changed dramatically for the better over the last one to two decades, most practical changes are still to be seen.
Helpful Information:
Taxi and Limo Tours and Airport, Hotel, Ferry Transfers: George Kokkotos the Famous Taxi Driver (Taxi or Limo): www.greecetravel.com/taxi or e-mail george_loula@hotmail.com
Local Taxi Service for disabled:Call the Katsonis brothers at 210 9351757 or 0944 535762 or the Syndicate of Athens Limousines at 210 3233957 or 210 3237942.
Travel Agencies: Aliki Hamousfakidou at Dolphin Hellas Travel: 210 9227772 or www.greecetravel.com/dolphinhellas
Museums in Athens: the Benaki Museum, the Cycladic Art Museum, the national Archaeological Museum and the Military Museum.
Electric Train Stations: Moschato, Kalithea, Tavros, Omonia, Irakleio, Ano Patissia and Ag. Eleftherios railway stations all have elevators. The stations of Moschato, Tavro, KAT and kifissia all have ramps but require extra assistance for crossing platforms.
Sea travel: Travelling from Piraeus port to most Greek islands are Minoan Line Vessels (0801330301) and Highspeed vessels (210 4199150). Strinzis Lines Blue Star Ferries and Highspeed Vessels also cater satisfactorily to special needs.
Paraplegics Association of Greece: 210 8312740
Disability Now: 0310 211915 http://www.disabled.gr
---
Return to Greece for the Handicapped
---