Metsovo is one of the most famous traditional villages in Greece mostly because of their unique and colorful hand woven textiles, products of centuries of shepherding by the Vlach population that still inhabits the town, which they call Amintziou. An important town if the 17th and 18th centuries due to its location on the main pathways between northern and southern Greece, Metsovo supplied the wool not only to Ioannina and nearby villages but throughout the Balkans and even north Africa.
Metsovo was not on my list of places to visit on the Greek mainland. Not that I had heard anything bad about it. I'd heard next to nothing about it except it was a Vlach town, and I was not even exactly sure what a Vlach was. But after a night in the heavily touristed Benitzes on the island of Corfu, in the midst of a garbage landfill crisis which had mountain sized piles of trash scattered every 100 meters or so, all we wanted was to get off the island and go somewhere else. Anywhere else. Drinking my coffee in the rundown beachfront hotel that morning I looked at hotels in any town within striking distance on the mainland and the Averoff Winery Guesthouse in Metsovo jumped out at me. Convincing Andrea to stay in a beautiful traditional spa hotel in a winery was not difficult and after some calculations we realized that following the 1.5 hour ferry from Corfu to Igoumenitsa we would have another hour and a half on the beautiful new modern highway that cuts through the mountains of Ipirus to Metsovo and beyond, all the way to Thessaloniki.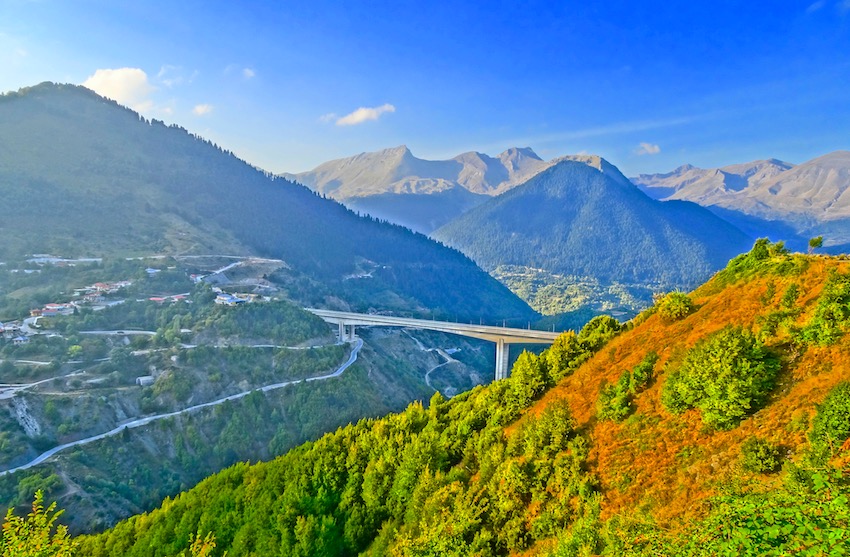 Driving the Egnatia Highway we pass Ioannina, where we had been a couple days before, and begin a gradual climb until the exit to Metsovo where we do some more climbing to the top of the town while we watch joyfully as the thermometer in our car which had begun the day in the low 30s (centrigrade of course as this is September) goes to about 20 which is just about the way I like it. Along the way we pass the sign to the winery and hotel but we want to see the layout of the land before we make a commitment. Who wants to be in a hotel on the outskirts of town if all the fun is in the center, even if it is part of a winery?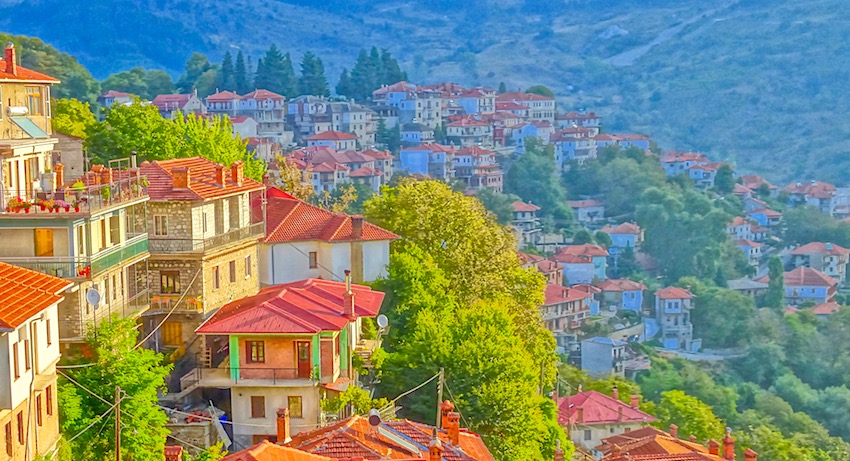 We pass by stone and wood houses, hotels, shops and restaurants on a wide road that goes right to a large square where there are several tour buses and lots of parking, the easiest mountain town I have ever had to navigate, and get out and breath the cool mountain air that is flavored with the smoke of a dozen psistarias-grill houses cooking the kokoretsi, kondosouvli and roast lamb and goat which the town is famous for. If you are a meat eater seeking paradise then this is it. "I am never leaving here" I say to Andrea.
We wander around the main square, which is actually several platias combined, surrounded by grill restaurants, checking out the views and the small shops which are full of local handicrafts, the famous Metsovon cheeses, spices and herbs, meats and the different Averoff wines. Those who have seen Averoff wines in the supermarket are probably only familiar with one of the many wines they actually make. In one of the shops we ask the woman which is her favorite taverna. Without hesitation she tells us Sto Koutouki tou Nikola, which she writes on a piece of paper and points the way. But though I could eat an entire lamb by myselfit is too early to think about dinner, especially since we are reconsidering the winery hotel which seems too far from all this amazing smelling roast meat, and we sit down at the cafe for a coffee and an internet connection so I can consult my own Metsovo Hotel page and find the best nearby hotel.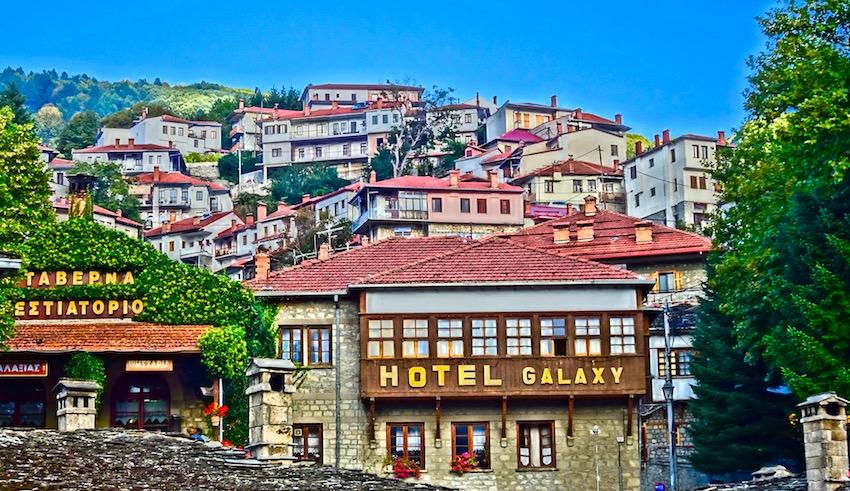 The first hotel to jump out at me is the Hotel Galaxy , most likely because it is right next door to the cafe. According to my own web site they have availability and I walk over to the hotel. They have one room left and it's the smallest one in the hotel. I don't care. I'll take it. It's all wood and cozy and looks like the bedroom of someone who does not read and has no interests whatsoever. But I'm not gonna go around looking for the perfect room in a town where I plan to spend all my time exploring, eating and drinking until I'm so tired I can sleep anywhere. Andrea is not enamored with the room, especially seeing the photos of the other rooms in this and other hotels, but she is eager to explore as well and we take it just because we are so eager to get started. As it turns out not only did we love our little room but we also loved the Galaxy Taverna which was part of the hotel.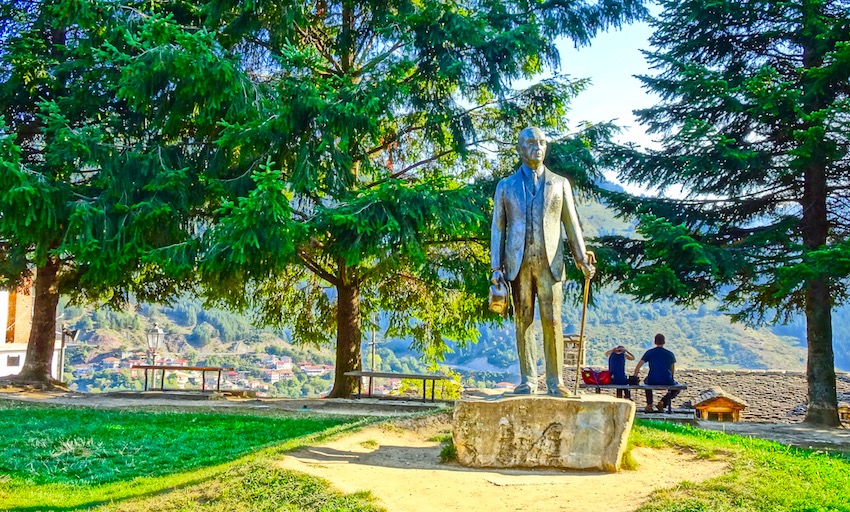 Our exploration took us through the town to the Averoff Art Gallery which contained paintings and prints from the 19th and 20th centuries. The gallery is named for Evangelos Averoff-Tositsas, a politician and author, who donated his large collection of paintings and founded the winery. His statue is in the main square which overlooks the Pindos mountains and the valley below.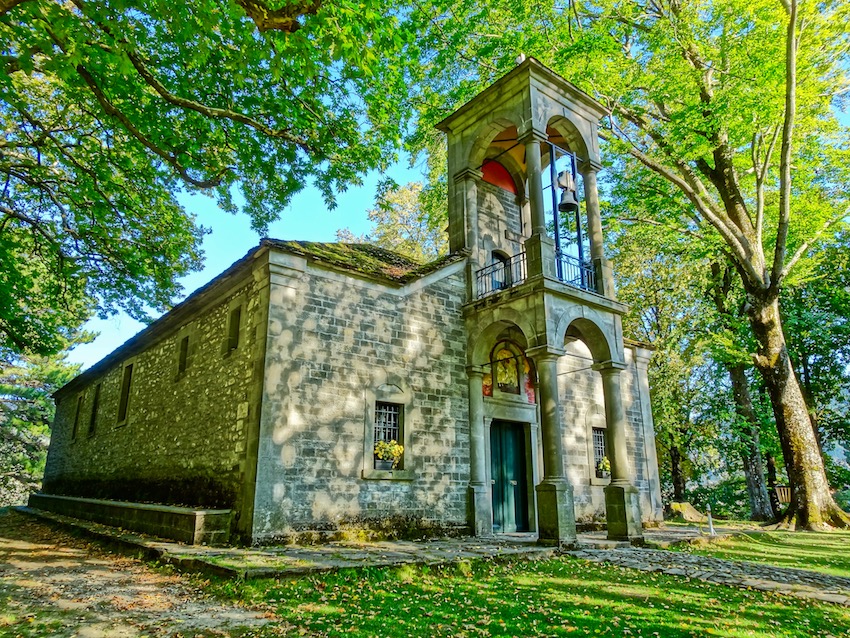 Walking up from the square if you take the fork to the right you will pass the previously mentioned Sto Koutouki tou Nikola on your left (we didn't eat here but we will next time) you will come to a beautiful wooded park and the church of Agios Giorgos built in 1747 and renovated in 1850 by George Averoff. You can hear the sound of running water all over and Metsovo is full of fountains fed from springs including one by the city hall. These fountains are historic and more importantly drinkable and if you have spent your money on bottled water everywhere else you have been in Greece you will be pleased to see how much you will save in Metsovo. Some of these were built by benefactors like George Averoff and of course were very important in the 19th and early 20th centuries when homes did not have running water. George Averoff is one of the major characters of Greek history, a philanthropist responsible for among other things rebuilt the Panathinaiko marble stadium for the first modern Olympics in 1896, and for whom Greece's famous dreadnought battleship (a heavy cruiser, actually), now a floating museum, was named. He also founded many schools in Greece and in Egypt where he lived and made his fortune.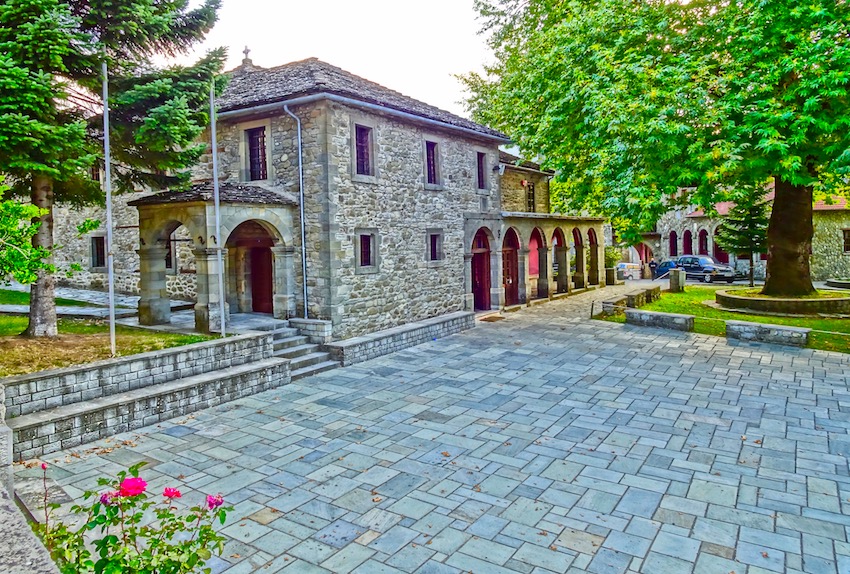 The Church of Agia Paraskevis in the main square is originally from the 16th Century, at least there is mention of it, and was also restored by George Averoff in 1894 and again by Baron Michael Tositsas in 1959. It contains paintings and woodcarvings from the 18th and 19th centuries.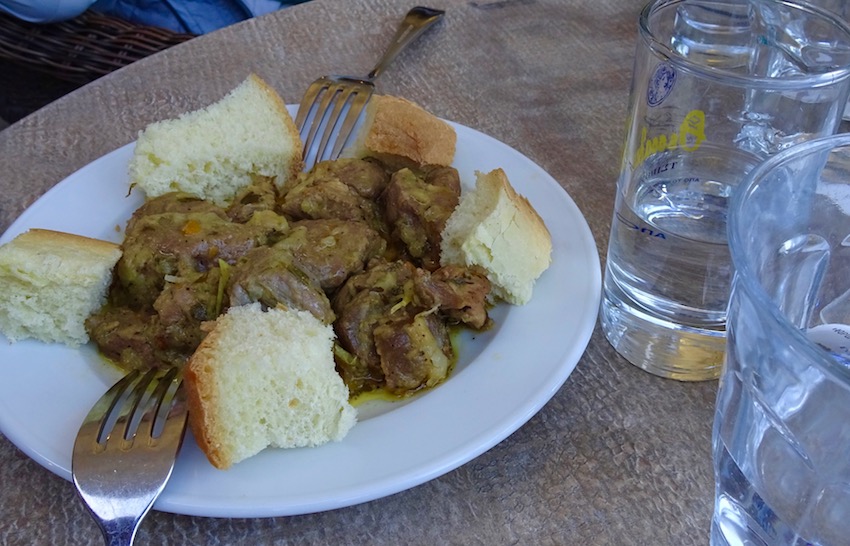 Besides woodcarving, weaving, cheese and kokoretsi, Metsovo is known for its pitas, so of course we stop at the Tsimbas traditional bakery on the main road to get a wood-oven baked spanakopita and tiropita to hold us over until dinner. And having grown tired from our exploration and noticing we have reached a suitable hour we sit down at the cafe in the square for a tsipuro, which we are pleased to discover comes with a meze, in this case bekri-meze, which is slow cooked pork and vegetables. By the time we have had several glasses of tsipuro, each accompanied by a meze, we decide not to eat at Sto Koutouki tou Nikola and instead to eat at the Galaxy Taverna in our hotel because not only would it enable us to stumble the short distance from table to bed, but because by chance our friend Lilian recommended we eat there and that we also stay at the hotel when I checked my Facebook messages.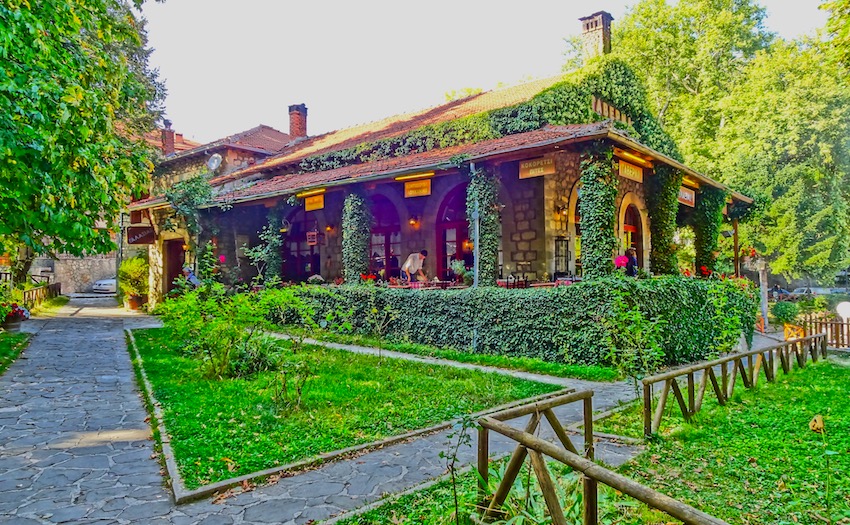 The Galaxy Taverna did not disappoint us. We had an appetizer of smoked Metsovo cheese that was baked to melted crispy perfection, and the largest bowl of vleeta I have ever seen. Enough to cover one persons green vegetable requirements for a week. I had a dilemma. I wanted the roast lamb for my entree but I wanted to, no needed to, try the kokoretsi. I explained this to the waiter. "No problem. You can have a half order of kokoretsi." He said. And what wonderful kokoretsi it was (If this kind of thing turns you on).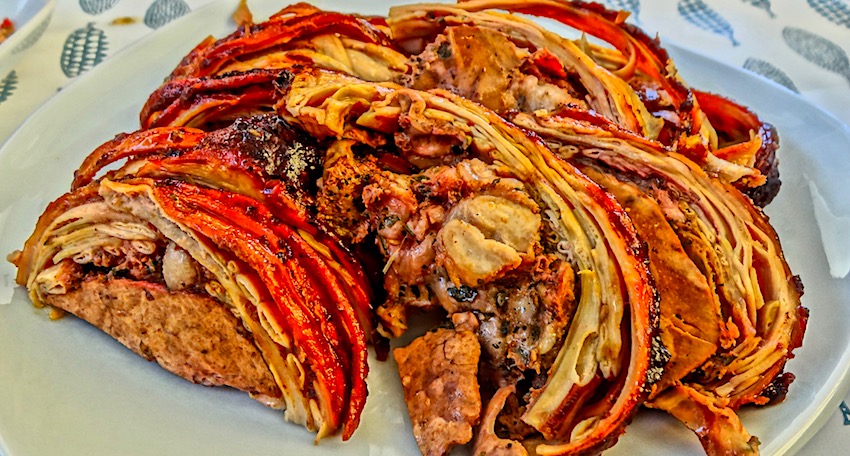 In case you don't know kokoretsi is the organ meat of a lamb, wrapped in intestines to make a long sausage shaped thing, then cooked on a rotisserie so it is soft and juicy on the inside and crispy on the outside. Because organ meats are of different density, some cooks faster and dries out quicker, making perfect kokoretsi takes talent and technique. This particular kokoretsi may have been the best I have ever had. Equally good was my roast lamb, as in roasted whole on the spit, and Andrea's Arni Lemonato, which is lamb in lemon sauce. We drank Averoff red wine, delicious too, and made our way back to out tiny room, which incidentally neither had nor needed air-conditioning since by the time the sun set we were wearing jackets and sweaters. (I had to use a kokoretsi stand-in because my photo from that night was out of focus. But I wanted to show what kokoretsi looks like since I made such a big deal about it.)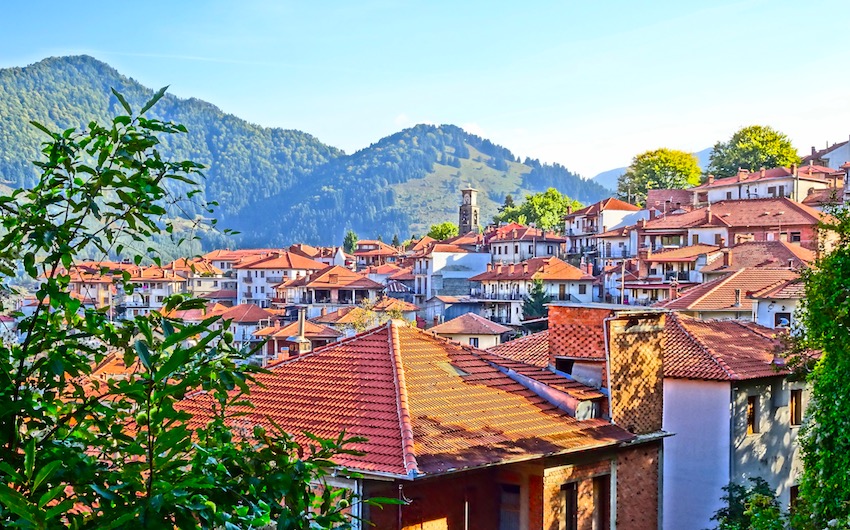 A few things to make note of is the fact that Metsovo is a tourist town. But you may not know this because the tourists are predominantly Greek and arriving on buses in the late morning and early afternoon they fan out around the town to the museums, winery, churches, shops and cafes and then converge on the restaurants to engorge on all that roast meat through the afternoon until the buses leave with the tourists and their carpets, pillows, cheese and whatever else they have bought in the tourist shops. Then the only people left are the handful of foreign tourists and the local old men who hang out chatting on the benches around the square. So if you want to eat roasted meat when it is at it's best, fresh off the rotisserie, have a big lunch. Don't worry. For dinner you can have paidaikia (lambchops), loukaniko (sausage), and other grilled local specialties that are made to order.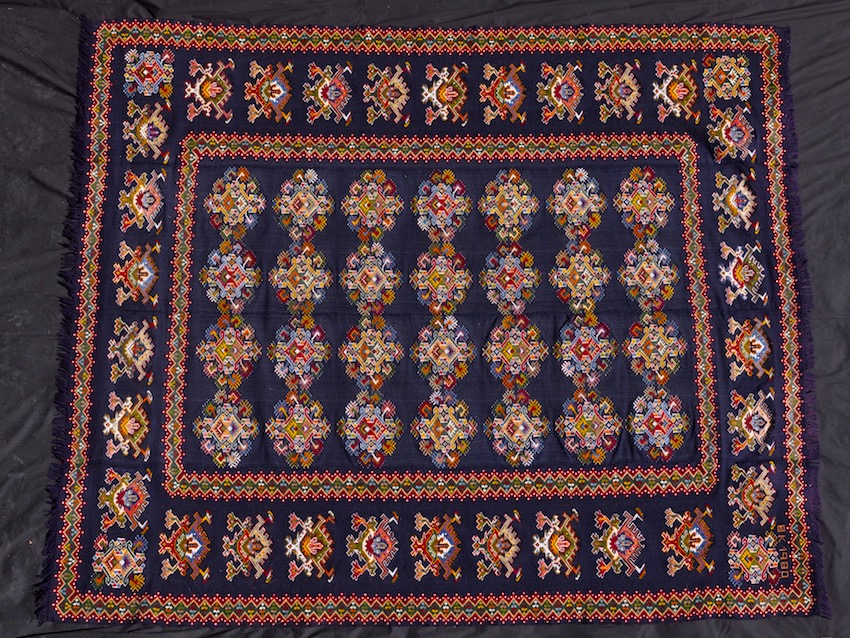 Textiles, Costumes and Products of Metsovo
With a population of shepherds it is only natural that Metsovo would have a culture of weaving. After all what else are the women going to do at home in a mountain village while the men are out tending sheep? The textiles are utilitarian and are used as household furnishings, blankets, carpets, cushions, all heavily decorated in colorful designs that have spiritual and cultural significance. These products are locally made from start to finish beginning with the shearing of the sheep, the washing, spinning, dyeing, weaving, and even the building of the looms, called razboiou. Other products of the village include the colorful embroidered traditional costumes, including the flokata, a black sleeveless coat or vest with a red band that identified the people from Metsovo during the Ottoman period. The men stopped wearing this in the fifties but the women still do. Metsovo was made famous for its textiles after the Second World War when Evangelos Averoff-Tositsas opened the first embroidery school to keep the local crafts alive along with shops and workshops. Now these products are sold in all the shops and adorn all the hotels and houses in town and many homes in Greece. For more information I highly recommend the book With Warp and Weft: The Textiles and Costumes of Metsovo by Catherine Van Steen and Eleni Lykiardopoulos, which has hundreds of beautiful photos and goes deeply into the history, symbolism and the making of these crafts and the lives of the artists and craftspeople who make them. It may beout of print but you can still finds copies around and if you are interested in weaving it is well worth buying. It is available in Kolonaki, Athens at Rachel's Bookshop, Ploutarchou 22 and also on Amazon.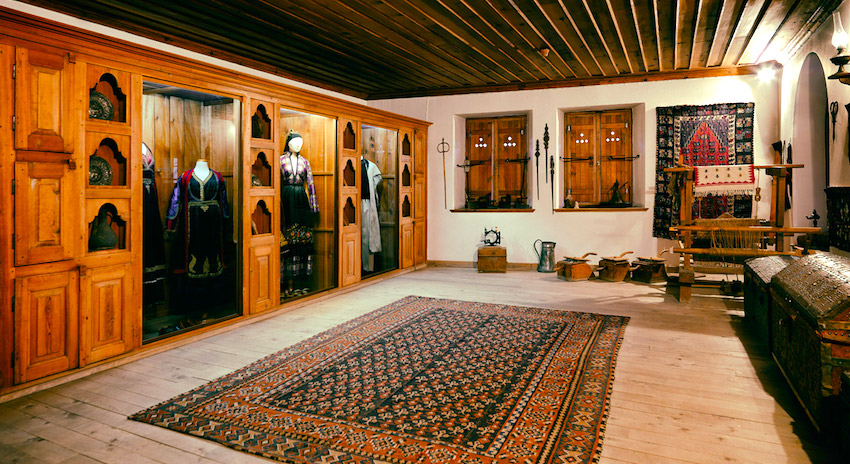 Metsovo Folk Art Museum
The Metsovo Folk Art Museum is housed in the renovated manor house of the Tositsas family—famous benefactors of Metsovo— which was originally built in 1661. Walking through the museum, the visitors can relive the atmosphere of centuries gone by and learn how a Metsovo manor house was organised and functioned. Based on the idea of an "open museum", the museum's valuable items and rich collections are exhibited in their natural space, inside the rooms, stables, warehouses and large parlours of the old mansion. The exhibits include items that could have been present in a manor house during Metsovo's economic boom, as well as items that uniquely represent the nation's historical memory: Collections of firearms and swords from the struggle of 1821 against the Ottoman occupation, copper and wooden kitchen utensils, jewellery, traditional dresses, decorative plates and silverware, saddles embroidered with gold, chests, agricultural tools, looms and woven fabrics. The museum also features a major collection of 66 icons, dating from the 15th to the early 20th century, as well as a collection of Byzantine metal items, covering a long period from the early Christian times up to the late Byzantine period. In 1991, the museum's third floor was dedicated to Evangelos Averoff, featuring personal items and photographs from his life. Open Daily 10.00 – 16.00 except Thursdays. The visit to the museum is guided and tours start every half hour. Visit the Metsovo Folk Art Museum website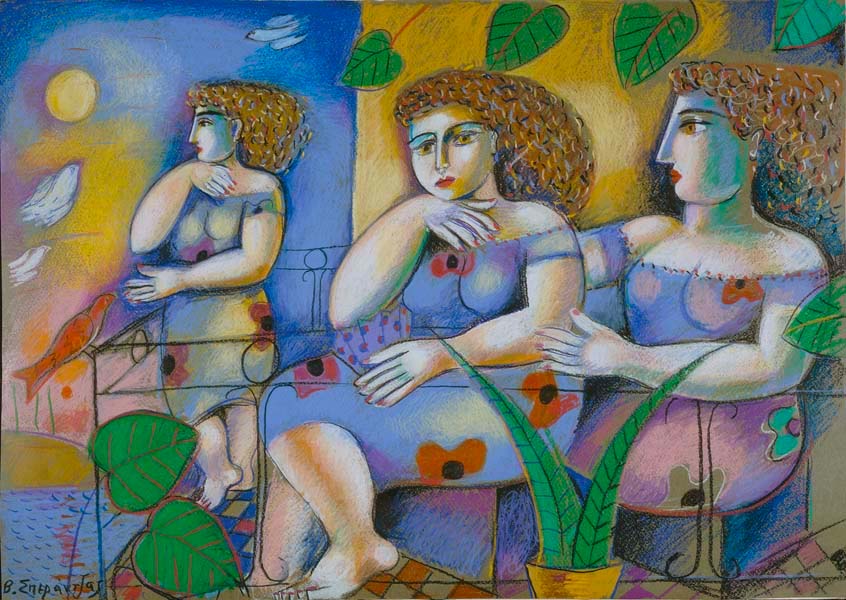 The Averoff Gallery
The Averoff Gallery is located near the main square in an old saddle-making workshop operated by the Averoff family's descendants. The permanent exhibition displays a selection of 250 paintings, sculptures and engravings by the foremost Greek artists of 19th and 20th centuries including Gyzis, Tsokos, Doukas, Bokatsiambis, Ralllis, Xydias, Pantazis, Volanakis, Prosalentis, Altamouras, Hatzis, Lembesis, Iakobides, Sabbides, Roilos, Parthenis, Maleas, Economou, Geralis, Germenis, Aravantinos, Flora-Karavia, Vyzantios, Kogevinas, Tsingos, Spyropoulos, Kontopoulos, Nikolaou, Hatzikyriakos-Ghikas. The gallery is considered one of the best in Europe for its size and should not be missed. Guided tours take place every Friday and Saturday at 1pm. Visit the Averoff Gallery website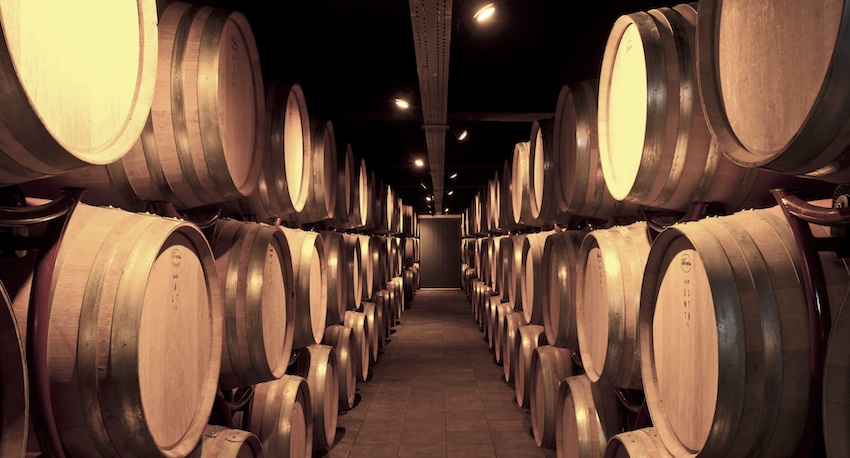 Katogi Averoff Winery
In the late 1950s, Evangelos Averoff planted the first Cabernet Sauvignon vines in Greece, on the steep slopes of Mount Pindus. In his home cellar at Metsovo, he bottled the first vintage what would become famous as the Katogi Averoff wines. "Vines of France on the mountains of Greece…," proudly read the label he lovingly designed for that first wine. Yet, it turned out to be more than a hobby. Averoff's vision to replant and transform the abandoned slopes of the Pindus into vineyards as well as revive the indigenous vinicultural tradition that flourished in the 18th and 19th centuries formed part of a far-reaching effort to boost economic and cultural development in the region.
Indeed, with the help of experts from Greece and France, Averoff developed one of Greece's most celebrated and highest-altitude vineyards. He also built a small winery on the eastern outskirts of Metsovo. Becoming famous throughout Greece and garnering international awards, Katogi's red wine became the cornerstone in Averoff's quest to revive indigenous Greek grape varieties and develop successful blends with foreign varieties. The estate's vision was also reflected in being one of the earliest to embrace authentic vine-growing and winemaking methods in Greece – an operation model that would become prevalent 30 years later, demonstrating the huge potential of the Greek vineyard.
Visit the Katogi Averoff winery and enjoy a guided tour – a unique, multimedia-rich initiation into the world of wine, the history of Katogi and our winemaking process – as well as an exciting opportunity to admire the extensive range of art installations on site. The winery is open daily 10am – 4pm. Visit the Averoff Winery website or Book the Averoff Winery Hotel
So about the Vlachs. Who are they anyway?
The Vlachs, or Wallachians are related to the Romanians, speaking a similar language. In the case of Metsovo and this area of Greece they are called Aromanians. Their language is a mix of mostly Latin, with a bit of Greek, Bulgarian, Albanian, Macedonian and some other Balkan dialects. Some Scholars believe they are the decedents of Roman legionnaires.
During the Ottoman rule the Vlachs were mostly shepherds and in return for guarding the mountain passes were given special privileges including a reduction in taxes. This enabled the people of Metsovo to amass more property and capital than other towns under the Ottomans, as well as be more self-governing which led to social and economic growth, a higher degree of education and a successful merchant class that put money back into the community. Businessmen from Metsovo had trading companies and agents in many of the important commercial centers of the Balkans, Russia and in particular Alexandria, Egypt. Nowadays you can't tell the Vlachs from the Greeks as the younger generations have been educated in the Greek system and intermarriage has diluted the Vlach blood in the local population.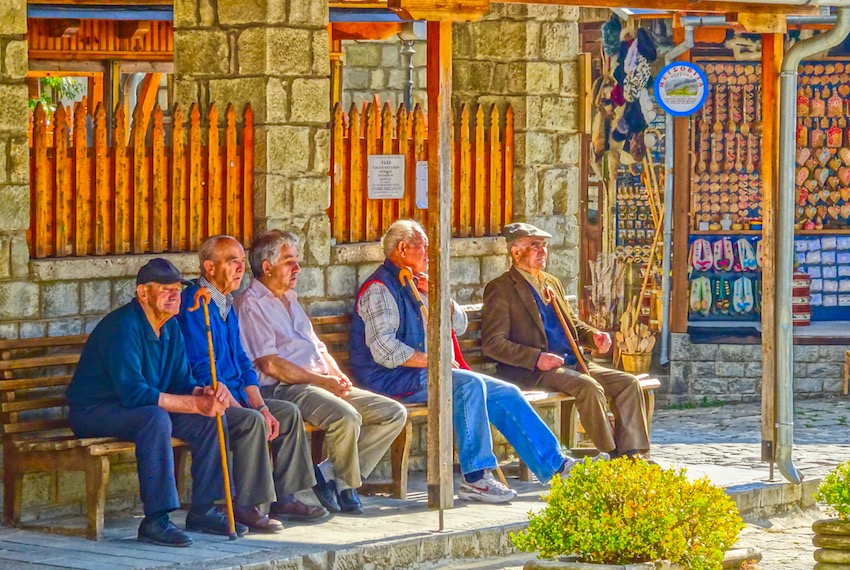 Many of the older generation still speak the Aromanian language and the old men still sit in the square in front of the Church of Agia Paraskevis. Whether there are still Vlach shepherds wandering the ancient paths with their flocks I don't know. For sure there are shepherds and sheep. Whether they are Vlach, Greek, Albanian or Pakistani you will have to ask them if you come across them in your travels.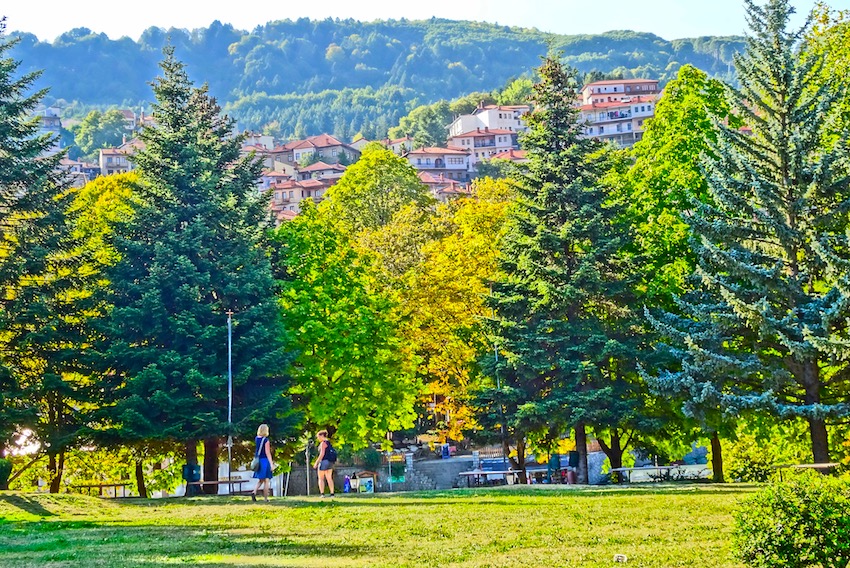 Metsovo is one of the most popular year round destinations for tourism, though as I mentioned the tourists are mostly Greek. But it is being discovered more and more by adventurous foreign travelers. Skiing and other active winter sports bring people here in the coldest months. There are three ski centers nearby with ski lifts, rentals, snowmobiles, sleds and even ski schools for beginners at Karakoli, Anilio and Profitis Elias. The surrounding area of Metsovo and the Pindos Mountains are full of trails that take you to stone arched bridges over the Metsovitikos River, and around the Aoos River Lake, which was created by the building of a hydroelectric dam. So it is not just about eating. Metsovo is a place for the adventurous as well as those of us who like to eat, drink and enjoy life while waiting for the members of our family who enjoy hiking, skiiing, canoeing, kayaking, horseback-riding, rock climbing and other activities, to come home for dinner. The feast day of Ag. Dimitrios on October 26 was the day the shepherds left and moved the flocks down to Thessaly for the winter. To this day it is celebrated big time with men and women in costume and hours of dancing in the main square.
Hotels in Metsovo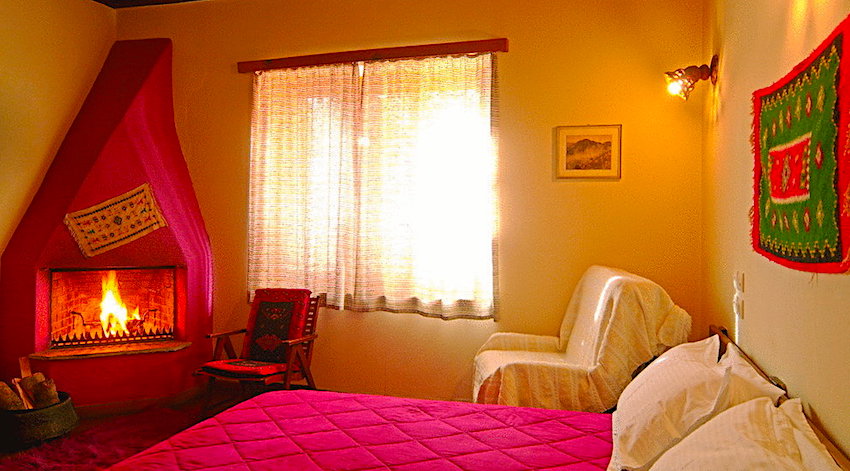 Hotel Galaxy
Located in the center of Metsovo, this friendly family-run hotel is open year round and is close to all the shops, restaurants and cafes. Try the traditionally prepared regional cuisine in the hotel restaurant including all the grilled meat dishes the town is famous for as well as other local home-made traditional Greek dishes prepared using only the finest local products. Some of the rooms offer views of the distant mountains and the central square of Metsovo. The rooms also have traditional furniture and some also offer a fireplace. The wine cellar is stocked with local wines, and in the bar you can enjoy a glass of your favorite beer, a coffee or a nonalcoholic drink. The staff look forward to welcoming you. For photos, guest reviews and booking information click here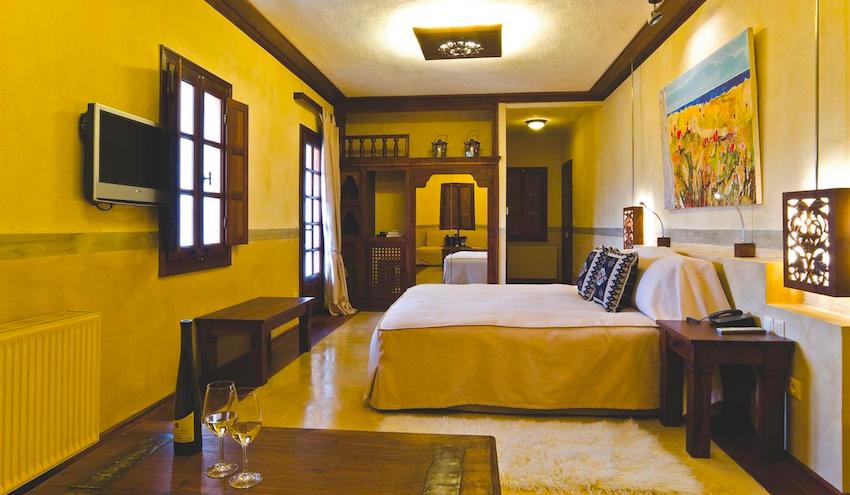 Katogi Averoff
Katogi Averoff is a traditionally built property offering warmly decorated rooms with free Wi-Fi. Right next to the family's historic winery, it includes a wine bar, wine shop and a restaurant. Rooms at Averoff are uniquely styled featuring earthy tones and dark-wood furnishings. They are all equipped with a flat-screen, satellite TV, DVD player and mini-bar. Free toiletries, bathrobes and slippers can be found in the bathroom. Some rooms open out to a balcony with mountain views. Guests can visit the underground cellars of the famous winery and choose among a wide selection of wines accompanied by local flavors. Greek buffet breakfast is served in the morning including local products while traditional dishes can be enjoyed for dinner by the fireplace of the dining room.
For photos, guest reviews and booking information click here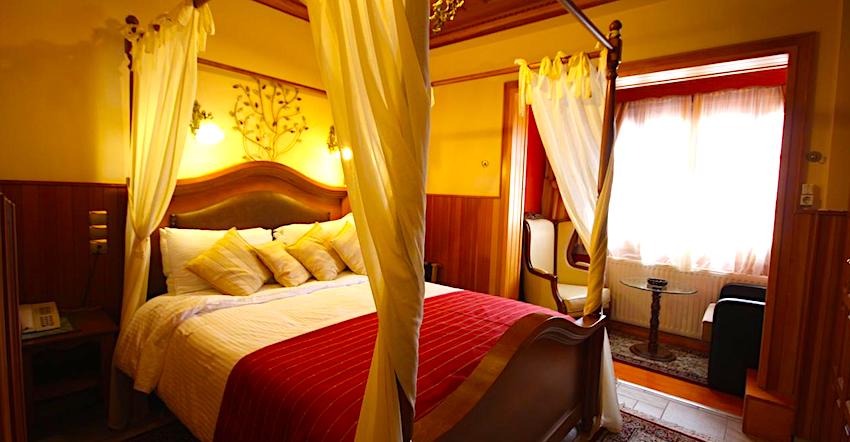 Archodiko Metsovou
With stunning views of the Metsovo landscape and mountains of Pindos, the Archodiko Metsovou is a newly built mansion located in the center of Metsovo, thoughtfully designed to complement its beautiful surroundings. Facilities include a spa center with double whirlpool bath, professional massage chairs, power plate, sauna and hammam. There is also a communal pool and an outdoor hot tub. In winter, guests can take advantage of the local ski resort and the hotel has excellent ski storage facilities. Throughout the year, there is plenty of opportunity for fishing, hiking and cycling. Bikes can be rented on site. After a day in the great outdoors, enjoy a drink in the hotel lounge. Its large, open log fire and tasteful stone and wooden decoration provides ultimate warmth and comfort. Enjoy room service, admire the spectacular view of the local landscape from your bedroom window and spend some time relaxing in your spa bath or in front of your fireplace.
For photos, guest reviews and booking information click here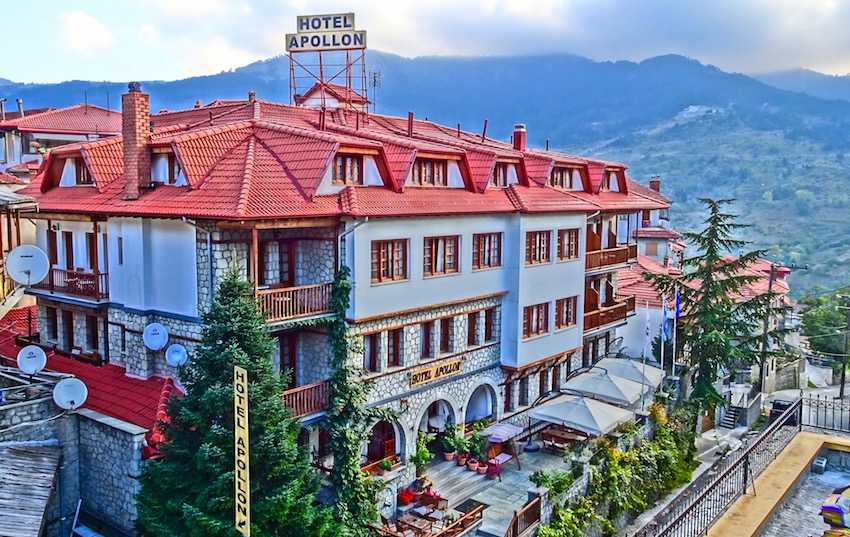 Hotel Apollon
Apollon is a traditional building with a warm, family environment. It is located right at the center of Metsovo. Direct access to your room is possible through the parking area's internal elevator. A range of accommodations types are offered at the Apollon, including attic rooms with seating area and panoramic views. All rooms have TV and private bathrooms, while some also feature a fireplace. Guests can enjoy their coffee or a refreshing drink at the traditionally decorated living area by the fireplace. On the ground floor, guests will find 2 computers, which they can use free of charge. Apollon is an ideal base for visits to the ski resort of Metsovo, hiking in the mountains, or strolls through the traditional town center. For photos, guest reviews and booking information click here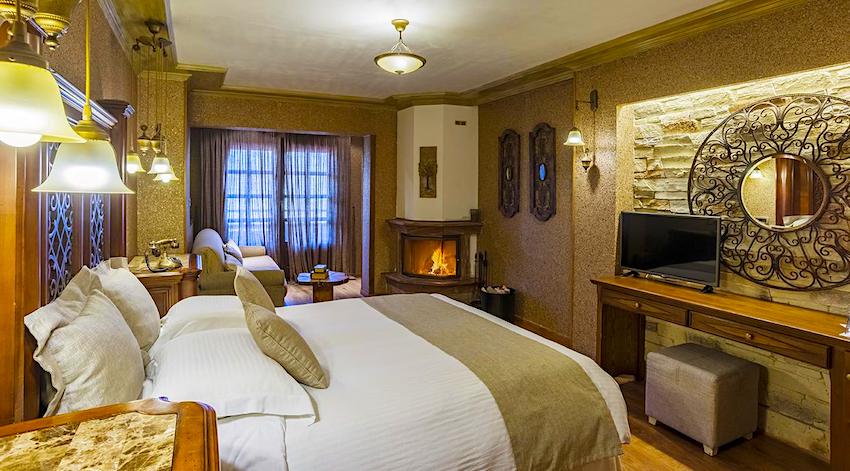 Aroma Dryos
The luxurious, family run, stone-built Aroma Dryos is centrally located in Metsovo, just 3 minutes away from the main square, offering a unique view to the mountains. Rooms are individually decorated and include free Wi-Fi and a fireplace. All rooms at the Aroma Dryos Design Hotel have a balcony and most offer mountain views. Each includes a mini bar, work desk and a satellite LCD TV. Bathrooms feature hydromassage and luxury bath amenities. Guests can relax in the lounge area by the big fireplace, with a coffee or glass of wine from the bar.
For photos, guest reviews and booking information click here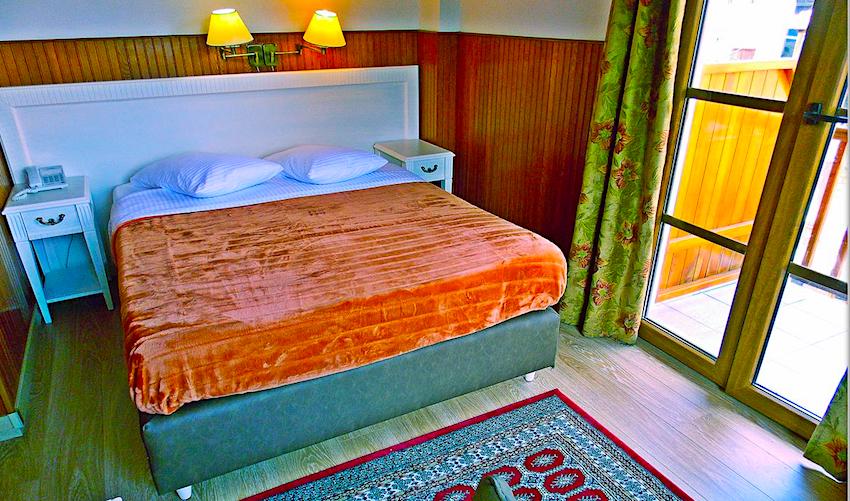 Olympic Hotel
The Olympic Hotel is located in a quiet and peaceful place, in the center of the picturesque Metsovo, right in the heart of the Pindos mountain range. Recently redecorated, the hotel still keeps its traditional style combined with all the modern comforts and standards. Rooms are spacious and sunny, with their own verandas or balconies and a breathtaking view of the Pindos mountains or the lush garden. Each room offers guests a bathroom either with a hydromassage shower or a spa bath. Free WiFi is available free of charge. The Olympic Hotel offers guests homemade breakfast including local food and dairy products. In the hotel lounge, with a stunning view of the mountain scenery, guests can also enjoy their coffee or drink, by the fireplace in the winter or in the garden during the summer. For photos, guest reviews and booking information click here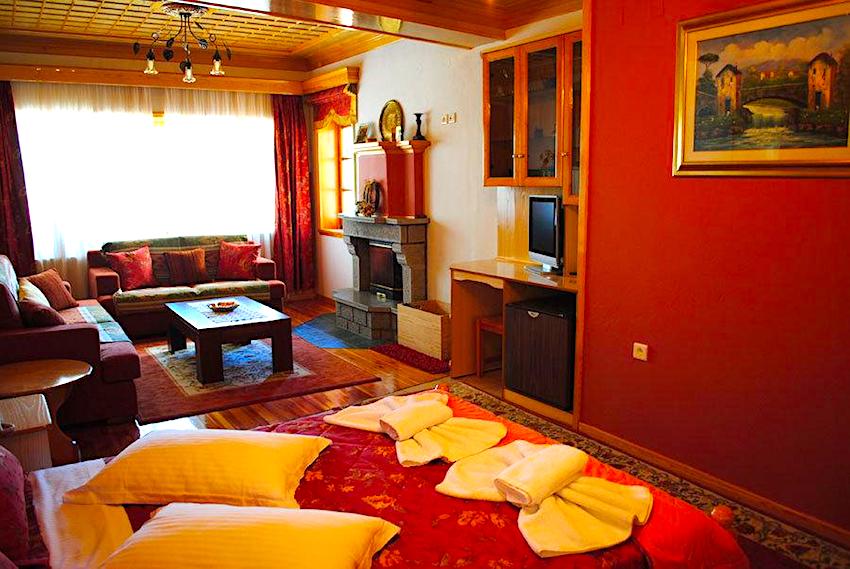 Asteri Metsovou
Located 800 feet from the central square of Metsovo village, Asteri Metsovou offers traditional accommodations with stunning views of Pindos Mountains from their windows or balcony. Free Wi-Fi and private, on-site parking are provided. Decorated according to the local style with carpeted floors, all rooms include heating, a TV and mini fridge. The private bathroom is fitted with a bathtub or shower and hairdryer. Some rooms also come with a fireplace and spa bath. Guests at Asteri can start their day with a buffet breakfast enriched with local products, at the dining area or in the privacy of their rooms. At the lounge area with the fireplace, they can enjoy drinks and coffees from the bar. Weaving lessons using a loom and traditional cooking lessons are provided on site. Fishing and skiing trips can also be arranged upon request. Within a short walk from Asteri Metsovou, guests will find traditional taverns, as well as Tositsa Folklore Museum. Staff can advise on local interests, while a ski center is at 3.1 mi. For photos, guest reviews and booking information click here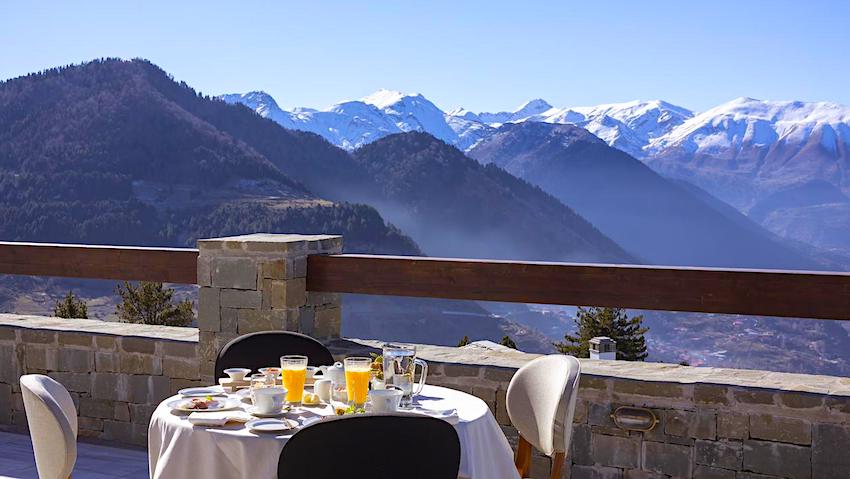 Grand Forest Metsovo Hotel
Set amid a pine tree forest, on a hillside of Pindos, Grand Forest Metsovo features an elegantly decorated gourmet restaurant and a mountain-view bar. Facilities also include a farm with horses, and a spa center with indoor pool, hot tub and sauna. Fitted with wooden floors, dark-wooden furnishings and soft colors, the rooms and suites of Grand Forest enjoy views over Pindos Mountain. Each is equipped with a mini-bar, flat-screen satellite TV and orthopedic mattresses. The marble bathroom comes with bathrobes and branded toiletries. Some units feature a fireplace. Guests can start their day with an American breakfast served daily at the dining area. Traditional flavors and gourmet dishes prepared with fresh ingredients and accompanied by fine wine can be enjoyed at th hotel restaurant for lunch or dinner. Drinks and coffers are available at the on-site bar. Staff at the 24-hour front desk can provide room, car rental and dry cleaning services upon request. Free Wi-Fi is provided throughout. The surrounding area is ideal for hiking, skiing and horseback riding. For photos, guest reviews and booking information click here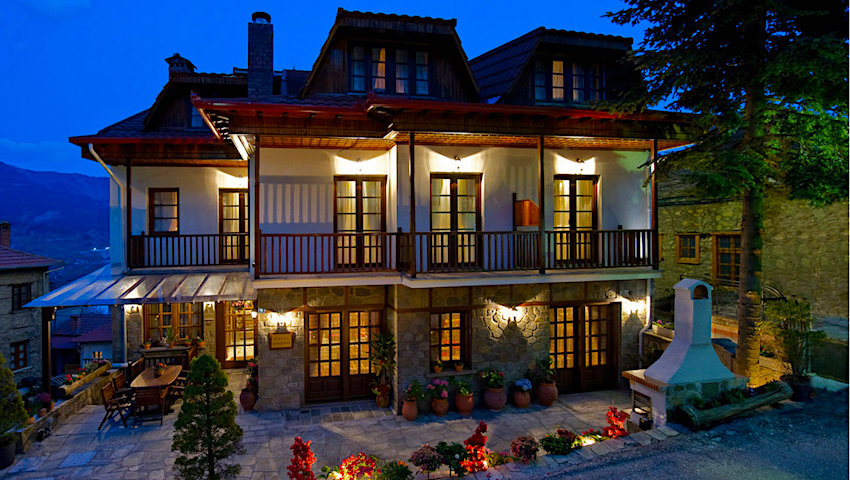 Kassaros Hotel
The Kassaros Hotel is just 150 feet from Metsovo's center. It features free sauna, steam shower cabin and hot tub. Free Wi-Fi is available throughout the hotel. The historic settlement of Kassaros Hotel offers refurbished rooms combining handmade carpets, decorated ceilings and stone features of traditional style and with modern amenities. Most of the rooms have magnificent views of the mountain of Pindos. The hotel communal living room features a wooden bar with fireplace and a welcoming breakfast area decorated with old photos of Metsovo. The Kassaros Hotel is conveniently near the ski centers of Metsovo and Anilio. Kassaros Travel organizes daily trips to the Valia Calda National Park, as well as Meteora. For photos, guest reviews and booking information click here
See more Metsovo Hotels and Self Catering Apartments .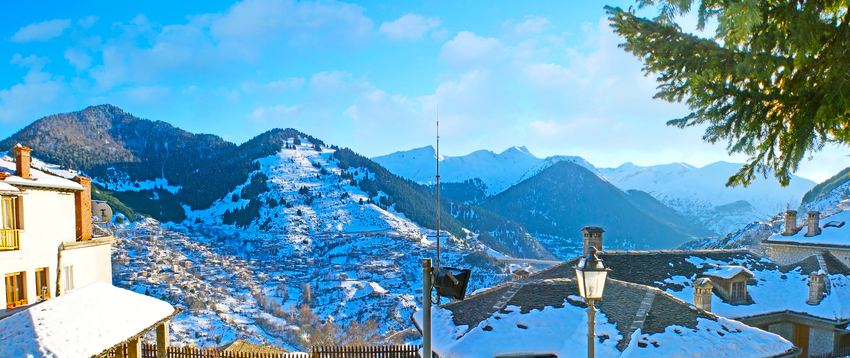 Practical Information
You can contact Dolphin Hellas Travel in Athens and they can assist you with hotels in Metsovo or use Matt's Create-an-itinerary form to combine Metsovo with the Greek Islands and other places in Greece. You will want to have a car in Metsovo and if you go in the winter probably a jeep will be better so see Swift Car Rental in Athens. Metsovo is about 4 or 5 hours from Athens by car. There are one or two buses and day between Metsovo and Ioannina which is only about half an hour away. The bus to and from Thessaloniki stops in Metsovo. There are buses from Kalambaka and Trikala as well. If long bus rides are not your thing you can fly to Ioannina. But I really urge you to rent a car or you will be severely limiting yourself. See also Skiing in Greece and Winter in Greece.