Like a beautiful pine clad Greek island with fantastic beaches, Parga is on the Ionian sea in Northwestern Greece, a few hours drive from Athens or Thessaloniki. And unlike an island there are no ferries involved in going there.
We had been exploring the mountains of Zagoria that day, walking through quiet stone villages that overlooked the Vikos gorge, emersing ourselves in clear, clean rivers where the water was so cold I could feel my arxidia in my esophogus. It was gorgeous weather and we were in a spectacular setting. But it wasn't enough. I felt the call of the sea. I needed the sea. "Let's go to Parga" I said.
"Isn't that one of those horrible tourist villages" Andrea replied, using the description she so casually used and was usually right.
"C'mon, honey. Be positive. Think of the photos you have seen of Parga with beautiful beaches and pine trees going right to the shore. And it is so far away from anywhere how touristy can it possibly be?" I replied, not really caring whether it was touristy or not. I just wanted sea, ouzo and grilled fish, not mountains and boiled goat. And so we drove west towards the Ionian coast of Greece.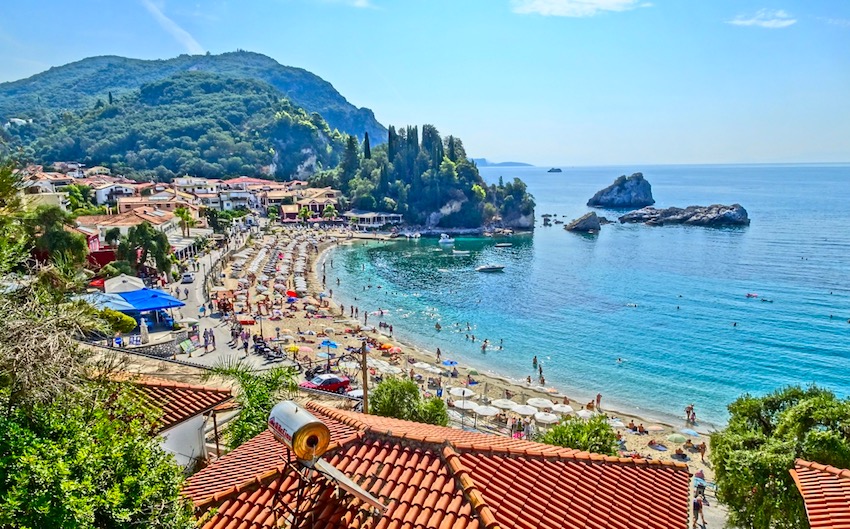 As we arrived in Parga there was a turnoff from the coastal road and a sign that said to the beach. I took the turn and drove down the steep road with shops, restaurants, and hotels on either side until we reached the bottom. "The sea! The sea!" We cried in unison as we spotted the blue water of the Ionian just a few feet from the road. It was then that we saw them. There were just a few at first, each with a beach bag, towel, colorful bathing suits hiding bodies well past their prime, hats, and eyes glassy from hours spent on beachbeds staring at the sea or reading the latest Danielle Steele bestseller. We didn't dare say it out loud but we both knew what they were: Beach Zombies.
As more and more of them appeared it suddenly occurred to us that not only had we stumbled upon a nest of Northern European Beach Zombies, but it was feeding time and hundreds, maybe thousands of them were on their way from the beach to their rooms to shower and then off to the bars, restaurants and feeding troughs of Parga. And they had spotted us, the humans who dared to drive their car amongst them. Even through their glazed zombie eyes I could see that they were not happy and that whether their next meal was mousaka, pastitsio or a couple of Greek-Americans did not make a whole lot of difference.
"Back up! Get us the hell out of here!" Andrea screamed.
"I can't, there are too many!" I cried, twisting my neck to see if there was a path through the hordes. "I might kill one of them!"
"You fool!" Andrea shouted. "Can't you see they are already dead!"
Reaching the driveway of a small seaside hotel I found enough space to turn the car around and we managed to make our way through the throngs of bikini and speedo clad geriatrics, gently nudging them aside with the bumper of my car. Finally we saw light through the crowd and with a friendly blast of the horn scattered the remaining pedestrians, weaving our way around them and escaping up the road the way we had come. I floored the car and didn't stop until we came to the village of Anthousa a few kilometers above Parga.
"Jesus. That was a close one." I said, wiping the sweat from my brow.
"Are you ok?" Andrea looked dazed from our close encounter with a world that we might one day be a part of if we weren't careful.
"I need an ouzo, now!" I told her.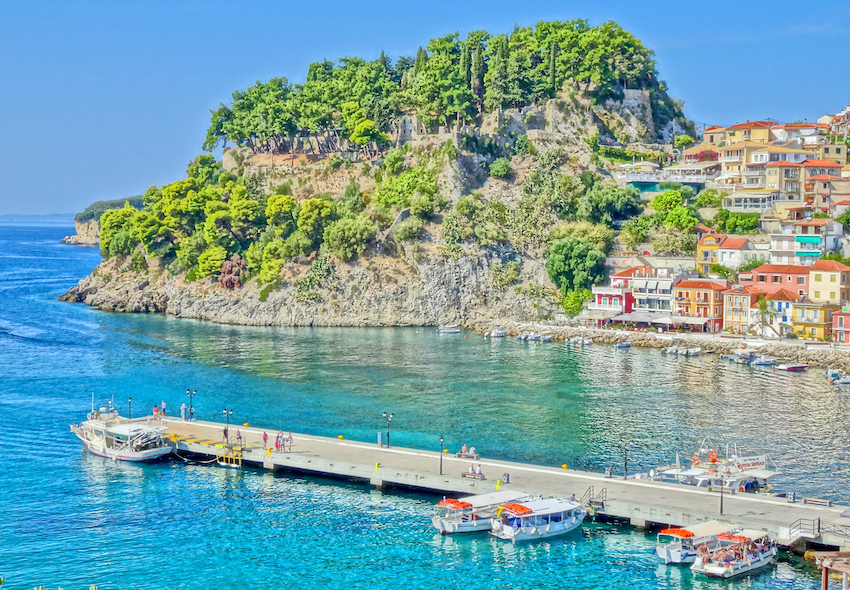 An hour later we were in the center of Anthousa, sitting at Vassilis taverna after checking into Vassilis Guesthouse, talking about our close encounter of the worst kind and looking at the menu. "I don't know about you," I said, "but battling beach zombies always gives me an appetite." I ordered the goat.
And that more or less was my first experience with Parga. Of course the next morning we went back and discovered that perhaps we had overreacted and that we were actually in an extraordinarily beautiful place and there were even young people around of all shapes and sizes, some with even better bodies than ours.
As we drove north towards Igoumenitsa and our next adventure I reflected on our experience of the evening before. Yes we'd had a close call but that was partly our fault. (Totally actually.) But our panic filled flight from Parga had led us unexpectedly to the world of Vassilis Guesthouse and Taverna and the village of Anthousa and its famous waterfall (which I never found) and the Castle of Anthousa (Which I did not even attempt to see). So all in all we could call this a positive experience, worth writing about and certainly worth putting on my website, no matter how many Northern European beach zombies it might offend. How many places are there on the mainland that seem so much like being on an island and you don't have to take a ferry to? I vowed to return.
"You know Parga was pretty nice. I wouldn't mind coming back in the off-season" I confessed to Andrea.
"Yes let's." She replied. "How about Christmas in 2035?"
Matt Barrett
(Don't listen to Andrea. Parga is really nice and if you hate ferry boats, or just the thought of ferry boats, you won't find anywhere on the Greek mainland that is more like an island or more beautiful.)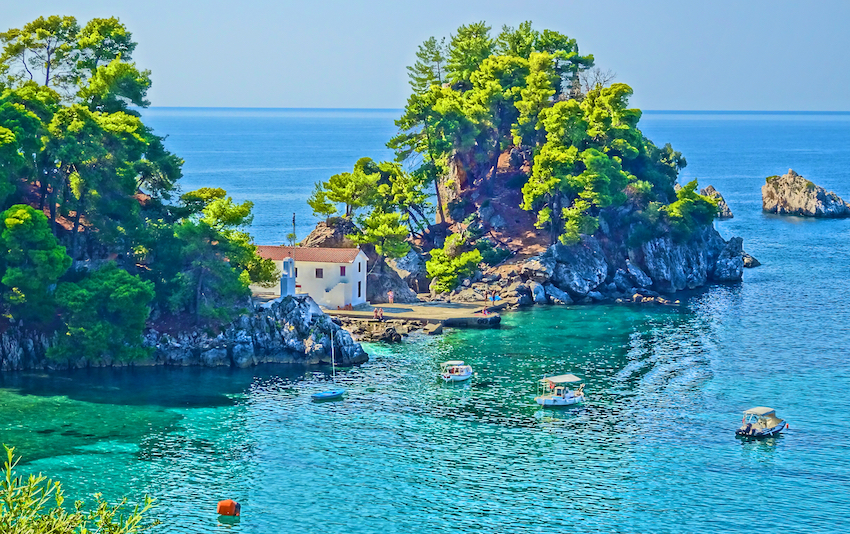 Marc Dubin Parga Overview
Párga is the premier coastal resort of Ípiros, and even in winter there's a bit of life here as it's popular with Ioánninots for a weekend day out. The physical layout of the place, draped over successive ridges and capes, and lapped by olive trees, remains stunning. From southeast to northwest, there's little Gólfo cove; then Kyronéri, with its islets fortified by first the Venetians and then Napoleon; then the main village hill with its old houses and arched passages clambering up to a fine Norman-Venetian castle (8am–midnight, excellent café in the restored barracks). This stares out over long, popular Váltos beach to another fortress of Ali Pasha's, at Ayiá. There used to be a mosque up in the Tourkopázaro ridgeline district – a classic Fred Boissonnas photo from 1913 shows it – but it was pulled demolished World War II and only the minaret base remains. It belonged to the Tsámides community, about which more shortly.

Parga courtesy of Deposit Photo
Restaurant Choices by Irene Staknys- Papanikolaou
PETROS TAVERNA: A true traditional Greek taverna since 1997, family owned and operated specializing in grilled meats and salads. The owner, Petros, can be seen every night in the open kitchen set-up grilling the most amazing kontosouvli, paidakia , loukaniko, etc. The taverna is located about 20 meters heading into town from the football pitch and the Parga High School. One of the more popular restaurants in Parga, and deservedly so.
TZIMAS: A small traditional restaurant serving Greek "mama" cooking, all prepared by Voula, the head chef and owner. 2 specialities include seafood pasta and home made keftedes. Open year round, can be found about 10 meters on the left after passing the main entrance to Parga town.
TAVERNA OASIS\ GIANNI LEKKAS : Found in the heart of Agia, a section of Parga about 10 minutes from Parga center by car. One of the older tavernas (since 1960) in the area, family owned and operated, Oasis offers grilled taverna food and homemade pitas baked by the owner's mother! The inside of the restaurant is renowned for its unique decorations, literally a museum of memorabilia from the golden age of Greek cinema.
PERIVOLI: Family owned and operated for over 20 years plus, Perivoli can be found in the " Neranjoula" area of Parga, about 70 meters from Piso Krioneri beach. With an idyllic outdoor setting surrounded by lemon and olive trees, Perivoli serves up great grilled food and traditional Greek cooking. Huge portions and terrific side dishes!
FISH TAVERNA "TO DIXTU" : Found in the village of Anthousa , another section of Parga, about a 7 minute drive from the center of Parga. If you are looking for fish, this is the place to go! The restaurant is large and airy, particularly pleasing during the hot summer months. Fresh fish offered daily. The restaurant has a very large Greek clientele.
ARKOUDAS: A mainstay on the harbor in Parga, a nice family taverna specializing in fish and traditional Greek dishes.
LITHOS: Traditional Greek cooking in the old, historic center of Parga. Fantastic seating area.
TOP CAFE: a Greek "sports bar" with multiple TV'S showing world wide sports. Located on the main corner in Parga town, Gyros and souvlaki as well as other grilled meats are on offer from noon until after midnight.
OSKAR: The original pizzeria in Parga, on the harborfront for over 20 years. The husband and wife, Christos and Katerina, manage to turn out fabulous pizza and pasta dishes in the cozy, waterfront location. A big favorite amongst the locals.
EDEN CAFE: Located in the historic center of Parga, offering crepes, pasta and basically a lovely bistro menu. Another big favorite among locals.

SPECIAL MENTION: Parga, like all of Greece, is loaded with "kafeneio". The top 2 in Parga are:
CARAVEL BAR: Landmark cafe in the center of the Parga harbor. Everything from bistro food to English breakfast. A great palce to sit and watch the world go by from Parga's beautiful harbor.
PONTE CAFE: Another beautiful location with great sea views, at the "Kamini" end of the harbor, great for drinks and meze.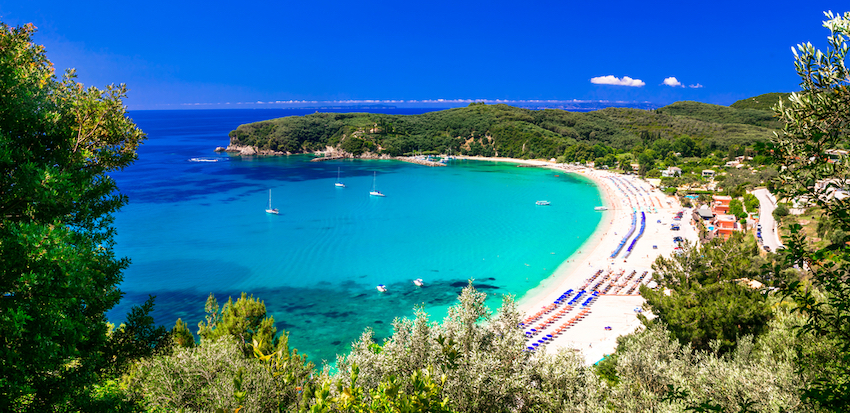 Valtos Beach courtesy of Deposit Photos
Favorite Beaches by Irene Staknys- Papanikolaou
In order of beauty:
1) VALTOS BEACH: Originally called 'Xrusogiali ", Valtos is the premier beach in Parga. Approx 200 m long, there are sandy parts, rocky parts and the water is turquoise. A number of bars and restaurants, but not over the top. Walking distance from Parga town.
2) SARAKINIKO BEACH: Located in Agia, Sarakiniko is a lovely cove beach , with a few restaurants and hotels. Itcan be reached from Parga town by taxi boat (about 15 minutes) or by car .
3) LICHNOS BEACH: Another very long beach located in Agia Kyriaki, about 10 minutes from Parga by car. Primarily fine, fine stone, with some sandy bits at either end. A good mix of tavernas and hotels.
4) KRIONERI BEACH: The town beach of Parga, accessible by foot from Parga town in less than 5 minutes. Cove style with shallow water that enables you to walk across to the church of Panagia. Very crowded in August.
5) PISO KRIONERI BEACH: About 30 meters walk from Krioneri beach, this is a very rocky cove with outstanding views and rock formations. The smallest beach in Parga. a few restaurants on the beach, a large supermarket on the street right behind the beach.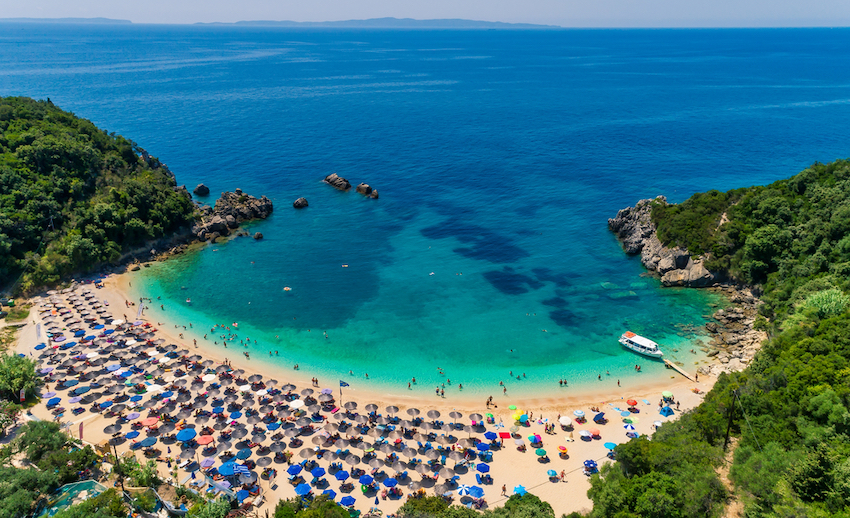 Sarakiniko Beach courtesy of Deposit Photos
A Brief History of Parga
by Irene Staknys- Papanikolaou
Built on the ruins of the ancient city of Toryne, Parga's history begins in the 14th century, when it first appears in its current location as an important outpost on the western coast of the Byzantine Empire.
The town's links to Corfu meant it acted as a gateway into Western Europe, giving it even greater strategic and geopolitical significance.
The Castle of Parga was originally constructed by the Normans, but it wasn't until the Venetians arrived, who provided protection, administrative autonomy and the ability to trade freely, that a long period of prosperity and stability began.
Like the rest of the Ionian Islands, Parga was an integral part of the Republic of Venice for nearly four hundred years; Parga was also the only city on the mainland of Epirus not under Ottoman occupation, and offered refuge to many Greeks and other Christians from the area.
As the Republic of Venice declined and lost all its colonies, the future of Parga became uncertain; our small city, surrounded – and constantly threatened – by the vast Ottoman Empire, needed to fall under the protection of another great power. From 1797 to 1814, it was the French, after that the Russians and then the French again who granted this protection.
Ultimately, along with the Ionian Islands, Parga became a protectorate of the British Empire. The period of British rule, however, was short-lived. Following a treaty signed by Sir Thomas Maitland, the Lord High Commissioner of the Ionian Islands, and Ali Pasha of Ioannina, Parga was sold to the Ottomans for the price of 150,000 pounds.
The people of Parga would never accept to become Ottoman subjects nor would they fall victims to the trading of peoples and nations. There seemed to be but one solution: to leave, quickly and quietly. And so, on April 28th, 1819, on Good Friday, the locals gathered the bones of their ancestors from their cemeteries and had them burnt, so that they could take the ashes with them. As the Turks entered Parga, they found it empty and deserted. Around the same time, in 1821, the Greek War of Independence began.
After the end of the First Balkan War, in 1913, Greece, along with Serbia, Bulgaria and Montenegro, had defeated the Ottomans. Parga was liberated and became once again a part of the Greek state. And in 1930, the ashes of the ancestors and the holy church relics were returned to Parga from Corfu, thus ending a centuries-long cycle of pain and sacrifice.
In the 1970s and 1980s tourism started to emerge as a major industry, and from the first French and Italian holidaymakers, Parga's charm and hospitality now attract visitors from across the globe.
From spring to autumn, our small community can reach up to 30,000 people, and it is up to us to continue to work together to make it an even better destination and to preserve its beauty and authenticity.
Hotels, Villas and Holiday Homes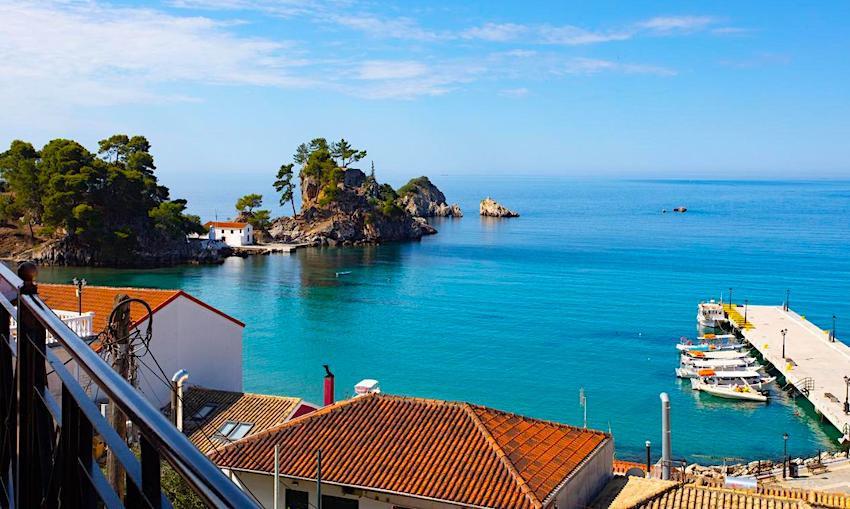 Petros Penthouse and Studios
Petros Penthouse and Studios are located directly in the heart of Parga, with entrances from the main road through town, as well as an entrance from the harborfront. Established in 1975, Petros Penthouse and Studios is a family run business that caters to the individual needs of every patron, with special emphasis on the independent traveler of today. The property consists of the Penthouses, 3 jewels over the Ionian. The views from the penthouses may possibly be the best in Parga , so close that you can almost touch the clear azure sea! Each penthouse is decorated in a very discreet manner, with special attention paid to color and ambience. The penthouse apartments have central heating, and are available for rent on a year-round basis. Petros Studios consist of 6 full size studio apartments with either partial sea view or street view. These studios are highly recommended for families and for travelers who are looking for a terrific value for their money. Petros and Irene Papanikolaou, your hosts, speak Greek, English and Italian. They are here to service your every need and to insure your trip to magical Parga is an unforgettable one! Click here for photos, reviews and booking information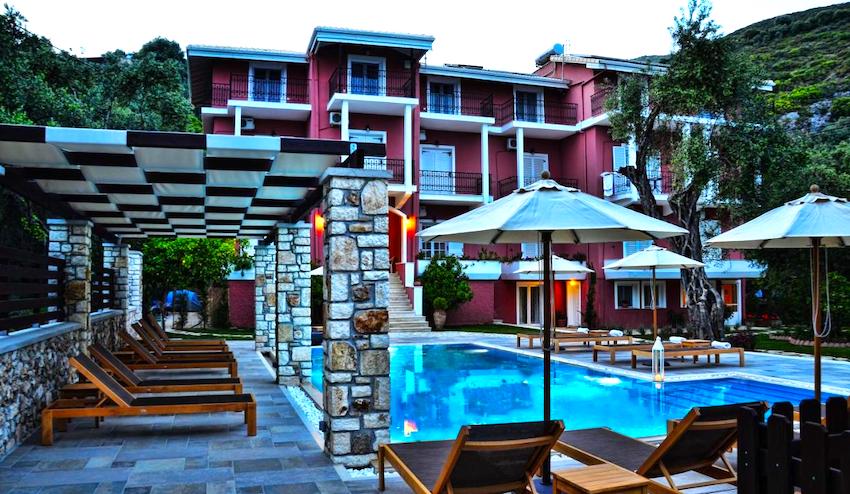 Vassilis Guest House
Located in Anthousa village, 1.6 mi from Parga, Vassilis House is surrounded by a garden with olive trees and flowers. It offers stylish, air-conditioned rooms opening to a furnished balcony with views of the green-covered surroundings. Featuring colorful accents and iron beds, all rooms come with free Wi-Fi throughout. Each includes a TV and a fridge. The private bathroom is stocked with a bath or shower. A seasonal outdoor pool is available. Other services include airport transfers upon request and for a surcharge. Guests can enjoy traditional delicacies, such as "mousaka" and homemade pies at the on-site tavern, amid the lush garden. A Continental breakfast is also served daily. A super market and bakery can be found within walking distance from Vassilis House. Krioneri and Valtos beaches are 1.2 mi away. Free parking is also available. Click here for photos, reviews and booking information
More Recommended Parga Hotels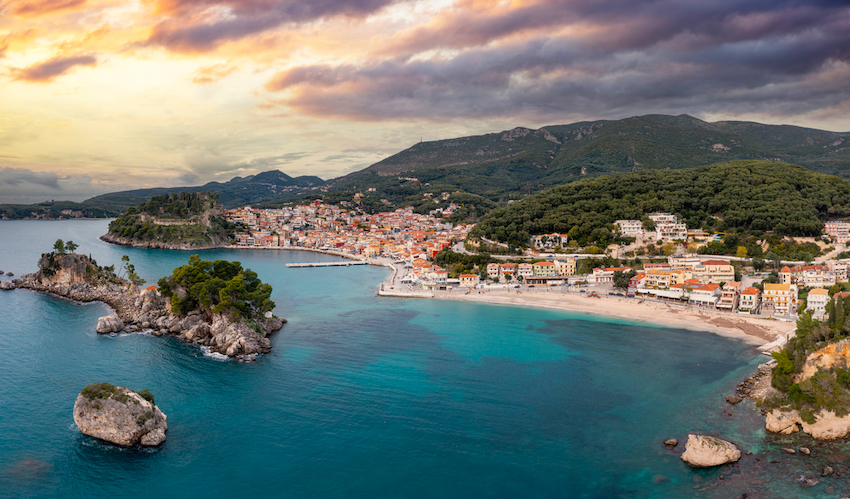 Photo courtesy of Deposit Photos
How to Get to Parga
If you are coming from Athens you can drive by rental car or hire George the Famous Taxi Driver. It will take you about 5 hours. You can also go by KTEL Bus which goes a couple times a day and takes around 7 hours. Personally you are better off renting a car. It is not a difficult drive and there is much to see on the way. You can stop for lunch and a swim at Nafpaktos after crossing the majestic Rio-Antirion Bridge.
You can also fly to Preveza and take a taxi or a KTEL Bus from there, or even rent a car. The drive is a little more than an hour.There are buses from Igoumenitsa and Ioannina which connect in Preveza.
There are excursion boats to Paxos and Antipaxos as well as Corfu. The Monasteries of Meteora are about 2.5 hours away and can be done as a day trip or overnight. You can also drive to the island of Lefkada in about 2 hours. You can drive to the Vikos Gorge in about 3 hours.