Is Greece safe for women? In particular women who are traveling alone. This is a question I get often and one I find easy to answer. Yes, Greece is very safe for solo women travelers. It is probably the safest place in Europe and though Athens is a big city with some of the problems of all large cities, it is still one of the safest in Europe. And the islands are even more safe. But why listen to me? First of all I am a guy. I want women to come to Greece. Second, I am in the travel business. I want people to come to Greece and women are people. So I asked the women in my Greece Travel Guides Group on Facebook, some who had traveled to Greece on their own numerous times, to send their experiences and here is what they wrote...
Is Greece Safe for Women Traveling on their Own?
Cathy Boyd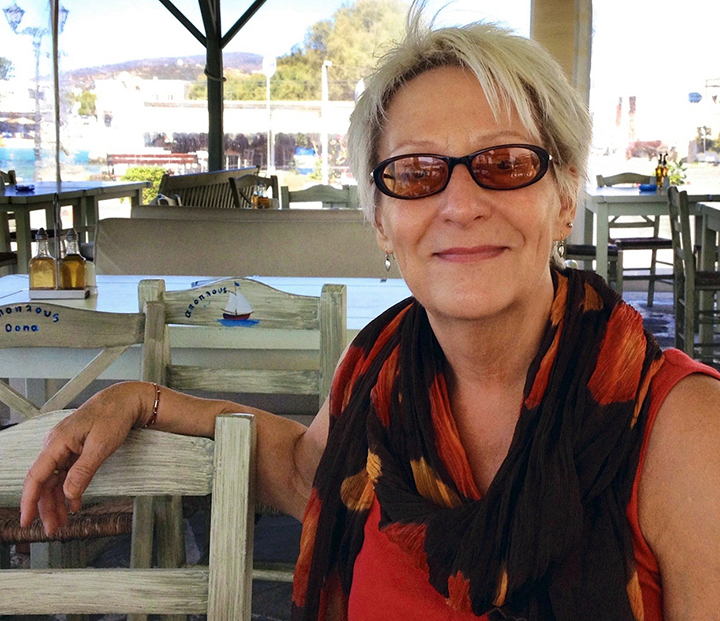 I started traveling solo to Greece in 1973 and I have not stopped since. I feel safe in Greece. I feel a sense of freedom that we donít seem to have here in the USA. Itís difficult to explain, but my best description is that Greeks know how to enjoy life in a way that Americans donít. They live in the moment. They have a clever sense of humor and will enjoy tricking you, but not in a bad way. As a woman alone, expect some flirting to go on, and itís probably not as pushy now as it was in the 80ís for younger women. If you feel you are being stared at, you are. It seems to be acceptable to stare. Also loud, animated conversations are usually not arguments, donít be freaked out. If I had continued to hop around from island to island, Iíd probably still feel like Iím traveling solo, but Iíve been returning to the same island for years now, so it feels like home and I have friends there. So go with the flow and enjoy the moment.
I canít comment on fashion anymore, because anything goes now. But, on my first trip to Greece in 1973 I hung out one day with an American girl who I met at my hotel in Athens. We went to the Acropolis, she was wearing short-shorts, she couldnít understand why she was being followed around and hassled. Really??? All you had to do was look around and see you were the only one dressed in short-shorts. Forget the short-shorts in the city, but itís fine on the islands.
I lived in NYC for many years, so I developed some street smarts. Some practical advice for traveling solo or not: even though street crime is low, donít carry a lot of cash, keep your passport in the hotel safe and carry a copy with you, get an International Drivers Permit because itís an ID acceptable in many countries, take two ATM cards and leave one in the safe of the hotel, same goes for credit cards. Use the ATM at a bank that is open, if the machine eats your card, you can go in the bank and they will retrieve it for you. Itís mainly just common sense, but some travelers need to be reminded.
A couple more tips: If a taxi driver asks you if itís your first time in Greece, tell him NO, youíre less likely to be overcharged. If you use George the Famous Taxi, itís ok, they quote ahead of time. I havenít been on the subway in years, although I read tourists are targets for pickpockets.
Raquel Martinez (Spain)

Iíve only visited mainland Greece, and it felt like a relatively safe place for me. However, situational awareness must be always taken into account, particularly if you are alone. Avoid ďdanger dangerĒ situations: getting drunk alone at a bar, hitchhiking in very isolated or non-touristy areas, taking an unlicensed taxi, carrying loads of cash, flashing expensive jewelryÖ Dressing appropiately and not targeting yourself as a tourist is also important. Just to be on the safe side. In any case, these would be my top recommendations for any traveller, male or female.
Especially in Athens, be careful and keep a close eye on your belongings, just as you would do in any other large city. My feeling was that the worst you have to worry about is pickpockets. The areas of Omonia, Psirri and Metaxourgeio, in which you can find the most alternative nightlife, can be a bit seedy. There is plenty of poorly lit areas at night.
Other big cities Iíve visited in Greece (Nafplion, Ioannina, Volos, Sparta, Agrinio) seemed quite safe for me, or at least a bit more than Athens.
Iíve noticed that men can be more forward than in other European countries, but if you politely indicate your lack of interest, they will apologise and leave you alone. Most Greeks are polite, laid-back and willing to help. Learn a few words or phrases in Greek and theyíll appreciate it.
All in all, Iíve felt really safe compared how I feel back home (Barcelona, Spain), even at night.
Sonia Langford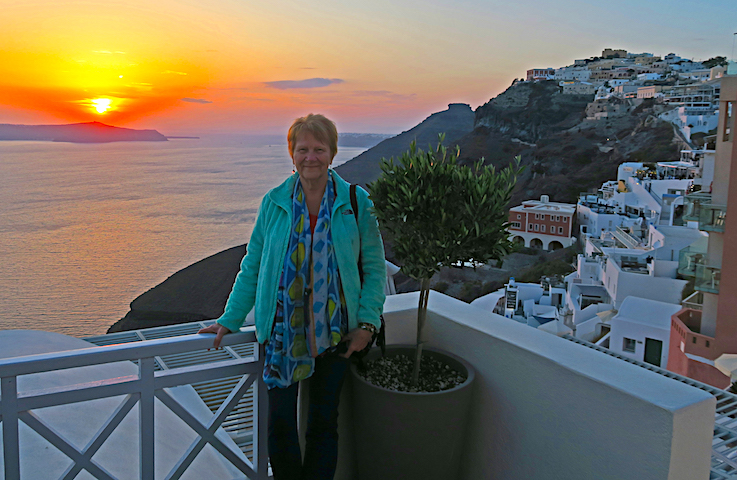 My first trip to Greece was while I was married and had small children, in the 1970's. I later divorced, and my children grew up. However, I never lost my love for Greece over the years and continued travelling there as often as possible.
Over the years I have felt like I am "going home" when travelling to Greece and am now extremely comfortable making my own arrangements and decisions. But having said that, I always read the facebook posts for interesting comments/updates on what is new on the islands. And if contemplating going to a new island will go to Matt's Greecetravel website to get information about getting there and accommodation on the island. (I did that recently while planning a trip to Ikaria, an island that was extremely difficult to get to, get back from and to get around once there!!!)
There are still lots of places to go and see - but I have come to the age now that I prefer going to places I know and am comfortable in. I have been to Crete, Santorini, Folegandros, Milos, Sifnos, Paros, Antiparos, Mykonos, and Ikaria. On the mainland I, of course, always start and end my visits with a few days in Athens, and have also been to Lefkada. I have found that my personal preferences are the small islands where I can commune with goats, sheep and donkeys! And because of my age I won't drive in busy places, so the small islands work well. Having a car makes it so much more comfortable and convenient.
In terms of safety, I have never, ever felt uncomfortable or unsafe in Greece....anywhere. Having said that, after the Olympics I found a change in Athens and I did become a little uncomfortable. But that seemed to recover with the recovery of the economy of Greece. Then of course they were hit with all the refugees. That is a little unnerving, but the refugees have never bothered me. I worry more about the "gypsies" floating around trying to sell you things. And I have had a close call on the train from the airport into town. One time I found my purse open and had no idea how it happened. Thankfully I didn't lose anything that I am aware of. On my last visit (last May) I was "stared down" by a man on the train who was very slowly approaching me. (Every time I looked his way he was just a little closer to me). I kept moving - and he kept moving toward me while staring at me. I finally was able to get a seat with other people - and he got off the train at the next stop! And no, we weren't anywhere near Athens yet. I have to say that is really my only area of concern. I do follow your advice regarding safety on the trains and keeping important documents and cash in a belt under clothing. And I am always aware of who is around me and never allowing myself to be alone on the street. The bottom line is I have NEVER had an incident during my travels in Greece - despite travelling as a women, and for the most part alone.
Marina Godovich
I've been to Greece 3 times and going again this May. I travel alone and plan all my trips on my own doing research and asking for advice on Matt's FB page! :) 2 times I went to the mainland in May and this October I visited a few islands (Mykonos, Naxos, Ios and Crete). On mainland I rented a car for the whole duration of the trip (with exceptions of Athens) and I rented a car on the individual islands for a few days (Naxos and Crete). I book all my accommodations on line, mostly through Matt's link for bookings.com. Since I travel in the off season periods, I only book first and last night beforehand and all the rest on the day before. I rarely visit popular areas (Athens, Delphi, Mykonos, Nauplio) and prefer less known and out-of-the-way towns and villages. My main interests in Greece are related to Greek Mythology and the kingdom of Macedon, hence my preference for the archaeological places and remote locations.
By nature I am very comfortable to be alone so it doesn't bother me to travel alone, I like the freedom. Except for pick-pocketing worry in Athens, I never was concerned for my safety while traveling alone. I often find myself alone in the archaeological places (combination of visiting those that don't attract many visitors and off shoulder season). Sometimes there is a lonely guard at the booth (Kalydon, Heraion in Argos, Thermos near lake Trichonida), sometimes there is even no guard and no visitors (Troizen, Vafio, Therapnes, Pellana) - in all those places I never felt intimidated or threatened. As a matter of fact, since I get lost quite often (even with GPS and offline maps that I download beforhand) I was helped on several occasions by the locals. I don't speak Greek except for a few common phrases and on those occasions when my helpers didn't speak English we managed communicate well using google translate (I have downloaded off line version on my cellphone). As a matter of fact, several times I was shocked and didn't know how to thank enough my helpers when they stopped whatever they were doing, went to their own cars and indicated that I should drive after them and brought me to the right place.
Several times I even found myself alone in the accommodation, once in Thermos (near lake Trichonida) when I arrived at the accommodation that I booked prior night in the middle of downpour and the entrance door was closed and the location was off the beaten track. I have to admit, I panicked a little, but there was a notice in Greek on the door with a phone number which I called. The caretaker arrived after some 5 minutes, showed me to my room, then gave me a wonderful meal in a small restaurant on site and in the morning I was provided with good breakfast. Another time I stayed in the beautiful rooms in the village of Kastania (on the slopes of Mt. Kylline in Pellopensos). The views there are to die for! I got completely lost, called the host who didn't speak English, managed to explain to him where I was, he got into his car, found me and guided to the place. I was provided with an excellent evening meal, cooked personally by his mother whom I met in the small garden next morning.
Those are experiences I treasure with all my heart and I encourage other women to travel on their own!
Diana Hesse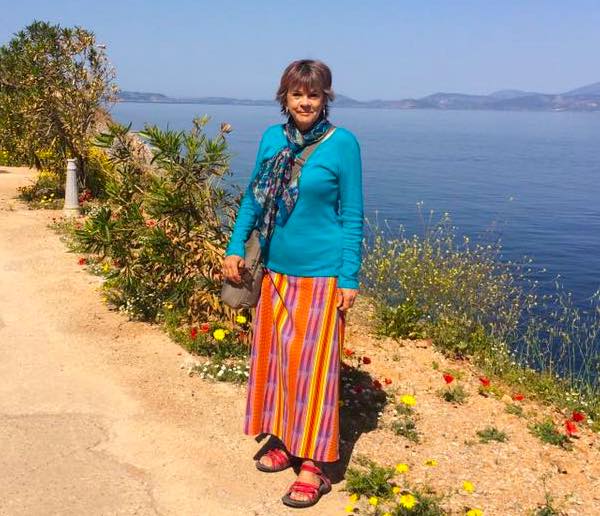 I spent three weeks in Greece on my own in 2017 and never felt it to be unsafe. I have traveled a lot and am now late sixties so I have street smarts as one would anywhere in the world. I wandered all around Athens and at night too. One day I was quite lost but enjoying looking at the buildings. I looked around and saw that I was the only woman in a crowd of gypsies and in a quite run down area. I didnít feel threatened and asked two men where Athina St was and they directed me. I traveled to and from the airport by metro. I went to Nafplio and Hydra and all the area around and went out each night. I found the Greek people were wonderfully friendly and so generous and kind. I loved it! I would say that if you use common sense as you would anywhere and donít appear anxious even if you are in a tricky situation you will have a great time as a solo woman. As anywhere, if you walk around flashing money etc and making yourself look like an easy target then scammers etc will zero in. You need to be alert but not alarmed and relax. Greece and Greeks are wonderful in my opinion.
I never felt lonely because people would engage with me wherever I went. I met people from many walks of life and just started a conversation. People invited me to eat with them at restaurants. The place downstairs from the hotel where I was staying in Athens made a great breakfast and I had conversations with the lady chef and I am still in touch with her. No need to be lonely when Greeks are so friendly and generous with hospitality.
On for meeting other women solo travelers, I met one at Mycenae and struck up a conversation and then we hired a car and driver from there to go from there to Epivadrus and back to Nafplio which worked well for us financially.
Ingrid Von Bentheim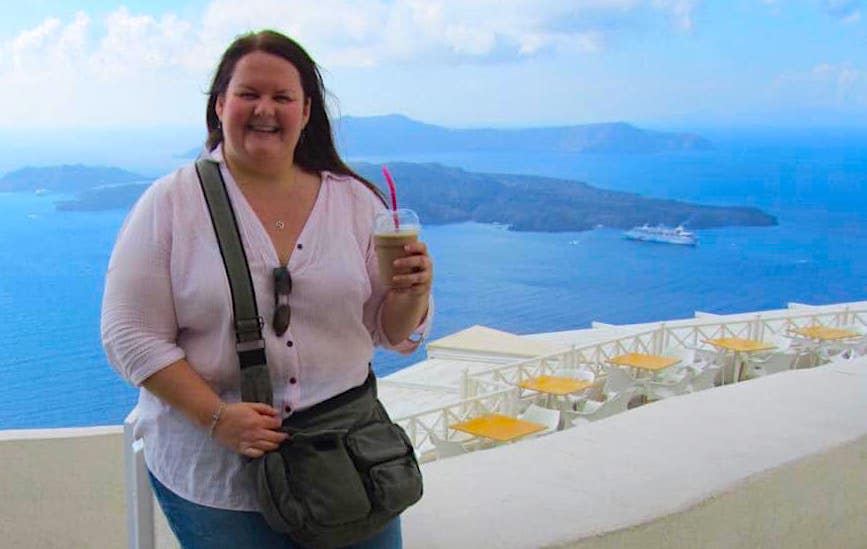 I have travelled to Greece on my own many times and each time I meet other woman traveling alone. Over the past 12 years Iíve built up a network of strong female friends (and men) around the globe. At times one can feel lonely but itís the perfect time for self-reflection & discovery. In all the times Iíve sat in a taverna on my own, I think the longest Iíve gone without conversation with a local or fellow tourist was 10min. As a woman traveling alone be clear on why youíre traveling alone.....what is the goal for your trip? Take the time to explore, think, talk to people, be open and friendly and have fun.......you wonít be sorry you did it and your life will be that much richer.
Judith Timbers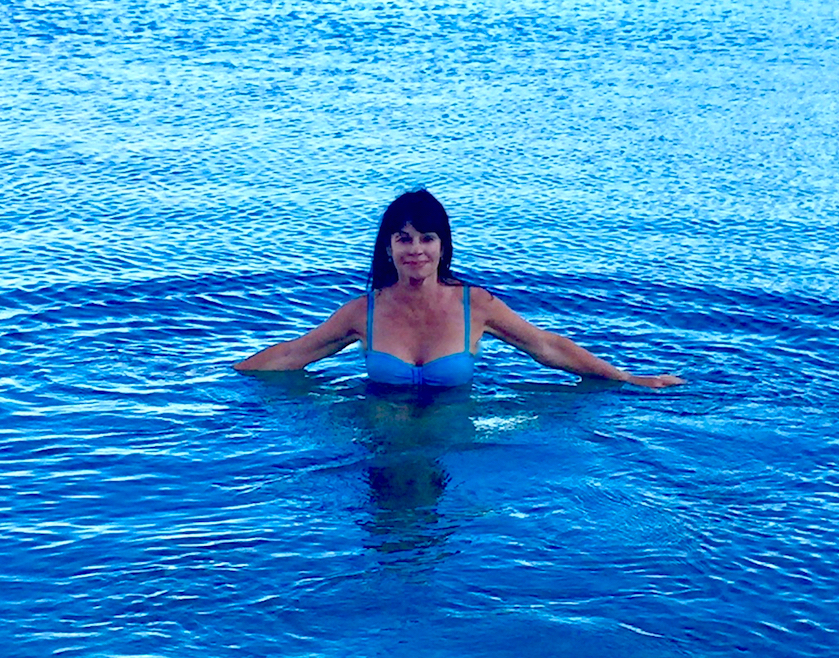 Over the years I have travelled through 18 Greek Islands & around a large area on the mainland and of course Athens. I have always felt safe and even though my Greek is as good as non existing, I have never been refused help from any strangers or felt intimidated. I am a keen travel photographer and the people have always been happy for me to photograph them or their surroundings. I was sitting on the little Island of Pserimos eating my home made sandwich when a Fisherman stopped to talk & then I was invited to meet his mother & have coffee in their humble abode. I have photos to prove it.
Greece is by far the safest country I have travelled in & I think I am qualified enough to state this as I have travelled extensively to different countries. Greece is the only country I walk out after dark alone. The only place I am aware of that one would always take a taxi etc, would be in different areas around Athens city. This is just common sense in any large city.
Another point that could be helpful... When I book a accommodation I always tell the management that I am a solo lady traveller and I have always found them to be very protective and helpful.
Eva Appelgren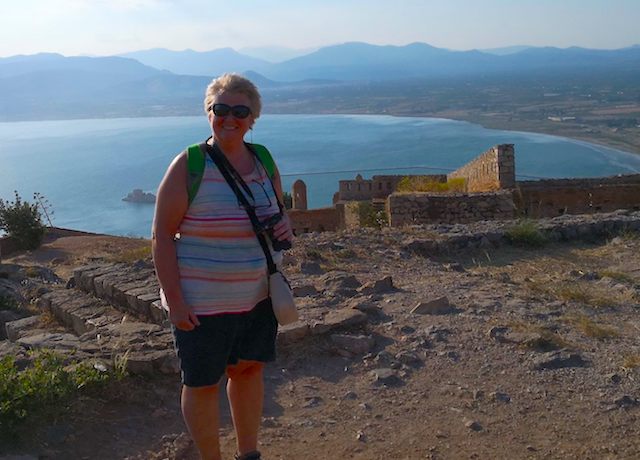 I have travelled to Greece for many years. I have travelled alone to many of the islands and to Thessaloniki and Athens. I have never ever felt afraid. In Athens I walk around in the Plaka late evenings. But I don't think I will challenge fate and spend time somewhere else in the city that late. In Thessaloniki, the city in my heart <3 , I feel safe 24/7 :-) .I don't think my age (63) has anything to do with not being attacked, because nowadays, sadly, anyone can be attacked, both men and women :-( .

As far as meeting other women: In 2006 I went to Sifnos. Stayed in Faros. My hotel neighbour was Maria from Zurich, also travelling alone. We started talking and ended up doing 7 hikes and cooking together :-) The year after she and her friend visited me in Sweden. We kept in touch for many years.
This Photo is from the top of the Palamidi fortress in Nafplio.
Christine Lympany
I have been travelling to Greece for 35 years, and lived there for almost 3 years, and I have always felt completely safe. In my younger days I was chatted up and propositioned a few times, but if my answer was No, it was accepted with grace and courtesy, and in many cases we went on to be friends. I can't think of a safer place to travel alone. I feel far safer in Greece than I do in the UK (and let's face it, most of the UK is not exactly threatening)!
Skye Salveson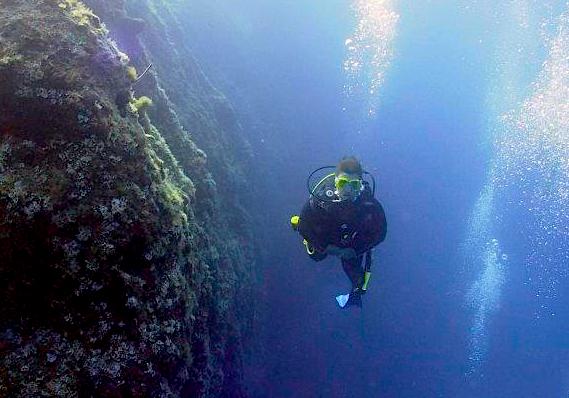 I have been traveling to Greece almost yearly since 2006 (when I was 34 years old and started following Matt's site). My first visit was in 2004 with a (former) Greek American boyfriend to attend the Olympics. Over the years about 90% of my travels in Greece have been solo. When I travel, I take the metro, ferries and occasional taxi's. I mostly walk in Athens. Typically I stay away from Omonia Square, but have walked around the Plaka at night and Ermou street. I have built up a bit of a network of Greek and expats in Greece as friends.
I feel that when I first started going to Greece, people were not necessarily overly friendly, particularly in Athens. You will get more gruff responses and I remember feeling a bit "on my own". When traveling to islands, greeks are a bit more friendly, but warm up a bit faster. In my opinion, trust comes from a Greek getting to know you. Once they accept you, you are family. Of course there have been a couple of situations where some men have been rude (I understood enough Greek and their body language to understand), but I ignore that and go about my day. As I age, the attention from men has dwindled (humph). There is some bliss in not being fluent in another language.....
During my adventures I appreciate getting to know the local culture if I can. I've had many great experiences. Such as having had taxi drivers bring me honey from their families farm, shop owners take me for coffee and show me the neighboring village. I befriended a lady that I rented a room from and went to the local cemetery to care for her mothers grave and caught up on the village gossip. I keep in touch with quite a few people and plan on seeing some of them in July when I go. Not only have I befriended locals, but also tend to find myself hanging with other travelers. I will have dinner or go on an excursion. I've made friends from Norway, Germany, Bulgaria, and more....
When you travel, partaking in an activity you enjoy is also a good way to connect with people. Cooking, painting, hiking - whatever. Then you can choose what you want to do, and often some new friendships can come out of them. Or at least some travel buddies. I scuba dive, so have built those friendships built up and it's a great way to connect with people.
Overall, people have to find their own travel style.
I've been living and working abroad since 2006 when I moved to Istanbul and am quite comfortable feeling, well....uncomfortable. Whether it's language, customs, or getting lost. I like spending some time alone and connecting with nature and history. My relative just came to visit me in my current (foreign) country in South America. She is 24 years old and it was her first international experience. She was not comfortable doing anything on her own at all. There is nothing wrong with that, it just made me aware that not everyone operates in the same way I do. I live around a lot of like minded people, so it was a bit of an eye opener. She opened up a bit more by the end of her stay, but for her, I would recommend using the travel agency and going on a group trip the next time she travels abroad.
Barbara Mistrik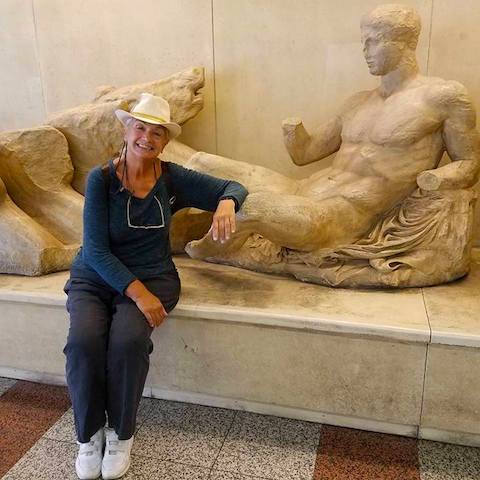 I have been traveling in Greece for fifty years as of this April. As far as safety goesÖI will tell one of my fave stories of my travels in Greece, from a day in 1969, in Olympia.
I had been studying abroad in floernce Italy, (Archtecture, Penn State). I had attended a very good public school system for grades 1-12 , in PA. In Junior high we had cultural Anthropology and one segment was ancient Greek amd Roman Civilization. I fell in love. So much so that my 10th Grade US History term paper subject was ď The Use of Classic Greek Columns in the Buildings of Washington DC.Ē
Anyway May 1969, I had convinced two other girls to go to Greece. Through a series of miracle meetings we found ourselves in Olympia, practically deserted of tourists because of the ouster of the king, One of the other girls was Belgian, and low and behold we meet a Belgian woman Archeologist married to a Greek shop owner. She realized I was interested in Ancient culture. She gave me a map and told me where all I should visit in Greece. Thanks to her I now call Greece homeÖ
Back to safetyÖ The husband shop owner sat with us (probably bought us lunch) and asked a question. How had we been treated by Greek men? Ö.We replied all was well , nothing to reportÖ though remember, we had been living in Italy, so perhaps our attitude was slightly off. His reply, a classic as far as I am concernedÖĒAh Greek men are much like the Italians when it comes to the desire for woman BUT, the Italians are far more professional at it. ď Truer words have probably never been spoken.
Through the years I have traveled with boyfriends, girlfriends, husbands, but mostly alone. I worked in a primarily male dominated profession (construction management) so I am in general at ease in the company of men, Though I have never felt truly threatened in Greece I have been irritated really irritated. These situations were for the most part by Greek- American men, visiting theirĒ villageĒ. I always figured they needed to show off their skill at ďwomanizingĒ to the cousins from the village. I am remembering a particularly obnoxious guy on Hydra, I later compared notes with a German girl who had had the same guys treatment. By that time we could laughÖat him. He catted cafes, and approached only those who had paid for their bill already (He was cheap to)
Now , I am by nature and to my thought , conservative. I donít show off my boobs (except on the beach), didnít wear particularly short skirts in the 70ís, I donít drink and NEVER have done drugs so .. I never found myself in compromising situations. I never hesitate to walk even at night in Athens. I DO stay away from neighborhoods I donít belong in. All this and I choose to live on Mykonos, where I understand you can find any drug/drink you might have heard of. I have NEBER been to a club there, my Mykonos claim to fame! Matbe this shows that I am not one to ask the question ofÖbut 50 years is a LONGGGG time.
Go alone oh mighty girl traveler. Just donít do anything stupid. Most all BE AWARE of your surroundings.
Louna Coumeri
When in Athens, you need to be vigilant just like in any other city in the world. The same more or less in ThessalonŪki. Which means always watching your valuables, walking on lighted streets, just what you do where you live. When in the countryside, Greece is a paradise of safety. You would probably be in more danger from a fellow countryman than any Greek, especially in the villages. Places like Santorini and Mykonos, where the jet-set hang out and nightlife rocks, you have to be careful just like in the big cities. Be careful of your drinks, be careful who you become chummy with. Normal sensible safety measures you need to take even when you walk from your home to buy milk on the corner.
Miriam Hughes
I never feel lonely when travelling alone in Greece.. Someone will always engage with her you if that's what you want..the trickiest thing is applying sun lotion.. But I've even resolved that issue now so intend to continue my 25 year history of travelling alone all over Greece with never one problem!..
Wendy Copage
Absolutely....I have lived in Greece 35 years and have never felt threatened as a woman ever.....It really is the greatest and safest place to be.... Cannot say that of even the small town I grew up in the UK. Enjoy your freedom wherever you go in Greece.
Valerie Moeller Richman
Iím sure it depends somewhat on what age the women are. At 67 Iím thankfully beyond general street harassment everywhere. My week in Greece alone last June (3 days in Athens, 3 days on Kea) felt very safe. I took normal big-city precautions in Athens. Kea was so chill I felt entirely at ease.
Michelle C Hicks
Yes completely safe. Two trips of a month each and now I am living in Greece for a year and have been here almost three months. I've been all over mainland Greece and several islands.
Alexis Brown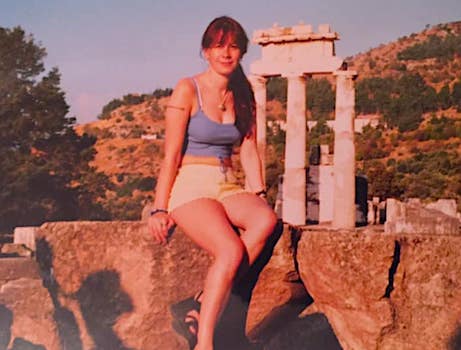 I have done a fair few solo trips.. the only rules I try to remember is to - dress & act respectfully, do research, know where you are going and be aware of your surroundings, always have a map. Personally I would not take risks that I wouldnít take if I was in the uk on my own- ie stick to areas with lots of people and places that I felt comfortable. But yes I would go to greece on my own at the drop of a hat - never felt at risk or uncomfortable.
As for meeting people I think thatís a good question, and I really think it depends on the person.... if you are the type of person to spark up a conversation with a stranger at home...... then you will while you are traveling too. Iím more of a shy type but felt there was always conversation there if I needed it - the Greek people are so friendly. I always found going out with a Ď back up bookí was a good idea in the evenings, you can interact if you want to or dip your head in your book !.......
Maureen Walsh
I fell in love with Paros about 6 years ago on my first visit! Then bought an apartment 4 years ago and renovated last year! I(all on my own) I am in my late 60ís and have made many friends! I now have 2 very special ladies in Athens that I see and correspond with frequently. One is on her own like me and we enjoy doing things together! Just wish Australia was closer and that I could stay more than 90 days! I just love the people, food and the easy pace of life.
Constance Hellene Ishac
The first time I travelled to Greece I was 22. Some parts I was with family, other parts it was just me and my cousin who is the same age. I never felt unsafe. I never had a moment of anxiety or hesitation. And to be honest I came at the same time the economy crashed and the atms were closed etc I was expecting to feel scared or threatened. I travelled in Athens, in our Villiage, to Corfu and in Santorini and Mykonos and I always felt okay. Except maybe from the Italians at Tropicana but that's a different story.
I walked through the streets at early hours and late nights and always there was a familiar face, a shop owner to say hello too or a local asking if your okay.
On my second trip I again travelled but not alone and this time the refugee numbers had increased significantly and people were uneasy so there was moments in Athens where I was a little bit concerned but only enough to hold my bag a little closer because still behind the groups of refugees there were still smiling faces and welcoming voices. I felt much more afraid and aware of my surroundings in Israel, Dubai and Lebanon.
Cindy Collins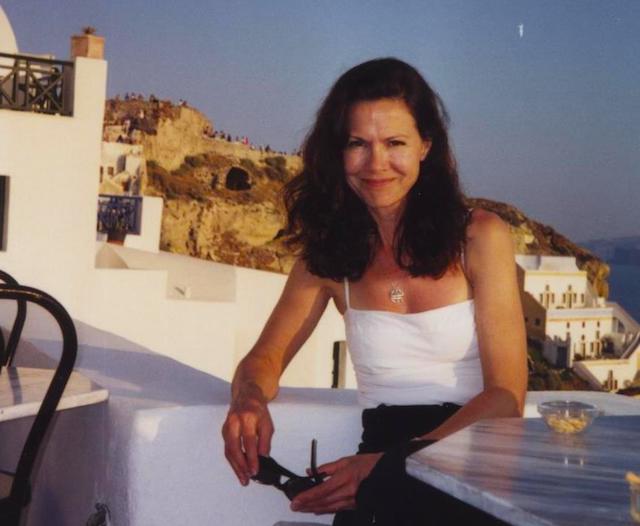 Yes, it is safe. But just because you're on vacation does not mean you should be carefree though! Common sense is key and learn a bit of Greek or download a translation app on your phone. Even though I visit family in Athens, I always plan a 3 to 5 day SOLO excursion based on a well planned itinerary which I leave a copy with them and someone at home in the US. I dress appropriately, and walk with self-confidence. Traveling solo (13 islands) gave me more freedom to meet people, explore, sit at a sea side cafe for 2 hours soaking it in, no one to hurry me along, etc. Unless your traveling partner isn't extra baggage, it's the best way to travel. I've met the most awesome people this way, some who have remained friends long afterwards. During one of my first visits back in 96, I was trying to make my way up to the Acropolis. Hot, tired I stopped at a cafe along the way and ended up diverting my plans due to an endless conversation with the elderly cafe owner. A special time I'll never forget. Endless wonderful moments like that over the years of traveling solo. And yes some "oh shit" times as well which I learned from. Successful solo travels really depends on who you are as person, male or female.
Mollie Smith
Absolutely! I do a lot of walking on my own and feel safer there than at home. Obviously take sensible precautions, if going off on your own let someone know where you're going and an approx return time. Keep the accommodation phone number in your phone. Any problems and you will always find someone more than happy to help. Relax and enjoy your holiday!
Eleanore MacDonald
Iíve gone many times alone and have always felt safe, Athens, mainland villages and islands. Have had a few Ďmomentsí (bag taken off metro - but I jumped off, Found the guy, gave him a tongue lashing he wonít forget and got it back! And a weird encounter at dawn while I was feeding stray cats, with a weird predator. But he couldnít handle me yelling at him so he ran away) but thatís not bad for 33 yearly trips to Greece. I feel safer there than in the states.....
Pamela Stoor
I have always felt safe in Greece and I have travelled and live in Greece since 20 years. Some parts of Athens, as in any big city, one should be more careful in, but all in all one of the safest countries to travel in.
Kate Thomas
I have been to Greece, different parts and different islands, four times as a solo traveler. Feel more at home there than anywhere else. I have my wits about me (street smarts) but never an issue!
Jeni Say
I have traveled to Thessaloniki (and surrounding area), Sithonia and Kavala alone and felt safe at all times. Also wander off alone when with friends or husband in Greece occasionally to explore in the car - it is great fun
Karen Forbes
Although I've never travelled completely alone, due to my OH's illness I often spend days and some nights by myself shopping, swimming, horse riding etc. I've always found people to talk to, and often in restaurants and cafes when they realise you are by yourself, give you extra attention and a chat to make you feel welcome and less alone! I would quite happily go for a drink by myself in bars too, and I've met some great people whilst doing so and in Athens I got more street hassle from the vendors of cheap bracelets when I was with my OH, but thats probably because when I'm alone I've perfected a stare Medusa would be proud of.
Ginny Giles
I have traveled alone to Athens, Thessaloniki, Sifnos, and Lesvos and always felt safe. I avoided dark corners late at night in the cities but that was it. I have traveled all over the world by myself and Greece is one of the places I feel the safest. One of the reasons I like to visit Greece is that there is a sort of camaraderie among women. I have found the Greek women I meet to be helpful and kind.
Margo Ziolkowski
Absolutely Greece is a safe place for women to travel alone. I spent a month and a half in Greece alone. Most of it on the island of Sifnos. I did spend a couple of nights in Athens and a couple of nights in Adamas, Milos where I went out for the evening and got lost finding my way back to the hotel - I had several people helping to find this place - they did not recognize the hotel name, but when I mentioned the owners 1st name they knew exactly where I needed to be! Any time I ever had concerns (not about my safety) I would always hear someone say - not to worry, everything will be okay. I love the Greek people??! They are the best!
Ann Welch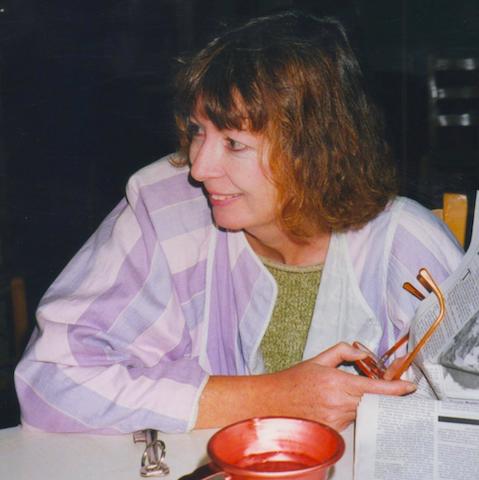 I travelled to Greece the first time in the early 70s through the former Yugoslavia, which was easier to travel in as a young woman compared with Italy or Spain. But when I reached Greece I could not believe how differently men related to me, with friendliness and courtesy, so civilised. Now on the island of Lesvos I still hitch hike occasionally as I used to in the days when we did not have a car, and I only ever had one incident. But of course I don't recommend doing this because the most dangerous thing about Greeks is their lack of driving skills. However Athens certainly will be different, some years ago a friend was mugged near the Acropolis but she was from New York City and had learnt Judo and self defence but of course it was unnerving. Although I always found it safe in the past I have to say very strong men do not find it particularly safe to walk around too late at night in some areas of Athens. But as for the islands ands the countryside Greece is wonderful for women travelling alone, maybe the best place.
Nancy Naimisha Plunkett
I spent a few weeks on Amorgos this past summer. I arrive solo and have for the past 4 years until I meet my sailing yacht I work on. This time I opted to visit friends in Athens first, ferrry around to get to Amorgos. I had a lovely stay at an AirBNB, rented a car and thoroughly explored Amorgos from one end to the other. A solo traveler, I was always asked if I needed anything? how was everything and could they help? - I adore Greek hospitality; and I alwasy dread returning to the states. Everything from catching metros to ferries, if you have a question, folks will stop and help you. Young men at the airport lifted my heavy duffle when I realized it was stairs and not an escalator - didnt even ask... just swooped in behind me and lifted the bag. Another young couple on the ferry allowed me to charge my cell phone with their charger before getting to our island, no worries! They even made sure I knew where to go when we arrived. Its just such a fantastic experience, even before you get to the yacht and sail multiple islands for weeks! I don't "hang out" in bars or nightclubs , so I cant vouch for nighttime safety, but I have not heard any tales in my travels. Just lovely people, enjoying life and the wonderful, magical Greek islands... I think everyone should visit!
Danielle Coleman-Dawson
I always feel safe when in Greece alone when Iíve visited on vacation and for the several years I was lucky enough to live there. Obviously as many have mentioned pay attention to your surroundings and be respectful. Also as someone mentioned you are more likely to have a problem with a tourist from elsewhere than you are from the locals. You are never truly alone in Greece the locals make you feel like family almost instantly and a friendly smile can take you anywhere. Just pay attention and you will have a lifetime of memories.
Victoria Papale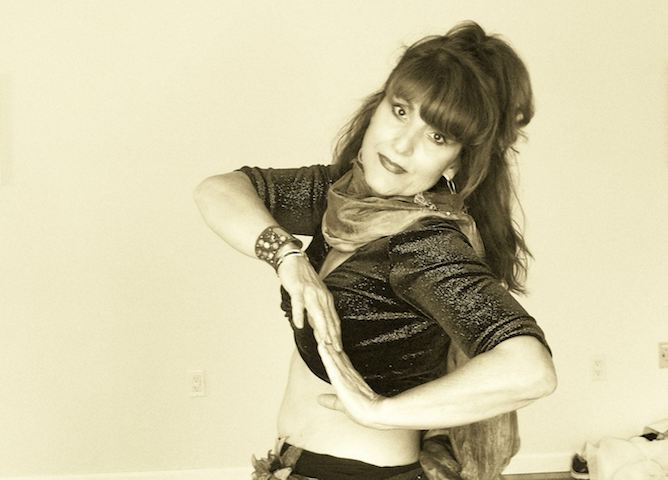 I am an artist and Belly Dancer. I am inspired by Greek Mythology and the Greek Culture has been my Muse for years! I studied in Greece at the Aegean Center for the Fine Arts in Paros Greece, Spring 07 Semester. I have lived in Greece. Alone...and felt truly safe. Of course... like in any big city in the States I would not be walking about alone in a strange neighborhood late at night... in Athens. Well, maybe for other large cities in Greece too. In the early morning or taking a subway you should pay attention to your surroundings . Other than that there is little to worry about. Travel. Explore. Meet new friends and enjoy the most beautiful place on Earth. Since living or staying in Greece is such a Joy for me and I am so happy while there, I'm always meeting new friends and inspired...so I never feel alone.
Sue Courtney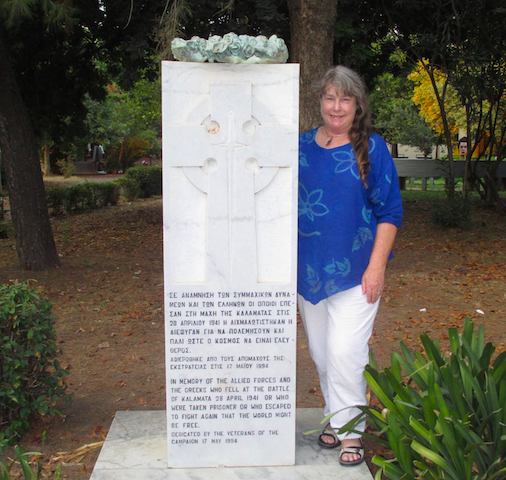 I'm from New Zealand. I've been to Greece 3 times, in 1973, 2013 and 2016. The visit in 2016 I was mostly on my own for several days and it will be the same when I return in this coming spring. I can speak a little Greek, maybe that helps my confidence and carry a notebook with important phrases written in English, Greek and phonetically with the english alphabet. If Greek people talk to me I tell them my father was in Greece in WWII in 1941 with the Allied Forces and was taken POW there. This is a good icebreaker.
I try not to look like a tourist although that is pretty hard to do when dragging a trolley bag, but I don't carry a fancy camera.
Yes it does get lonely at times, dining alone especially, but that is the same for any country. Only thing I didn't like was being hassled in cafes by men (not Greeks) selling watches, bracelets etc and not going away when I ask them to - these men speak good English and I switch the conversation around to them.
The other downside of being solo is that I don't necessarily want to go to the popular tourist spots and I am not confident to drive in Greece alone (it's the 'other' side of the road). For a solo traveller it is virtually impossible to get a tour for one person - either tour guide does not want to know, or if you get a quote from a taxi driver you are expected to pay as much as two or sometimes four people would pay between them. However the train / bus network is excellent *when not on strike* and I've always felt safe on the KTEL buses and intercity trains paying extra for first class from Athens to Salonika.
Antouanette Kreouzi
I feel very safe in Greece, especially on my Island of Tinos and when I walk alone in the Villages and go to the beaches. I see many other women alone too on Tinos without a care in the world. I would be careful in Athens though.... And not let my guard down. Generally, act confident and as if you know where you are going with purpose and no one will bother you. I want to relay an anecdote that really shows how safe it is on my Island.... I asked a local if it is safe to walk from my Village to the next one at night... He said that if I were to meet someone on the road, get scared and scream.... That I would scare him and that just would not be polite.
Penny Turner
I have travelled more or less everywhere in the mainland of GR alone. I would like to tell you that whenever I went to isolated villages where only a few people live the women were so kind to me and supportive. Men might say something like "But aren't you afraid?" and women would say, "no, of course she's not afraid.. she is Boubalina!" They LOVED my adventures, adored my horse, and told me about their own adventures... for example walking with the cattle from the winter compounds in places near Larissa to the summer pastures near Prespa, and what fun it was then. They also told me about favorite horses they had, or mules, that they had loved.
Aurelia Smeltz
As a writer specializing in Greece, I always travel alone. I have been to the mainland several times and visited more than 18 islands. The only problem I have had is in Athens, where I was robbed on the subway when a gang of young men cut into my purse with a knife and took my wallet. Whenever in Athens now I put all my valuables in the hotel safe and do no carry my wallet with me. I take the cash that I think I will spend and put it someplace safe on my body, and sometimes in my bra. I have been going to Greece for over 30 years and had just one incident of being robbed. My advice to solo travelers is to always exercise caution wherever you are traveling, and let the hotel manager know what friends or family should be contacted in the event of an incident or an emergency.
Huibing Goh
I travelled solo in Greece for two weeks in 2017. Crete, Santorini, Athens, Delphi and Meteora. To be honest, I sometimes got stares by locals on the street. I guess an asian woman travelling solo is pretty unusual there? Other than that, I feel really safe. I agree with others you just need to be switched on in Athens especially when walking along the Monastiraki Flea Market.
Chrysanthie e Voreas
I walked home from Psirri to Ambelokipi... 4 am happy as a clam.i was in my early 50s.ive been traveling to Greece alone for years.just returned from Chania and Athens..and when alone...night...perfectly fine. I'm 68 years old.
Join us and meet us all on Matt Barrett's Greece Travel Guides Group on Facebook for comments, photos, free advice and other fun stuff.
Be sure to read Crime in Athens which will help you avoid the purse-snatchers and pick-pockets and other petty criminals. If you need help or advice you can contact Matt. If you need advice on where to go and what to do visit Matt's Greece Suggestions Page. If you need professional assistance see Matt's Greek Travel Agencies Page. If you know what you want to do and need help putting it together try Matt's Create an Itinerary Page.