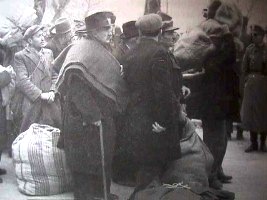 The Italians were somewhat unwilling parties to the ideological aspects of German Nazi militarism, and their lack of enthusiasm was reflected in their attitude toward the Jews in the Italian occupation zone. In some areas the Italians did make life uncomfortable for the Jews, as in Rhodes where Mario de Vecchi di Val Cismona was governor from 1936 to 1942. In contrast to di Val Cismona, however, was Admiral Campione, who replaced di Val Cismona in 1942 and who made life once again bearable for the Rhodian Jews. In Thessaloniki the Italian consul provided many Jews with Italian citizenship papers, granted on the most flimsy bases, enabling them to escape to Athens. After 8 September 1943, when Italy surrendered to the Allies, this was a doubtful blessing, for then these 'Italian' Jews found themselves enemy aliens in German occupied Athens.

The Jews in the Italian occupation zone took virtually no steps to protect themselves. The general impression was that the Jews of Thessaloniki simply had been deported and were living somewhere in Cracow; news had not yet come out as to what had taken place in Auschwitz. Also, many people thought that the German racial laws had been applied to remove the Judaeo-Spanish bloc in Thessaloniki, that impediment to the full Hellenization of Thessaloniki since its incorporation into Greece in 1913. In this view, the Jews of Thessaloniki were the last reminder of an Ottoman presence in Greece.

In Athens, the Jews were well integrated into the city's life. There was no particular characteristic in the form either of dress or speech distinguishing a Jew from his Christian neighbor, nor was there a single part of the city which could have been described as being 'Jewish'. The Jews of Athens were scattered about the city according to their social and economic status and were not concentrated into an area about the synagogue. Integrated and Hellenized as they were, they considered it unthinkable that the fate, whatever it was, of the Jews of Thessaloniki could befall the Jews of Athens. This attitude prevailed in most of the Jewish communities in the Italian occupation zone.

On 8 September 1943 the Italians surrendered to the Allied Forces invading Italy. The Germans, considering this an act of betrayal, promptly arrested the Italians who were in Greece. At the same time the Nazis set in motion the last phase of the 'action' against the Jews of Greece. The cities with the largest numbers of Jews were Corfu (Kerkyra), Zante (Zakynthos), Chalkis, Patras, Ioannina, Preveza, Volos, Larissa, Trikala, Rhodes, Kos, and, of course, Athens. The Jewish communities on the islands were already isolated. In most of the mainland towns there were Jewish quarters, not the consequence of a ghetto policy, but the natural tendency by the Jews throughout the centuries to consolidate their lives near a synagogue.