Escape to Loutraki with Fantasy George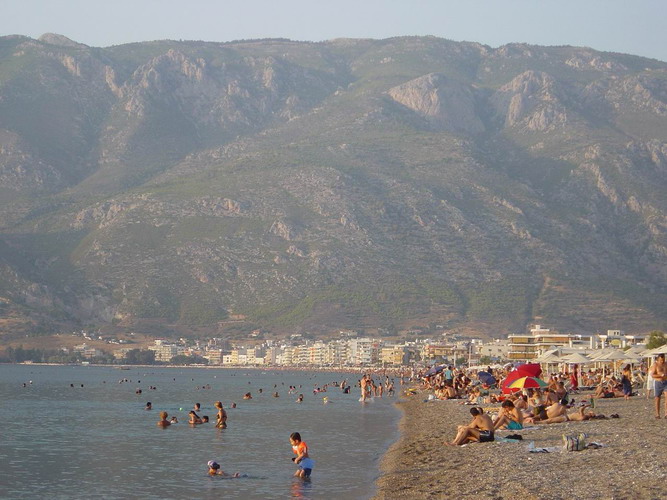 My friend George works too hard. He is a travel agent and in Greece if you are a travel agent you have to work hard because so much of your money goes to taxes and expenses that if you don't work hard you won't be in business for very long. George wakes up early and goes to the office at about 8am except for those days that he exercises for two hours before going to work so he won't have a heart attack. George owns Fantasy Travel. Except for his lunch break when he goes next door to the Diros Restaurant, George is at his desk until he leaves at 8pm. He does this every week of the year. He works seven days a week. He has been doing this for 21 years straight. In the summer though, he allows himself some leisure. On Saturday afternoon at 5pm he is the last person in the office. He locks the door and gets in his car and drives an hour to the spa-resort-casino town of Loutraki in the Gulf of Corinth, where he rents an apartment so that at least his wife and daughter get to have a summer holiday. George takes a swim, showers and then they go out to dinner with friends before he comes home and goes to sleep. He wakes up the next morning, has another swim and then has breakfast, gets in his car and drives back to Athens and is at work again by noon on Sunday. This is his routine and this little window of leisure is what keeps him going for the rest of the week.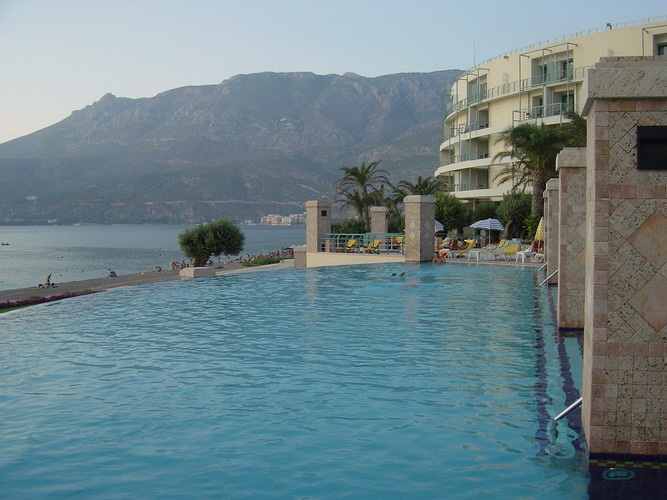 George often invites us to come with him to Loutraki. I am willing to go anywhere but my wife Andrea always has a reason not to. For a long period of time she said she did not like the bottled water that came from Loutraki and so that was her reason for not wanting to go there. (The Loutraki water is fine and I don't know why she made up her mind that she did not like it or why that should even be a reason not to go to Loutraki.) Amarandi, my daughter, is more like me. She will go anywhere. As long as it has a pool. So George made us an offer we could not refuse. Come with him to Loutraki for Saturday night and stay in the Hotel Club Casino, one of the most luxureous hotels in Greece with, as the name implies, a casino on the premise, the most popular Casino in Greece. I reminded George that it was a three-day weekend and those people who were not as crazy about work as he was were probably taking advantage of the holiday to get out of Athens and the likelihood of finding a room was slim and traffic would be terrible returning to the city on Sunday. George told me not to worry about it, so I didn't.
George picked us up in his white Mercedes and we got on the National Road heading south towards Corinth and the Peloponessos. In an hour we were in Loutraki. (George drives fast.)
Loutraki at first glance looks a little askew. Empty lot, next to an apartment building next to a stone hut, next to a supermarket, with no sense of order or reason. There had been an earthquake in 1981 and when they rebuilt it maybe someone misplaced the plans and so they had to go from memory. But all is forgotten when you reach the coast and see the sparkling waters of the Corinthian Gulf, a long beach full of people and an enormous mountain in the background. Throw in the apartment buildings, hotels, restaurants and it looks like Cancun or the French Riviera, not that I have been to either place.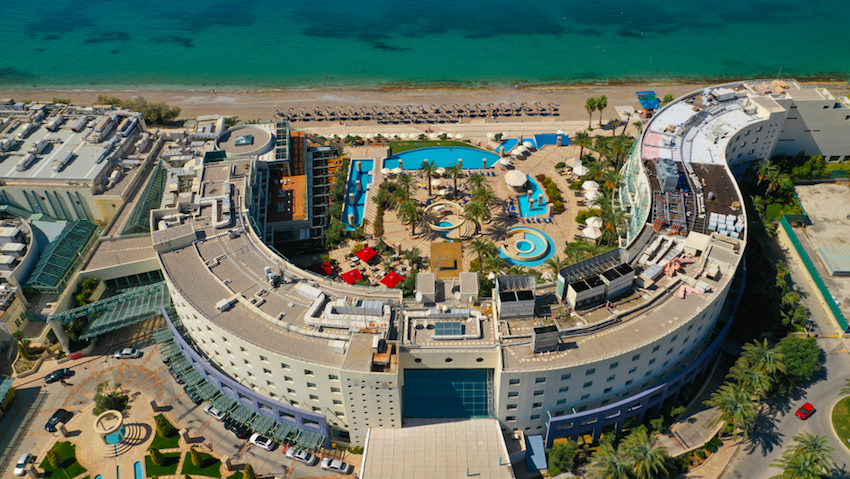 The Hotel Club Casino Loutraki is awe inspiring, as it should be because they spent millions to make it that way. A super-modern high tech entrance and lobby leading to a beautiful garden of flowers that sits in an olive grove with trees that appear to be hundreds, even a thousand years old. Running between them are passageways of water that lead to various pools and baths. There is a giant swimming pool that overlooks the sea, full of attractive young people with great bodies and lots of money. There is an outdoor whirlpool, a children's pool, an indoor pool and beyond is the blue water of the Corinthian Gulf that from this vantage point looks vast like an ocean. Just next to the lobby is a big round table with computers and children surfing the web or playing games. There is a cafe, bars, restaurants and lots of people, not only Athenians escaping Athens but foreigners too. We race to our room to change into our bathing suits, saying goodbye to George who drives off to see his family. We will see him tonight for dinner. Our room overlooks the gardens and pool area with a view of the Gerania Mountains. Normally the extravagance of such a room would keep us inside, pressing buttons, seeing how many channels the satelite TV gets or what is in the mini-bar and fridge, but the sea (and the pool) look too inviting after the summer heat of Athens.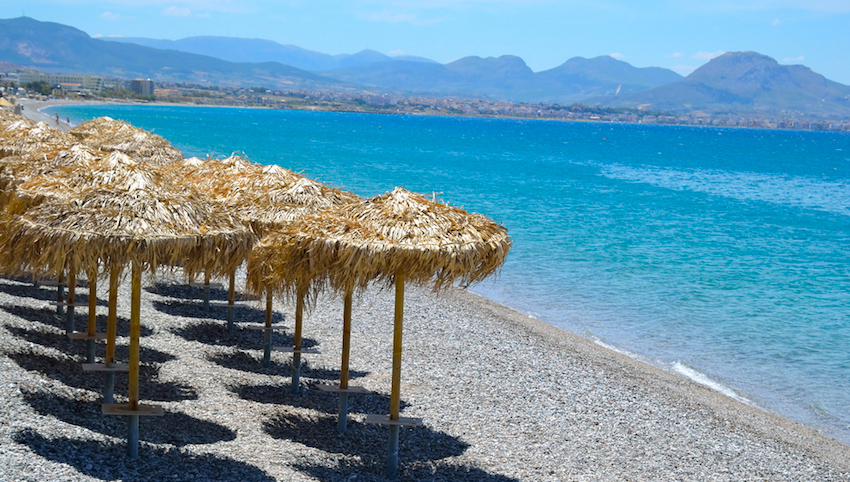 As usual Andrea swims out as far as she can with Amarandi following her, which fills me with anxiety since I am a terrible swimmer and can't understand why people even float. When the two of them leave the safety of the shore I can't bare to watch so I leave the beach and go to the pool and watch the girls instead. I know that if Andrea or Amarandi were to get into trouble that by some super-human effort I would swim out to rescue them and drown myself. For me it makes more sense to swim in the relative safety of a chlorinated chemical bath than to paddle around in the sea waiting for the inevitable cry for help which out of duty and love I would be obliged to respond to. Of course the secondary strategy is that as soon as Amarandi sees me going towards the pool she will leave her mother's side because she would rather be in a pool any day. Then I get to pretend I am the bachelor father with the great relationship with his cool daughter, every single woman's dream-guy.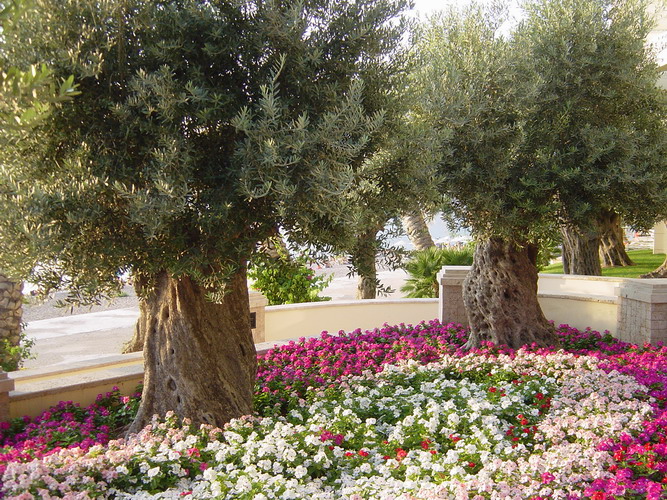 Andrea eventually joins us and we have a discussion, well an argument actually, about the thousand year old olive trees. I explain to her that it is simply impossible to transplant a whole olive grove of ancient trees and therefore the olive grove had to be here and they must have built the hotel around it. I am so sure I am correct that I find it hard to believe that the brochure she shows me with photos of workers transporting ancient olive trees with their giant roots wrapped in burlap, is not a fake. OK. It is obvious that whoever built this hotel spared no expense. The furniture is all by famous designers and you can even buy a poster of the various black leather couches, easy chairs and tables. But architecture and design are one thing. What intrigues me more is the prospect of making some extra money, so after a shower (with shower massage of course), a cold imported beer in my monogramed bathrobe courtesy of the hotel, and a change into my dockers and flip-flops I walk out the front door of the lobby and over to the casino. I discover you can't enter a casino in flip-flops, even expensive ones from the GAP. I point to my foot, which though no longer bandaged still carries the scar and the swelling from when I cut it, the first swim of the summer a month before. "It is not that I am so unsophisticated that I would come to a casino in flip-flops" I explain to the woman guard who protects the casino from people like me. "As you can see I have suffered a serious injury and my disability has left me unable to wear shoes." She doesn't go for it. Rules are rules. How can a casino that does not require a tie, not allow flip-flops? That's OK. Let them keep their money.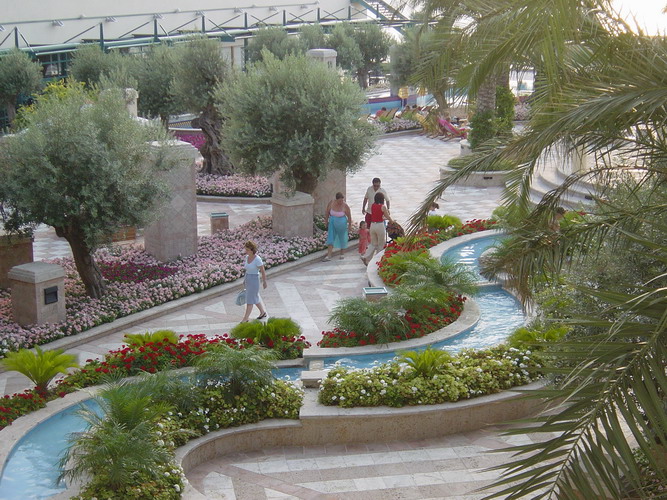 It's too bad because I really wanted to have a whole webpage on the casino, in fact that was the main reason I came along to Loutraki rather then watch the Olympic Bicycle Trials in downtown Athens since the route went right past the Attalos Hotel where we were staying and I would not have to go far to see it.
George picks us up that evening and we drive to a seaside taverna in the Peloponessos, TAVERNA KALAMIES in the village of Melissi. This is one of the neat things about Loutraki. You can go to the Peloponessos for dinner. It's a 10 minute drive. There is a live band and dancing and lots of wine and food and a large table of interesting people, the kind of night I long for when I am back in North Carolina and thinking about summers in Greece. Even Andrea dances. The party breaks up around 2am and George drops us off at the hotel and then goes to the Casino and wins a million dollars.
The next morning we discover the breakfast buffet. There are three tables, each about ten meters long crammed full of food. One table has all sorts of eggs, bacon, sausages, potatoes, quiches and a guy who will make any kind of omelet you want. The next table is all pastries, cakes, smoked salmon and other fishy things. The third table is fresh and dried fruits, yogurts, cereals, juices and God knows what else. It was the kind of breakfast that made me think seriously about skipping lunch. By the time George comes to pick us up we are so full that can barely walk.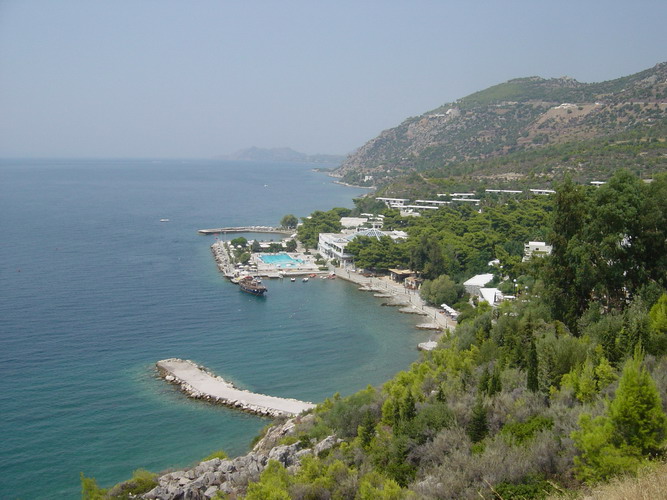 We decide to take a small tour before driving back to Athens. Loutraki was called Thermea in ancient times and was a spa then as it is now and is mentioned in the works of Xenephon. During Roman times General Sylla was cured by the medicinal waters of Loutraki. In 1847 the modern town developed around the hot springs. In 1926 Greece's first casino was built here and in 1936 Loutraki became a spa center. Since then the medicinal waters have become as highly praised as the more well-known waters of Vichi, Perrier and Evian. If you visit the Loutraki Thermal Spa you may find yourself in the therapuetic waters of a large bath that looks like a swimming pool. They offer all sorts of other treatments for rejuvenation and healing. The spa is at 24 G. Lekkas street and is open year round.
We drive north and west along the coast, stopping at the plant where they bottle the famous Loutraki spring water, which Andrea has decided she likes after-all since that is the only water she could find here. (Maybe that was why she didn't want to come). We see the famous Catarachts, a man-made waterfall that plummets fifty feet into a cafe. We stop at the extensive Posideon Resort, another luxury hotel that offers high quality service and entertainment and is known all over Greece. There are a number of less expensive hotels which can be found on Booking.com's Loutraki Pages.
There are several museums in the vicinity including the Loutraki Folklore Museum on S. Lekka & G. Nikolopoulou Streets, as well as the Archaeological Museums of Isthmia and Ancient Corinth both within a few minutes drive that of course we did not go to since it was about a hundred degrees and all we wanted to do was stay in George's air-conditioned car. Loutraki is a good place to base yourself if you want to do day-trips in the mainland and still be within striking distance of Athens. You can easily do day trips to Myceneae, Nafplio, Epidavros, Sparta and Mistras, Delphi and Olympia as well as the northern coast of the Peloponessos. The Corinth Canal is a few minutes drive from Loutraki.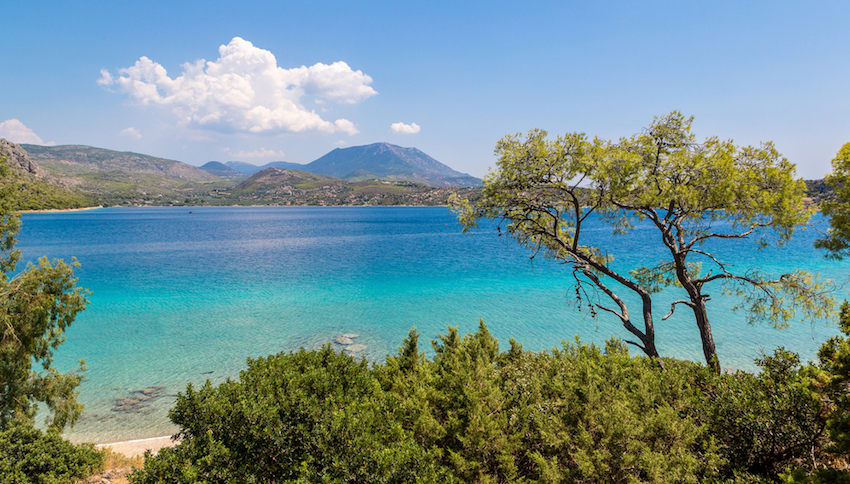 Further along the coast is Lake Vouliagmeni, not really a lake since it is salt water and there is a small channel to the sea, but nonetheless very beautiful with pine trees that come down to the edge, fish tavernas and some nice family beaches.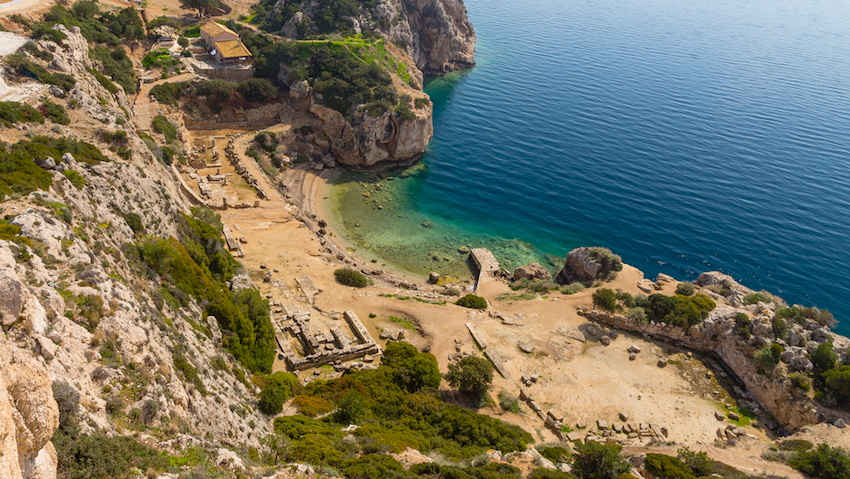 A few kilometers further is the ancient archaeological site of Heraion, with its ancient settlement and the two sanctuaries of Acraea Hera and Limenia Hera from the 9th and 8th century B.C. The site was excavated in 1930 by Archaeologist Humfry Payne who was accompanied by his wife Dilys Powell who wrote about it in An Affair of the Heart. (I didn't know this when I went there, I just read it now in Lonely Planet because I was looking for the bus schedules)
We continue on to Kato Alepohori where we have lunch in a seaside taverna and then drive over the mountain to Megara, the chicken capital of Greece where we get back on the National Road and drive almost to the Attalos Hotel. Almost because as we and the many Athenians returning from the three-day weekend were to discover, all the roads of central Athens are blocked off due to the Olympic Bicycle Trials which I planned to write about instead of go to Loutraki. So we walk the last couple miles and then watch the end of the bike race while George drives around the perimeter for the next several hours trying to get to his office so he can go back to work, before finally giving up and going home to count the million dollars he won at the casino.