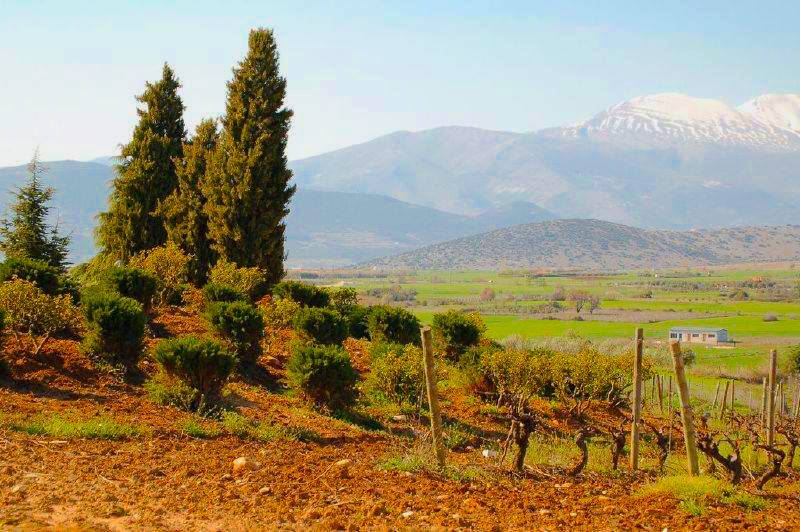 Drama is a land of valleys and mountains with alpine refuges and ski resorts. Its forests are home to flocks of birds. Fertile ground and endless tobacco plantations, caves with enormous multicolored stalactites, and rivers whose lyrical waters bubble gently, the scenery in the region is simply magical and the people hospitable . The prefecture capital bears the same name, Drama. The town due to its abundant water that flows through it, is lush and green and is perched above acres and acres of tobacco fields. The area is also the home of the famous Niko Lazaridi Winery which produces some of the best wines in Greece and is known internationally for their Château Nico Lazaridi, and the Rosé Nico Lazaridi.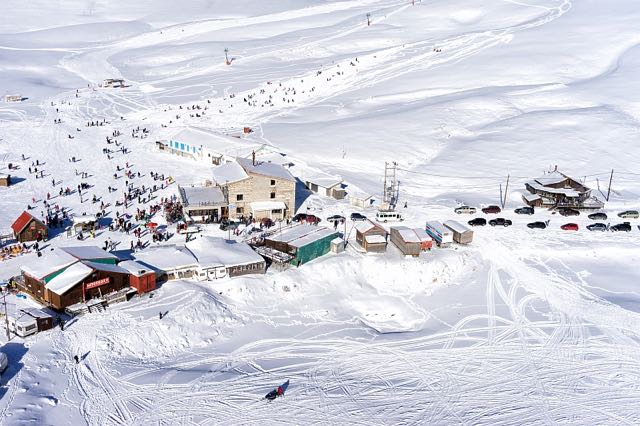 Drama lies at the foot of Mount Falakro which is called the mountain of flowers by the locals but means literally 'bald mountain'. A mountain of incredible beauty there are ski slopes and well equipped refuges for climbers. All the refuges have beds, mattresses and blankets, heating, water, and a kitchen. Falakros ski center has one difficult slope, 1000 meters long.
Mara's Cave at Kokinogies, about twenty kilometers from Drama is filled with stunning colored stalactites, some of which are 2 meters in diameter with their tips touching the surface of the water. Why not take a hike through the wonderful forest of Elatia (70 km. north of Drama), where amongst the pines, oaks and willows, the red fir grows, a very rare tree in this country, whose height often reaches 50 metres. Southeast of Drama (10 km.) is the pretty market town of Doxato, with facilities for tourists and a reputation for fun and high spirits. The Bounar-Bassi springs, with running streams and enormous trees, are just 3 kilometres away at the foot of Mount Kouslari.
Hotels in Drama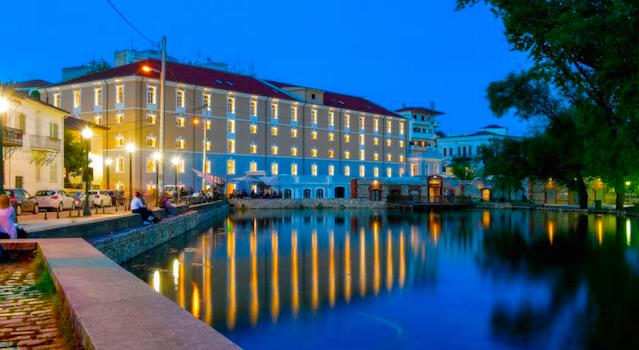 Drama has one or two exceptional luxury hotels as well as many very comfortable family run economy hotels. Hydrama Grand Hotel (photo) is housed in an old tobacco warehouse in Dráma, right opposite from Agia Varvara water springs. The hotel has a hot tub and sauna, and guests can enjoy a meal at the restaurant or a bottle of local wine from their well stocked wine cellar. Combining classical and modern architectural elements, Xenia Hotel is located in the centre of Drama Town. Free Wi-Fi is available in all areas. The family-run Emporiko Hotel offers air-conditioned accommodation with TV and free Wi-Fi. Rooms feature balconies overlooking the city square or municipal gardens. Located in the centre of Drama, Hotel Marianna offers tastefully furnished rooms with free Wi-Fi and private balconies overlooking the town. It has a bar with a spacious lounge, serves buffet breakfast and features free bike rentals. Outside of the town the Kouros Hotel features a pool with sun terrace, a poolside snack bar and a classically decorated bar-restaurant. It offers a 24-hour front desk, a fitness centre and air-conditioned accommodation with free Wi-Fi.
See also Skiing in Greece and Winter in Greece. Thank you to Robert Wallace and Fantasy Travel for their photos.