The Olympian Riviera, is probably the most popular tourist destination that you have never heard of with miles of sandy beaches bordered by Greece's highest mountains where they ski in the winter and make some of the best wine in Greece.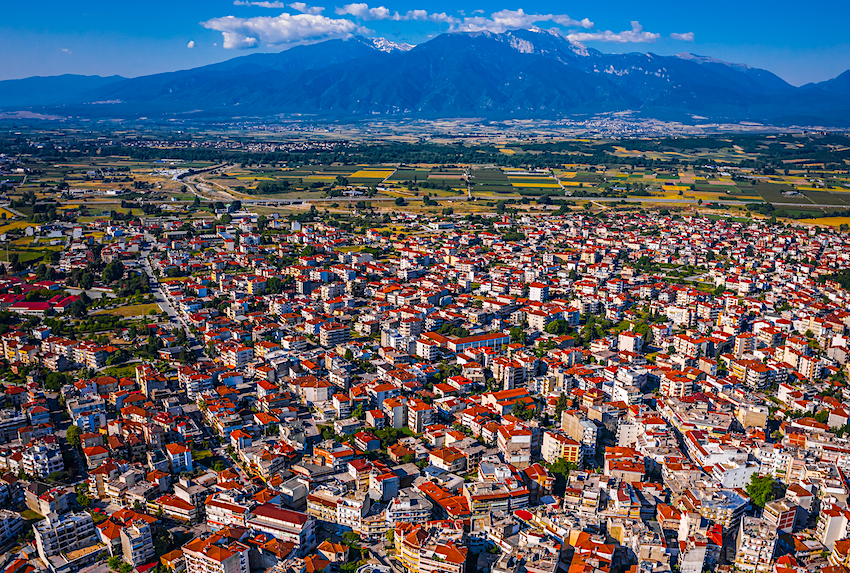 Katerini
Located in Pieria, Macedonia, between the famous Mount Olympus and the Pierian Mountains, the city of Katerini has a population of more than 80,000 people. It is close to several important archaeological sites, and a stretch of sandy beach that is one of the longest and most beautiful on the Greek mainland.
Katerini sits on a large flat plain and is primarily an agricultural region, growing cherries, tobacco, kiwis and grapes, among other things. However there are several hundred hotels, mostly on the beaches of Olympia Akti, Paralia and a line of coastal beach towns that stretches more than 70 kilometers. There is also a ski resort in Elatochori where there are a number of hotels, as well as on Mount Olympus where there is another ski center. This all means that Katerini, besides being an agricultural area, has a year long tourist season, though the summer is when the vast majority of people come.
Because Katerini sits on both the National Road and the railway line that connects Athens and Thessaloniki it is easy to reach. It is less than 5 hours from Athens and an hour from Thessaloniki by car, bus or train. The beaches have long been popular with tourists from the Balkans, Eastern Europe and of course Greece, but are now being discovered by travelers from other parts of the world who can fly to Thessaloniki and then drive here in an hour or so.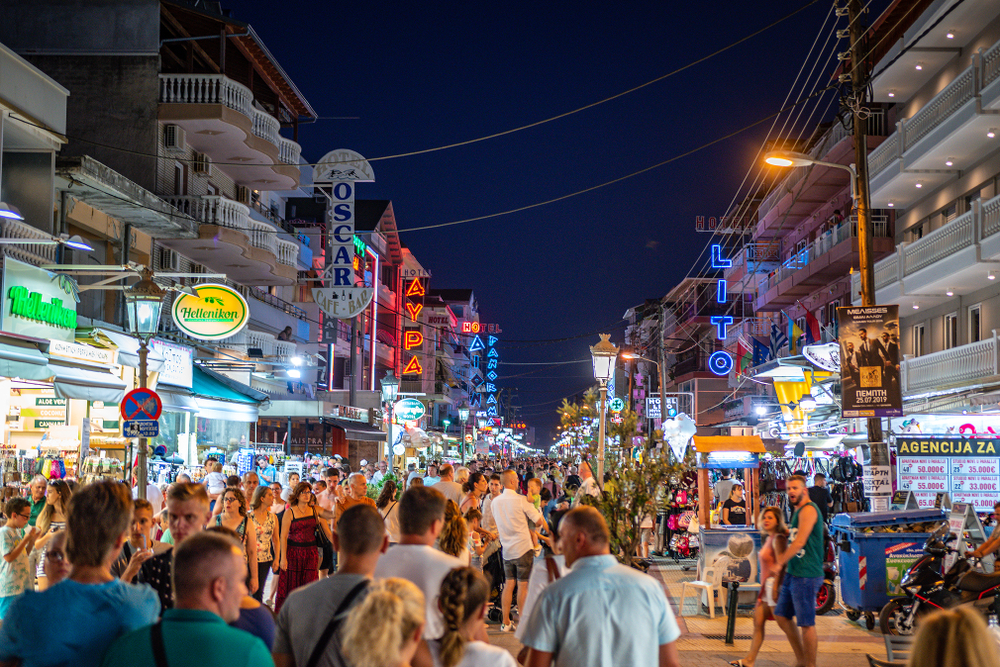 Chances are if you are coming to Katerini you plan to stay on the beach, so more on that later. But if you are coming in the off-season, like the dead of winter for example, you will probably want to stay in the city. And Katerini is a surprising little city full of shops and lots of cool restaurants and cafes. And even if you come in the summer and you crave that urban vibe you may want to stay in the city and commute to the beaches, mountains, archaeological sites and wineries.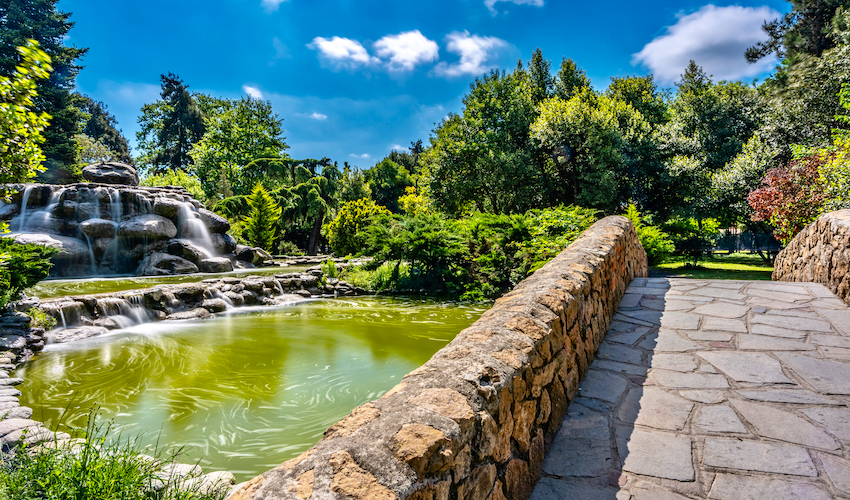 Near the center of the city is the Katerini Municipal Park, a large green area with ponds, fountains, stone paths, many plants and large shade trees, and several cafes, a playground for kids and even a small zoo. By Greek standards the park is well kept and it is a nice way to escape the city. The Municipal Theater, an open ampitheatre where they do theater and musical performances, is also in the park. Just north of the park is the Rain Pub, a traditional Irish pub where you can drink Guiness as well as microbrews and popular bars from Greece and around the world. South of the park on Gimnastiriou Street is the Apolause Restaurant, an exceptional modern Greek and international bistro with a lot of healthy choices for vegetarians and a very nice outdoor seating area. Amalthea Restaurant at Ippokratous 8 is a Greek/Mediterranean Bistro which is cosmopolitan but still basically traditional with an innovative chef who manages to stay true to his Greek roots while offering food that is original and delicious. Good service and friendly staff including the chef/owners who speak English and are happy to tell you about food from this region of Greece. For meat lovers Bebis Taverna on Agiou Antonio #50 just west of the center of town serves Kokoretsi, kebab, whole lamb, pork, and chicken on the rotisserie and all your favorite side dishes including vegetarian options, though who goes to a psistaria for vegetarian food? If you want to experience the joy of eating meat the way the Greeks do come here to this classic place. Rebetiko tou Pseira at Litoxorou 25 is an excellent meat taverna with live rembetika/laika on Saturday nights. They also have grilled thrapsala and loads of salads and appetisers.

If you have grown tired of the standard Greek fare you find in every town and city and village you have a lot of choices. For example Mr Lin Sushi at P Tsaldari 2 serves Japanese food of a quality that you might not expect to find in an agricultural community in northern Greece. Oliver's Pub on Solomou 4 serves everything from French Toast to wings to tortillas and burgers and a large number of Greek and American influenced entrees including lots of salads and vegetarian entrees and appetisers. And of course since it is a pub it has beer and interesting coctails and because it is also a cafe it has coffee and desserts.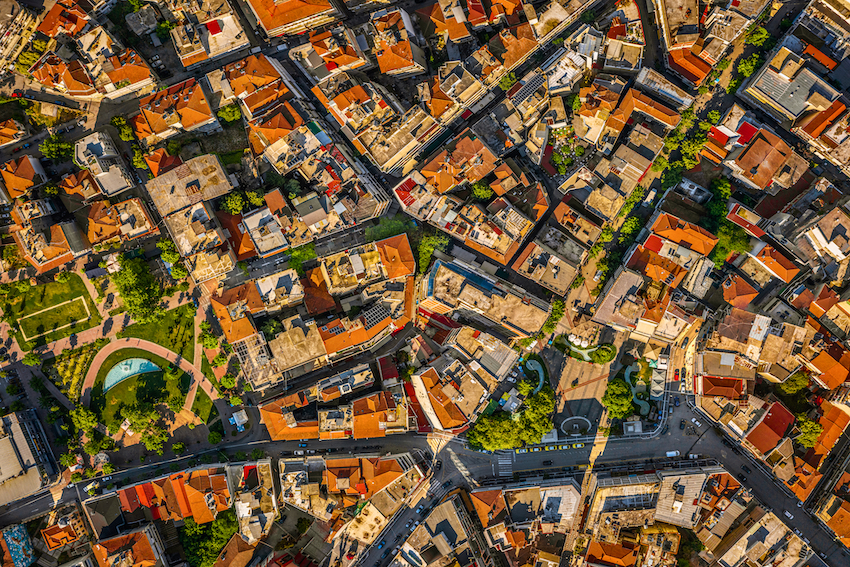 Where to Stay in Katerini City
There are only a few hotels in the city of Katerini with the highest rated being the Lido Hotel and the Hotel Olympion right downtown. But there are a number of apartments available if you want to be close to the center and don't mind commuting to the beaches. The Apollo 4 Luxury Apartment has free Wifi, cable flat-screen TV, a washing machine, and a fully equipped kitchen with an oven and toaster. Antonis Apartment is a spacious apartment with 2 bedrooms, a living room, cable flat-screen TV, and a fully equipped kitchen. Search More Apartments and Hotels in Katerini
Beaches of the Olympian Riviera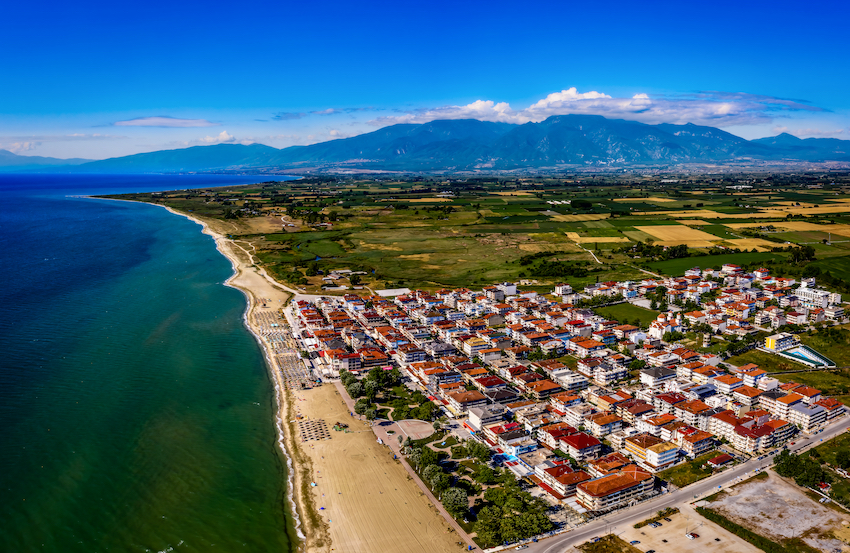 Olympiaki Akti
Olympiaki Akti, also called Olympic Beach is a Blue Flag Beach on what is known as the Olympian Riviera, a 70 mile stretch of sand that begins south of the Alkiakmonas River Delta in the coastal village of Makrigialos and continues to the popular beach town of Nei Pori in the south. There are dozens of hotels in the village as well as restaurants, cafes and shops in a grid pattern surrounded by fields. Because of the farms, wetlands, streams and standing water there are mosquittos.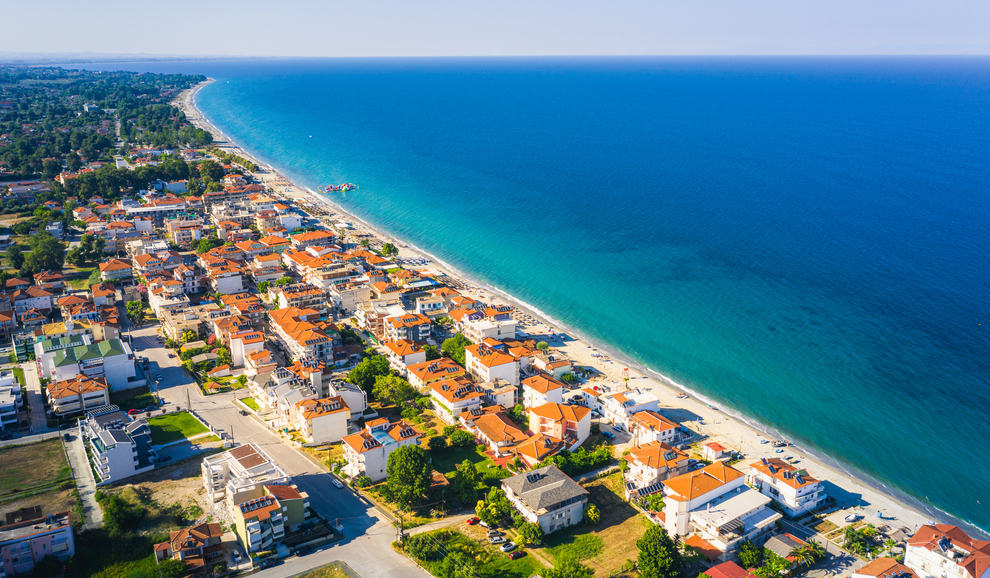 Paralia Beach
The beach town of Paralia (the name means beach) near the village of Kalithea has hotels, restaurants, cafes and white sand. Like many of these beaches it can be hopelessly crowded in the summer. But if you have a car, or don't mind walking, you have miles of sand in each direction. Paralia has a small fishing port for the boats that supply the restaurants of Katerini and the beach towns. Besides your normal beach bars and other ways of passing the days and nights there is a go-cart-racing track, a boat rental company, and a waterpark. There are loads of restaurants here serving seafood, grilled meats, or both and of course there are souvlaki shops, pizza and fast food joints as well. Poseidonio Taverna at Ag Nikolau 21 is right on the water serving large portions of your favorite fried fish, kalamari, shrimp, gavros, barbounia, koutsomoura as well as grilled fresh fish, mussels, and octopus as well as anything you would find in a psistaria. Taverna Kouklis at Leoforou Stratou 10 is similar and is also on the water. You can't go wrong with either place but there are lots more.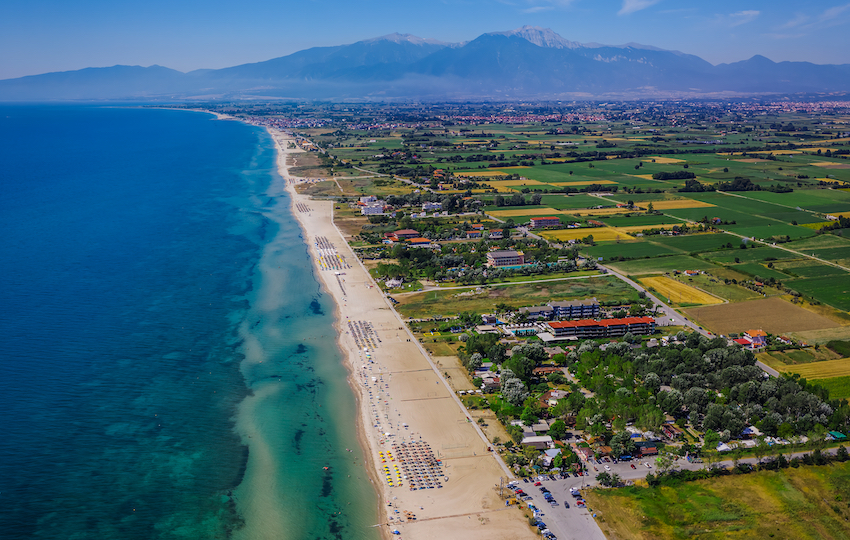 Korinos Beach
Korinos Beach is a long sandy beach that stretches for miles in either direction. It is shallow and perfect for children though when the wind blows in there can be big waves. When the wind dies down to a pleasant breeze it is perfect Greek beach with the color blue that you probably pine for if you have visited Greece before, and sold you on your first trip to Greece when you saw it in a photo. There are several canteens and beach bars with sunbeds and umbrellas, a restaurant or two and a number of small family run hotels and resorts.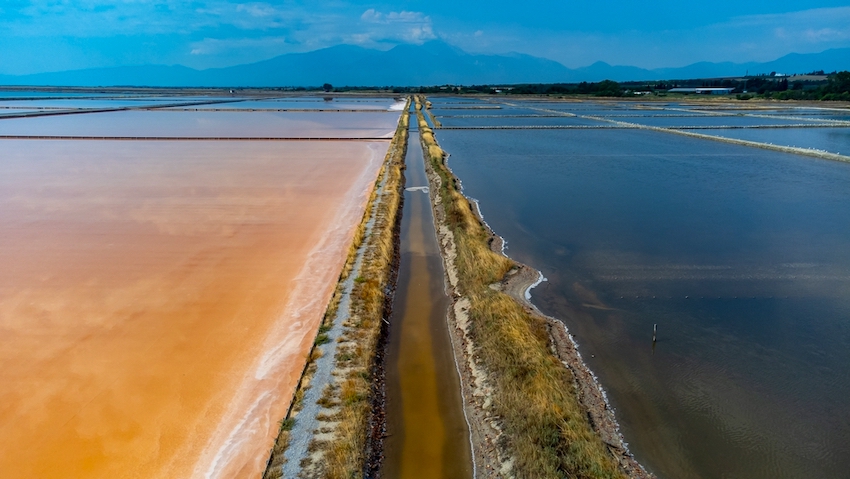 Further north along the coast is the Kitros Salt Pit, a wetlands area where birdwatchers come during migration season, and in the summer tourists cover themselves in the healing black mud or float in the water that they say is as salty as the Dead Sea. Nearby is the little harbor of Pydna which services mostly the mussel fishermen. There is a cantina called The Steki of the Psaradon (The Hangout of the Fishermen) or to the locals Alexandros, famous for mussels and fresh seafood. There are showers for washing off the mud (which smells) and the salt. There is a nice beach to the right of the harbor and several hotels in the town. Further north is the coastal village of Makriagialos with its very shallow sandy beach, a number of fish tavernas and hotels and all you would need to survive in a Macedonian beach town. The main road runs paraellel to the beach so you can easily access it if you are old, injured or lazy. There are cafes and beach beds you can use for the price of a coffee or a soda. There is also camping at Hotel Camping Agiannis and several hotels in the town of Skala Aliki including the Hotel Medousa which has its own restaurant, as does the Hotel Aktaion. Both are small family run hotels in great locations and perfect for families.
Beaches to the South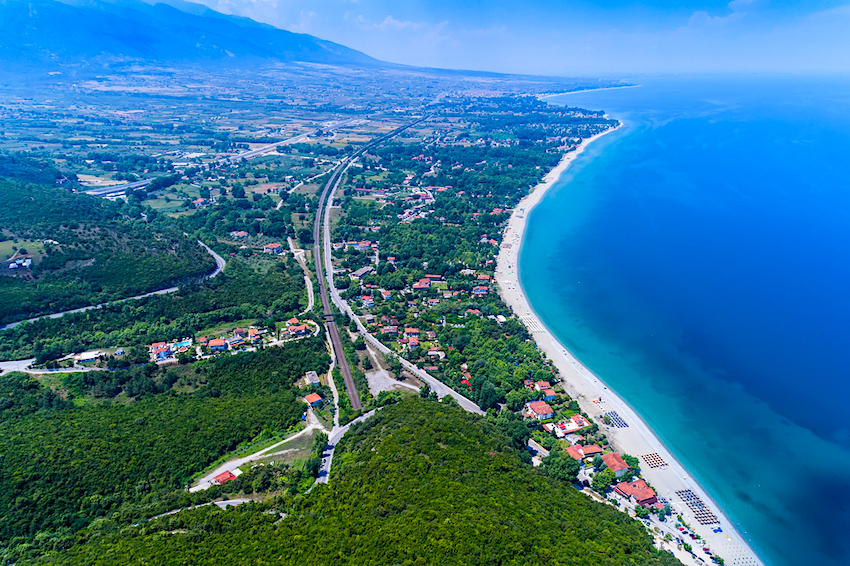 Pantelimonas Beach from DepositPhotos.com
From Olympia Akti there are a number of beaches and communities in the shadow of Mount Olympus to the west. Limenas Litohoro is the fishing port of the town of Litohoro, the staging area for most people climbing Mount Olympus. From here if you follow the coast through the towns of Plaka, Skotina, Paraleia Pantelimonas (under the castle), Platamon and Nei Piori you will find small hotels, large resorts, restaurants and all the shops you need to sustain tourists. Finally you come to the Pinios River Delta, another wetland and wildlife area right after Koulouria beach. If you follow the road alongside the river you will come to Pinios Delta Kayak and Outdoors where you can rent kayaks and canoes and explore the river and the coast.
Accessable Tourism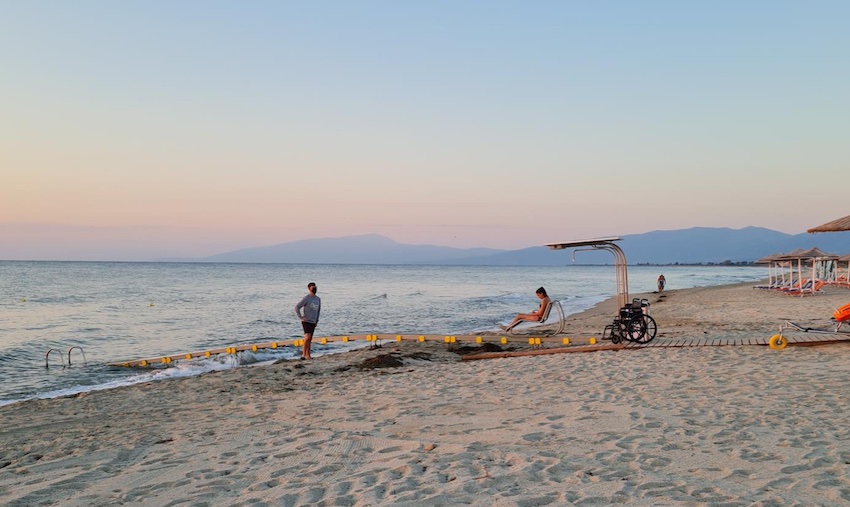 The beaches of Katerini and the Mount Olympus coast were among the first to embrace the innovative Seatrac wheel chair which enables people who use wheelchairs or have walking difficulties to easily enter the sea. They are easy to reach by vehicle and there are a number of useful faclities around them. The Seatrac chairs are located at Paralia Korinou by Volta Beach Bar, Paralia Kalitheas by Mandala, Paralia Metaxi by Paraiso Pool Bar, Olympiakis Aktis by Jolo Beach Bar and Notio Akro by Nina Beach Bar.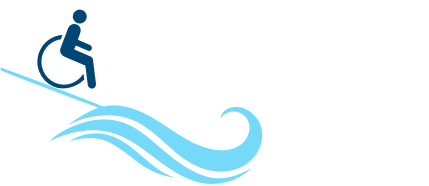 SEATRAC is a free service that offers unassisted sea access to people with disabilities and mobility issues. It is an innovative, technological assistant that promotes autonomy, quality, and wellness in everyday life. It encourages integration and inclusion of all members of society. It allows caretakers and families of people with disabilities to enjoy beach going without physical hassle. At no cost, SEATRAC offers independent sea access for people with mobility issues. SEATRAC beaches also include additional amenities such as parking, a beach track, restrooms, changing rooms, shaded areas, and shower, all of which help to create a fully accessible and free day at the beach! Visit their website
Archaeological Sites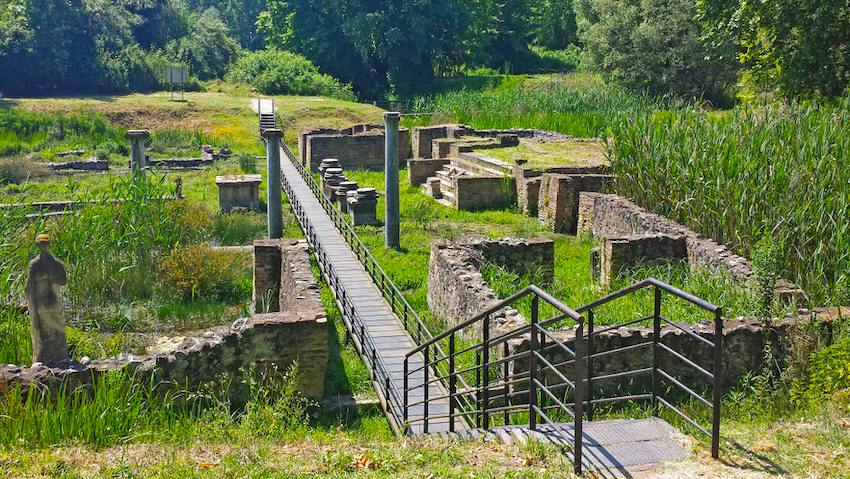 Ancient Dion was an important religious center for worshipping the Gods of nearby Mount Olympus. This is where Phillip II came to celebrate his victories and his son Alexander came to make his sacrifices here before going off to conquer the East. While most of the statues which were not only found virtually intact, but with traces of color, are in the nearby museum in the town of Dion, they have been replaced with copies. The Sanctuary of Isis is perhaps the most interesting discovery so far. An earthquake had displaced water and mud and the building was hidden for centuries under 6 feet of water which protected it from vandals. The temple still sits in the water and a copy of the statue of Aphrodite can be seen there.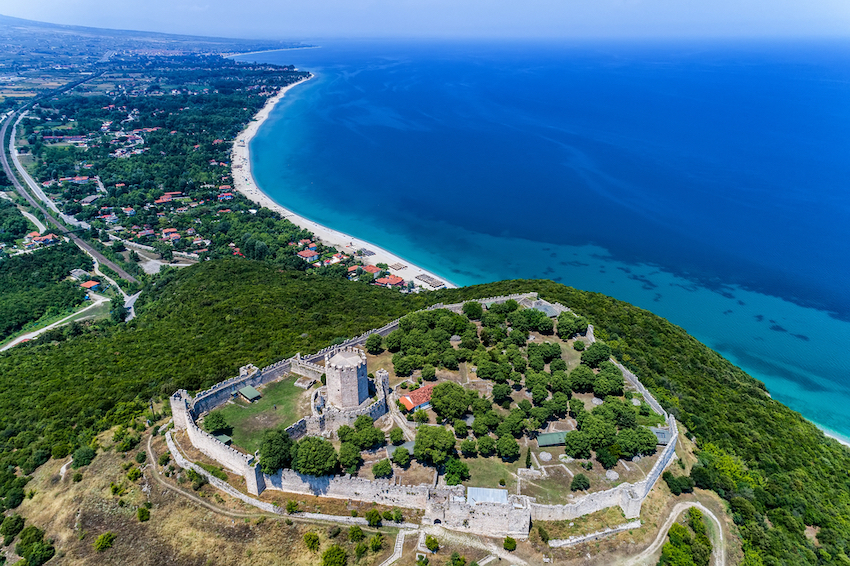 Platamon Castle is a 13th Century Crusader Castle which guarded the entrance to the Tempe Valley and the road that connected Macedonia with southern Greece. It sits on Hellenistic ruins and may have been the ancient Greek city of Herakleion. The castle sits on a hill overlooking the sea and is used as one of the Venues for the annual Olympic Festival which takes place in July and August.
North of the salt flats is the Archaeological Site of Ancient Pydna (Kitros), located right on the sea. Though the site has a long history which begins when the city was beseiged by the Athenians in 432bc, it is basically unexcavated with Byzantine ruins covering the classical and Roman periods and much of the city washed away by the sea. The site is free and there is a guide who can show you around and tell you about its history. This is an important site and well worth visiting.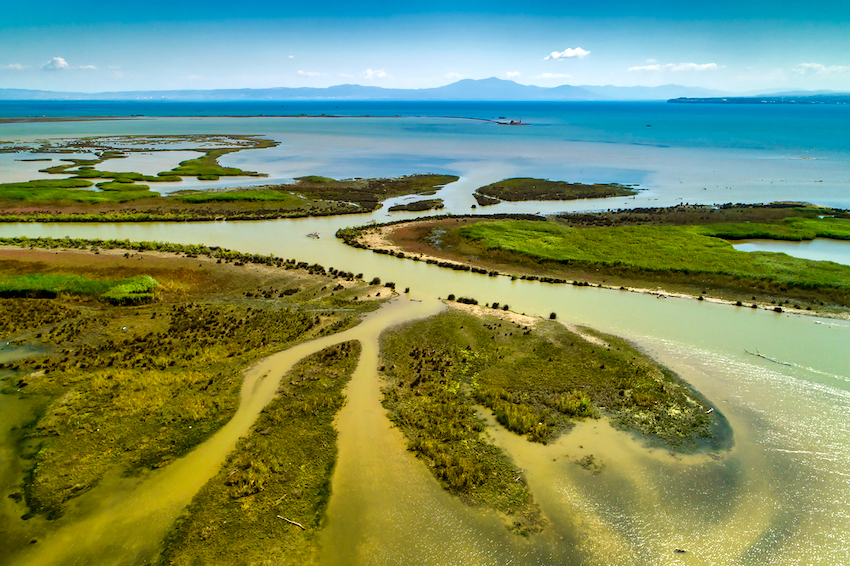 Axios National Park
If you are a bird lover with a good camera this large delta area between Katerini and Thessaloniki is worth a visit. If you are going to see nature in all its glory be warned that calling this a National Park implies that there are services and guideposts and clearly marked paths and a staff that picks up the garbage that blows in from the second largest city in Greece or is dumped there by lazy locals. Sadly it is a National Park in name only and while that means you can't build your villa there, not legally anyway, the area could use some care. But even so it is a large nature area that even though blemished by garbage and decay is worth a visit if you like these sorts of places. Lots of migrating birds including flamingoes, and there is an area of fishermen's huts, Kalivia Psarades, at the Vardar River Delta that is worth a visit if just to take photos and see a place you could not imagine would be in Greece. These are the houses of the fishermen and mussel farmers of the area and there is a lot of garbage in the area but if you can overlook that it makes for an interesting day trip and if you get hungry you can go to one of the fish tavernas at Paralia Methoni for mussels and fresh fish. There is a birdwatching tower in the area of Nea Agathoupoli wetlands.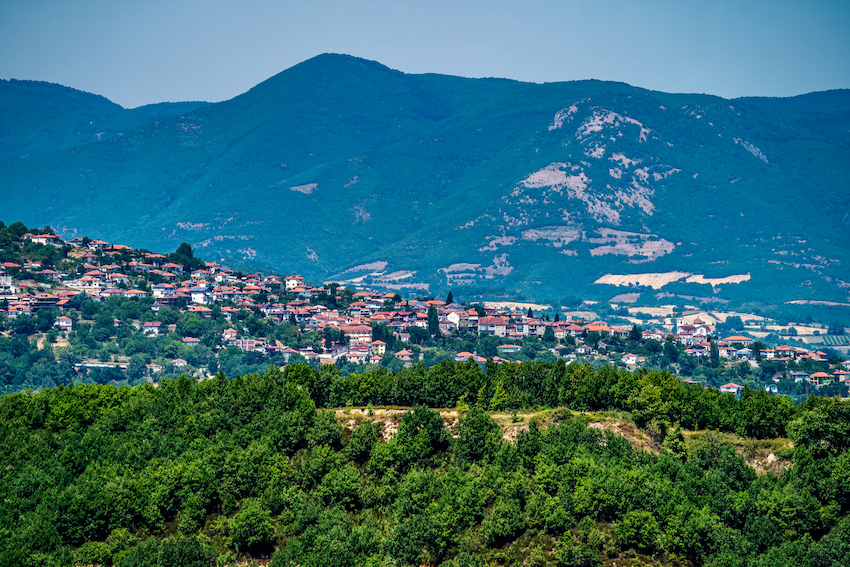 Elatohori, Pierias
The Pierian Mountains
Several years ago when we were living in Kypseli there was a nice little taverna on Ag Zoni street called Taverna Platonas, named for the big sycamore tree in the small square where the restaurants was located. They made excellent paidaikia and other grilled meats and they had photos all over the restaurant of mountain villages, streams and waterfalls. I asked them where they were from and they gave me a photo book that just said Pieria, written in Greek. I had no idea where it was except that it was on the mainland. It took me years to find it. Not that I was looking very hard. I still have the book in a pile of other books about Greece and when I came across it I remembered I wanted to find this place. As it turned out Pieria found me when the Municipality of Katerini sent me a bunch of photos and information and there it was.
The Pierian Mountains are an area of great natural beauty and one of the treasures of northern Greece. With beautiful villages, rivers, waterfalls and rich vegetation there are hiking trails and a ski center near the village of Elatohori where you can find restaurants, cafes and lots of beautiful old hotels and mountain resorts scattered in and around the town, many offering horseback riding, skiing, snowboarding, bike riding, hikes, climbing and other activities. The Vaela Hotel Cultural Resort features a restaurant-bar, and theme rooms and suites which have a panoramic view from the mountain across to the sea. The Alseides Boutique Hotel offers spacious rooms with heating and satellite TV, many with traditional fireplaces. Both hotels are ideal for mountain biking, trekking, climbing or ski and snowboard at the Elatochori Ski Resort. See Elatohori Hotels
A popular hike is to Flabouro, the summit of the Pierian Mountains which takes about an hour from the last point you can drive to (with a 4x4). The village of Katafygio was the birthplace of Kazantzakis character Zorba the Greek, based on a man named George Zorba, whose house, or what is left of it, will be turned into a folklore museum (maybe) and there is an Alexis Zorba Street. Just outside of the village of Agios Dimitrios is the Ktima Bellou, an historic farm that has been turned into a small hotel which has won several environmental awards. It offers guests many area activities including trekking, mountain climbing, cooking classes and winery tours. The traditional Hotel Dimatis is a family run hotel within the village has an excelllent restaurant that features local products from the family farm including wild boar.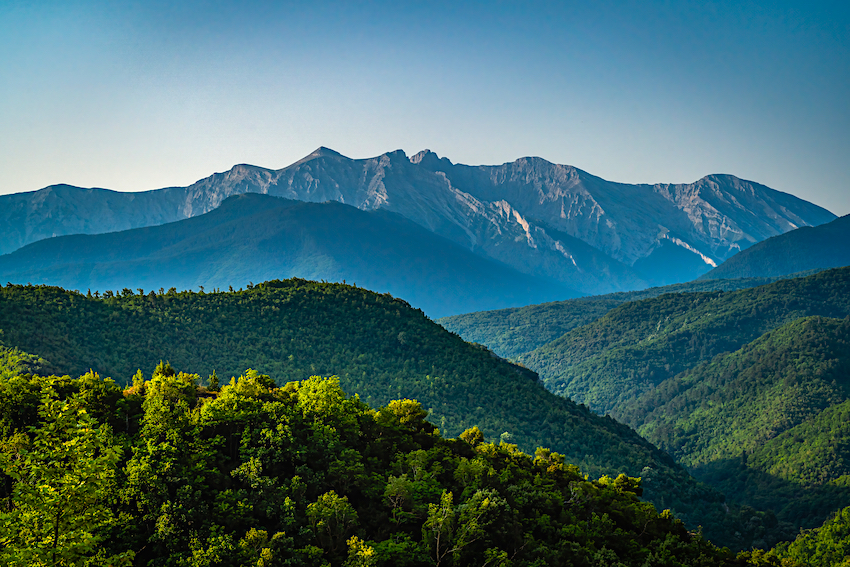 Mount Olympus
The highest mountain in Greece at 2918 meters and home of the Ancient Greek Gods of mythology, Mount Olympus is popular with serious mountain climbers as well as beginners. If you plan to hike to the summit a guide is recommended. The journey begins from the town of Litohoro. The trail starts right by the Mount Olympus Information Center. There are a number of shelters where you can stay along the way to the top, most with restaurants. There are also several emergency shelters which are smaller and can be used in case your trip is interupted by rain, wind or a snowstorm. There are other activities on the mountain including hiking, rock climbing, skiing, paragliding, and a number of monasteries, churches, streams, waterfalls and lakes to visit. From Katerini it is a 25 minute drive to Litohoro which is a large town with hotels, restaurants, cafes, shops and even a Maritime Museum. Search Hotels on Mount Olympus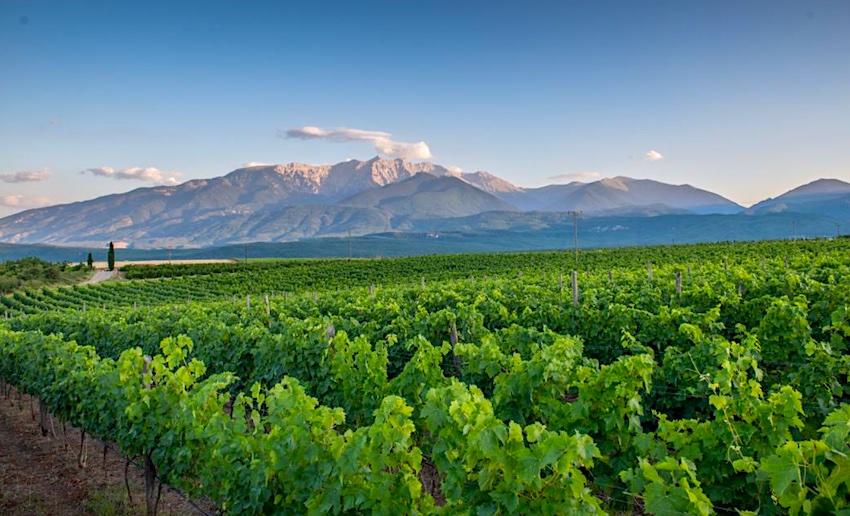 Wines of Katerini
There are more than a dozen wineries in or within striking distance of Katerini. You can start at the Periplion Oinothiki at 3 Ermou street, a wine bar in the center of Katerini which has lots of different wines by the glass, bottle and food to go with it. The owner, Elias, can tell you which wineries in the area you should visit first.
Ktima Xiromeriti is located just north of Katerini and has wine tours and tastings though you need to make a reservation. Nearby Ktima Karasimou is a family run boutique winery with a nice outdoor space for weddings and other events, like live music on Tuesdays. They have tours and wine tastings too. Excellent wines in a beautiful location.
Ktima Pantouli is located by the town of Kalithea right by the sea just east of Katerini and north of Olympus Beach. With a very friendly and informative owner, Yannis Pantoulis who not only makes you feel welcome but can entertain you not just with his wine but also his wisdom. He also makes some of the best wine in Greece. Tsipuro too!
The award-winning family run Kourtis Winery is located in the village of Rachi, just east of Mount Olympus in a micro-climate perfectly suited to growing grapes. You can visit the winery by contacting them through their excellent website, one of the best I have seen for a winery. You can just show up if you happen to be in the neighborhood but if you want the full treatment with wine and food it is better to make a reservation.
The Kitrus Winery near the historical town of Pydna grows Syrah, Malagouaia, and a couple varieties of grapes you may never have heard of if you know Greek wine, Aglianico and Verdiccio, which have Italian roots. Delicious wines. Come and taste them but contact them first. Almost right next door is Estate Krisostomou with a variety of wines of Greek and French varieties including Malagouzia, Assyrtiko, Limniona, Xinomavro, sauvignon blanc, Cabernet sauvignon, Merlot & Syrah and they recently started bottling orange wine. This is another highly regarded winery in Greece. Very good wine and very nice people, possibly the best in Pieria. The wine I mean. Maybe the people too.
Ktima Pieria Eratini is located near the village of Kolindros, north of Katerini as is the Nadir Winery.
The Olympus Wines Tasting Room, is a collaboration of three local wineries near the center of Litochoro in the foothills of Mount Olympus. Mythical Mountain cultivates Greek varieties like Malagouzia, Assyrtiko, Xivomavro, Agiorgitiko, Ftelia and Skalisio as well as the international Chardonnay, Syrah, Cabernet Sauvignon, and Merlot. Kourtis Winery is a family business, using traditional methods combined with modern oionological technology, producing a number of blends and single variety bottles, including an Asyrtiko Retsina. Papagianoulis Winery produce a number of different wines featuring Asyrtiko, Xinomavro, Agioritiko, Muscat, Syrah, Cabernet Savignon and a Sangria made with Merlot. See the Olympus Winery website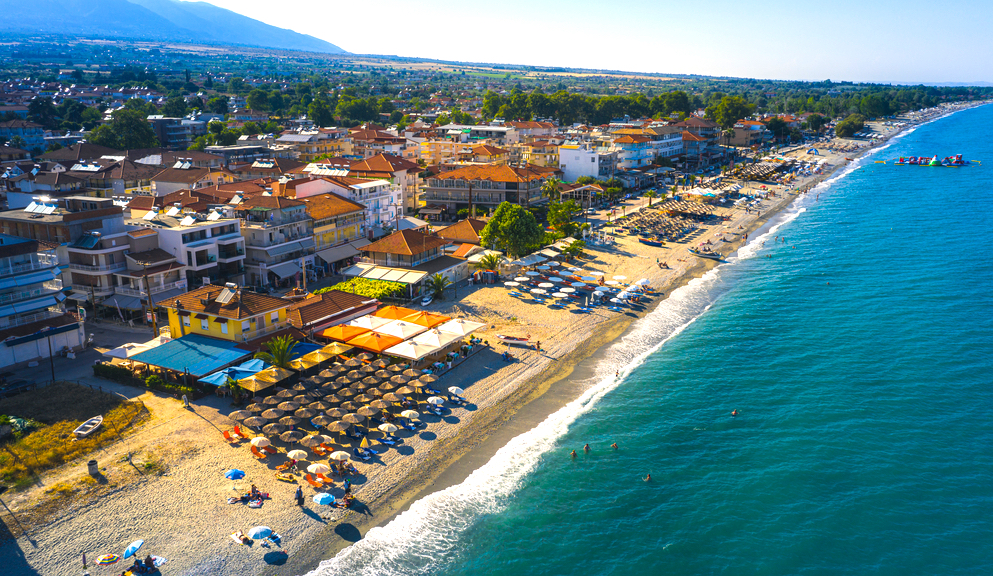 Hotels in Katerini and the Olympian Riviera
Assuming that you are going to want to spend much of your time at the beach there are a lot of choices of hotels at the different beach towns in the area as well as in between. From small family run hotels, self-catering apartments, simple rooms, holiday homes and small and large resorts you will find plenty of choices. I have narrowed them down to the hotels highest rated by travelers in good locations. If you can't find availability you can also use the Pieria Hotel Search page to find hotels, holiday homes, self-catering apartments and studios and villas.
Find more hotels, villas, holiday homes and self-catering rooms and apartments
using this Pieria Hotel Search Page