The Lake Kerkini area proves that a balance between the needs of humanity and wildlife is possible and can mean a shared habitat of incomparable beauty.
Kerkini
By Penny Turner
O, then the calm
And dead still water lay upon my mind
Even with a weight of pleasure, and the sky,
Never before so beautiful, sank down
Into my heart, and held me like a dream!
(from The Prelude by William Wordsworth)
Why go to Kerkini?
Simply because you need to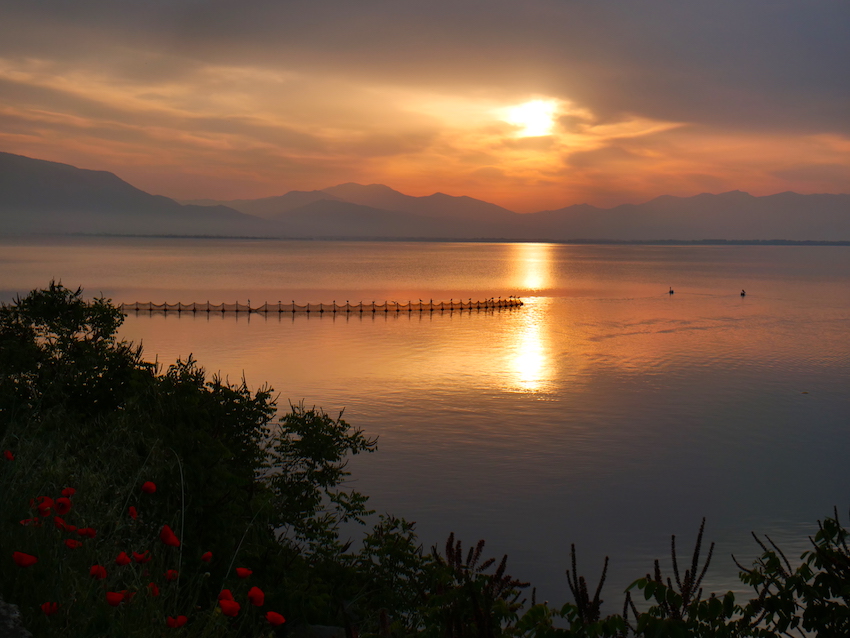 The Lake at dawn, as you will see it if you go on one of the wonderful boat trips to see the birds.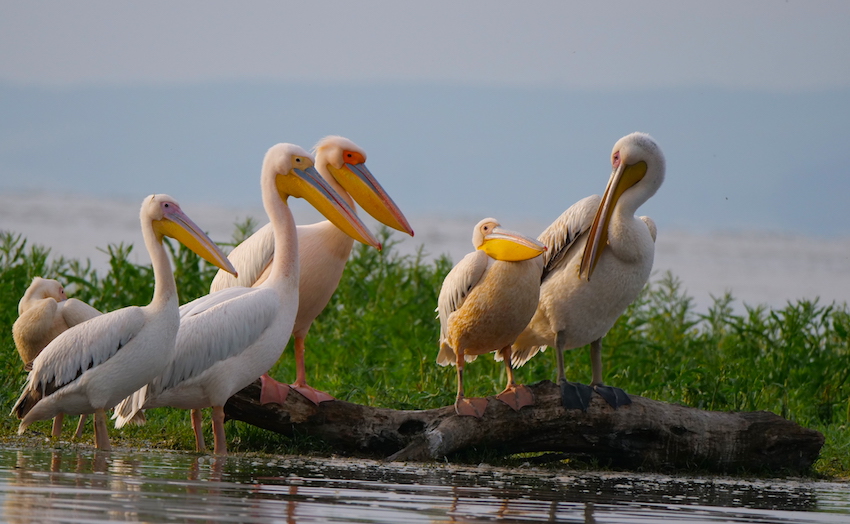 Some of the birds- in this case White Pelicans- pink because they are in breeding colouration and the dawn light makes them seem even more pink.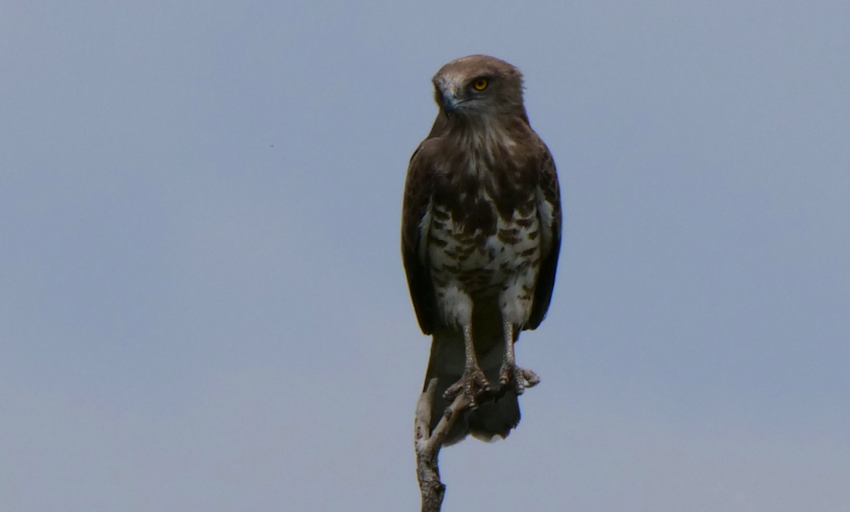 A Short Toed Eagle..or a Snake Eagle..one of the many raptor species that you may see.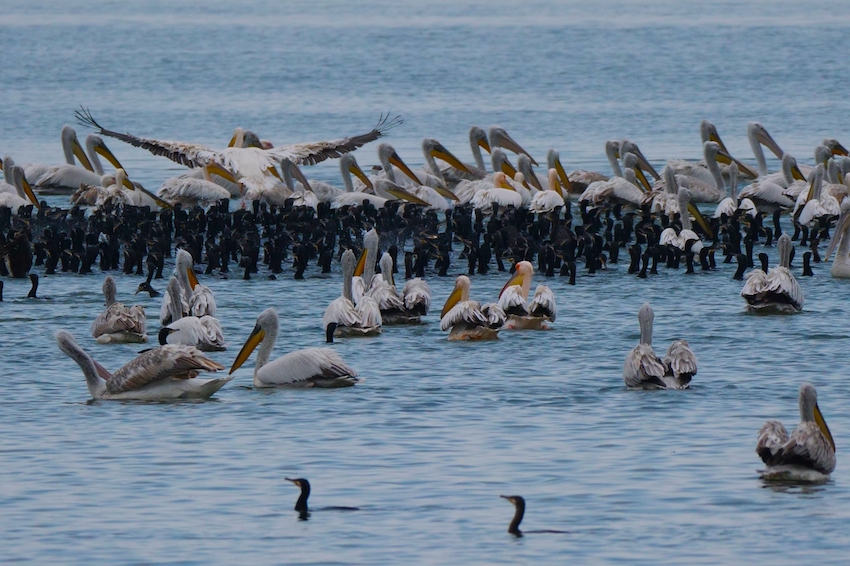 Here are a variety of birds working together to catch fish…the pelicans were driving a school of fish towards shallow water, with the help of the diving cormorants. The fish are then trapped in a small cove, their exit is blocked by the pelicans, and everyone indulges in a feeding frenzy… I photographed this from the lake shore in early Spring.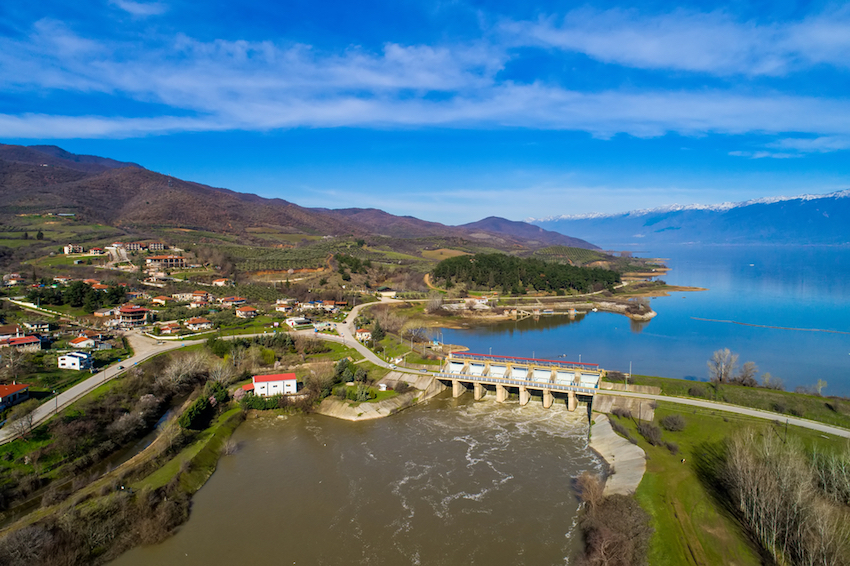 Although it is an artificial lake, damming the river Strymonas has, (as a High-Up visitor from BirdLife International told me, and he should know) by chance produced an environment that is among the most biodiverse in Europe. This is because at certain times of the year the water allowed to flow into the lake, and allowed to flow out of the lake is managed in such a way that the depth of the lake changes dramatically, and also the acreage under water. The various technical, political and agricultural needs that to be catered to when designing a method to control and share the River Strimonas with our neighbours in Bulgaria resulted in a whole raft of ecosystems, all of which combine to provide near perfect conditions for supporting a vast biodiversity, as well as fertile and productive areas for agriculture- the Kerkini area proves that a balance between the needs of humanity and wildlife is possible and can mean a shared habitat of incomparable beauty.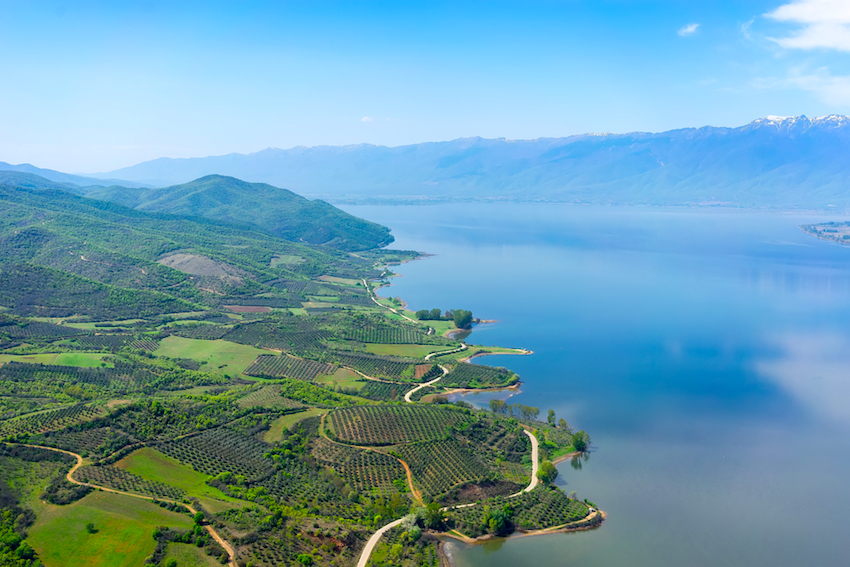 If you need facts before committing yourself to a visit …
Lake Kerkini National Park is situated in the northwest part of the Prefeture of Serres, in Northern Greece, next to the Greek-Bulgarian borders. The total protected area amounts to about 83,100 hectares. Lake Kerkini is an artificial lake and it is one of the 10 Ramsar sites in Greece. It is one of the 196 Important Bird Areas in Greece (IBA) and a Special Protection Area (SPA- Directive 79/409/EEC as amended by Directive 2009/147/EEC), as well as an area of Natura 2000 Network (Directive 92/43/EEC).
22 different habitat types are found here, resulting in a quite amazing variety of wildlife: there are about 1,300 plant species, 4,300 insect species, 30 fish species, 26 species of reptiles, 58+ species of mammals, 11 species of amphibians and 300 + bird species.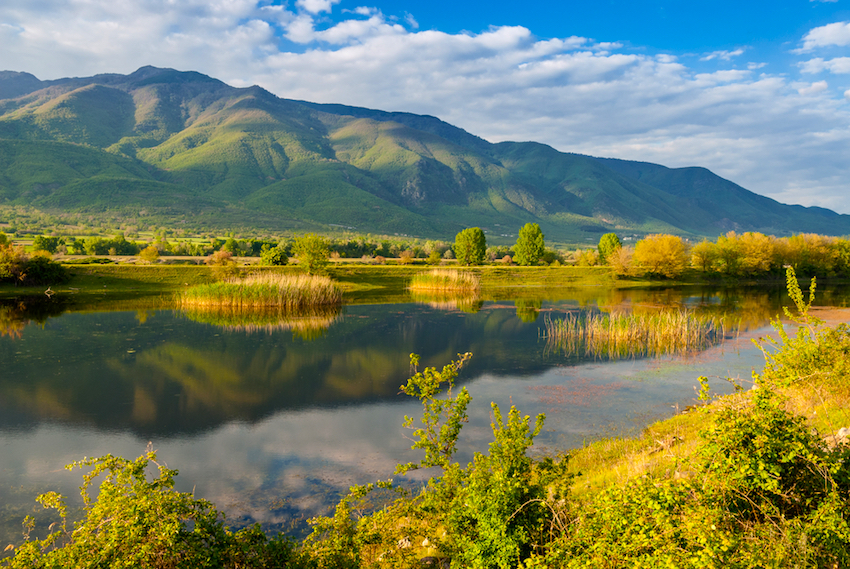 What to do in the Kerkini area:
There are plenty of nice places to stay, both in Kerkini village itself and in other villages and hamlets around the lake, and on the mountainsides of Belles, the huge mountain that towers above the lake. There are some wonderful places to eat- notably the taverna next to the station in the village of Vyronia, but almost everywhere you get food that is delicious. Specialities are from buffalo meat, yoghurt and cheese, but the local agriculture is small scale and often organic, so local food is almost always good. The lake is full of fish, and if you happen to enjoy lake fish you`ll enjoy this.
If you want to know more about the fish there is a delightful aquarium at Vyronia. you could visit before or after your meal at the station taverna. In the aquarium they have most of the species to be found in the lake, including a large pike. It is such a careful local effort and well worth your support.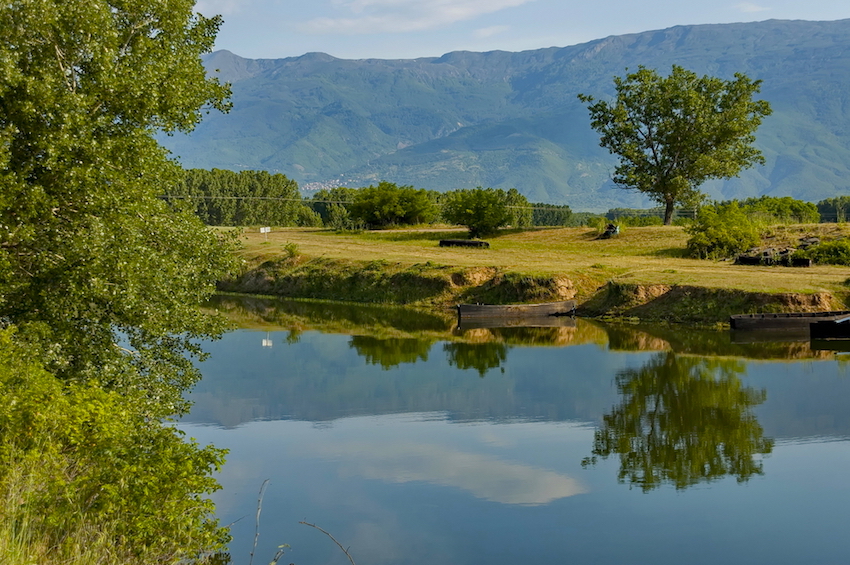 There is a visitor's centre in Kerkini village where you can find out where to go to see what you particularly want to see. If you follow the signs in and around the village you can find an ecotourism initiative where you can hire bikes- the area is pretty flat so cycling is a good environmentally friendly way to get about. You can also hire Kayaks or canoes, but normally, unless you can prove competence to a high level, you have to have a guide with you. This also stops people from just canoeing off and disturbing the nest sites all around the lake. Seems hard to believe but people do need to be prevented from doing this.
There are fabulous boat trips, the ones from the small harbour near to Kerkini are excellent, but there are also expeditions from near Lithotopos, which have a good reputation. The boat owners are knowledgeable, take you to see wonderful bird life but are strict about not disturbing nesting birds, thus protecting them and their own livelihoods, which depend on plenty of successfully nesting birds. There are some boats (not operating from the regulated ports at Kerkini and Lithopos) who will accept money to take you nearer to the birds than you should go. Avoid these, they may seem cheaper, but in the long term they are harmful to birds and these sustainable tourism associated with them.
The best time to go is at seven o`clock in the morning (I know, you are on holiday and 7 a.m. is not a time to be not only awake but aware of your surroundings) but, it is the very best way to see the birds and the lake in all its beauty, when the light is at its best and the birds are very active. The various places where you can stay are sympathetic to this early rising, and will have a wonderful breakfast waiting when you get back.
The lakesides are fantastic for walking, but a bit muddy, you will need proper boots, and the mountains are splendid..there is a bear living on Belles, wildcats on all the mountains, jackals and wolves and endless birds to see and hear everywhere.
What is particularly wonderful about Kerkini is that there is no "best time" to visit, every time is the best time. It is never crowded with tourists, it is always possible to be by yourself, if you want to be.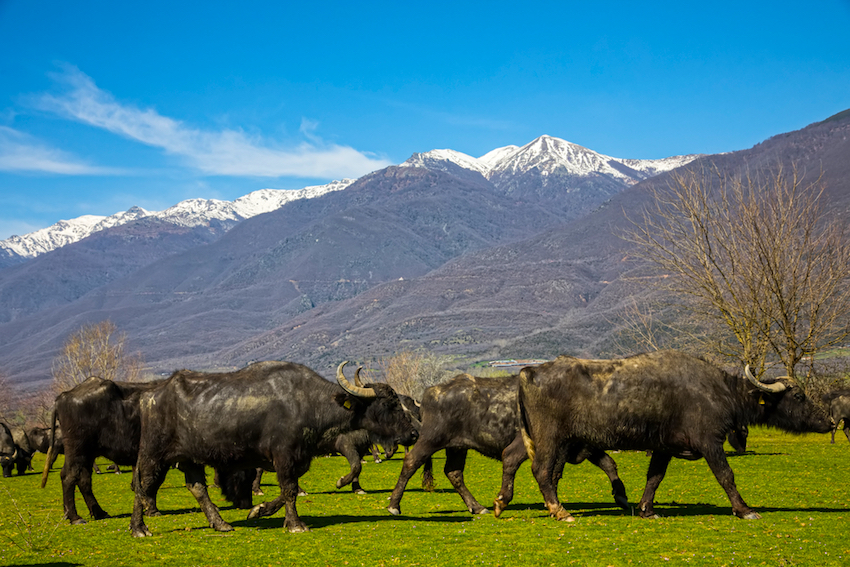 The first time I went to Kerkini it was to see the buffalo herds. I could not believe that such creatures could be found in Greece. But there they were, grazing in herds and contentedly grunting to each other. They live in a variety of sheds and shacks all over the area, and each day set off to graze in the wetlands. They can be seen swimming and actually submerging to eat water weed too. The owner of one shed where he kept baby buffalo found me looking at them from very close…. they are adorable.. and was somewhat concerned that this foolish foreigner didn't understand that Buffalo, though good tempered and people friendly, may not be keen on people they don`t even know invading their children`s space. Warned by this I am more sensible now, and don`t approach the buffalo too closely. If you have a dog with you, you may want to remember the rule about sharing space with cows... if a buffalo doesn't like your dog, don`t hold on to him, let him run away. Otherwise you may get involved in a closer encounter than is really ideal with an angry 800 kilo buffalo. Normally they are very peaceful, but a couple of times "teenager" buffalo have shaken their horns at me and my motorbike... just to see what would happen. What happened was that I got off my motorbike and approached them shouting "OUST" which is Greek for "Eff Off!" - and they did.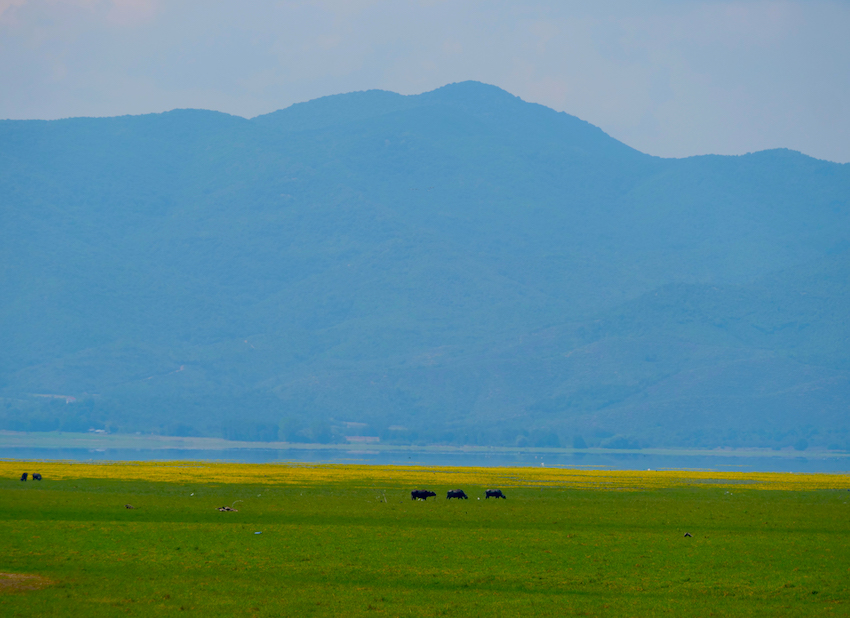 Mount Belles towering above Lake Kerkini, and shimmering in the late summer heat. The buffalo are grazing in an environmentally friendly way amongst the water lilies.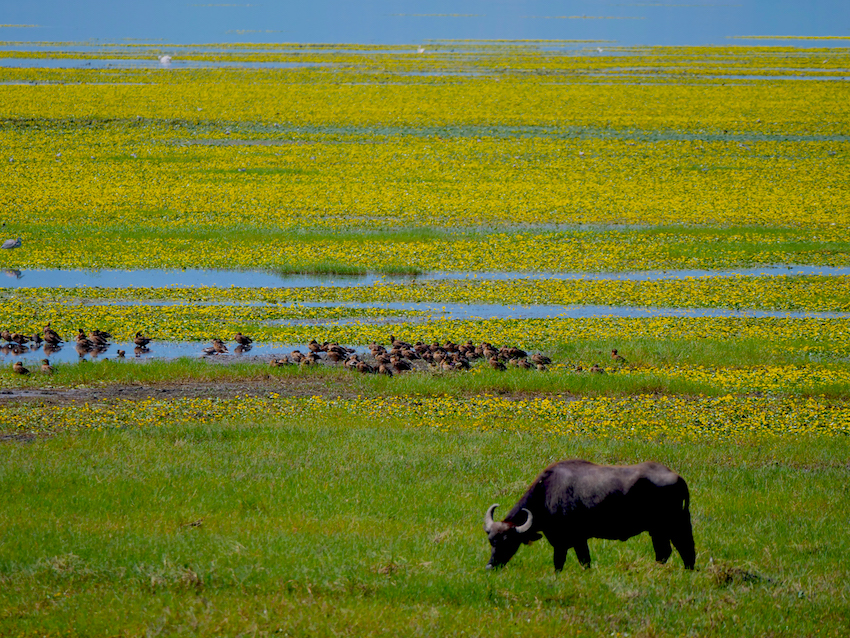 As I was saying every time is the best time to visit Kerkini, but unlike many wonderful places for nature lovers, I think it is at its very best in later Summer, when the yellow water lilies bloom. These are small and yellow, but acres and acres of them form a vision of loveliness that is hard to equal anywhere in the whole world. There is all the usual chances to see all kinds of birds and jackals and roe deer and wild cats while wandering around the lake stunned by its beauty at this time of year. It is also a time when the buffalo produce calves and so these can be seen being cute and delightful also. The astounding fields of water lilies that can be seen in late Summer. Note the buffalo grazing and maintaining a suitable environment for the lilies and for all the ducks and herons that feed amongst them.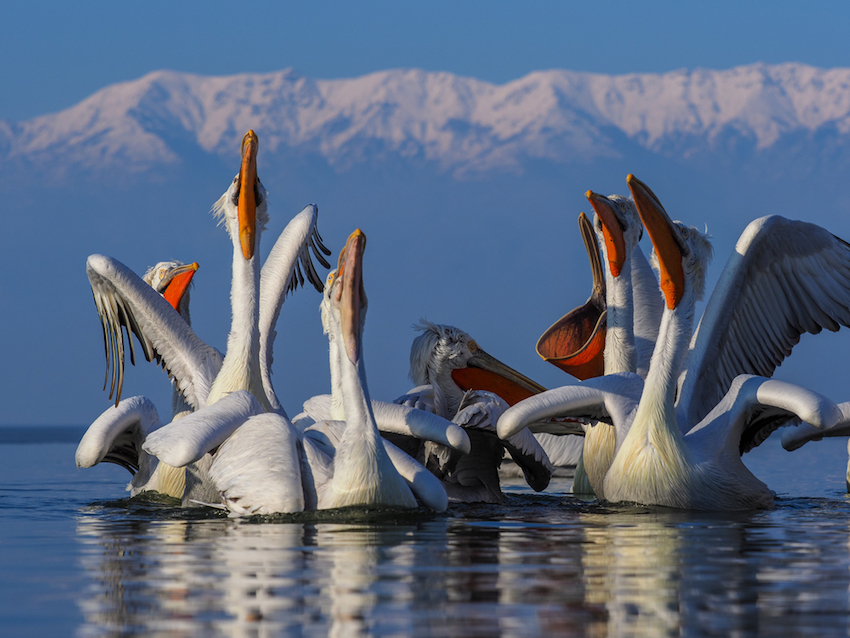 Of course Spring is perfect, and Autumn is overwhelming with huge numbers of migratory birds. The Winter- well a bit chilly and often wet, but Cranes spend much of the winter in the area (not when I am looking for them, but they do) plus geese of various kinds and ducks. The cormorant rookeries are always full of birds, so you really do need to go in winter too.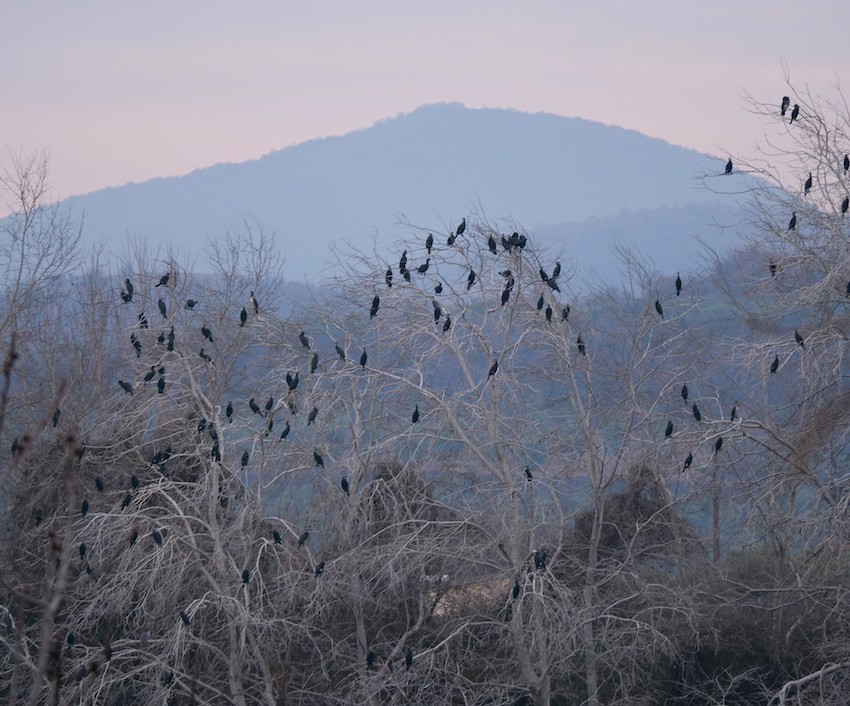 Cormorants roosting in the icy trees above the Strymonas river in winter.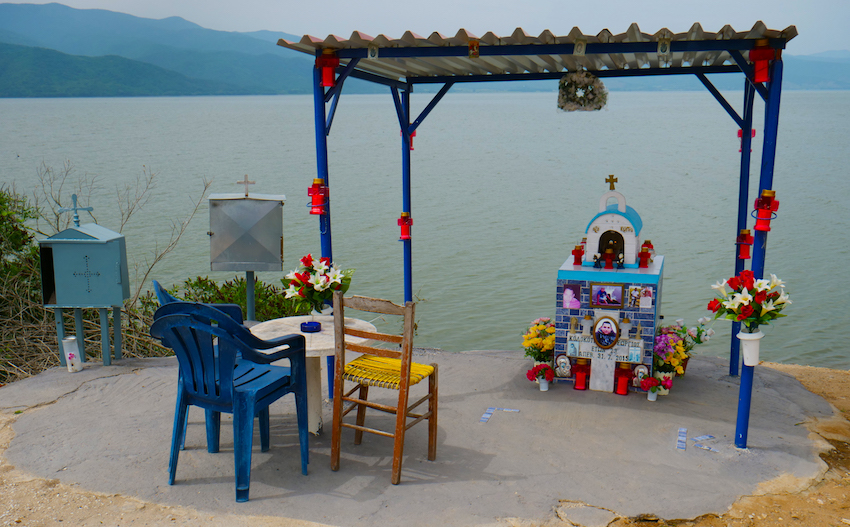 Best thing about Kerkini? There are so many, but for me it is the close and loving relationship between the people who live there and their environment. One of my very favourite things is this small shrine built to the memory of someone young who died. What could be a better way to remember someone than to sit in a place he loved, looking at a view he loved and to find peace and contentment there while thinking about him?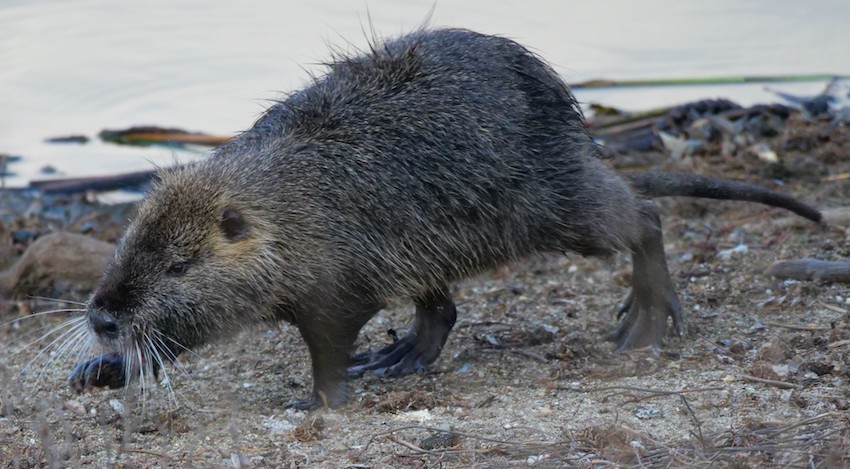 Bad things? Well there are Coypu – they are an invasive and harmful alien species that came here from S. America in order to be farmed for their fur. Of course they escaped and started to breed in almost all the wetlands of Greece. But when you see them, they are rather spectacular.. like giant rats, complete with scaley tails, and they swim really well. There doesn`t seem to be any way to limit their damaging presence. Alien species are thought by many to be one of the most harmful of all the attacks on biodiversity by which we are all threatened. It is sad that this incomparably biodiverse place is also losing its biodiversity. When you look at a Coypu, he doesn`t seem Sooooo bad… but he is. And babies….are So Cute…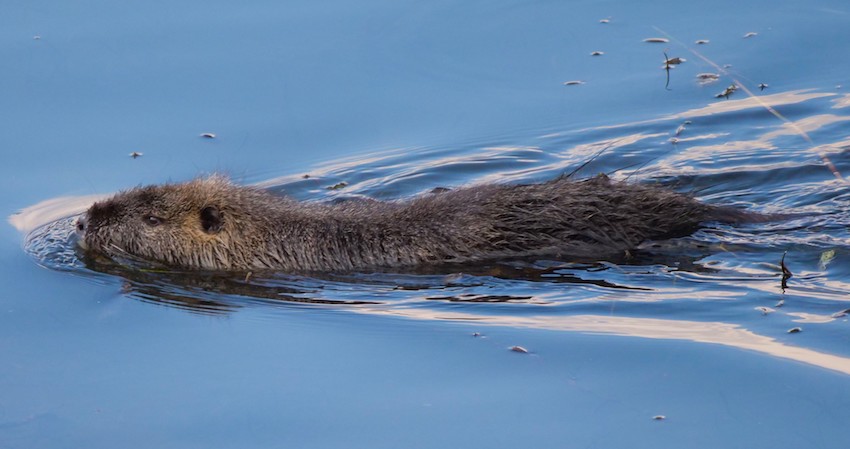 Anyway enough of this pessimism…. The Romantic poets taught us the value of Nature, how it fills our hearts with beauty and gives us a way to understand all the important truths. Kerkini is still THE place to go if you want to know the power of beauty:
Enough of Science and of Art;
Close up those barren leaves;
Come forth, and bring with you a heart
That watches and receives.
(Wordsworth)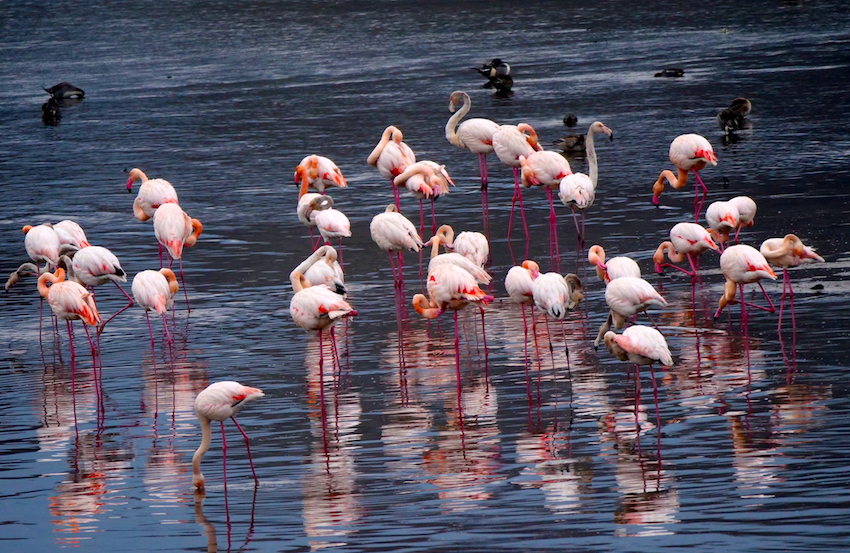 Penny Turner has lived in Greece for more than forty years. During that time she has worked for several Environmental NGOS and has set up environmental projects in Northern Greece, in North Eastern Greece and in Athens. She worked for many years as a journalist and wrote mostly about environmental issues in Greece. In 2004 she won a BBC Wildlife writer of the year award, and her work has appeared in a number of books and magazine. She has also won awards for travel writing and poetry. She designed and set up a series of walks in Nymphaeon, Northern Greece, and a book, entitled "6 Antidotes to Technology" was published by Arkturos (an NGO which protects bears and Wolves) to help people follow the walks.
She rode at least 8,0000 kilometres through the wildest parts of Greece with her horse, George, and a book about these journeys "Lost in the Wilds of Greece" is published by Lycabettus Press. It is available from Anavassi bookshop in Athens and also online from Lycabettus Press. From outside of Greece the book is available from Ecologic books -To order or for more information: Tel: 0044/ (0)1225 484472 Email: info@eco-logicbooks.com Web: eco-logicbooks.com
Hotels and Practical Information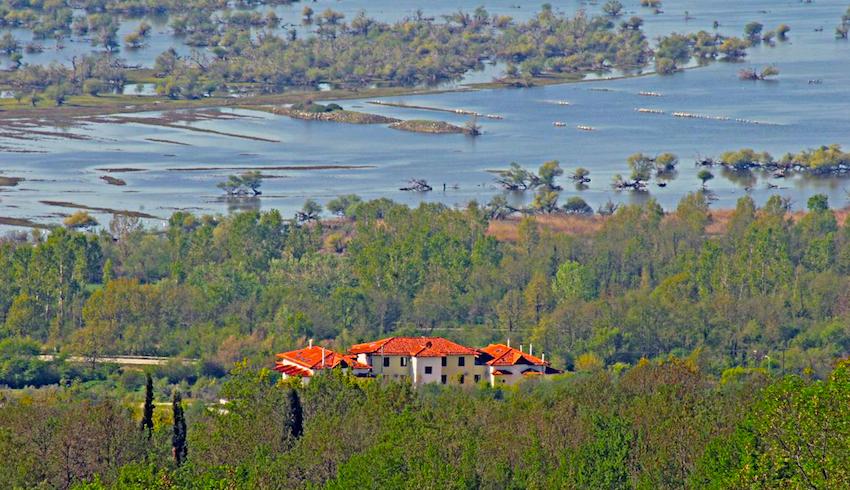 Set on the foothills of Belles Mountain, Villa Belles (photo) offers traditional-style accommodations with modern amenities, overlooking the magnificent Kerkini Lake. Guest house Alkioni offers air-conditioned rooms opening out to a balcony with Kerkini Lake and mountain views. Quietly located in Lithotopos village, it is surrounded by a well-tended garden with a playground. Located 100 m from Kerkini Lake, Guest house Kerkinitis in Lithotopos Village, features a garden and free WiFi throughout. Other facilities include a communal kitchen and lounge area. Enjoying panoramic views of Kerkini Lake in Lithotopos village and just 100 m from its shore, Erodios Hotel is surrounded by a green-covered area of 22,000 sqm. It offers spacious rooms with free Wi-Fi. There is a also café, a restaurant and swimming pool with a pool bar. The traditionally built Guest house To Fragma is located in Lithotopos Village of Serres, within 300 m from Lake Kerkini. It features a restaurant and offers air-conditioned units with views over the lake and the mountain. Enjoying a quiet location in Chrysohorafa Village, the traditionally built Limnaio Guest House lies within a short walk from the eastern shore of Lake Kerkini. It features accommodations with a fireplace and a balcony overlooking Mount Belles.