Mount Olympus is Greece's highest mountain and the home to the Gods of Greek mythology. For those looking for a challenge, climbing to the summit of Mount Olympus offers one. For those who aren't there is still plenty to do here that does not involve climbing.
Mytikas, Olympus' highest peak at 2917 meters, was reached in 1913 by Christos Kakalos of nearby Litohoro and Swiss climbers Frederic Boissonas and Daniel Baud-Bovy. The mountain is rich in tree and plant life, supporting over 1700 species, some very rare. There are other activities on the mountain including hiking, rock climbing, skiing, paragliding, and a number of monasteries, churches, streams, waterfalls and lakes to visit.
You can get a map from the EOS office in Litohoro where English is spoken or the SEO office where it may not be. It may not matter because the map is in Greek but with a little bit of effort you can decipher the alphabet. Anyway you will need it, no matter what language it is in. Remember that people have died climbing this mountain so don't take it too lightly. You will need warm clothes, even in the summer. Suncreen is also a necessity and decent shoes (not flip-flops). You will be able to stay in refuges (shelters) overnight which are like hotels with restaurants. See the Mount Olympus Information Center in Litohoro for routes, activities and other information.
Climbing Olympus takes two days but you can easily spend longer if you like. There are a large number of decent trails and you won't need special equipment or experience though if you are new to mountain climbing going with an experienced guide is recommended. But there are many trails and you don't have to go to the peak to say you have climbed Mount Olympus.

Litohoro
The main village of Litohoro is connected by bus from Athens and Thessaloniki and by train though the station is on the coast 9 kilometers from the upper village. There are numerous places to stay including inexpensive hotels, and campsites along the coast with good facilities. A recommended hotel is the Olympos Mediterranean on the main square. You will probably need to book a room well in advance for July and August. There are plenty of restaurants and fast food places to eat due to the promotion of the village as a resort area. Try Meze-Meze at Ag Nikolaou #40 for a mix of mezedes, large dishes, grilled meats, fish, oven cooked vegetables and really nice salads, large portions, low prices and good service. (Order the mixed grill meat platter). Roll in Stone is a cool bar with good food, a nice selection of craft beers, and a beautiful setting by the river. For pizza and other carbs as well as Greek dishes try To Tzaki at Agios Nikolaou #68.
The Olympus Wines Tasting Room, is a collaboration of three local wineries near the center of Litochoro in the foothills of Mount Olympus. Mythical Mountain cultivates Greek varieties like Malagouzia, Assyrtiko, Xivomavro, Agiorgitiko, Ftelia and Skalisio as well as the international Chardonnay, Syrah, Cabernet Sauvignon, and Merlot. Kourtis Winery is a family business, using traditional methods combined with modern oionological technology, producing a number of blends and single variety bottles, including an Asyrtiko Retsina. Papagianoulis Winery produce a number of different wines featuring Asyrtiko, Xinomavro, Agioritiko, Muscat, Syrah, Cabernet Savignon and a Sangria made with Merlot. See the Olympus Winery website
Visit the Archeological park and museum at Ancient Dion at the foot of Mount Olympus. Sacred to the ancient Macedonians, Alexander the great used to make sacrifices to the Gods here before going off to conquer the world. During the August Olympus Festival plays are performed at the restored ancient theatre. Have lunch at Taverna Ariadni for delicious food, friendly service and a terrific view.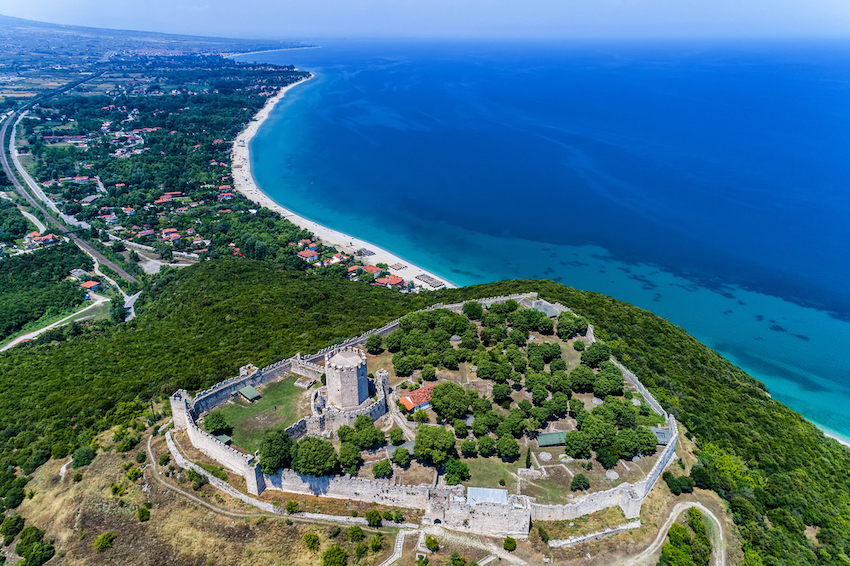 The Olympian Riviera
Perhaps one thing you didn't know about Mount Olympus is that the Aegean coast, a few miles east of the mountain, has some of the best beaches in Greece which extend north for 70 kilometers almost to Thessaloniki. The coastal towns of Limenas Litohoro, Paraleia Pantelimonas, Platamon, Nea Piori and north to the beaches of Katerini are popular with southern Europeans and Balkan tourists as well as the Greek's from abroad whose origins are here and return every summer. There are hotels, resorts, restaurants, cafes, bars and shops on the beaches or a short walk from them. Be sure to visit the Byzantine Castle of Platamon, built in the 13th Century on a hill overlooking the beaches.
For more information see my page Katerini and the Olympus Coast.
For more information on climbing Mount Olympus I recommend you buy Lonely Planet's Trekking in Greece or The Rough Guide. There is also plenty of information in Lonely Planet's Greece Guide.
For organized tours of Mainland Greece that include Thessaloniki and Macedonia including Mount Olympus see Matt's Greece Mainland Tours
Hotels on and Around Mount Olympus
Matt's Pick: Ktima Bellou

Built by local craftsmen, this award-winning, rural hotel offers an organic restaurant, piano-bar and ecologic apartments with Mount Olympus view. All rooms feature a fireplace. An outdoor pool is available. Guest rooms are fitted with handmade furniture and carpets, and natural Cocomat mattresses. Some have their own patio with BBQ and garden. Homemade pies, jams from strawberries picked in the farm, and fresh daily eggs are served for breakfast. The hotelís restaurant serves home-cooked meals prepared with locally produced ingredients.A children's play area is featured at the Ktima Bellou. The inviting interiors offer an art exhibition room, a library and a seating room with table games. There is also a small conference room available. Guests can enjoy a relaxing day exploring the countryside in the farm, the nearby mountain paths, or head to the Elatochori Ski Resort, 40 km from Ktima Bellou. Katerini is approximately 36 km away and Agios Dimitrios Village is at 3 km. Free mountain bicycles are offered to guests.
For photos, information, maps and booking rates click here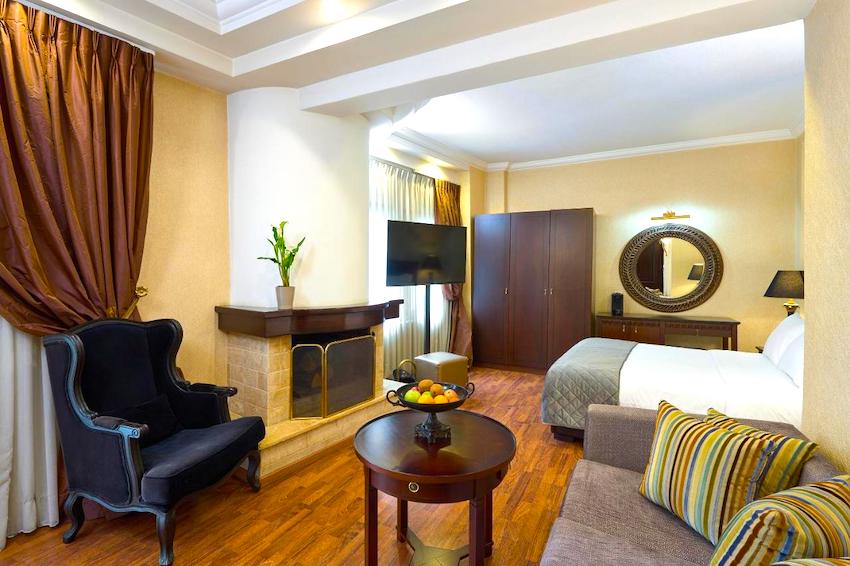 Olympus Mediterranean Boutique Hotel
Located in a peaceful area, just a short walk from Litochoroís main square, this stunning hotel offers beautifully decorated rooms and public areas, along with excellent spa facilities. Mediterranean Olympus Hotel offers a grand setting for your time in Litochoro, combining old world glamor with a modern touch. Every room has been thoughtfully decorated with attention to detail and your comfort in mind. Take in the elegant touches and a relaxing ambiance in your surroundings and admire a beautiful view of Litochoro from your spacious balcony. In the colder months, warm yourself next to the fireplace in your room. Enjoy a great start to each day with a sumptuous buffet breakfast in the sophisticated surroundings of Mediterranean Olympus Hotelís restaurant. Benefit from free wireless internet access and free private parking throughout your stay. This beautiful hotel is just steps away from Litochoroís many restaurants and shops. It is also close to the various walking trails for Mount Olympus. After a day of sightseeing or hiking, relax in the sanctuary of Olympus Mediterraneanís beautiful spa area and enjoy a swim in the indoor pool or a relaxing sauna.
For photos, information, maps and booking rates click here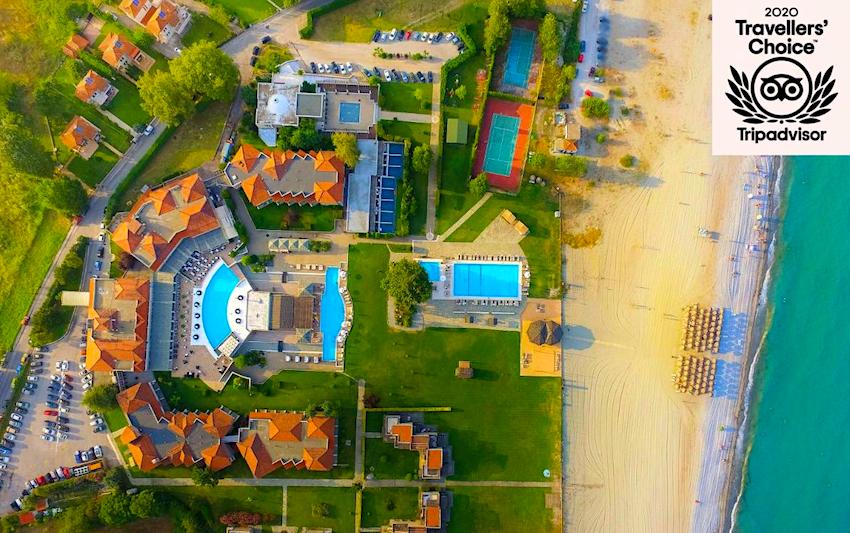 Dion Palace Resort and Spa Hotel

Situated close to the beach in Litochoro, Dion Palace offers beautiful views of the sea and Mount Olympus, as well as state-of-the-art spa facilities and an imaginative pool setting. Enjoy modern comforts including satellite TV and free wireless internet access in the privacy of your room. Start the day with a tasty complimentary breakfast. Admire stunning views of the sea, Mount Olympus or the gardens from your window. Burn off some energy in the fully equipped fitness centre. Take a swim in the indoor or outdoor pools or simply relax and soak up the sun. Children can enjoy plenty of their own entertainment at Dion Palaceís mini club. The spa at Dion Palace offers plenty of opportunities for relaxation. Enjoy a soothing massage of your choice. Pamper yourself with one of the health and wellbeing treatments, using the healing water source straight from Mount Olympus. In the evenings, savour ŗ la carte cuisine at one of Dionís high-quality restaurants. Relax at the bar with a drink of your choice before heading to the resortís club for late night dancing. If you can bring yourself to leave Dion Palace, the beach is just a short walk away. The centre of Litochoro is just 8 km away and Dion Palace offers drivers free private parking. Wireless internet is available in public areas and is free of charge. For photos, information, maps and booking rates click here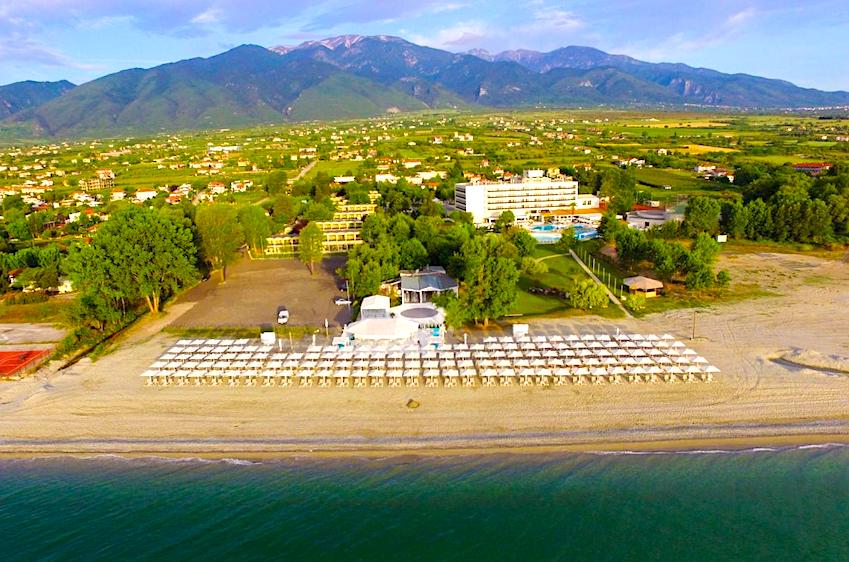 Olympian Bay Hotel

Situated on the beautiful organised beach in Leptokaria, Olympia Bay offers modern bungalows and rooms with a host of leisure activities, including water sports and animation programmes.
Olympian Bay enjoys a picturesque location at the foot of Mount Olympus and faces the sea. Spacious rooms are decorated in muted tones and appointed with modern amenities and a spacious private balcony. Start the day with a sumptuous buffet breakfast. Enjoy beautiful views to the sea or the gardens whilst sipping your morning coffee.
Relax around one of the 2 outdoor swimming pools or join in with the aerobics classes. Enjoy entertainment from Olympian Bayís animation team. Play volleyball on the beach or simply relax on a sun bed. You can also benefit from one of Olympianís professional massages before relaxing in the Jacuzzi. In the evening, enjoy Greek cuisine on Olympianís Greek taverna or visit the delicious Italian or Asian restaurant. Afterwards, relax with a drink on the terrace and watch the sun set. The pretty town of Leptokaria is just 15 minutesí walk away from Olympian Bay Hotel. Should you wish to explore this fascinating area by car, Olympian Bay can arrange car rental and offers free private parking. Wired internet is available in the entire hotel and charges are applicable.
For photos, information, maps and booking rates click here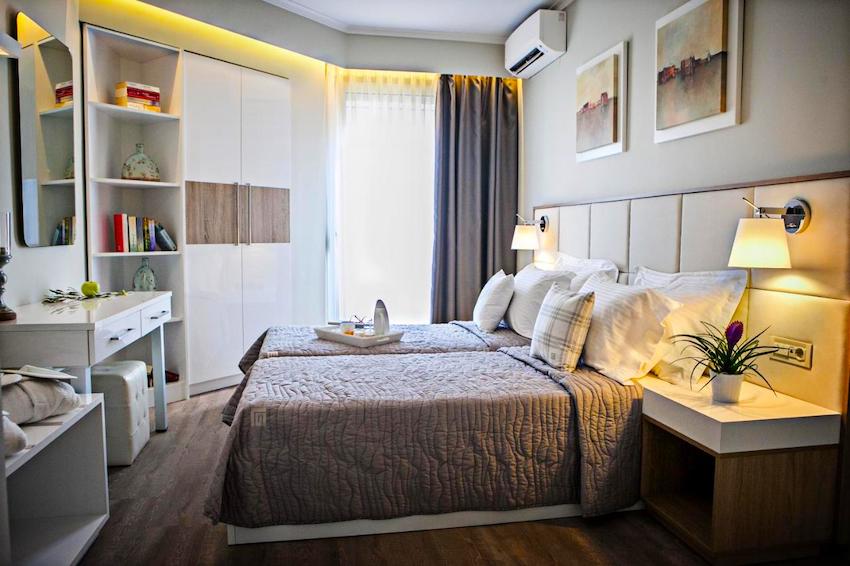 Olympic star is a luxurious hotel, located just in front of the sea of Neoi Poroi and on the foots of mountain Olympus. All rooms are equiped with all modern amenities that guarantee a pleasant, comfortable stay. Guests can relax with a drink at the beach bar and enjoy the sea and the sun.
The location is ideal to explore the beauties of the surrounding areas, such as Dion, Litochoro and Olympus. The location combines in a unique way mountain and sea. Wireless internet is available in the entire hotel and charges are applicable.
For photos, information, maps and booking rates click here
More Recommended Hotels
For more hotels on and around Mount Olympus see Booking.com's Litochoro Pages and for those who want to stay by the sea their Leptokarya Page