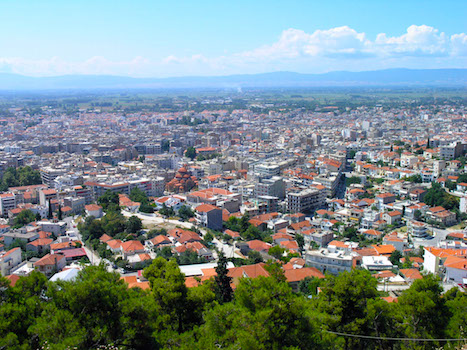 Seres is a modern, bustling city, with broad streets and open squares. The new town blends pleasantly with the old and on the piney hill of Koula, the ruins of the ancient acropolis and the Byzantine castle bear witness to a long history. There is also a 14th century church here, dedicated to St. Nicholas with beautiful mosaics. At a distance of 12 kilometres, in a gorge stands the monastery of Timios Prodromos (1270 A.D.) with frescoes of various eras. More antiquities are to be found at Amfipolis, 62 kilometres from Seres, once an Athenian colony, founded in 437 B.C. Outside the village, near the bridge over the Strimon river, the famous Lion of Amfipolis was discovered, a 4th century B.C. funerary sculpture. The pieces were reassembled and now the Lion guards the bridge.

Sidirokastro, near the Bulgarian border, is a pretty town built on the banks of the Kroussovitis river. It took its name (Iron Castle) from the stronghold on the imposing rock, 155 m. above it, that once offered sure protection. The town and the surrounding area are almost overwhelmed by greenery and richly endowed with streams, waterfalls, bridges, churches and monasteries.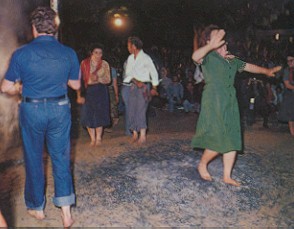 In the nearby village of Monoklissia woman dominate the village and in Gazoro they still do Dionysian ancient dances. The cave at Alistrati is one of the largest and most spectacular in Greece. The Lai-Lia Ski center has two ski lifts, ski rental, a restaurant open on weekends and a moderately difficult slope. The fishing is good in the Strimon and Kroussovitis rivers and on Mount Vrontos there is a mountain climbing refuge that sleeps 60 people. There are thermal spas at Therma, near Nigrita and at Loutra near Sidirokastro.
May 21st-23rd
The Anasternaria is the traditional fire walking which dates back to pagan times. Barefoot villagers of Agia Elleni near Serres and at Langada near Thessaloniki , clasp icons of Saint Constantine and Saint Helen, who are celebrated throughout Greece on May 21st, and dance upon charcoal embers without getting burned.
Hotels in and around Serres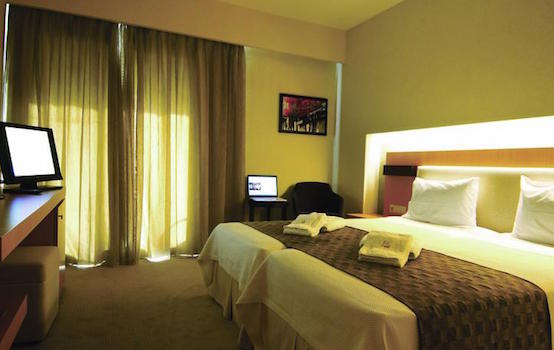 Situated in Serres, just 24 km from Lailas ski centre, Philippos Xenia Hotel offers contemporary accommodation and excellent spa and fitness facilities, with complimentary buffet breakfast. Each of the rooms at Philippos Xenia is stylishly decorated and well-appointed with modern comforts. Guests can enjoy a great start to the day with complimentary buffet breakfast and can also enjoy free internet access. Those who like to keep fit will find everything they need in Philippos Xenia's state-of-the-art fitness centre. Guests can join in with yoga and aerobics lessons, as well as benefiting from personal training sessions. Guests who wish to relax can enjoy a leisurely swim in the indoor pool, followed by a relaxing hammam or sauna. Philippos Xenia's spa also offers a whole menu of massages for ultimate relaxation and wellbeing. Guests can explore Serres on its many walking trails around the area. Philippos Xenia Hotel can arrange for guests to rent a car and also provides free parking. For photos, information, maps and booking click here
If you don't mind driving you can stay by the sea near the town of Agios Giorgos in the 4-Star Best Western Hotel Saint George, the 3-Star Electra Hotel in Stavros, or for budget-minded travelers there is the Pension Pfaffenhofen and the hotel called Big Dino's Galini, both in the beach town of Vrasna.
For more hotels in Serres with reviews, photos and booking information see Booking.com's Serres Page
Help Support Matt's Greece Guides
Do you enjoy using my site? Have you found it entertaining as well as useful? If so please show your appreciation by booking hotels through the travel agencies and the links found on my Hotels of Greece site. The small commission I make on the bookings enable me to keep working and in most cases you won't find them any cheaper by searching elsewhere. You can find hotels in Greece by location, price, whether or not it has a swimming pool, and see photos and reviews by using this link to booking.com which also contributes to my website when you book. If you are appreciative of all the free information you get on my websites you can also send a donation through Paypal or Venmo
Join Matt Barrett's Greece Travel Guides Group on Facebook for comments, photos and other fun stuff. If you enjoy this website please share it with your friends on Facebook and other social media.