On The Road

In The Peloponnessos
By John Marlowe
When I first thought of Greece, I thought sailing and islands: Sleek white thirty-footers on a blue-black sea gliding across a golden sunset; sturdy ferry boats with paint thick as mayonnaise, me next to a woman in black, a live goose in her shopping bag. But since my wife and I bought a house on the sea in the lower landmass of Greece, I think different. I think driving and Peloponnessos.

The Peloponnessos, an unpolished jewel, is intensely Greek, unlike islands with German and English signs and more bland pizzas and day-glo sunburns than local wines and impromptu dancing. It is the home of classical myths, ancient ruins, charming hotels, unique food, Byzantine villages, majestic mountains and endless beaches. All at prices half the crowded islands, and the best way to see it by motorcycle, car, or van. Most of the seaside towns and villages have all of the charm of the islands and none of the crowds.

Travelers have several options: Rent a vehicle and take off, or take advantage of the organized offerings of companies like Greece's Tritours which offers group tours for motorcycles. Independent travelers might prefer unique book-guided tours, a proper mix of adventure, comfort and convenience. Within these options, riders and drivers can mix and match.

The Peloponnessos starts at the Corinth Canal. Too big to call an island, too wide to call a peninsula, it is six hours top to bottom, three or four side to side. All roads, big and small, lead to romance; myths and classical allusions dot the landscape like Home Depots on an LA freeway.

Read road signs and learn. Start with Olympia, home of the first Olympics, the arcadian governate of Arcadia. Go past Argos, the home of the Argonauts, down to Sparta, the site of the original spartan life, and then to the governate of Lakonias and its laconic people. A 100-kilometer drive raises a high school junior's SAT scores by 100 points.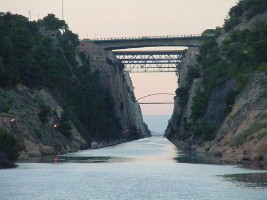 I love the Canal. It is missed in a blink while driving over the new bridge, so we double back, park and walk the smaller, older bridges. While tourist busses lurk like rogue elephants amongst gazelles, the historic canal is worth the stop. It is so narrow a deck hand on a passing boat can strike a match on cool, tan walls. It is manageable and magnificent, like a great athlete up-close: Human-scaled, but magically larger-than-life. Imagine the hubris it took over one hundred years ago to dig a ditch between two separate bodies of water and let the seas fill behind. They were not sure of the heights of The Ionian and The Aegean Seas; if one was higher than the other, the land could be flooded. The world could spin out of balance.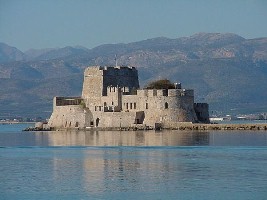 Naufplion, the first modern capitol, to the east, is an ideal overnighter. We have been pleasantly brought awake by church bells and children laughing and singing on the way to school. It is ground zero for some of the most famous of Greek historical sites. The ruins at Mycanae and Tyrns, the theater at Epidarous, and the Turkish fort above the city, are all must-sees. But, like the rest of this charming land, the side roads are the fun. Continuing past Epidarous, stopping at the sea, we have walked the beach to a seaside taverna accessible only by foot. We admired the berries on a grand shade tree, and after the lunch (fried eggs and fried fish, the only food on the menu if they had a menu) we were served a gratis plate of berries arranged in concentric circles and sprinkled with sugar. Try that on a tour bus.

Olympia is to the west over dramatic mountains with villages clinging to the cliffs and views that go beyond the horizon into history. On a spur of the moment spring drive to Olympia, we not only walked the calm, stately ruins just after dawn, the night before we saw Barishnikov and his troop perform in a little-publicized summer festival. In the Peloponnessos, we always fall into some musical event. Guitars, accordions, singing and dancing, violins coming magically from olive groves.

The road to Olympia is, like most on the Peloponnessos, maintained, but curvy and challenging just right for the keen, experienced riders that Tritours needs for motorcycle groups. They don't always get them. One Brazilian biker, about a week deep into Turkey, told Debbie Stagonakis, the founder and director of Tritours, he was pleased he could now ride a "big bike." She wondered, "…why he was so slow at first. I checked and found he had put five years experience on the booking form."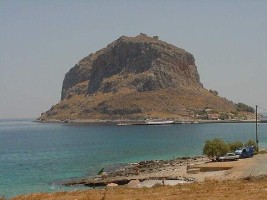 I was once asked to pull out a van stuck on a gravel road off a single lane road, above the beautiful restored village of Monvassia, that was more beautiful than passable. The isolated beach, about 2 kilometers below, was pristine and alluring; the dark blue water with a light green fringe was just too perfect. So the Belgian driver turned a tight right and like the Nike commercial, went for it, only to bottom out half way down. He and his family hiked five miles to the nearest village and finally a local farmer tractored him out. I sat with him while he sadly nursed a previously cold beer. I said, "I'll bet your wife warned you'd get stuck." He sadly nodded yes. "It's going be a long quiet trip back home." I added. Another villager suggested he leave the van where it was and use it for a summer home.

Most the roads are not so bad, ranging from four and six lane national toll roads to one lane cliff hugging gravel roads with straight drops to the wine-dark sea on one side and on the other cliffs that might let loose a refrigerator-sized boulder at any moment.

The great perk is these veins leading to small, friendly villages with local foods like sausages made with orange, and endless dinners, a spontaneous family and statements of, "I'll have more of that, whatever it is."

For example, while Sparti (a fine lay-over for seeing Mystra, the Byzantine ruin) and Tripoli are not great tourist centers, they are perfect stops when travelers are, as they are wont to be, less interested in a shrine than in a bustling bakery or a hardware store with local sheep bells.

Organized group tours average a comfortable 105 miles a day to allow plenty of side trips. Tourers range from young adults to younger seniors from all over the world. Additionally, arrangements can be made for groups of friends. Road warriors get new bikes or used ones in perfect condition, including classic BMWs, BSAs from the 50s, Triumphs and Yamahas.

Not everyone wants a group. Tritour's Lone Ranger tours are based on rented motorcycles, van or cars and books with very specific directions and recommended stops. They also make reservations along the way, and provide a mobile phone for emergencies and questions. Travelers get up when they choose; stop when they like; spend hours in one site, minutes in another; with a charming hotel waiting at the end of the day.

Michael Krebs who took a Tritours jaunt through the Peloponnessos said, "You start as customers and end as friends." I only add you also end as a friend of Greece, and that will stay with you forever.
Focus On The Peloponnessos
Peloponnessos means Pelop's island. Pelops loved Hippo who loved him back. Suitors raced against her father to win her, one version of the first Olympics.
According to legend, when Napoleon started his unsuccessful effort to dig the Corinth Canal, the first shovel full made a hole that filled with blood.
The Diros Caves in the Mani are definitely not OSHA or Disney approved, but they sure are beautiful.
The national highway travels through valleys and mountains that Spartans troops ran through, covering distances most tourists would not make without air-conditioning.
South of Sparta is a memorial to 118 modern Spartans who fought against the Nazis.
For information about Tritours see their web page: www.greecetravel.com/tritours
For more information on the Peloponessos see www.greecetravel.com/peloponessos
---
Return to
The Collected Greek Works of John Marlowe