Writing About Greece is Therapy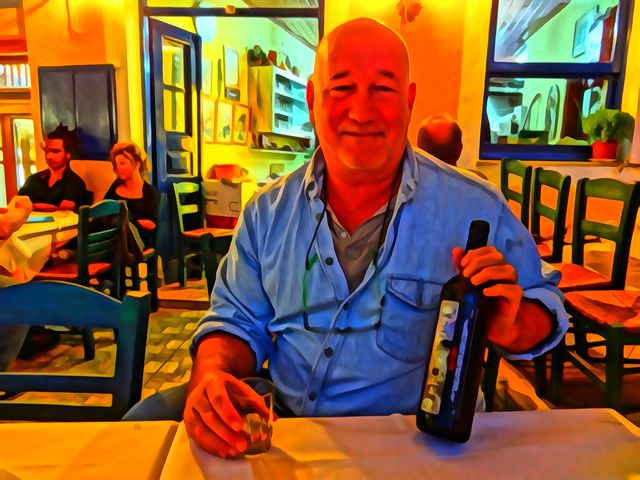 Greetings!
Coming back from Greece is tough for me. Because I spend 2 or 3 months in Greece every summer, by the end of August I am ready to leave, if for no other reason to clean up my life. I mean there is only so much fun you can have in the summer eating, drinking, swimming and exploring. After awhile I feel the need to detox and get all my photos and articles up on my website so I can go back to Greece and do it again. I actually look forward to going back to the USA.
Unfortunately the reality is that life can seem pretty oppressive in America after a summer of freedom. In fact when I come back from Greece it is as if I never left and within days I need a break from my routine. I need to be able to walk out my door and see mountains and sea or jump in my car and drive 15 minutes to a deserted beach and have kalamaraki and a glass of wine or two at lunch before taking a siesta in the shade of an olive tree.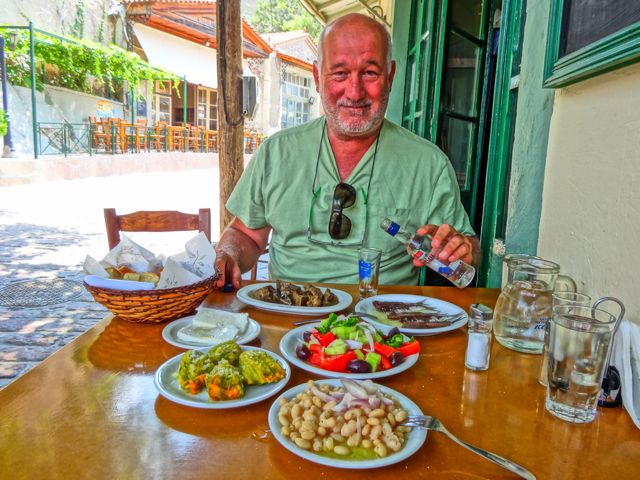 So here I am under gray North Carolina skies in my little office with the AC cranked up to 11 and when I need a break what are my choices? Go to the beach? Nope. A 3 hour drive unless I want to swim in a muddy lake with snapping turtles and other biting creatures that can creep up unseen and attack you. Go have an ouzo and meze? Yeah right. The closest Greek restaurant is called 'Zorba's' and their claim to fame was kicking out a blind woman and her seeing-eye dog because the restaurant policy did not allow pets. I can jump in my car and go to the nearby mall that looks kind of like a city, but everyone looks so unhealthy and unhappy compared to the people you see on the beaches and towns of Greece, and I am not much of a shopper either.
Face it. After being in Greece for the summer America pretty much sucks. You can talk about it being the greatest country in the world and about how every poor person from every undeveloped country dreams of coming here (so they can make a lot of money and go home rich), but the reality is that unless you have a hobby, sport, or can spend hours watching videos, televison, surfing the web, playing computer games or shopping, America can be a pretty un-fun place to be. In the daytime anyway. (Night is different. I have a choice of about 50 good restaurants in my area though none of them are Greek).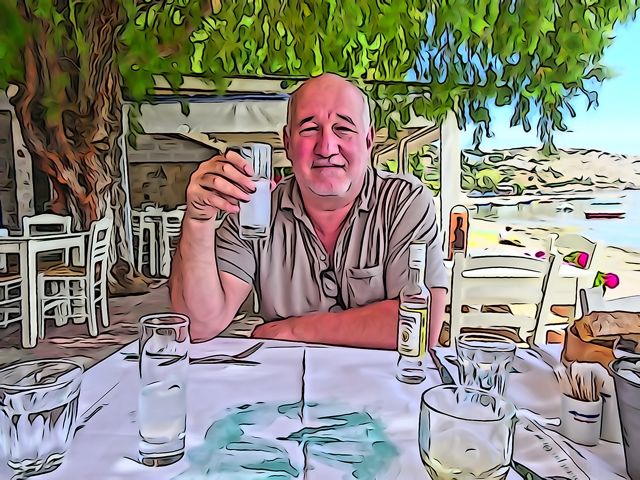 So I can hear you out there. Stop feeling sorry for yourself Matt. Make the most of your time in America. You have to be here. You have a house, a car and a daughter in middle school. Get a hobby.
I do have a hobby. Unfortunately it is GREECE!
OK. I am over it.....
So what did I do in Greece this summer besides my usual eating, drinking, swimming, conversing and the obligatory 5 hours a day of answering e-mail? Nothing in terms of going to new places. Well I did stop in Serifos for a night on the way back from Sifnos, took a lot of photos and realized I needed more than one night to do the island justice. But that won't stop me and by the time you read this there may even be a new web-page for Serifos at www.greektravel.com/greekislands/serifos
The big event of my summer was buying a new car. Well, not exactly a car. Sort of an SUV. Well, not exactly sort of. It is an SUV. But a small one, not one of those big gas guzzlers that piss you off when you are stuck behind them and trying to leave your parking space. This is a car based SUV called a Suzuki Grand Vitara, not very popular in the USA yet but the best selling jeep in Greece. And it is a jeep. It has 4-wheel drive and a ladder suspension that enables it to go anywhere. And we took it everywhere, following every dirt road and goat track we could find in Lesvos and on Kea, to remote beaches and other extraordinary places and on and off countless ferries too. The only bad thing about it is the price. This car which would have cost $18,000 in the USA costs over 30,000 euros in Greece. And it has a smaller engine than the American version. No wonder people in Greece feel like they are getting ripped off every which-way they turn. They are.
Anyway I wrote all about it at www.greecetravel.com/off-road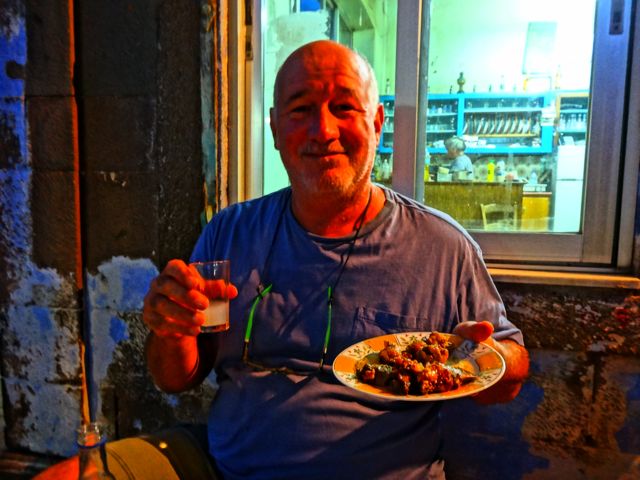 As for the flight back with all the fears of terrorists hiding weapons in tubes of toothpaste I have to tell you that it as not such a big deal, except for this couple who were squeezing every tube and bottle they owned into the garbage can at the airport in Athens. Don't ask me why. Maybe they thought they could get a refund from the US government by turning in their empty tubes. Most people in Greece saw it as another inconvenience due to the terrorism hysteria which is fueled by our government. I mean they arrested 25 people in the nick of time yet none of them had passports, airline tickets or even whatever substance it was that they planned to blow up the planes with. If they knew who these people were couldn't they have waited until they got their passports and tickets so they might actually have a case against them. If they really were terrorists they will be back on the streets in no time if they are convicted at all. Then I saw Keith Oberman's report on how every terrorist threat announced by the US Government comes after a bit of bad news about the White House. Two days before the arrests there was an article by Seymour Hirsch about how our president encouraged the Isrealis to invade Lebanon so we could see how some of our weapons would work in a dry run to our invasion of Iran. Breaking up the mass-terror plot sure changed the subject in a hurry.
I sure don't feel any safer. But I didn't feel unsafe in the first place. I just don't like flying because it is such a drag. For those who are feeling a little uneasy about flying I can ease your fears if you read my Guide for the Anxious Traveler
Anyway... summer is over so come to Greece. For us older people this is when the real fun begins. See www.greektravel.com/winter and the nightlife and restaurant sections in my Athens Survival Guide