Heat Wave in Syros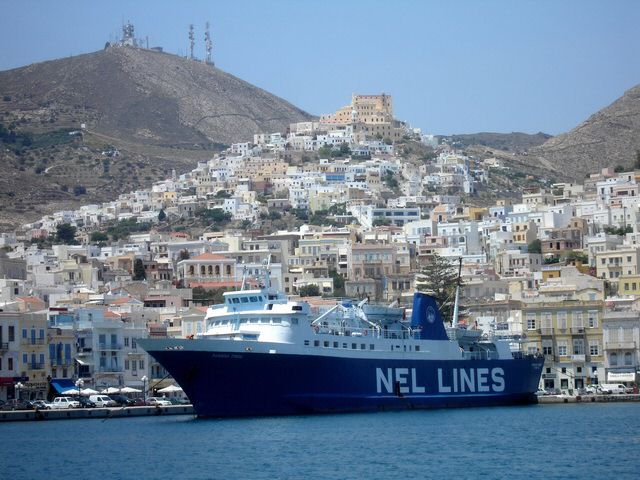 The heat wave is over and we all survived. It could have been worse. We could have been in Athens where the temperature was about 46 degrees which is something like 115 farenheit. Actually there was one casualty of the heat. Our plans. If you remember back to my last entry we were going to spend 2 days in Syros and then go to Patmos where I had been meaning to visit practically my entire life but somehow always missed the boat or suffered some kind of setback that made the trip impossible. Well it happened again. We stayed in Syros for 5 days and then came to Tinos, the island next-door where I am writing this from the balcony of our apartment at the Porto Raphael Hotel, overlooking the small beach of Agios Ioannis. I can also see Mykonos and Delos from where I sit typing this. The wind is blowing from the north which is good news for those of us who don't believe in suffering in the summer. In fact the last two days have been absolutely beautiful. But we deserved this and more after the last two weeks which had me questioning what I was doing here. But Kea was not that bad and neither was Syros when you think about the people who did not have the option of getting out of Athens. And it gets pretty bad in North Carolina too if I remember correctly.
We left Kea on the ferry Panagia Hozovotissa and small old ship that still has wooden decks and a restaurant that only serves the crew but smells delicious. There must have been 30 people on the boat and all but 8 of them got off in Kythnos. On a normal ferry the trip from Kea to Syros should take about 2 and a half hours. But the Panagia Hozovotissa is on one of those routes that visit a different group of cyclades islands each day and is subsidized by the government so why use both engines when one will get you there in twice the time and at half the cost? So we left Kea at 7pm and arrived after midnight on Syros, starving.
The best thing about having a car is that you just get in and drive off the boat. The worst thing is getting it on the boat. The guys in the ships garage are parking perfectionists and they want to squeeze as many cars in as tightly as they can get them, even on an empty ferry. I have trouble with my left and right in Greek and driving backwards makes it even more complicated for me. This trip the guy even said to me in Greek "Look, if you don't listen to me then you are never going to get into this spot, so do as I say!" He was right but I thought he was trying to put me in another spot so I was sort of improvising along with his instructions in a way that guys do to show what good drivers they are. Yeah, I know what you want, just watch me. It pisses me off when my friends do this and here was I doing it trying to park a Suzuki Grande Vitara in a spot big enough for a Smart Car while he just wanted me to park normally behind this other car. Anyway I am making a big deal about nothing but if you want the truth, when I know I am going on a trip on a ferry with the car I spend days worrying about whether it is going to be easy or not. Usually its a lot of worrying for nothing and I drive the car on and am surprised at how easy it was. But it is never as easy as driving off the ferry.
So we checked into the Hotel Hermes on the waterfront and opened the balcony door to see we were right above the small stone beach that they light with a floodlight at night so you can swim among the giant squid that the light attracts. No, I am kidding. But we were too hungry to swim and went across the street to the Janinnia Restaurant for a very late dinner.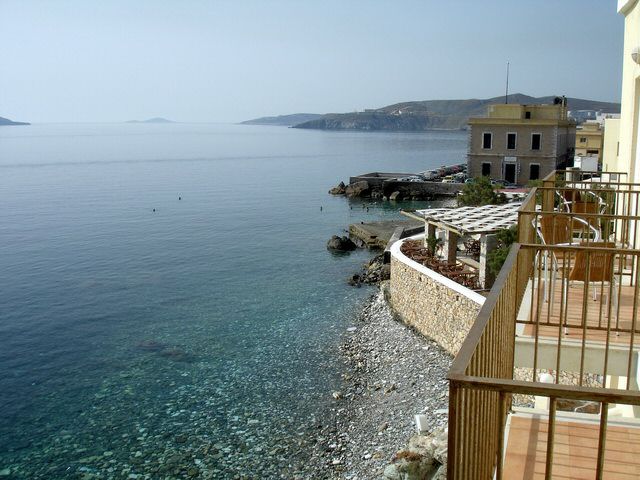 The Hotel Hermes is one of my favorite hotels in Greece. Not that it is exceptionally nice or well run. Mostly for sentimental reasons. When we first came to Greece in the summer of 1963 we lived here for a month during the orientation period my father went through for the Fulbright foundation. I spent every day of that August on the little stone beach behind the hotel which when the wind blows from the north can have some pretty big waves. But during a heat wave the sea is still with hardly a ripple and if you look closely at the surface you can see dust, pollen and other air-borne things that settle on the still sea like a fine film. With the Neorion shipyard in the harbor maybe some of these things floating in the sea you don't want to think too hard about what they could be. When we sailed into the harbor at midnight the night before, there was all sorts of work happening on the big tankers in the drydocks. I could see the flash of welders and the sound of heavy machinery. The factory works 24 hours a day and as our ferry passed by there was a chemical smell in the air that just hovered over the port with no breeze to blow it away. For a moment I was filled with dread thinking I had brought my family to a toxic island that no matter how good the food was or how beautiful the beaches were, was going to take half a dozen years off our lives. But the smell was confined to the area of the shipyard and as far as I can tell we have not ingested any harmful pollutants, at least not any worse than we do in our mildew infested house in North Carolina.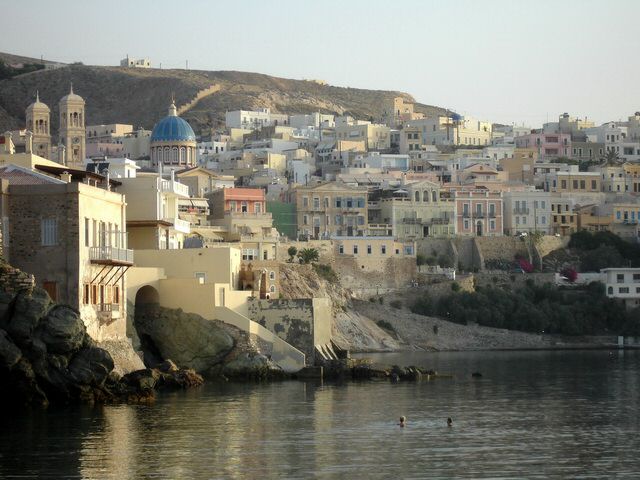 Syros was only about 38 degrees according to yahoo weather, which is better than 46 degrees but it is still around 100f. Its not pleasant unless you are in the sea in some area where it is deep enough so that when you kick your feet you stir up the cold water below. Its like a cold fountain. The sea behind the Hermes is deep and every morning I would swim with the old people who are doing their daily banyo, counting them up (I did 37 banyos this summer) and exchanging them for food credits through the winter. (I did 37 banyos this summer so I can eat kokoretsi and baklava and drink as much as I like). Andrea and Amarandi are late risers so I get about an hour swim and then drag them out of bed so we can begin the day. The hotel restaurant is way too hot. In fact the hotel stayed hot through our trip. For some insane reason they left the doors and windows to the lobby wide open as if to invite any cool breeze that might have gotten lost in the heat wave. But there was no cool breeze. Just hotness and the stone and concrete hotel sucked it up like a sponge. It was not until the last couple days that they decided to close the doors to the lobby and turn on the AC. Until that point I didn't know the lobby even had AC. We have AC in our room which barely cools it running 24 hours a day at high. We would lose 5 hours of accumulated coolness when we opened the balcony door for one minute to hang our bathing suits out to dry. The port of Hermoupolis is lined with cafes and bars. In the morning they are relatively cool even on Tuesday June 26th the hottest day of the heatwave. But you have to pick your spots.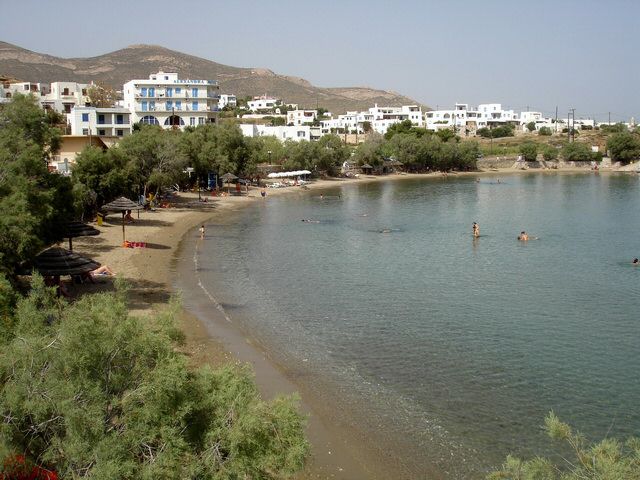 We spent the first day driving. Being in the car or in the sea are the only cool places during a heat wave unless you are somewhere air-conditioned. Syros is not what you would call a beautiful island, like Mykonos, Santorini or Sifnos, but there are beautiful spots. You have to realize that it is a working island. The courts for the Cyclades are here. The entire bureaucracy for the islands is here and any lawyer, architect, engineer or poor fellow who needs some paper to start a business or is so unfortunate as to have to go to court, comes to Syros. Thats why they have the ferry that goes to all the other Cyclades islands and thats why hotels like the Hermes don't really care about tourists. Besides being full of civil servants the city has the shipyards and hundreds of other businesses, thousands of shops and a huge year-round population. The other towns are really beach towns for the people from Hermoupolis to go to on hot summer days like today, though they do have hotels for visiting Greeks and the small number of tourists who come. Most of the beach towns were built up before anyone could say "wait don't do it that way" but there was not much to work with in the first place.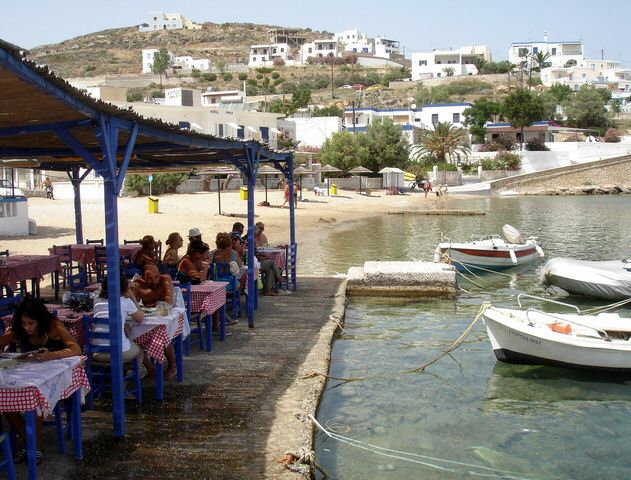 The beach towns in the south are on a sort of rocky shelf with buildings going almost to the sea. There are a couple nice swimming beaches and there is a small cove called Achladi which has a really good seafood taverna which is it were any closer to the sea you would be in it. As it is you can feed the kefalo(fish) and the cats simultaneously without leaving your seat. One of their specialties is gouna which is sun-dried mackerel that is then grilled. Its my favorite dish on the island. Poseidonia which was called Dellagracia in the Vamvarkaris song Frankosyriani, has a couple sandy beaches but is notable for the many mansions scattered around, some intact, some in the process of being restored. Gallissas is a yachting center. Its the best sailboat harbor on the island and there are a couple companies based here and others that have satellite offices. Life seems to center around the taverna on the small hill overlooking the harbor but when it is 100f there is not much life to be seen.
Charters that stop in Sifnos usually come to Gallissas mainly because skippers don't seem to like staying in Hermoupolis. The ferries come and go, their wakes bouncing the sailboats up and down and against each other. The sailboat section of the dock in Hermoupolis is about 3 feet from all the cafe tables so anything you do you have an audience from showering to arguing with your girlfriend. At least in Gallissas you can have some privacy even if you have to anchor out in the bay to get it. But it is not a pretty port. Its just practical.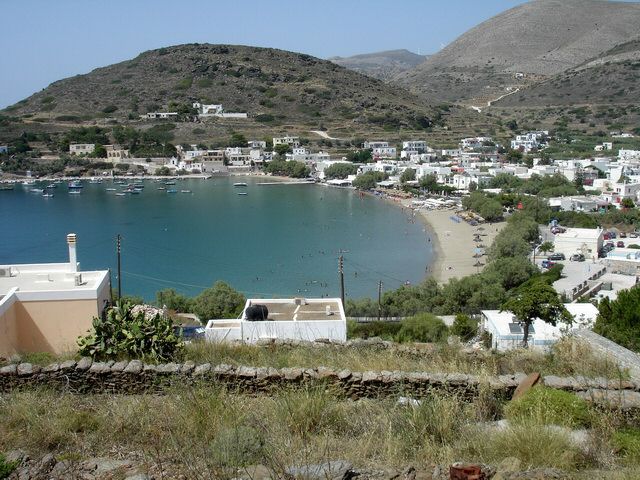 Kini is the only place on Syros that I would consider staying besides Hermoupolis. Even from a distance you can tell that it is different from the other beach towns. It sits in a big bay, has a long sandy beach and a small fishing harbor on one side, trees for shade and several good tavernas. Its not overbuilt. There are no big hotels, just a few small ones and a scattering of rooms and summer houses. Its beautiful really. As nice as any beach town in the Cyclades and has so far not been destroyed. Just over a small hill is Lotos Beach which sits in a small sandy cove, is clean and has several big shade trees and a very good taverna that overlooks the sea. The taverna is run by the neice of Markos Vamvarkaris. This was the best spot on the island, the place we came back to on our last day when we had a few hours to play with.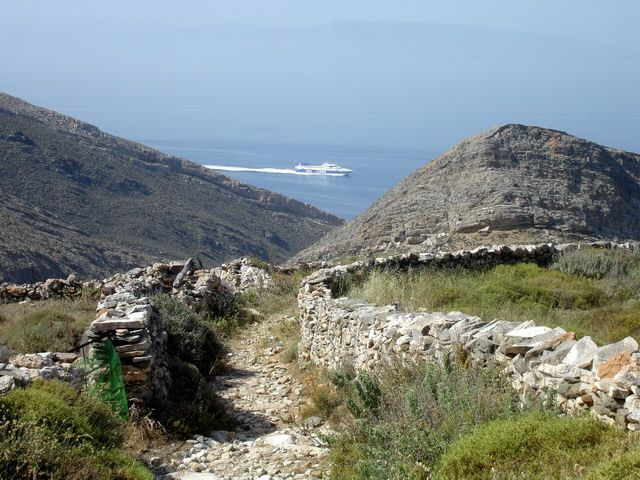 Northern Syros is a rocky barren place that you reach by driving up to Ano Syros, the Catholic mountain that overlooks Hermoupolis. There is a pre-historic settlement and a cave somewhere up there. We didn't find them because it was so hot and usually when you find a pre-historic settlement anywhere the most amazing thing about them is that someone scrutinized the land enough to realize something had been there. The cave would have been nice but the walk there and back would have been hell. Just getting out of the car was a chore for us though we did it dozens of times for a view or to take a photo. There is a scattering of farms and communities and some roads that are scary if you are not a good driver and fun if you are. There are also a number of tavernas that seem like they are out in the middle of nowhere until you realize that from just about anywhere on the island you can be back in Hermoupolis in about 15 minutes.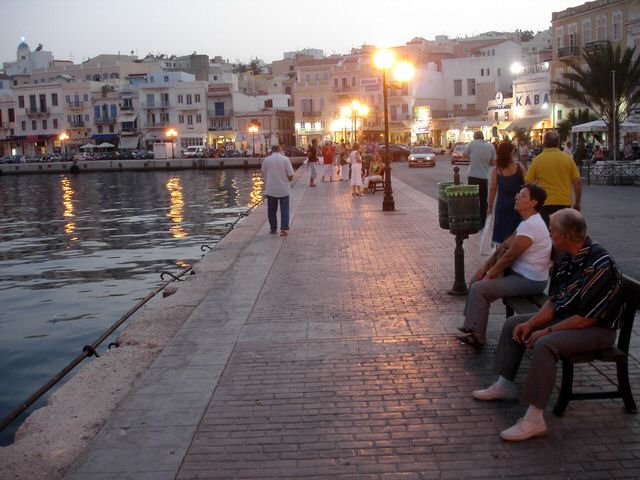 Nights like days are spent finding somewhere cool. Amarandi found some American kids living on the island so she was taken care of. She went to the outdoor cinema in the main square in Hermoupolis to see Nortbert, while we finally found a taverna on the back street that was spraying ice cold mist into a couple of fans and blowing it over the small square keeping it cool. The food was good and featured a lot of Syros specialties and your usual Greek dishes as well as some interesting salads. I asked the waiter what Markos Vamvarkaris would have eaten and he said without hesitation the tigania which are small chunks of pork sauteed with potatoes, tomatoes and maybe some onions. I should have asked what Markos would have order when it was 100 degrees out. Like did he have a favorite salad? But despite it being a little heavy, it tasted good and did not make me feel too awful. It was the beer and the tsipuro that did that.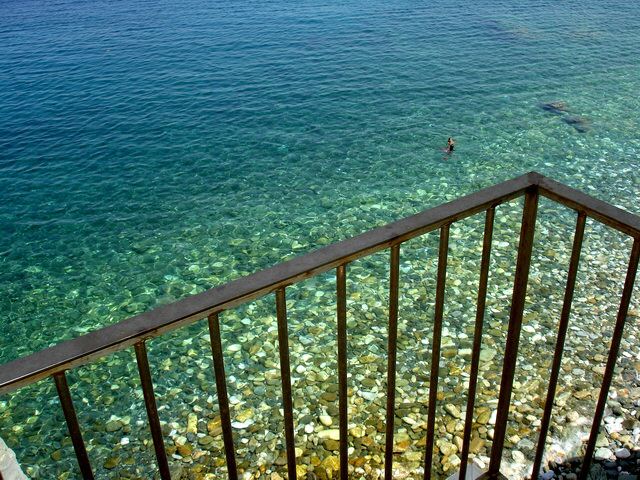 No matter how lousy I feel when I wake up at the Hotel Hermes, I know I can walk down the stairs and in about one minute be in the sea. Every day it's a little different looking and feeling. By Thursday, which was supposed to be the last day of the heat wave there was a breeze and the sea would get a little choppy. It was also noticeably colder. Once the wind changes and starts coming from the north then the weather will change completely and I can see this is slowly happening. I just wish it would hurry. Last night we found the best restaurant. It was Italian and air-conditioned. It was right where the ferry lets off. I forget the name but I have the card somewhere. By the time I redo my Syros pages I will know it. (The restaurant is called Amfix and it is right where the ferry comes in)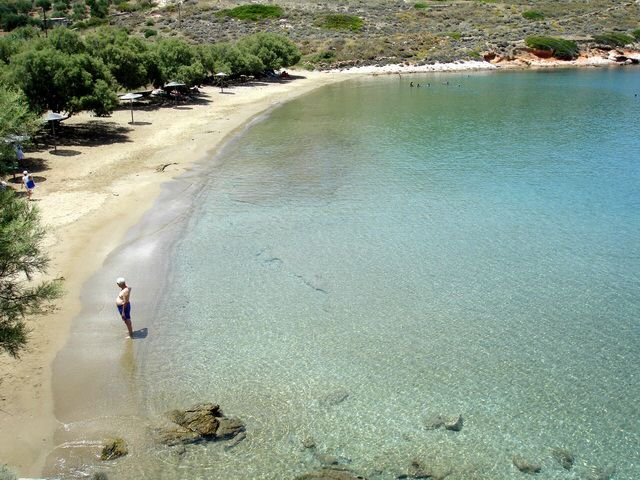 Friday the heat wave broke. I watched it break. I woke up and the sea was flat and I thought 'Oh no is this ever going to end?" Dejectedly I took my towel and walked down the steps to the beach and dived in. Within 20 minutes there was wind and waves and by the time I got out there was a strong cool wind from the north. Suddenly life on the Greek islands was a pleasure again. We wandered around the city, shopping and taking photos, then drove to Lotos Beach and Kini for lunch. At 5pm we took the ferry Panagia Tinos to Tinos. On boards I had a pretty good connection and I was able to answer some e-mail. (I still have about a hundred to go). So my next entry will be about Tinos though probably by the time I write it I will be long gone.
For more about the island of Syros see Matt Barrett's Guide to Syros
For hotels see Booking.com's Syros Pages or check out the Hotel Hermes in Hermoupolis where I stay whenever I go.(When it is not full)