Sheep, Cheese, Trachana and Greek Politicians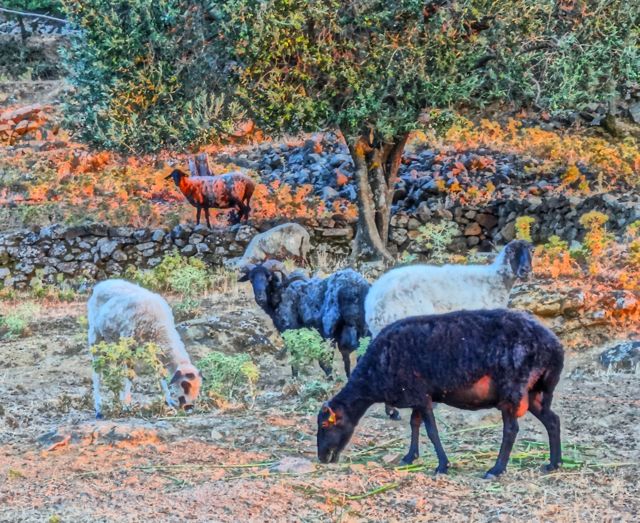 I now know more about herding sheep than I ever thought possible. Last night in Vatousa we walked down to the lower platia to have dinner at Tryphon's restaurant. Andrea invited Yiannis, who is Tryphon's brother and one of the shepherds of the village to sit with us and have a drink. Andrea endlessly asked him questions about the sheep, how many he has (140), how many are male (he keeps one mail every year for 5 years), what the life span of a sheep is (about 10 years-a little longer than a guinea pig), how much they eat (in the spring they only need to eat for half an hour because food is plentiful since all the wild grasses are growing from the rains but in the summer they have to scrounge around for hours to eat the same amount of food) and how long it takes to milk 135 sheep (I forget). Yiannis makes his own cheese and sells it to some restaurants and shops around the island, particularly in Anaxos, a beach town that I get emails about from panic-stricken British package tourists who can't find it in my guide having just booked a 2 week holiday there and wanting to know what's wrong with it that I would not write about it, (nothing).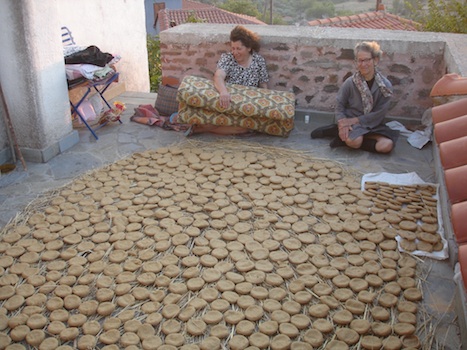 I also learned about trachana. This is the staple of this part of Lesvos which is less about olives and more about sheep. For 10 days they put sheep's milk in these big caldrons, stirring it four times a day so it gets fermented. Then they pour in cracked wheat and stir it for three hours without stopping. Usually it is a family affair with ouzo like a party since if it were not it would be a miserable job stirring a giant cauldron for hours by yourself. When it becomes so thick you can't stir it anymore it is finished. Then they make these little baskets which they put in the sun to dry. After they are dry they do a number of things with them. They add it to soups, they eat it plain, they toast it on charcoals, or they give it to use and we take it back to America and put it in the freezer until we find it 2 years later. It has an interesting taste a sort of crunchy-sourness that must be healthy for you or why would you go through the trouble of making it. Yiannis the shepherd says its a difficult job but it is one that brings people together. It is also one that will probably disappear as the kids grow and move away from villages like Vatousa. Yiannis has a daughter who works in a super-market in Mytilini town. Her husband drives a delivery truck. Another shepherd friend of ours, Christos, worked summers in Santorini as a waiter, opened a bar in Sigri, and is now back in the village taking care of his father since his mom died last year. He had a beautiful Polish tourist girlfriend who left because life in the village was to harsh in the winter.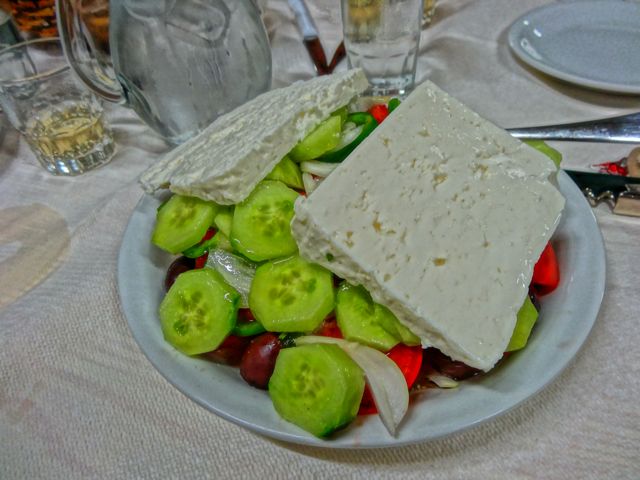 Cheese-making is a dirty business. There is a factory which buys all the sheep and goats milk from the surrounding villages and they make a delicious cheese that you can even find in Athens. But they dump the waste in the riverbed where it sits through the summer, heating up and smelling so badly you pity anyone passing by on a motorbike or who does not know enough to roll up the windows and turn on the AC for 10 minutes once you pass Vatousa. The children of the other towns call it Vatousa-vromousa (smelly Vatousa). About ten years ago Mike Constantinou and I went with Lena of Eressos Travel to see the Dimarchos of Lesvos who is like the mayor but acts like the governor or the king, so I could tell him about the problem of the smelly cheese factory. We were led into his office and introduced and told to sit down. Then the Dimarchos said "I know why you have come..." and then began a lecture about his role in the governing of the island under the Kapodostria plan that went on for twenty minutes. Whenever we tried to get a word in he would raise his hand and say "Please, allow me to finish" and went on with his speech. When he was done he thanked us for coming and escorted us to the door.
Mike turned to me and asked "Did that just happen?" The guy did not only not answer our questions, he did not even hear our questions. He probably gives that same stupid speech to anyone who comes to his office and then sends them on their way more confused than before.
A couple years later Joanna Karvelas the opera singer was performing at the Castle in Mytilini and the same Dimarchos did the introductory speech. This went on for 45 minutes, talking about all the wonderful things his party had done for the island and the arts (little to nothing, most of the accomplishments are by private citizens tired of the government's lack of interest in anything except what serves the government). By the end of the speech the audience was ready to kill him. Then a woman got up and gave a speech about the art and culture of Lesvos which was almost as long. We had to listen to nearly 2 hours of speeches before Joanna sang a note and by then all we wanted was a drink.
Tonight Joanna is singing at the Teriade Museum and I will have a small bottle of ouzo in my pocket just in case.
Vatera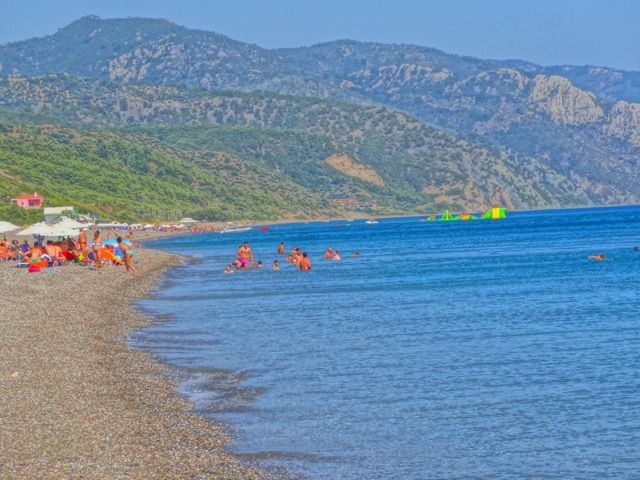 We spent 5 days at Vatera beach at the Hotel Aphrodite as guests of George and John Hahathakis and their families. My brother James came to the island with his two kids and we wanted a child-friendly place they could relax while the kids played. The Aphrodite was perfect. Right on the longest beach in Lesvos, the hotel has a terrific taverna on the sea which has a view of the hotel's trampoline that kept the kids occupied for hours and days. For the children it was the place to connect with all the other kids, several who were the children of hotel owners but others who were guests from all different countries. The Hahathakis family kept us well-fed and entertained. The second or third night they roasted a whole pig for us! John took us for a drive on the dirt roads through the olive grove to the church of Prophet Elias on the areas tallest mountain with a spectacular view of Vatera. If you are a family with kids, or honeymooners or a couple who want to go somewhere quiet and inexpensive without all the razzle-dazzle of Mykonos and Santorini go here. The Hahathakis are a wonderful family who run a beautiful hotel in an organized way and by the time you leave you feel like you are part of the family. Yeah, all the hotels say that on their websites but here it is true. Vatera is an endless beach and 5 minutes up the road is the beautiful village of Vrissa which is as traditional as Vatousa though without the hills. The hot springs of Polychnitou and Lisvori are within ten minutes too.