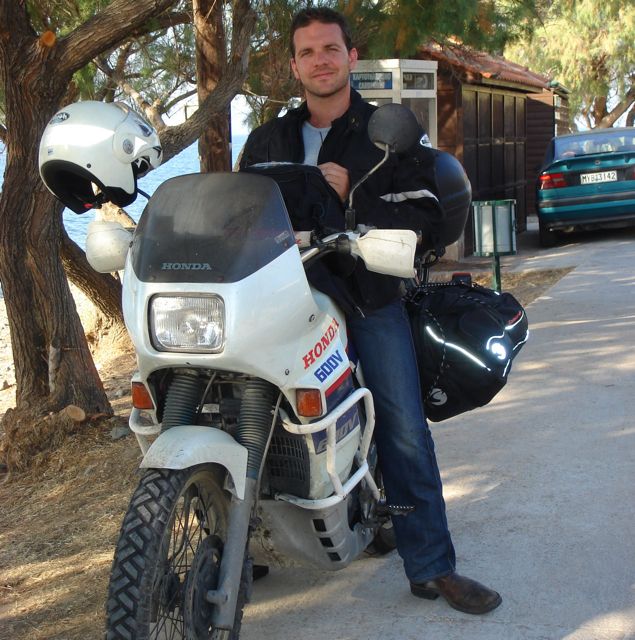 We just got back to Vatousa after a couple days in Molyvos. It is hot! But not unbearable, unless you are out in the sun of course, and then you will probably be dead in a couple hours. Molyvos was hot too but not bad at night and the sea was cold in the day. We were fine in the shade too but once you venture out reality sets in. We went to Melinda's for dinner. I was starving. She was packed and we had to wait till 9:30 for a table. Its funny because the tourists eat so early that by the time the Greeks go out the restaurants are empty. Perfect. While we were hanging around I got a text message on my cell phone from Stephen Papadopoulos the famous Greek-American poet. He is working on a book of poems from the Black Sea where the Greeks of Asia Minor were exiled from and had gone there on his motorcycle to see what the area was like. He text-messaged me from the ferry to Mytilini from Avalik and was surprised that we were still on the island. He had driven over 14 hours and 800 kilometers that day but I was still able to convince him to ride another hour and a half (at night) to Molyvos and have dinner with us and delay his trip back to Athens for 24 hours. He told us all about his trip which covered central Turkey and then the southern coast of the Black Sea, some of the most beautiful coastline he had ever seen. He had not seen a tourist or even anyone who spoke English in a couple weeks and when he would ride into town in his black leather and Honda 600 everyone would gather round and stare in amazement asking about his bike, how much it cost and where he was from. He loved Turkey but found it oppressive compared to the freedom of Greece. But the people were very friendly and there were pockets of Greek speaking people in many places.
Melinda kept bringing out food including these amazing sardeles-pandremenos (married sardines) which were stuffed with tomato, onions and cheese and were just amazing. (You can't order them before 11pm because they don't have time to make them when they are busy). We didn't get home until 3am. Stergios and Dimitri at the Hotel Seahorse gave us our rooms for free. Great hotel overlooking the port with its own generator so our air-conditioning was not affcted by the blackouts caused by the Greek Electic Company (DEH) who want to build a new efficient plant to house all the new equipment they have. The problem is that no town wants it.
That reminds me of a joke.
What does DEH stand for?
Den Echo Electriki (I don't have electricity)
What does OTE (Greek National Telephone Co) stand for?
Oute Telefono Echo (Nor Phone I have)
Its funnier in Greek.