The Worst Ferry in Greece
There are ferries in the Greek fleet that give a bad name to Greek shipping, some of which have no business being on the sea, much less carrying human beings. And if there is a worse ferry than NEL's Theofilos, it is probably under water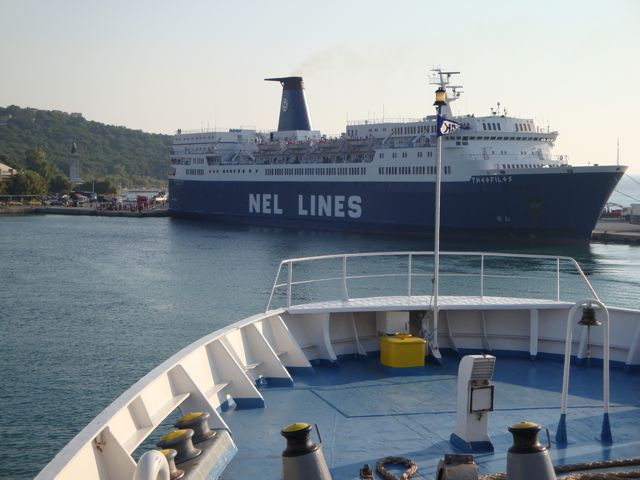 I am pretty much of a ferry lover. I especially like some of the old ones who have a character that the new faster boats lack. They remind me of my youth when we would pay a few drachma for a ticket to Mykonos or Crete, lay our sleeping bags out on the deck, and make friends with whoever was laying next to us. But slowly these old ferries are being phased out and replaced with new high-tech, high-speed boats that turn a 12 hour trip to Crete into 6 hours. Still if I have a choice between a nice cabin on an old ferry or a seat on a high speed I will take the cabin on the old ship. But there are ferries in the Greek fleet that give a bad name to Greek shipping, some of which have no business being on the sea, much less carrying human beings. If there is a worse ferry than NEL's Theofilos, it is probably under water. Formerly the Nils Thorgood or some Scandinavian name, this boat used to sail the Baltic visiting ports in Sweden, Norway, Russia and the Baltic States back in the eighties? Seventies? Sixties? A long time ago. Once I got an e-mail from someone from Norway who was fond of the ship from its previous life and asked me for photos of it, which I sent him. (I have thousands of ferry pictures).
A couple years ago the word was that the Theophilos had to be retired. It had reached the end of its 35 year life in the Greek ferry system and by law had to leave service or else be extensively renovated. It was not a moment too soon because we took the Theophilos to Lesvos two summers ago and had a Deluxe cabin. We were eaten alive by bedbugs. Not just us. My father-in-law and his wife and my friend Tim Aquilina and his wife who were visiting from the states all got bitten and spent a sleepless night. But we could laugh about it because after all this was the last season of a respected old ferry that had seen her share of storms in the north seas.
To my surprise the Theophilos was still on the schedules this summer. It had been fully renovated people said and it was a new boat on the interior. "That's great" I thought. "New life for the old ship".
Yesterday we decided to go to Chios for a few days on the way back to Athens. I had not been to Chios since I went there with a rich Greek-American friend who drove around in a big American car offending everyone on the island to the point where I had to leave and go to Samos. Andrea did not mind that we would be taking the Theophilos since after all it was only a three hour trip and it had been 'fully renovated'.
For a ship that has been 'fully renovated' they left a lot of stuff the same. The giant map of the Baltic Sea with the routes of the Nils Thorgood and her fellow Scandinavian ships was still there as were the tattered airplane seats. The plastic chairs on the deck were still the same, all stained and some broken. The ship was broken up into the same compartments. The tiny no-smoking room where the TV and the radio competed in volume with the complaining old women was still the same, though there was now a Flocafe serving ice frappuccinos which were a necessity since the ship's air-conditioning either did not work or they had it on so low you would have to crawl into the vents to feel it. There was a cafe in the back of the boat that looked kind of new, but was so crowded with cigarette smokers that to spend any time in there would cause instant lung cancer. The ship was in short a sweltering hell-hole and it was not until I found a nice plastic table and chair on the deck and the loudspeaker stopped blaring unrecognizable safety instructions at ear-shattering volume, that I was able to relax and enjoy the trip by taking out my laptop and complaining about it.
So what's the deal? Didn't anyone learn anything when the Samaina sank off the island of Paros a few years back? If this ship had to have major renovations or be retired who was the official who inspected the 'fully renovated' Theophilos and signed the papers that allowed it to continue service? In fairness the crew is well-dressed and polite and the ship seems to be run in a professional manner. But it is the owners who are to blame. Let the ship limp along for another year and make some more money and eventually replace it with something new. But its a gamble. The more people who travel on this ship, the more people who won't want to travel on a ship again. Maybe this is what ferries are like in Bangladesh or some remote river in Africa. But for Greece its not good enough. They should get rid of the Theophilos. But until they do you should avoid this ferry.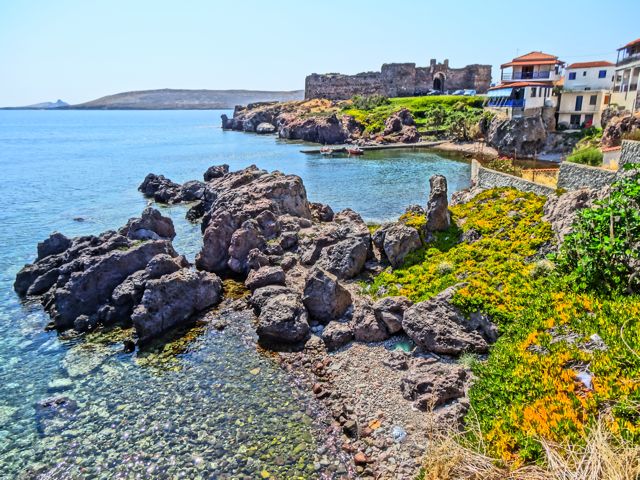 Yesterday was supposed to be the last and the hottest day of the heat wave. It turned out not to be the last but it was the hottest getting up to about 45c in Mytilini. For those who only know Fahrenheit that's about 9 thousand degrees. Or it seems like it. I had spent the day before in the house in Vatousa and I survived by doing little projects on my website that I had been putting off, staying still in front of a fan and taking frequent cold showers. I hate and fear heat waves more than anyone I know but to me they are like taking a trans-Atlantic flight. While you are in it you are miserable but you know that once it is over it won't matter and will just be a distant memory that you can tell your friends about. So you live for the moment and know that this too shall pass. As bad as it is its not like being in labor or having surgery without an anesthetic. Its just hot and unpleasant and makes you and everyone around you miserable.
But I wanted to test my Sigri theory. If Sigri was windy and cool during normal summer weather what would it be like during a serious kafsona (heat wave). Would the coolness of Sigri be no match for Mr Angry-Greek-Sun, hell-bent on making mankind pay for destroying the environment? The Vitara has an external thermometer so we could monitor the temperature change as we drove from Vatousa to Sigri. We began in Vatousa's platanos shaded platia where I illegally park, a comfortable 36 c (about a hundred). The mountain road oscillated between 36 and 38 and when we got to Sigri it was at 37. Shit. There goes my theory, well my hope actually. But a funny thing happened. When we got out of the car and sat down in the shade at Cavo d Oro fish taverna it was cool and there was a breeze. It was really quite comfortable. "Eat slow so we can stay here all afternoon" Andrea said.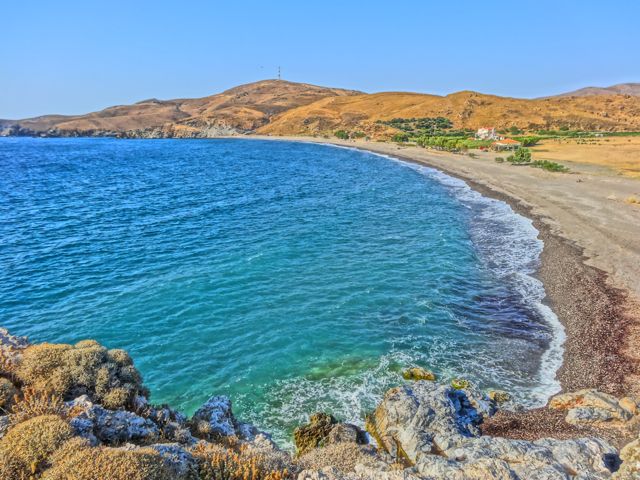 Afterwards we went to Fanouromeni where for the first time this summer the sea was almost flat and there were no waves and only one naked couple in the shade of the big rock on the beach, fondling each other and wishing we had not shown up. But even here it was very comfortable in the shade and when we stepped into the sea it was cold. Really cold. So cold that after a half hour of snorkeling picking up pieces of petrified wood among the pebbles, my teeth were chattering. We did not even use the AC for the first twenty minutes of the trip home to Vatousa.
When we got back to Vatousa it was hot as hell and you could see that everyone there had suffered though the day. We drive into town upbeat and cheerful like we had been dancing with penguins all afternoon. We had to tell the villagers that there was relief just 35 minutes down the road and they did not have to sit in their little sweltering houses waiting for this heat to pass. I don't know if they even believed us. Maybe they thought we were joking and only pretending to not be as miserable as everyone else felt. That night we went to the upper platia for our final night out with our pals. Spiro Cooper, our Albanian mason friend bought me a beer. He had been working in the hot sun building stone walls the entire day. "When it is this hot I can drink 15 beers and they just pass right through me" he said proudly. I wish I could say the same. When it is this hot a beer, even a lousy Greek Amstel or Mythos, tastes damn good. But I don't work hard or sweat enough for it to pass right through me. Any beer I drink seems to stay with me for life- til death do us part.
So today after saying goodbye in Xidera and watching Pam yell at the workers one last time (the electrician put an outlet in the shower) we got in the car and drove to catch the ferry with the AC on low because we had less than an eighth of a tank of gas and the gas station pumps did not work because the electricity all over the island was cut by DEH, the elctric company.
This was posted in 2007 and as of 2014 the Theofilos is still sailing, though maybe they have done an actual renovation and not just one on paper.